Google leads the pack in applying for AI patents, and Microsoft is the most prolific in filing for patents, but the race is on in AR/VR, cybersecurity, autonomous vehicles, and more.
It's no exaggeration to say these five companies are racing to own the future.
Amazon, Google, Facebook, Apple, and Microsoft are not just the most valuable companies in technology. They're also driving innovation that will have massive impacts on business and society. Trends like autonomous vehicles and AI are still in their infancy and have the potential transform our lives.
But how deeply is each company involved in pushing the boundaries in these areas? Where can we go to learn what tech they're prioritizing and where the next bleeding-edge innovations will come from?
Patents are a meaningful leading indicator of where company R&D and innovation efforts are headed. True, an individual patent might only be a sketch of a potential product. But taken together, activity across hundreds of patents can reveal strategic direction and priorities.
Using CB Insights' patent search engine, we mined the patent application activity of tech's Big 5 over the past 9 years. Here's a bit of what we found:
Artificial intelligence: Google has the most AI patent applications to date and Apple lags behind its rivals.
Autonomous vehicles: The race to develop software and sensors that underpin self-driving cars is also led by Google, but surprisingly the race toward autonomy in cars and drones is tightening.
Cybersecurity: Cyber is increasingly a C-suite issue and the Big 5 are all ramping up efforts to secure users and prevent abuse.
AR/VR: Despite limited overall patent activity in AR/VR, Apple is pushing hard on mobile AR and leading that space with ARKit.
Healthcare: One company in particular has pushed ahead in this area and it is not Google.
Highlights from our analysis include:
Google has the widest range of bleeding-edge patent priorities
The table below gives a high-level overview of where Amazon, Google, Facebook, Apple, and Microsoft are most focused on patenting bleeding-edge technologies across a variety of business opportunities.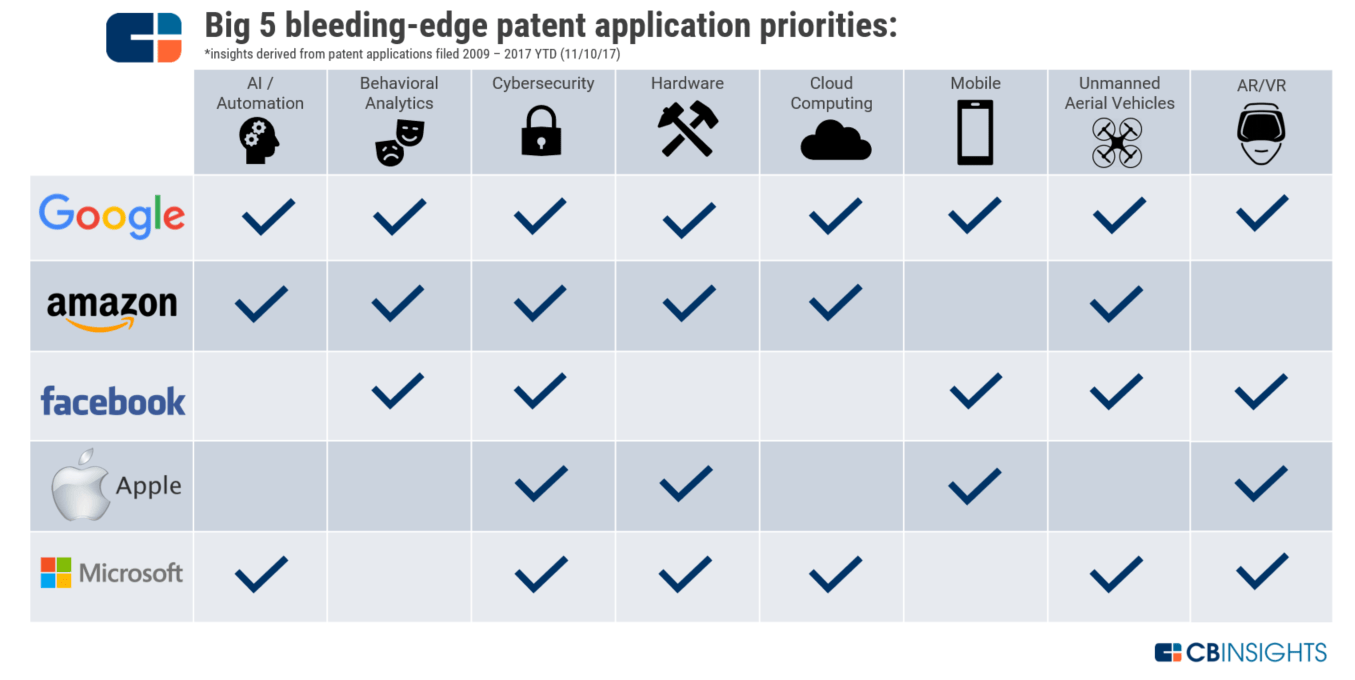 Google is applying for patents across the widest range of priorities, including artificial intelligence for robotics, computer vision, and autonomy for both cars and drones. That's not to mention cloud computing and data storage, mobile devices, wearable technologies such as interactive textiles, as well as AR/VR, and smart home devices.
Amazon's focus is on automating and augmenting warehouse and logistics processes. In addition, improving Amazon Alexa's capacity as an AI assistant that can understand natural human language is a top priority. Cloud computing is also playing a role in future innovations, not surprisingly given the company's AWS division.
Facebook is focused on cybersecurity and mobile UX/UI. Facebook is also prioritizing eye-tracking, emotion detection, and sentiment analysis, likely to improve targeted advertising. Other patent applications for Facebook include innovation around VR simulations and drones, the latter in order to beam internet connectivity from the sky.
Apple's patent applications can be linked to innovations around the iPhone and peripheral devices. Apple is also innovating around AR, and its ARKit, a framework for creating augmented reality experiences on the iPhone and iPad.
Notably, Apple is making the biggest push of the Big Five to own the future of digital healthcare. Apple has applied for a patent to turn the phone into a diagnostic device, as well as one with the goal of conducting EKGs via a wearable device, and more.
Microsoft has the most patent applications among its peers. The company's applications are concentrated on improving software development operations as well as innovations relevant to the company's hardware devices. Microsoft also has focused on cloud computing, AR/VR, mobile integrations, UAV components, and cybersecurity to boot.
Teaching computers to learn with AI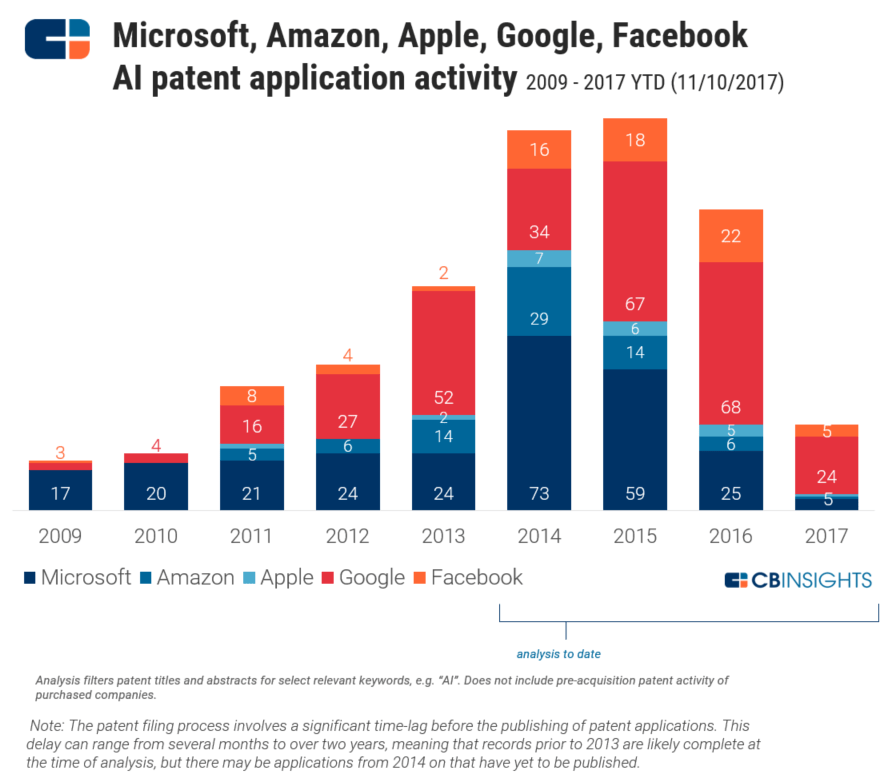 This AI patent data above shows that Apple is behind the others in activity. This is interesting because of ongoing concern that Apple's Siri is not as good as other virtual assistants like those marketed by Amazon and Google, in terms of performance and functionality.
Google has applied for the most AI patents with nearly 300 since 2009.
Microsoft trails closely behind with just under 270, followed by Amazon, and Facebook, each with 70+.
Apple has fewer than 30 AI patent applications over the last nine years to date.
The Big 5 are primarily leveraging AI through a technique known as machine learning to teach computers how to see and classify images as well as understand and react to natural human language.
Applications for AI patents focus on enabling intelligent robots, self-driving cars, automated delivery drones, AI assistants, and more.
One AI assistant to rule them all: The race for the best AI assistant is on between Google, Amazon, Apple, and Microsoft. These companies are all patenting designs for training computers to recognize people's voices and to understand natural human language.
Computer vision on the front lines: All of the Big 5 are patenting innovations to teach computers how to see and classify images.
Microsoft and Facebook want computers to analyze a user's facial expressions to deliver relevant online experiences.
Google is developing facial recognition to authenticate users in online payments transactions.
Unsurprisingly, Apple's facial recognition endeavors are geared toward securing access to devices.
Amazon is not as intent on developing facial recognition technology. But both Amazon and Google are pursuing computer vision to classify images related to inventory management and enhanced web searches.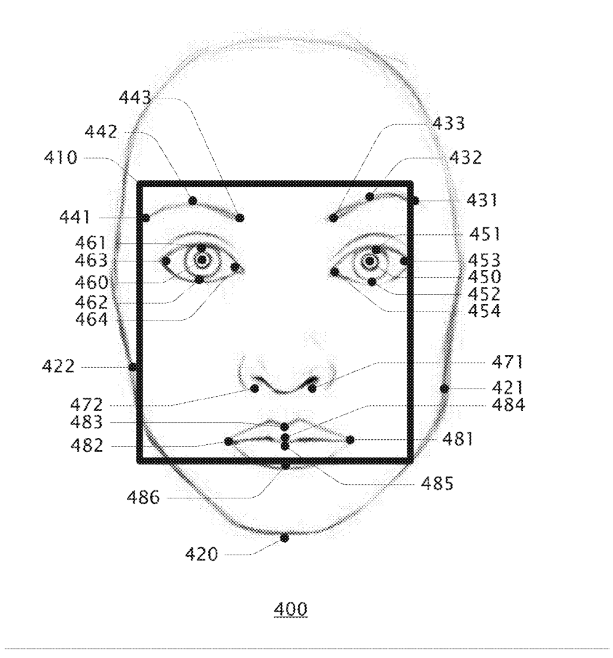 Prediction is the new customer service: The Big 5 are leveraging machine learning technology to predict user behavior and deliver highly personalized customer experiences.
Microsoft is developing techniques for providing recommendations based upon users' predicted travel intent.
Predictably, Google wants to be able to predictively generate search suggestions.
Facebook is on the bleeding-edge of predicting the reach and frequency of online information to assist advertising campaigns.
Amazon is learning from consumer behavior to get items in transit before users realize they need them.
AI for robotics is less crowded: Two of the Big 5 standout for prioritizing the development of AI for autonomous robots.
Amazon is interested in automatically generating robotic grasping instructions for inventory items and similarly Google, as seen in the patent image below, is developing machine learning algorithms to train robots to see and grasp, suggesting it is still interested in having a hand in creating a humanoid-style robot despite selling off the robotics company Boston Dynamics to SoftBank this year.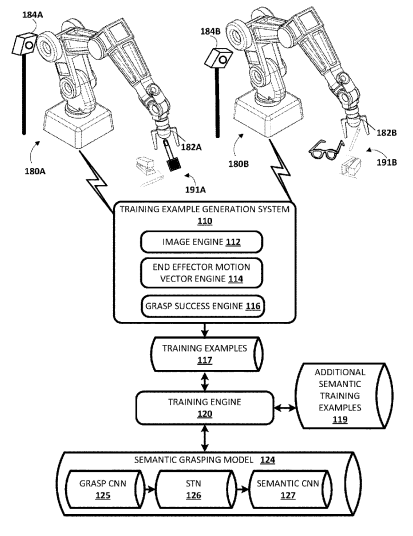 The race to build the 'brains' for self-driving cars and autonomous drones
Amazon is second to Google when it comes to autonomous vehicle patent application activity.
Google dominates with nearly 500 applications since 2009 and has some diverse ideas for UAV uses, such as medical drone fleets and utility service drones, among others.
Amazon trails in second with nearly 150 applications mostly for delivering packages.
Apple has applied for just over 70, and Microsoft is in fourth with almost 70.
Facebook has applied for fewer than 10 autonomous vehicle or drone patents over the time period. However, don't count Facebook out of the race for autonomous drones.
In fact, Facebook and Amazon in particular are looking toward a future in which their products and services are delivered autonomously from the sky.
Cars no more: The Big 5 have largely scaled back ambitions to create a branded autonomous vehicle entirely from scratch.
Perhaps most notably, Apple's relatively limited patent application activity in this space has been dictated by the fact that the company is now focused on building what CEO Timothy D. Cook calls, "autonomous systems," presumably for use by other companies who are building the actual car.
But Apple is not alone in giving up the hardware route.
Likewise, Amazon has no self-driving car ambitions and neither does Facebook.
Microsoft is still applying for patents related to sensors and software for autonomous vehicles but still more in the same vein as Apple.
Google, however, is perhaps the closest to still building a proprietary vehicle through the company's special relationship with self-driving car startup Waymo.
The "brains" in the machine: Patent activity shows all 5 are emphasizing building the software and sensors that underpin the ability of cars to drive themselves.
For example, both Google and Microsoft are applying for innovations that leverage LIDAR sensors, which stands for light detection and ranging, configured to scan an environment around the vehicle for informing autonomous driving decisions.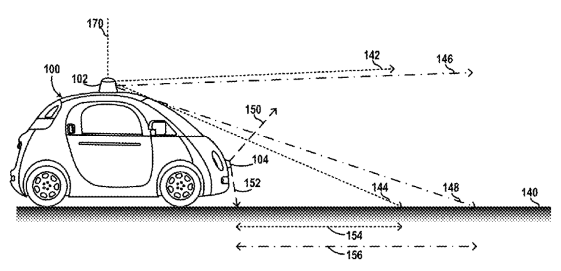 Fleets of autonomous cars: Google, Microsoft, and Amazon are preparing for a future in which fleets of self-driving cars share information and collaborate for efficiency and safety.
Google in particular is designing systems for determining pickup and drop-off zones for a fleet of on-demand self-driving cars as well as systems for sharing driving information between cars.
Microsoft and Amazon each have at least one patent application for positioning autonomous vehicles in a driving lane.
Connected car safety and security: Connected cars bring with them a number of new security and safety concerns and some of the Big 5 are gearing up.
Google is dabbling in the future of security for connected autonomous cars with novel anti-spoofing solutions to help prevent auto-theft. Basically, preventing someone from impersonating you to steal your autonomous car.
Google has also designed a method for enabling law enforcement to pull over an autonomous vehicle.
Microsoft has at least one patent application for protecting people from collisions with cars using smartphone vibrations as a real-time warning system.
Autonomous drones: Autonomy is not limited to the ground as Amazon, Google, and Facebook push the boundaries of what is possible with unmanned aerial vehicles (UAVs).
Amazon is the most prolific innovator for enhancing UAVs for urban package delivery.
Bezos' patent engine has a considerable number of applications pending for upgrading hardware-specific components on UAVs.
For example, the company is clearly looking toward a future in which drones make deliveries to your home. This is evidenced by patent applications for safety shrouds that can detect when humans or pets approach the UAV, tethers to lower packages from hovering UAVs, and dampening the sounds made by UAVs.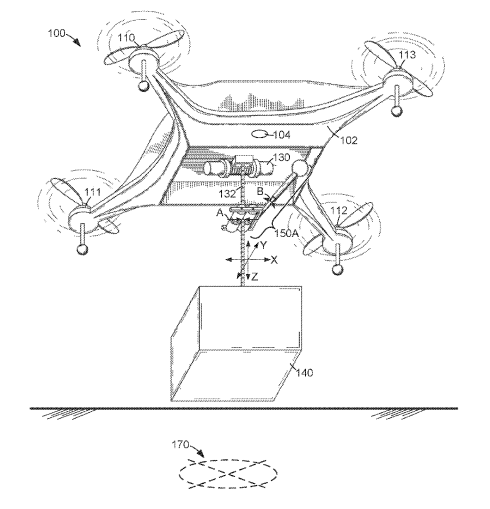 No doubt, Amazon's considerable experience in delivery and logistics gives it a leg up over the competition. But Google is hot on the trail exploring various use cases for UAVs.
Note, Google has been granted similar patents to Amazon for autonomous home delivery drones. Google has patented a tethered drone arm to drop-off packages, and has patented a system that controls the drone when it interacts with the person receiving the package.
Additionally, Google has explored designs for fleets of drones that can deliver medical supplies on-demand, as well as service utility drones for maintaining power lines.
Facebook depends on enabling more users to access the internet to use its platform. In line with that need, the company is applying for patents related to UAVs that beam internet connectivity from the sky especially in previously un-connected areas of the planet.
Facebook's UAV patent applications include remotely supplying power for a UAV to stay aloft indefinitely (featured below), and another one for enabling broadband communications for UAVs.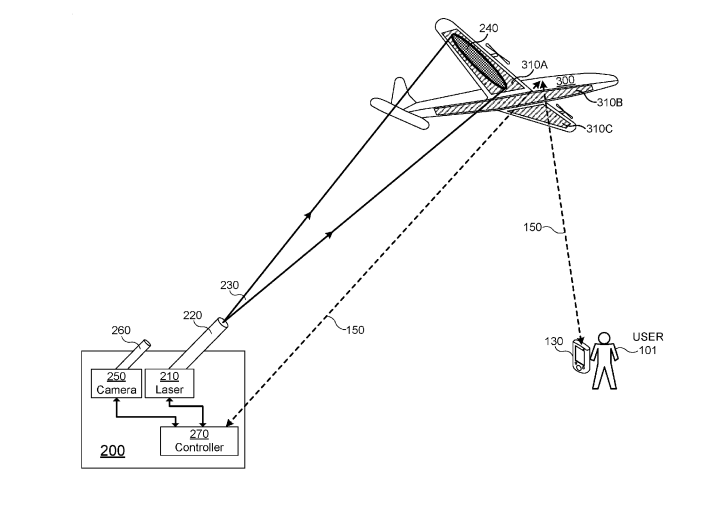 For big tech preventing fraud and abuse is critical
Companies around the world have come under fire recently (some have burned to the ground) for cybersecurity failures, with security breaches reaching up to the C-suite level and CEOs losing their jobs over major incidents.
The Big 5 are prioritizing identity security and developing ways to prevent the bad guys from abusing their products and services.
Microsoft has far and away the most cybersecurity patent applications with just over 900 since 2009. Most are for general enterprise network security.
Google comes in second with close to 650, followed by Apple with around 530, and Amazon with nearly 450.
Facebook has applied for almost 90 cybersecurity patents over the time period. However, this relatively limited patent activity does not mean Facebook can't secure the future of online social networking.
Facebook security in focus: Facebook not only faces data security challenges but also is dealing with the effects of social fraud whereby malicious actors manipulate and abuse the platform for monetary and in some cases political gain. The platform can also become a digital meeting ground for malicious groups.
A recent patent application featured below shows how Facebooks wants to prevent abuse by categorizing and flagging users based on their association with confirmed malicious groups.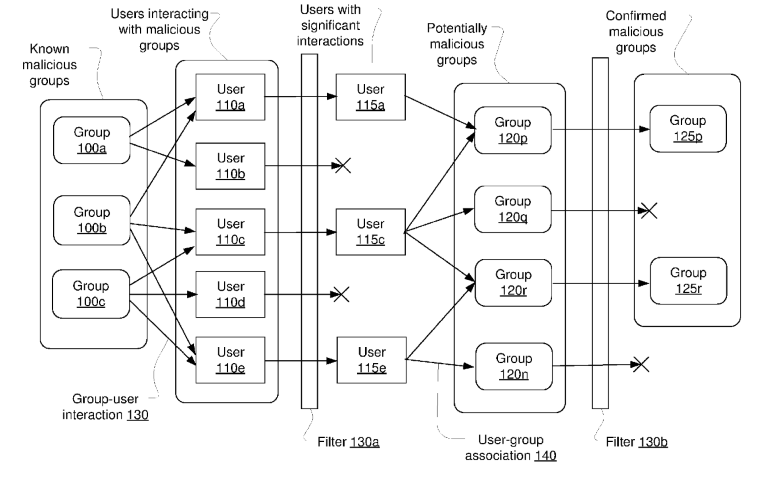 Identity and network security: All of the Big 5 have patent applications related to identity and access management for securing users' personally identifiable information and preventing unauthorized access to accounts.
Common cybersecurity patent applications across the cohort also cover endpoint security to prevent malware infected devices from compromising an enterprise network.
Security for cloud computing environments, data encryption, and multi-factor authentication are also common cybersecurity innovation themes.
Apple's cybersecurity innovations include securing access to data on iPhones. For example, Apple has continued to apply for patents in biometric fingerprint sensing and facial recognition for access to devices.
A few of the Big 5 stand out for designing other cybersecurity measures.
Behavioral analytics: Amazon and Microsoft each have applied for patents related to continuous authentication using behavioral analytics.
Behavioral analytics for cybersecurity relates to developing systems that recognize and/or authenticate users throughout a session based at least in part on comparing stored behavioral events.
Microsoft has applied for patents related to a method for monitoring the lifecycle of a computer network connection and passive security techniques for continuously authenticating users. Similarly, Amazon is exploring ways to detect anomalous behavior in the operation of computer systems.
Biometric security: Google and Apple are leveraging biometrics for identity security.
Google is specifically working on digital payments and identity. Applications include identifying users in a transaction using facial recognition and continuous authentication using biometric eye-signals, among other efforts.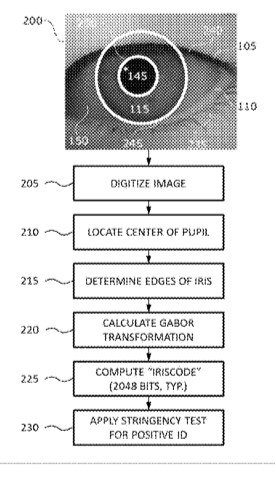 Designing an augmented future for increased productivity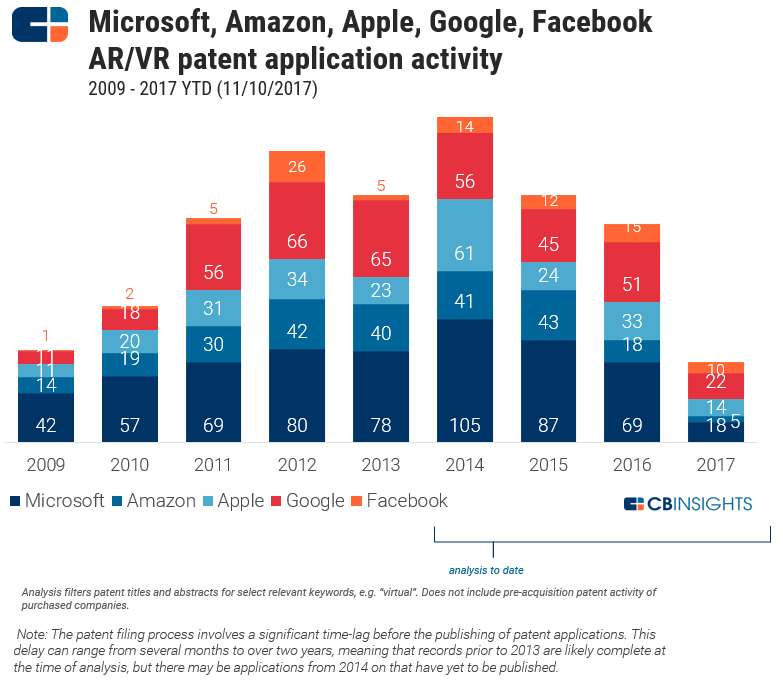 Imagine sitting at home and strapping on your VR headset to whisk away for an hour on a fantasy tour of a simulated world. Next imagine a factory manager wearing AR display glasses with real-time intelligence on her station.
The Big 5 are all in on AR/VR and are working in diverse areas that will likely set the stage for our virtual future.
Microsoft has applied for the most AR/VR patents with just over 600, followed in second by Google with nearly 400.
Apple and Amazon each have roughly 250, and Facebook is in fifth with almost 100.
These companies see the benefits of AR/VR for gaming and entertainment. Each of the Big 5 has at least one patent application in 2017 in this regard.
On the bleeding-edge, Amazon even applied for a patent to simulate and observe the effects of virtual interactions in a massive online game to inform and even predict outcomes in the real-world.
Enhanced user (virtual) experience: Microsoft, Google, and Facebook are all concentrating on improving the user experience for AR/VR applications.
For example, Microsoft has designed a system for relieving eye-strain on the wearer of head-mounted AR gear, and another for enabling users to grasp objects in a simulated environment.
Google has applied for a patent for optimizing augmented reality environments with a transition system to ease going in and out of different simulations, and one featured below for teleportation in AR/VR environments.
Facebook has applied for patents related to navigating in a VR environment, as well as a 360-degree VR camera.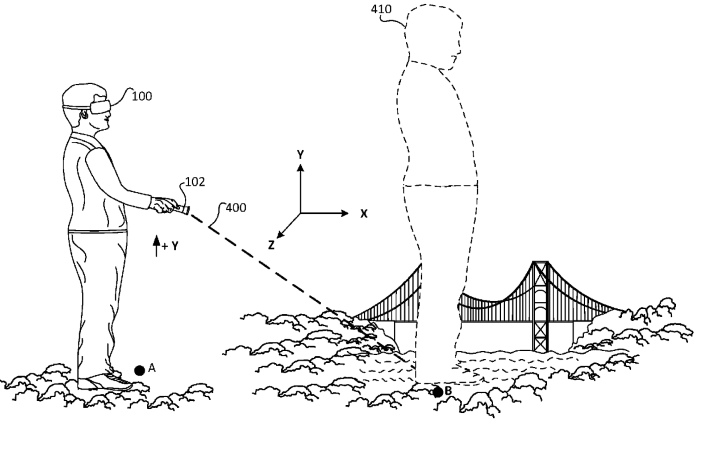 The future of work: The Big 5 are designing both hardware and software to take AR/VR simulations into areas that can directly enhance productivity in the real world. This includes augmented reality apps for navigation, as well as head-mounted displays for workers in fulfillment centers, and more.
Amazon is leading the charge to develop AR applications for improving worker efficiency, specifically in its fulfillment centers.
For example, the logistics behemoth has a patent application for updating information displayed in a user interface for a worker in a fulfillment center featured below.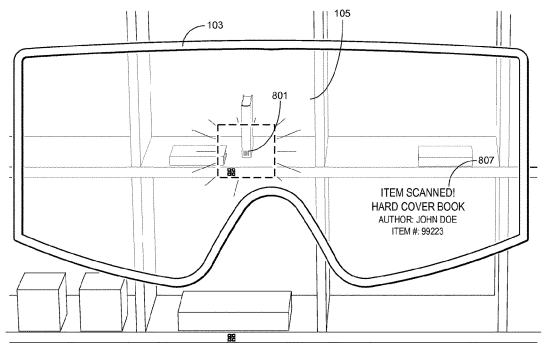 Mobile AR: Apple is leading the pack for innovations focused on offering augmented reality for the iPhone experience.
Apple applied for patents including the mobile-based augmented reality maps featured below, as well as techniques for measuring distance in AR environments.
Google is also interested in improving mobile AR experiences via tracking handheld devices and device pairing in simulated environments.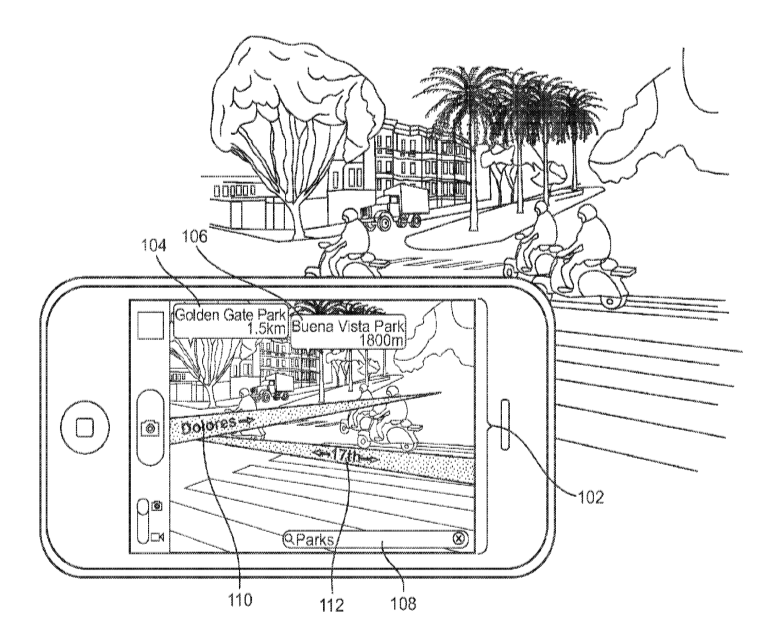 The battle for the future of healthcare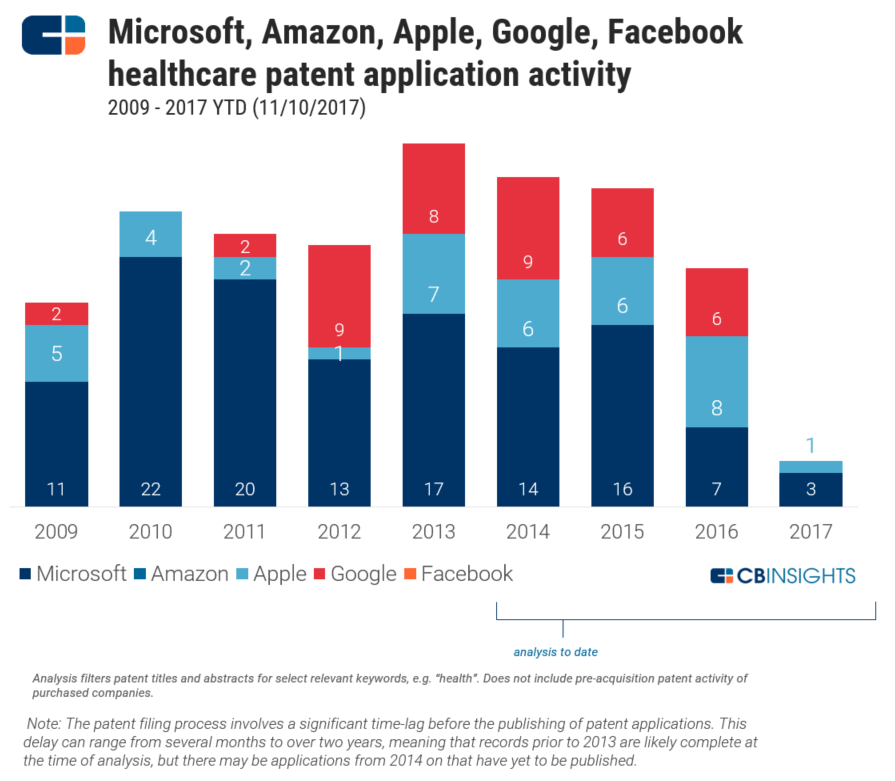 Healthcare is relatively less prominent in terms of overall patent activity. However, at least three of the Big 5 are sparring to own the future of healthcare.
Microsoft has the most patent activity over the last nine years with just over 120 applications. Apple and Google are neck-and-neck with around 40 patent applications each since 2009.
Notably, Apple has a large market opportunity built in for attacking the mobile health space. In the US alone, Apple has over 80M iPhone users, dwarfing the user numbers of any single health insurer.
Apple, Google, and Microsoft have another massive advantage over other incumbents in the healthcare industry like hospitals and pharma: unlike drug companies and hospital groups, these tech giants don't have to chase reimbursements from health insurers. Rather, they can afford to be laser-focused on the patient experience and patient outcomes.
Notably, Amazon has a patent for wireless heart rate detection.
The future of EHR and medical research: Microsoft, Apple, and Google are all concerned with the automated collection, dissemination, and analysis of electronic health records (EHR). However, each company has its own unique path for collecting and synthesizing users' personal health data.
Microsoft has patent activity in automating the collection of electronic health records, and designs for automated alerts to study adverse drug reactions. Most of Microsoft's health designs are focused on capturing data and storing it for medical research.
Microsoft has at least one patent application for identifying correlations in genome-wide association studies, and another one for using health databases to identify at risk health regions.
Apple's ResearchKit is an app that allows researchers to use iPhones to conduct large-scale research studies. It continues to be adopted by more and more institutions and corporations as Apple increasingly demonstrates its utility.
Google is taking an approach to healthcare data management that leverages neural networks to compile and derive meaning from vast amounts of unstructured healthcare data to predict outcomes.
From OS developers to health providers: Apple and Google are competing to capture users' health and wellness data via connected devices.
Google is looking to create a suite of alternative wearable devices and sensors for harnessing real-time health diagnostics.
Google is mainly interested in creating novel forms of noninvasive sensors for identifying when a user of a wearable is injured or at risk. These wearables include electronic skin adhesives that collect diagnostic information, and more.
Apple's health innovations primarily rely on the existing sensors, camera, and computing power already in Apple products such as the iPhone, Apple Watch and even AirPods.
Using the iPhone or Apple Watch, collected wellness data can be stored and shared with physicians and caretakers. Similarly, Apple has designs for enabling a patient to initiate a telemedicine session for treatment using a mobile device.
Apple's focus on wellness and lifestyle management, combined with the AirPods and the AI assistant Siri, could mean that Apple will explore the coaching and fitness space to proactively keep people healthy.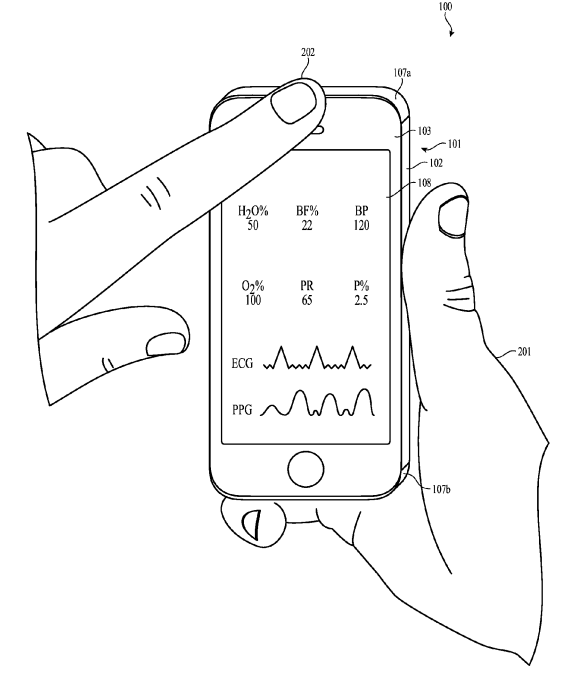 Big 5 innovation priorities by keyword significance
We mined patent applications for each Big 5 member to tease out recurring keywords from the patent abstracts, using a frequency weighting scheme that helps us surface the most significant words and phrases.