Global infrastructure is in desperate need of an upgrade. From public transportation to the power grid, we take a look at the biggest opportunities for tech companies to make systems safer, greener, and more reliable.
Infrastructure around the world is in trouble. Aging systems are largely inefficient and lack the resilience they need to face more frequent disasters, especially those brought on by climate change. Without the proper funding to upgrade these systems, businesses as well as communities are at risk.
In the United States, for example, there is a water main break every 2 minutes. Forty-three percent of public roadways are in poor or mediocre condition. Nearly half of Americans have no access to public transit. Severe weather continues to cause power outages. 
These factors — among others — earned America's infrastructure a C- score in its most recent report card from the American Society of Civil Engineers (ASCE). 
Bringing infrastructure systems up to date will be a massive undertaking. Not only is funding approval a challenge, but also the country is facing a shortage of skilled laborers. 
But the opportunities are huge — public transportation in the US alone is a $71B market — and technology will play a crucial role in capitalizing on them.
From expanding broadband access to electrifying public transportation to revamping the power grid, here are 5 of tech's biggest opportunities in infrastructure.
TABLE OF CONTENTS
Connectivity

Construction

Electric vehicles

Public transportation

The power grid
---
1. Connectivity
Key drivers:
More than half of US counties lack internet connection speeds that meet the FCC's definition of broadband, limiting access to remote learning, remote work, and telehealth resources.

The emergence of 5G technology will be crucial to upgrading other areas of infrastructure, including developing electric vehicle charging stations and connecting the power grid.
The Covid-19 pandemic highlighted how essential reliable internet connectivity is to our daily lives. Yet the average connection speeds in 65% of US counties are lower than the FCC's definition of broadband, according to ASCE.
The stakes are high. One out of 5 school-aged children didn't have the high-speed internet connection required to access their lessons in the last year. Many employees in rural areas have been unable to work from home because their broadband connection is unreliable. Residents of rural communities have also had difficulty accessing telehealth services due to a lack of connectivity.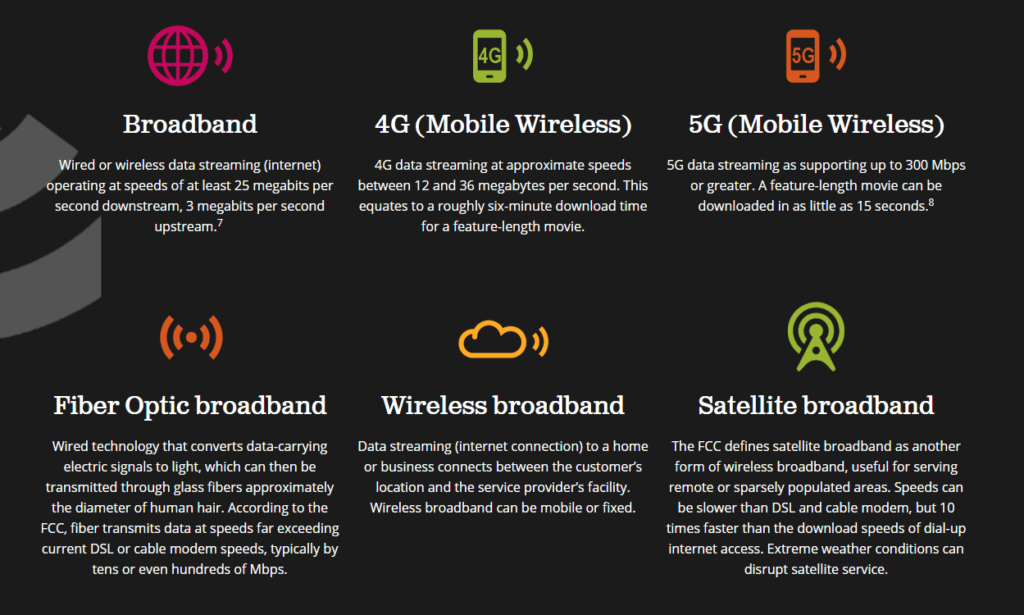 Source: ASCE  
5G, the next generation of wireless broadband connectivity, could play a significant role in boosting access and could drive other improvements in infrastructure. 
Civil engineers are designing and building utility poles, towers, and other structures across the US that will increasingly host 5G capabilities. For example, Duke Energy recently teamed up with Verizon to locate hundreds of 5G small cell systems on streetlights in Charlotte, NC, and other cities. The installations improve cellular service without cluttering the streets with more structures. Similarly, Xcel Energy is working to give wireless network operators access to the 180,000+ streetlights it owns in Colorado for small cell installations.
This is good news for corporates like AT&T, Samsung, Verizon, and others, which are already betting big on the tech. As of July 2021, mobile operators in the US have made 5G coverage available to roughly 80% of the US population, according to PwC, although it will likely take several years for network performance to improve and 5G device adoption to grow.
But 5G coverage isn't just important for consumers using the internet and connected devices in their homes. It will also play a crucial role in expanding electric vehicle charging infrastructure, modernizing public transit, connecting utilities for residential and commercial buildings, and more.
With the transition to electric vehicles ramping up, 5G could allow enhanced vehicle-to-vehicle (V2V) communications, a key component to improving road safety. It could also play a crucial role in vehicle-to-infrastructure (V2I) communications, which connect vehicles with infrastructure such as traffic lights, bus stops, and even the road itself. This could improve traffic flow, reduce external danger factors, increase vehicle reaction time, and make public transportation more efficient. 
5G is also paving the way for innovative solutions in energy production, transmission, distribution, and usage. The technology is expected to unleash the next wave of smart grid features and efficiency. With more connected smart grids, energy management will become more efficient, reducing electricity peaks and energy costs overall.
Further, 5G dramatically increases the lifespan of battery-dependent devices, sometimes up to 10 years. This makes mass deployment of IoT sensors a more practical solution for the energy industry. 
---
2. Construction
Key drivers:
An influx of new jobs paired with a lack of skilled laborers could make connected and autonomous construction tech more important than ever.

Construction tech funding has already hit a new high in 2021.
The country is facing a severe shortage of skilled workers. Eighty-eight percent of commercial construction contractors have reported mid- to high levels of difficulty finding skilled workers, according to the US Chamber of Commerce. Over a third had to turn down jobs due to labor shortages.
Connected construction technology could help alleviate some of the strain while making construction processes safer, more efficient, and more cost-effective. Connected construction combines hardware and software to streamline project planning, design, management, and execution. Making these processes more digital could increase productivity by as much as 15% and reduce costs by up to 6%, according to McKinsey.
Investors have taken notice, with funding to the construction tech space already at an all-time high in 2021 YTD.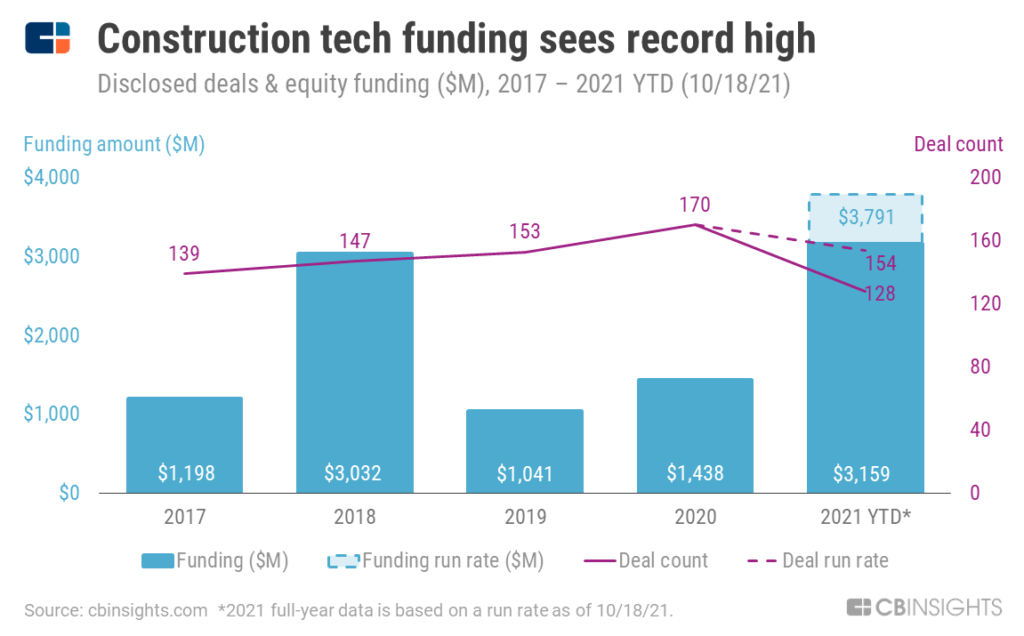 One area of opportunity is collaboration and project management tools. Companies working in this category aim to streamline communication, simulate the construction process to identify potential obstacles, and develop digital solutions for managing documentation. 
Procore, for example, offers project management, quality control, field productivity, and financial management products. ALICE Technologies' AI platform includes a simulation engine for project management teams to explore different construction plans and track project resources. Meanwhile, Rhumbix helps project managers benchmark and analyze project performance through its mobile app for documenting field data. 
Augmented reality and virtual reality (AR/VR) are also gaining traction in the construction industry. The tech can help workers visualize construction processes and create immersive representations of construction plans, increasing safety and productivity.
For example, Scope AR creates augmented reality representations of manufacturing processes to help workers visualize tasks. Dabanjia creates immersive VR visualizations of buildings that are linked to construction drawings so that renovators can visualize a new development.
Meanwhile, construction robots are automating historically manual tasks on construction sites. One company serving this space is Built Robotics, which offers a retrofitting kit that utilizes sensors, AI, and cameras to enable autonomous digging. 
In September 2020, the company received a patent for an autonomous excavation vehicle with a sensor-based navigation system. The patent envisions using machine learning to determine routes on a job site and figure out how to overcome obstacles.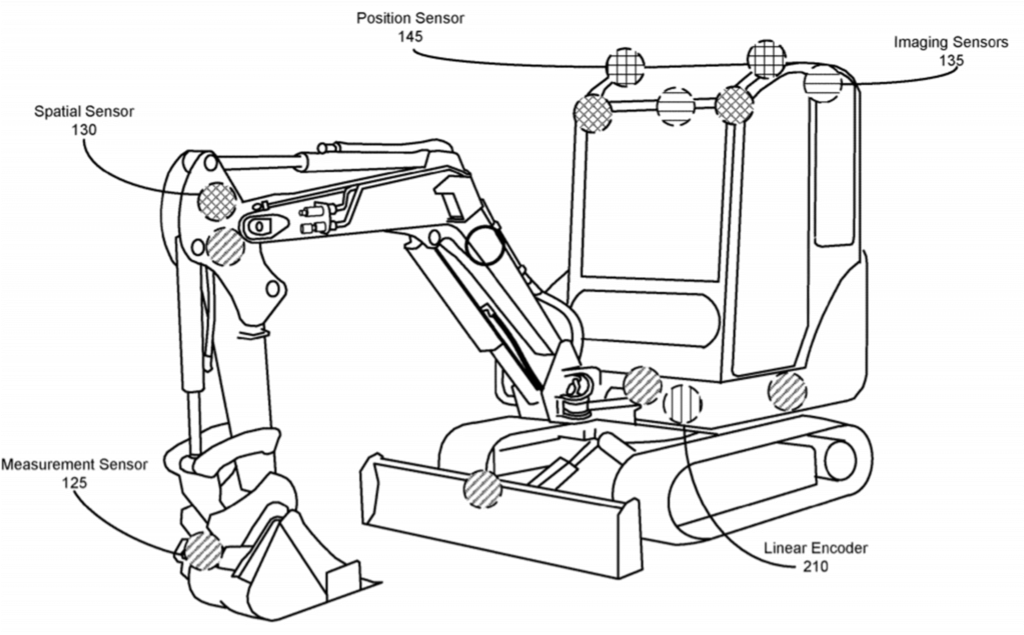 Source: USPTO
Another area that could see a boost is sustainable construction materials. For example, cement is responsible for about 8% of global CO2 emissions, according to UK-based think tank Chatham House. But startups like Solidia Technologies, CarbonCure, and Neustark are looking to reduce these emissions by offering concrete cured with waste CO2 — which can sequester carbon away while also reducing the amount of water and cement required for mixing.
Other companies are creating different concrete additives with waste CO2. California-based Blue Planet sequesters CO2 into layers of synthetic limestone, which substitutes rock aggregates used in concrete. Alberta-based Carbon Upcycling Technologies has developed a patented process that pressurizes various raw materials — like ash, slag, and graphite — into concrete and plastics additives.
---
3. Electric vehicles
Key drivers:
The Biden administration plans to fund 500,000 new EV charging stations by 2030 as part of the new proposed infrastructure deal.

The transition to EVs is already well underway as automakers respond to new regulations and consumer demand for more climate-conscious solutions.
Investors are already betting big on electric vehicles (EVs) in response to new emissions regulations and climate change concerns. In 2021 YTD, funding to the space has already surpassed 2020's all-time high, with $16.6B in funding.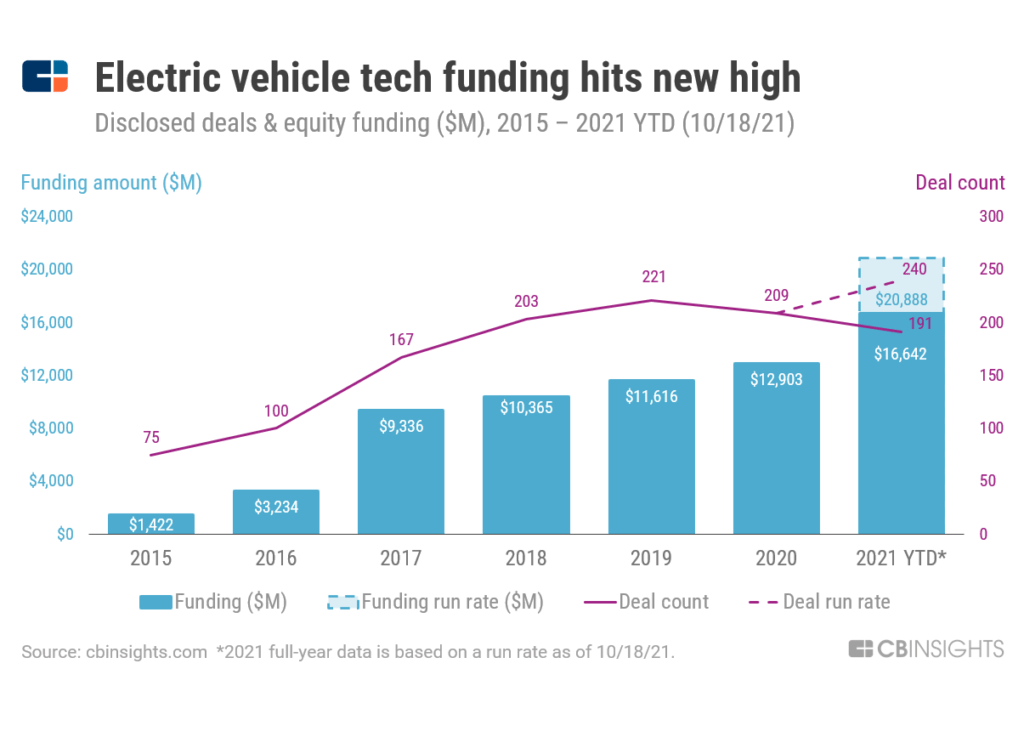 Electric vehicles and the accompanying technology — such as charging stations and battery tech — are key elements of overhauling infrastructure in the US. Currently, there are around 41,000 public charging stations with over 100,000 outlets in the country. However, EV owners regularly encounter challenges with accessibility, convenience, and interoperability. Locating the charging stations can be difficult, and not every kind of EV is compatible with every charging network. Charging an EV also takes longer than filling up a gas tank.
EV charging stations are a $26.4B market. With the Biden administration's plan to fund the construction of 500,000 new charging stations by 2030, companies in the space have a huge opportunity to make the EV charging experience more seamless.
EVPassport, for example, provides a platform that lets users pay to charge any EV without requiring multiple apps or accounts. In July 2021, the startup teamed up with 5G Studio — created by Newlab and Verizon — to pilot 5G-powered chargers for EV fleets. Verizon's 5G Ultra Wideband network and mobile edge computing technology reportedly allowed EVPassport to reduce charging session latency by over 50%.
Other companies are building out their own charging networks. EV startup Rivian plans to roll out its "Adventure Network" of 3,500 chargers at 600 stations across North America by 2023. While the Adventure Network will be exclusive to Rivian EV owners, the company also plans to set up thousands of public chargers known as Waypoints that can be used by any EV. 
As electric vehicles gain traction, battery companies are also seeing record levels of funding.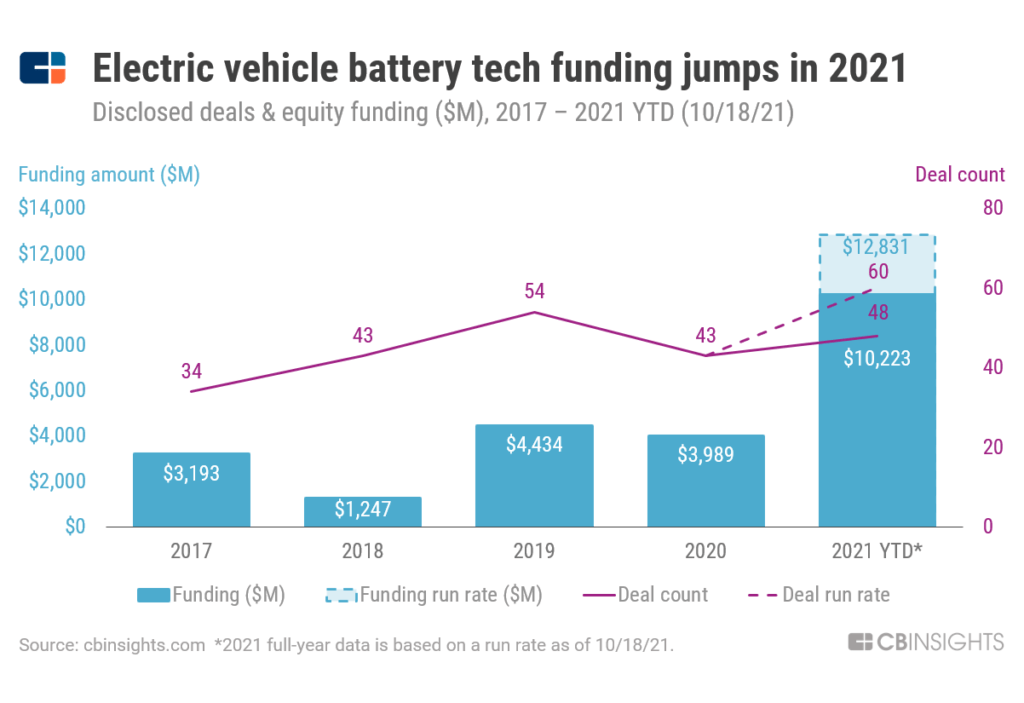 Auto manufacturers are investing heavily in the space. For example, Volkswagen Group has poured hundreds of millions into battery tech companies including lithium ion battery manufacturer Northvolt and solid-state battery startup QuantumScape.
Battery manufacturers are currently seeing the most deals from investors; however, opportunities are also arising in nano tech, solid-state batteries, battery management, and more.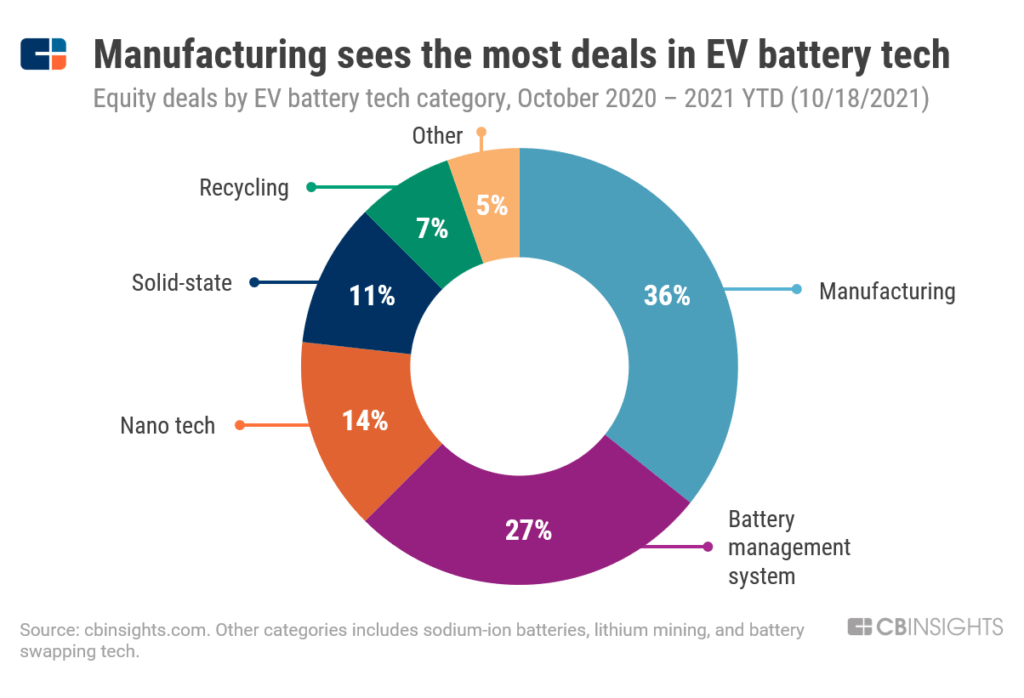 ---
4. Public transportation
Key drivers:
Public transportation is one of the lowest-scoring areas in the most recent infrastructure report card from the American Society of Civil Engineers.

E-buses are beginning to seem more scalable with EV batteries supporting longer ranges and more charging infrastructure in the works.

Micromobility options such as bike- and scooter-sharing are becoming more accessible in urban areas.
Public transit in the US is in dire need of an update. The sector scored a D- in the most recent assessment from the American Society of Civil Engineers due to poor conditions and lack of access. The current repair backlog includes over 24,000 buses, 5,000 rail cars, and thousands of miles of track and power systems, according to the Department of Transportation.
The same tech that's enabling the transition to electric cars could also have implications for buses. In 2017, there were only 386,000 electric buses on the road around the world. That number is projected to increase to 1.2M by 2025, according to Bloomberg.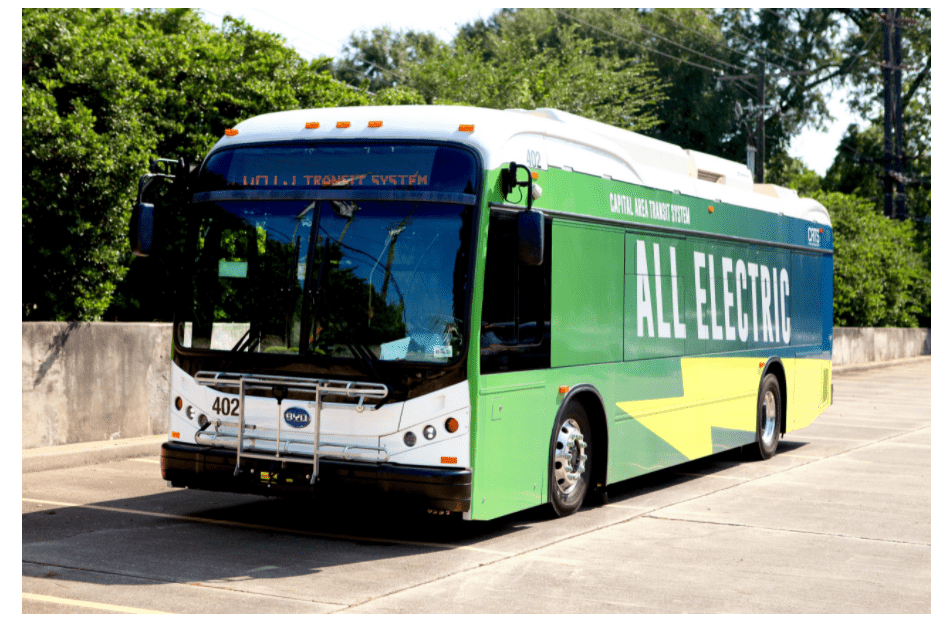 Source: BYD
Currently, almost 98% of the world's e-buses have been deployed in China. E-bus adoption in the US has lagged due to range anxiety and the upfront cost. E-buses are about 50% more expensive than their diesel counterparts, and they require charging stations, which can cost as much as $100,000 a piece.
However, e-buses could actually save governments and municipalities as much as $173,000 over their lifetime when taking into account the cost of fuel and maintenance. Further, with the Biden administration's plan to make all new American buses zero-emissions by 2030, US electric vehicle makers like Proterra and China-based BYD's California-based subsidiary could see a much needed boost.
Pilot programs for autonomous transit vehicles are also popping up around the country. For example, the city of Columbus, OH, has launched a self-driving shuttle bus called Smart Circuit. The shuttle service is free and connects residents to resources like recreation centers and other transportation hubs. Services like this could help bridge the gap for people living in areas off of main public transit lines.
As connected vehicles gain traction in public transportation, vehicle-to-everything tech will become increasingly important. Vehicle-to-everything tech refers to hardware (e.g., sensors, radar) that lets vehicles communicate wirelessly with other vehicles (V2V), pedestrian devices (V2P), or infrastructure (V2I). The tech's success largely depends on network effects. For example, once enough vehicles are connected on the road and across infrastructure, it becomes easier to navigate dangerous weather, accidents, and congestion.
One company working in this space is California-based Savari, which develops sensors and accompanying software to help vehicles communicate with other vehicles and points of infrastructure. The company was acquired by Harman International Industries in February 2021.
But public transportation now comprises more than just buses and trains. Micromobility — which refers to the growing crop of bike- and scooter-sharing companies taking over urban areas — has become a key element of short-distance transport in cities. The US' micromobility market is predicted to be worth between $200B and $300B by 2030.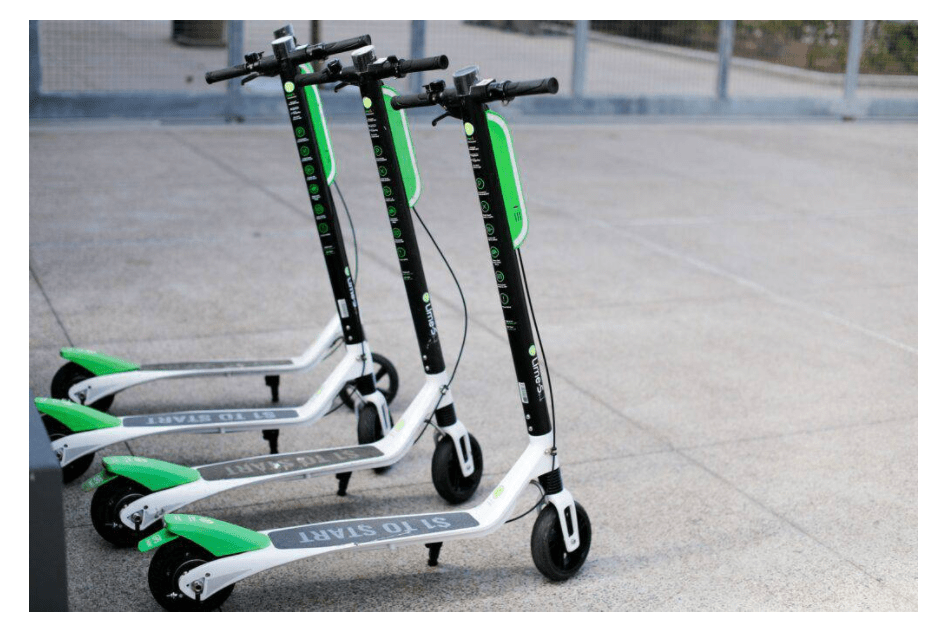 Source: Reuters
E-bike (e.g., Ecovelo, Yulu Bikes) and scooter-sharing platforms (e.g., Bird Rides, Lime) relieve congestion by serving as an alternative to cars for shorter trips and by helping connect people to public transit hubs for longer trips. As cities and communities look to raise their public transit grade, expect micromobility options to proliferate and become more accessible.
---
5. The power grid
Key drivers:
The current US power grid isn't equipped to handle extreme weather events, which are becoming more frequent due to climate change. The Biden administration plans to invest $73B in upgrading the system.

As electric vehicles become more commonplace, their batteries are finding "second lives" as energy storage for the power grid.
As the world becomes more connected, reliable electricity is more important than ever. 
The current US power grid — which refers to the network of transmission lines, substations, and transformers that bring electricity from power plants to homes and businesses — was constructed in the 1890s and has been continuously updated over the years. Today's system is made up of over 9,200 electric generating units with 1M+ megawatts of generating capacity connected to 300,000 miles of transmission lines. This may sound substantial, but the network is being pushed to its limits.
Transmission and distribution systems struggle with consistency — 92% of power outages occur along these segments. The problem will likely get worse as severe weather caused by climate change becomes more frequent. Severe weather was the main cause of 638 outages reported between 2014 and 2018.
And the trend has continued since then. In February 2021, millions of Texas residents were left without power for days when a winter storm caused electrical grid failure across the state. This came only months after wildfires in California, which resulted in blackouts for tens of thousands of PG&E customers. More recently, Hurricane Ida left New Orleans residents in the dark for over a week.
Revamping US infrastructure offers a massive opportunity to make the grid cleaner, more resilient, and therefore more reliable. This is where smart grid technology comes in. A smart grid enables a two-way flow of electricity and data between the power plant and the customer. This allows the grid to respond to demand in real time and automatically reroute in the case of outages or equipment failures.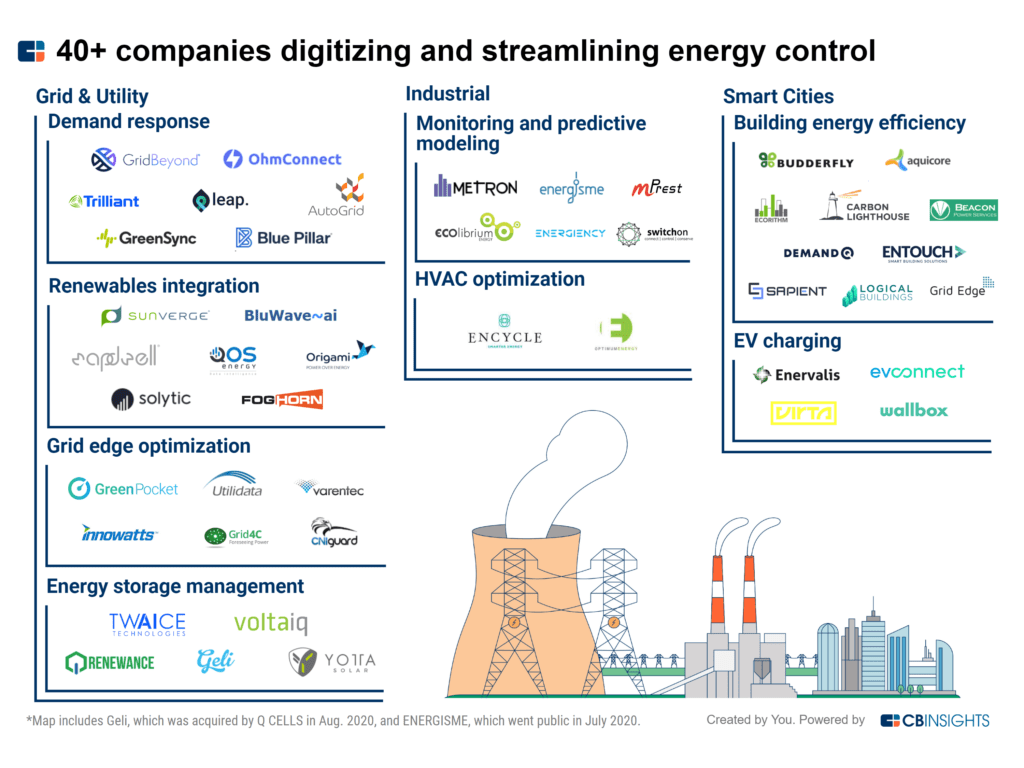 Startups are beginning to tackle the various components of grid modernization, from demand response to integrating renewables to energy storage management. For example, companies like AutoGrid Systems, GridBeyond, and OhmConnect help utility and grid operators lower peak energy usage, improve system reliability, and reduce the need for capacity upgrades. Others, such as Sunverge Energy, BluWave-ai, and Mapdwell, are developing platforms that enable utility and grid operators to integrate various renewable energy sources into the grid.
Energy storage tech is also crucial here. Startups are emerging to make energy storage more efficient and accessible, for power companies as well as automakers and other vehicle manufacturers. For example, Form Energy is developing a flow battery system that is designed for grid-scale energy storage. Flow batteries use fluid storage tanks and a reaction chamber to store energy. This technology is almost exclusively used for long-duration energy storage on the power grid.
As the power grid becomes more digitized, smart devices powered by edge computing — like smart meters — are becoming more common. Companies like Utilidata and Grid4C use the data collected from these edge devices to help utilities manage the developing grid, minimize costs, and recognize outages. In addition, grid-scale energy storage is being deployed to meet peak demand with power generated during off-peak periods. Form Energy is looking to be a top player in this category by developing power plants that could store energy for weeks.
Meanwhile, as electric vehicles take off, EV charging infrastructure can be used to dynamically manage demand on the grid and prevent outages. 
EV battery packs are also finding new uses in the power grid once they reach their "end of life." This is known as second-life battery tech. EVs contain thousands of individual battery cells that make up the vehicle's battery pack. Over time, the battery pack loses its ability to hold a charge. However, when the packs reach their end of life, they typically still hold a significant amount of charge, making them suitable for a "second life" of 5-7 years as grid storage components.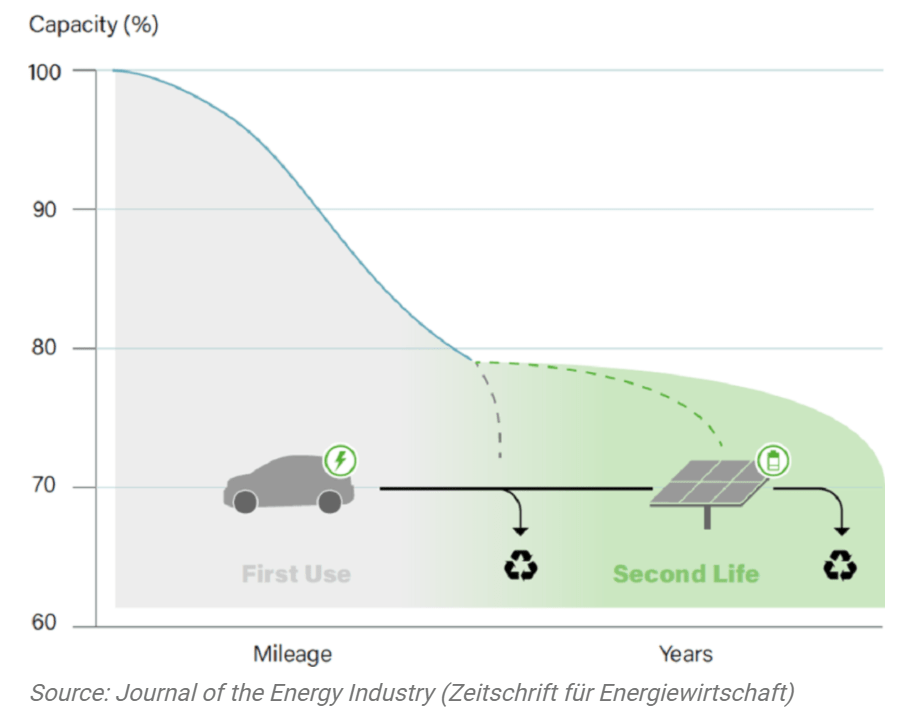 Because the only costs associated with second-life battery production are testing and reassembling, second-life batteries are an inexpensive source of energy storage for the grid. 
The tech is steadily gaining media attention. In May 2020, researchers at MIT published a study showing that EV manufacturers could profitably sell second-life batteries to "solar-plus-storage" developers, causing news mentions to spike. Kia and SK Innovation then announced a partnership around the circular economy of EV batteries in September 2020, providing another boost.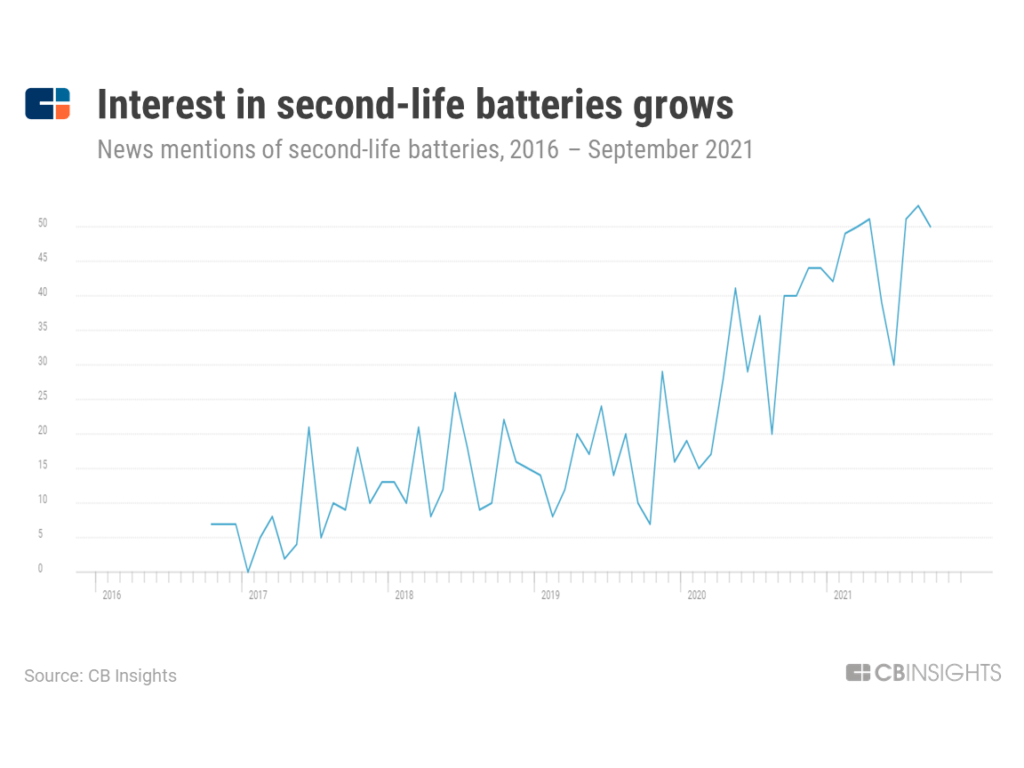 When combined with cheap solar or wind production, second-life batteries could help utility companies reduce the cost of providing electricity, and those savings could be passed on to ratepayers.
If you aren't already a client, sign up for a free trial to learn more about our platform.