Advances in industrial biochemistry have unlocked the potential to harness small cells to make fuel, foods, and custom materials. We looked at startups using cells for factory-scale production.
For thousands of years, humans have harnessed microorganisms to produce valuable byproducts — namely, beer. But thanks to new innovations in gene editing and robotic lab automation, synthetic biology is enabling completely new possibilities.
Whether it's the fibers in our clothes or the plastics in our keyboards, just about every good made today requires immense resources to extract its basic materials. Synthetic biology, which we define as the application of engineering principles to small organisms, often via the manipulation of DNA, offers a new way to fabricate the same goods.
Right now, investors are betting that new cell-produced products could replace many industrial and chemical processes in food, fuel, medicine, proteins, and materials, except with far fewer inputs and negative side effects.
Previously, we've analyzed the broad synthetic biology space. This time, we identified 35+ private companies that are aiming to leverage the cell for industry-scale production.
This market map includes private companies and is not meant to be exhaustive of companies in the space. Categories are not mutually exclusive. 
Please click to enlarge.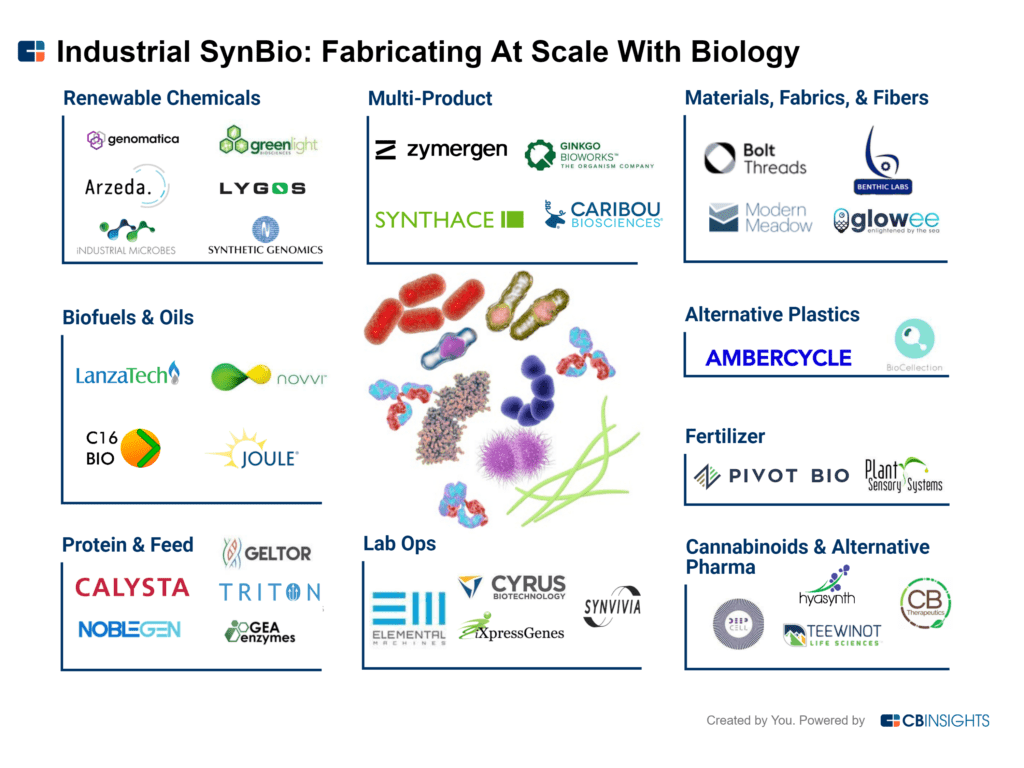 Note: This market map excludes startups working on underlying technology like CRISPR or synthetic DNA/RNA to power industrial applications. Additionally, this map focuses specifically on companies in industrial and commercial areas outside of traditional healthcare therapeutics and alternative foods. 
Industrial Synbio
In this collection, we include companies that are leveraging microorganisms to produce new chemicals, fuels, and materials at industrial scale.
Track Industrial Synthetic Biology Tech
Category Breakdown
Renewable Chemicals: These companies are developing novel methods for the production of basic chemicals used in industrial applications. For example, Genomatica has raised more than $227M to make basic chemicals from renewable sources. Lygos converts low-cost sugars into chemicals such as malonic acid.
Biofuels & Oils: Companies in this category are developing new renewable energy sources. LanzaTech, for example, has enabled microbes to turn waste gases (such as carbon dioxide or methane) into fuels and chemicals. C16 Bio is a YC-backed company synthesizing the environmentally-devastating palm oil that is a common ingredient in many consumer products.
Multi-product: Companies in this category are building solutions for the rapid scaling of custom chemicals. Ginkgo Bioworks and Zymergen both use synthetic biology and lab automation to produce custom chemicals such as synthetic fragrances, nutrition, health, and consumer products.
Protein & Feed: Included companies are commercializing proteins or feedstock products that could be more sustainable than current inputs. Calysta, which counts Cargill as a backer, focuses on proteins for fish and livestock. Geltor works on designing collagen and proteins for cosmetics.
Materials, Fabrics, & Fibers: Companies here are focused on new materials with interesting properties. Bolt Threads, for example, focuses on engineering renewable fibers and fabrics.
Lab Ops: Companies in this category are working on software systems and technologies for industrial biochemistry. One example here is recent Y Combinator graduate Synvivia, which is focused on creating organisms that can be controlled with small molecules. Others like Cyrus Biotechnology work on software for modeling the produced molecules.
Cannabinoids & Alternative Pharma: Companies in this nascent sub-segment are working on synthesizing cannabinoids at scale. Startups such as CB Therapeutics are aiming to develop processes that mass-produce these underlying chemicals.
Alternative Plastics: Ambercycle is working on cell-based alternatives to the many petroleum products including plastics. BioCellection is working on a process to tackle plastic pollution.
Fertilizer: Companies here are working on new fertilizers. Pivot Bio synthesizes nitrogen-rich microbes that get consumed by crops, eliminating the environmental runoff of traditional fertilizers.
If you aren't already a client, sign up for a free trial to learn more about our platform.