Industrial 3D printing companies have seen increased funding amid a wider downturn in the industry.
In 2015, the 3D printing space experienced a significant downturn. Earnings of publicly traded 3D printing companies stagnated and share prices dropped, amid a decline in public interest in the space.
Venture activity saw a corresponding decline. 3D printing deals decreased by 22% from 2015 to 2016. 
Amid the wider downturn, venture funding of industrial-focused 3D printing companies increased at a rapid clip. Using CB Insights data, we analyzed yearly deals and funding trends to these private companies.
Defined as companies that supply 3D printing products and services to B2B markets including aerospace, automotive, and construction, deals to industrial-focused 3D printing companies increased by 75% from 2014 to 2015, and increased a further 32% from 2015 to 2016.
Corporate investors account for an increasing percentage of investors in the industrial 3D printing space, pushing the deal count up year-over-year.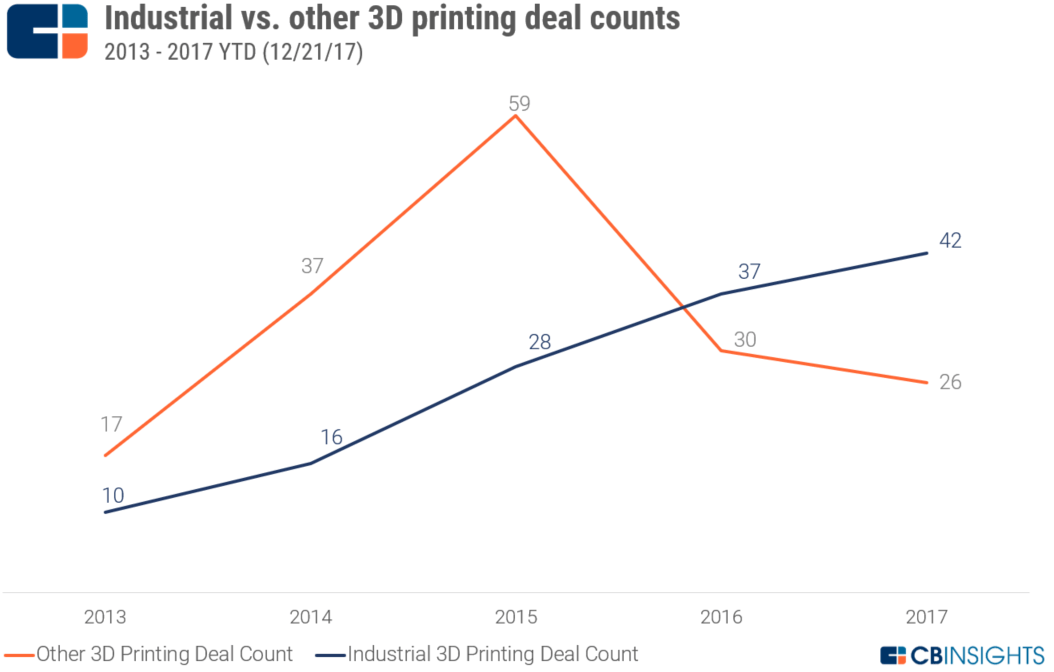 Meanwhile, deals to non-industrial companies — typically with consumer, healthcare, and artistic applications —increased from 2013 to 2015, before dropping off in 2016.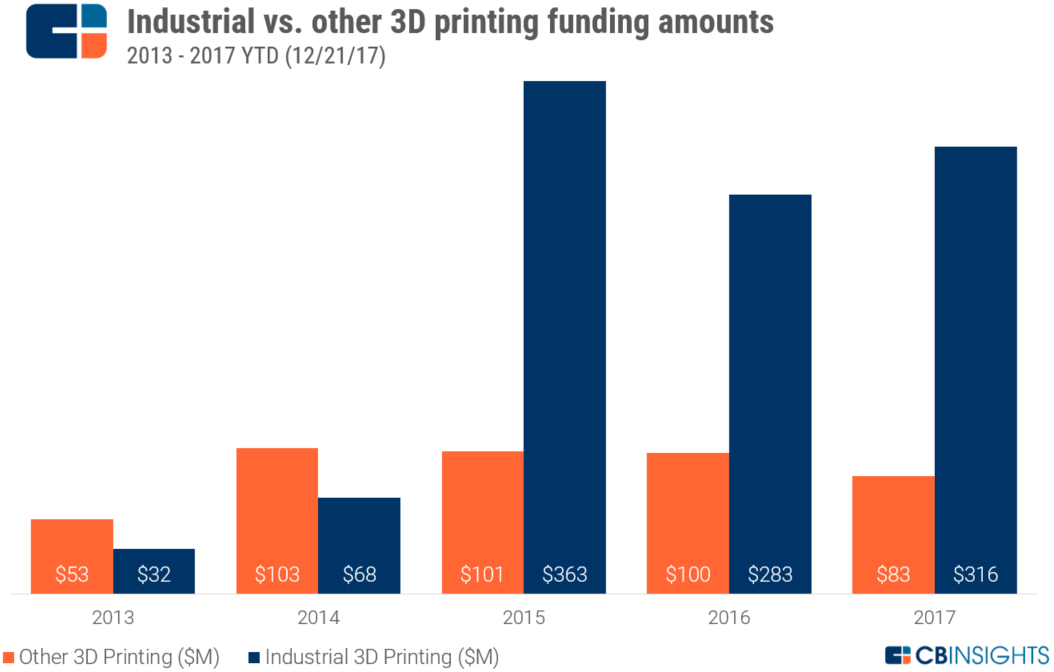 Corporate investment and mega-rounds to makers of 3D printers sustained funding activity in the industrial 3D printing space.
Total dollars entering the industrial 3D printing space shot up from 2014 to 2015, driven by makers of 3D printers. Several printer companies raised large rounds, led by Carbon, a provider of metals 3D printing systems. The company raised a $41M Series B round in Q1'15, followed by a $100M Series C round in Q3 of that year.
Funding levels have been sustained in 2017 by printer makers. Desktop Metal, a metals 3D printer maker, has raised $160M in Series C and Series D funding. Markforged, which makes composites 3D printers, raised a $30M Series C round in November 2017.
The increasingly mature landscape of industrial printer makers should continue to attract investment activity through large, late-stage deals.
If you aren't already a client, sign up for a free trial to learn more about our platform.