Large industrial conglomerates have accelerated their acquisitions in industrial 3D printing.
Mature industrial companies are dominating M&A in the industrial 3D printing space. 3D printing has the potential to drastically reduce material costs, shrink supply chains, improve product performance, and increase design freedom in multiple industries. Industrial companies are looking beyond their R&D and patent portfolios to gain an edge in 3D printing.
Prior to 2015, most acquiring was done by publicly traded 3D printer makers, including 3D Systems and Stratasys, and 3D design software company Autodesk.
After 2015, industrial corporates jumped into 3D printing. GE led the way with its near simultaneous acquisitions of printer manufacturers Arcam and Concept Laser in September and October 2016.
Siemens acquired its first 3D printing company in 2016, the 3D printed parts maker Materials Solutions, after investing in the company through Siemens' next47 fund.
Additionally, aerospace parts manufacturer Precision Castparts, a subsidiary of Berkshire Hathaway, acquired 3D metal prototyping and production company Atlantic Precision in Q4'16.
Looking at the below chart, industrial corporates made 7 of 9 industrial 3D printing acquisitions in 2017.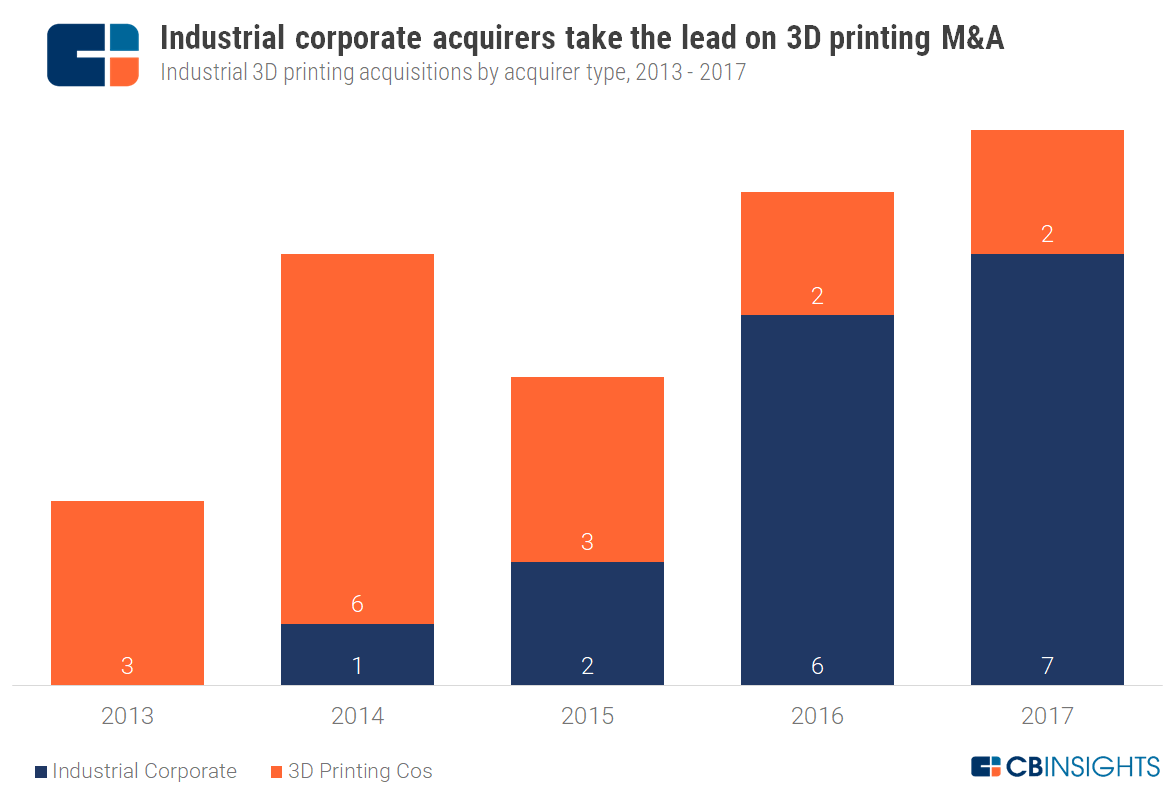 Other strategic acquisition activity in 2017 included DMG Mori, a Japanese manufacturer of industrial lasers and cutting tools, acquiring printer maker Realizer in February and industrial machine manufacturer Cincinnati Incorporated acquiring printer company NVBOTS in early December.
Additive manufacturers slow deal-making as share prices decline
Acquisitions of industrial 3D printing companies by other additive manufacturing companies have slowed down from their peak in 2014. The traditional 3D printing acquirers, 3D Systems and Stratasys, have not made acquisitions in recent years. 3D Systems made its last acquisition in the space in 2015, after acquiring a total of 12 industrial-focused 3D printing companies since 2009.
Stratasys has not made any acquisitions since it bought 3 industrial 3D printing companies in 2014.
The decline in acquisition activity by Stratasys and 3D Systems corresponds with a decline in the two companies' earnings and share prices starting in 2014. 3D Systems posted losses in 2015 and 2016, amid declining revenue. Stratasys has lost money each year since 2013, including -$1.3M in net income in 2015, the company's worst performing year on record. Stagnating earnings and share price drops constrained both companies' ability to acquire.
The poor performance of the two largest 3D printer companies amid increasing M&A in the space by mature industrial conglomerates indicates both the nascent state of industrial 3D printing and its future promise.
Industrial 3D printer makers are not yet profitable, restricting their ability to expand horizontally through M&A. However, deep-pocketed industrial companies are taking the long view on the technology, buying companies outright and providing venture investment.
If you aren't already a client, sign up for a free trial to learn more about our platform.