We rounded up 140+ companies, investors, and exits that have come to define Indonesia's tech ecosystem.
Indonesia is the world's fourth most populous country and largest archipelagic state, with more than 17,000 islands under its belt.
Over the years, the region's tech industry has grown, and today Indonesia is one of the world's fastest-growing Internet markets, as well as home to two newly-minted tech unicorns: ride-hailing startup GO-JEK (which hit a $3B valuation in Q2'17) and travel booking company Traveloka Indonesia (valued at $2B in Q3'17).
Using CB Insights data, we outlined the key players in Indonesia's startup ecosystem. Our periodic table highlights the companies defining the tech industry in Indonesia; the investors (including venture capital, corporations, and corporate venture capital arms) that have been among the most active in financing them; and notable exits from recent years.
Please click to enlarge.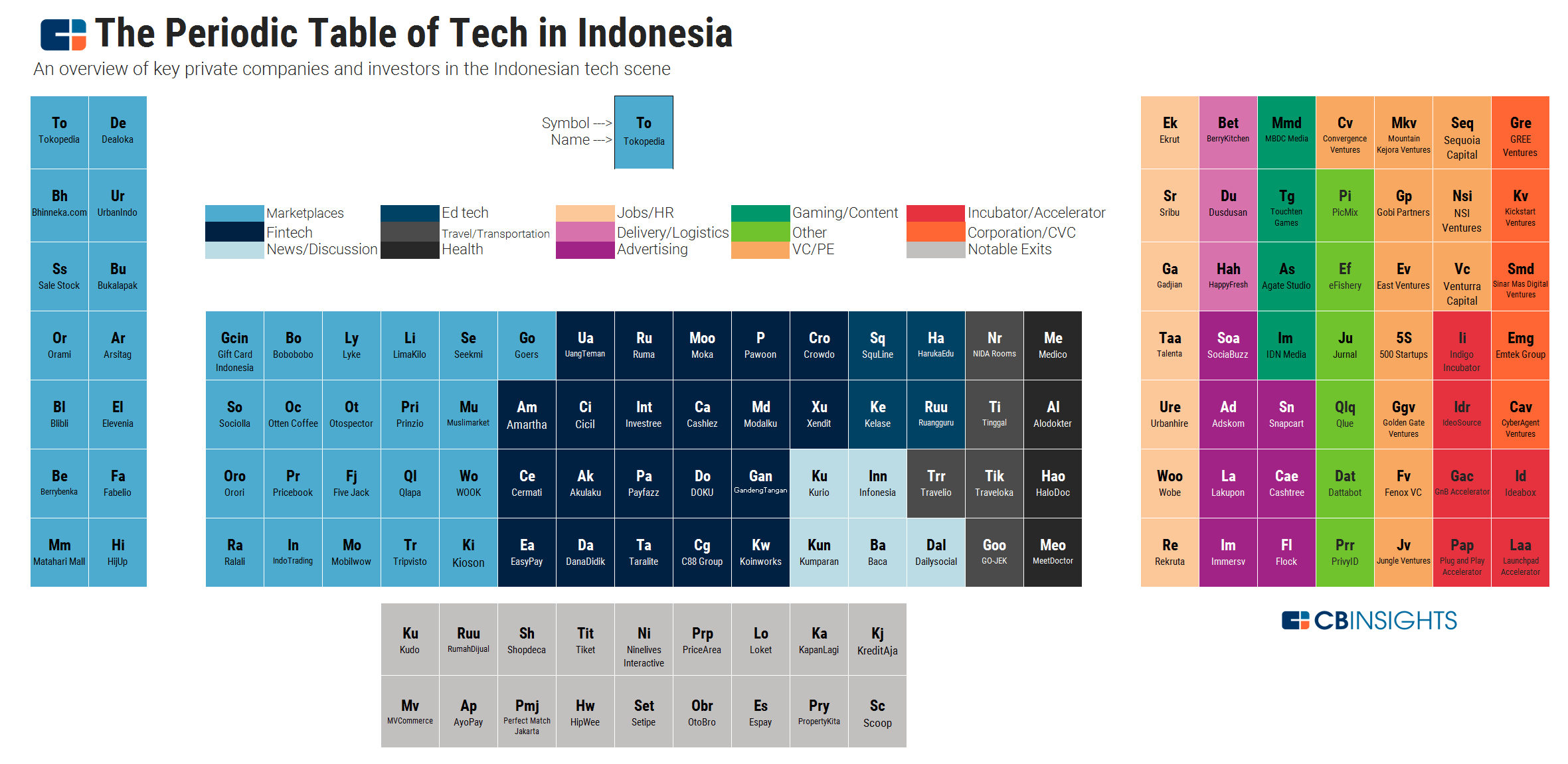 NAVIGATING THE PERIODIC TABLE OF INDONESIA TECH
The table's top section lists notable Indonesia tech startups, as well as some of the country's most active investors and incubators. The bottom two rows highlight notable exits.
We broke down our list of Indonesia tech startups into 10 categories, listed below.
Marketplace — E-commerce and marketplace startups are some of Indonesia's most highly funded private companies, particularly when it comes to multi-product or e-commerce marketplaces like Tokopedia, which has raised a total of $1.4B in disclosed funding. Most of this funding comes from Chinese e-commerce giant Alibaba Group, which invested $1.1B into Tokopedia's Series F in Q3'17
Other well-funded startups in the category include e-commerce site Matahari Mall, which has raised $616M in total disclosed funding (with $500M coming from Indonesian real estate development company Lippo Group), and e-commerce site Elevenia, which has raised $110M from investors including Indonesian telecom operator XL Axiata.
More niche e-commerce companies include startups catering to Indonesia's large Muslim population, including Muslimarket, a Muslim fashion marketplace, and BukaLapak-operated HijUp.com, which sells specifically to Muslim women.
Other companies operate marketplaces that work with the country's offline sector with services that help them offer their products online. Prinzio, for example, connects users with local printing shops, while Seekmi matches customers to service providers, like technicians, electricians, and plumbers.
Fintech — With a large unbanked population and growing smartphone usage, fintech deals in Indonesia are on pace for a record high in 2017. Startups we've included in the periodic table operate in the P2P microlending industry, like UangTeman, Investree, and Amartha. Others work with credit, like Cicil and Akulaku, while Cermati helps users find and compare financial products like credit cards and loans.
A popular trend is startups that operate at the point-of-sale, including Moka, which works with SMEs, and Cashlez, which runs a payment gateway.
News / Discussion — This category includes Kumparan, a news site backed by GDP Venture that lets users follow "news providers" who create a feed of important stories, and smart news app Kurio, which curates news based on user preferences.
Ed Tech — HarukaEdu helps universities offer better online education, while Ruangguru , which was accepted into Google's Launchpad Accelerator program in 2016, connects students to tutors.
Travel / Transportation  — This category includes some well-funded heavyweights, with ride-hailing startup GO-JEK claiming the title of Indonesia's most well-funded startup with $1.8B in disclosed funding.
In addition to ride hailing, GO-JEK also conducts deliveries and has launched an e-wallet equipped with the ability to transfer cash to friends — pushing it towards a future of WeChat-esque multiplatform capabilities.
Travel bookings site Traveloka Indonesia is also featured in this category, with $500M in total disclosed funding from investors including Sequoia Capital, among others.
Health — HaloDoc, which has been backed by GO-JEK, connects users to doctors and facilitates medicine delivery, while 500 Startups-backed Alodokter lists health information on its site.
Jobs / HR — Startups that are working in the jobs / HR space are split across several different categories. Some, like Sribu, connect jobseekers and companies. Others help companies digitize their job searches, like UrbanHire, which allows companies to create their own career page, post to job boards, and schedule interviews.
Delivery / Logistics — Dusdusan delivers household products and groceries to wholesalers and retailers, while HappyFresh (backed by Temasek Holdings and 500 Startups, among others) delivers groceries with a focus on the instant model.
Advertising — This cateogry includes Flock, a digital marketing startup, Cashtree, which allows users to make money by installing ads on their mobile home screens, and Sociabuzz, which connects influencers and advertisers.
Gaming/Content — Touchten Games, which is backed by 500 Startups and Japan's GREE Ventures, develops games that let players win virtual currency that can be then used at restaurants, stores, and entertainment venues. Buzzfeed-esque IDN Media and humor and entertainment site MBDC Media are both digital media companies.
Other — A diverse set of startups fall under our Other category. eFishery is a smart fish feeding machine that detects when fish are hungry and feeds them. Qlue uses its map-based platform to register citizens' complaints and apply analytics and surveying tools to this data. PrivyID lets users sign with electronic signatures.
Venture Capital / Private Equity — This table features the Indonesian and foreign venture capital funds that are most active in the country, including 500 Startups, Indonesia-based East Ventures, and Chinese investor Gobi Partners.
Incubator/Accelerator — Among the incubators and accelerators on our list are Google's Launchpad Accelerator and Silicon Valley-based Plug and Play Accelerator. Launchpad has accelerated startups highlighted on in the table, such as ed tech company Ruangguru and smart news site Kurio.
Corporation/CVC — Many Indonesian investors and investing in the country's tech scene, including Sinar Mas Digital Ventures, the conglomerate Sinar Mas' venture capital investment arm. Emtek Group also runs its own venture capital arm making investments in the country.
Notable Exits — There have been a small handful of exits in Indonesia. One notable acquisition was that of online-to-offline fintech startup Kudo, which was acquired by Grab in 2017. Another is property portal RumahDijual, which was bought by Singaporean property site PropertyGuru in 2015.
Additional Active Companies 
Although our periodic table only features companies that are headquartered in Indonesia, there are several Southeast Asian companies from different countries in the region that are highly active in Indonesia.
This includes Singabore-based FinAccel, which operates Kredivo, a short-term financing engine that lets customers buy items on credit, as well as Hong Kong's Compare Asia, which has received backing from investors like Alibaba Group and Goldman Sachs, and launched its financial comparison product in Indonesia under HaloMoney.
Singapore-based ride-hailing service Grab is ranked 11th on SimilarWeb's list of most popular apps on Google Play in Indonesia, and competes head-on with GO-JEK, which is ranked 14th. Grab has raised $3.4B in disclosed funding to date, and was valued at $6B in Q3'17.
If you aren't already a client, sign up for a free trial to learn more about our platform.