Indonesian startups operating in P2P lending, merchant payments, and e-commerce installment lending have attracted venture capital investment in the last year.
Bolstered by a young, more confident, and growing middle class, and rising smartphone penetration, a burgeoning crop of tech startups are now attacking both consumer and small business financial services in Indonesia.
While the fintech industry in the country of over 260 million people is still incredibly nascent, deal activity in the space has picked up over the last two years and is on pace for a record high in 2017 at the current run rate, according to an analysis of CB Insights data.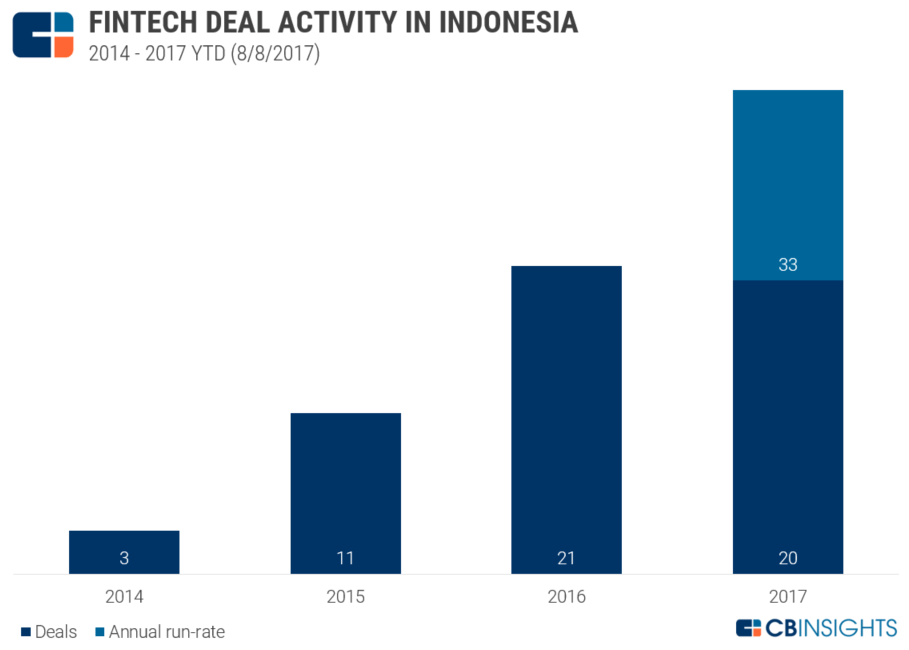 Within Indonesia's fintech startup landscape, we analyzed a few of the key categories that have seen rising traction, as well as local startups that have picked up early-stage investment in the last two years. These include:
P2P Lending: According to a recent study, 80% of the Indonesian population does not have a formal bank account, with 203 million Indonesians earning less than $4.50 a day.
Over the last year, a number of P2P lending startups have raised investment to try and help fill the void. These include Amartha, which raised $30M led by Mandiri Capital in March 2017, UangTeman, a P2P lending platform which facilitates loans up to Rp 6 million, and Investree, which claims to have distributed close to $20M in loans to 700 SMEs on its platform.
Merchant payments: With many of the 60 million SMEs in Indonesia still manually using pen and paper, multiple startups have been funded over the past few years that provide point-of-sale software and/or hardware, cash flow management, and apps to monitor business transactions.
These companies include Moka, backed by investors including Convergence Ventures, East Ventures, Fenox VC, and Wavemaker Partners; Pawoon, backed by Ideabox and Kejora Ventures; and Cashlez, backed by Mandiri Capital and Gan Kapital, which offers a wireless card reader to facilitate card payments for small and medium-sized businesses.
E-commerce installment lending: In November 2016, East Ventures invested in Cicil, a financing platform targeted at college students to provide installment loans for items such as smartphones and laptops. Akulaku, which has a presence in five countries including Indonesia, provides an installment shopping mall and has racked up more than 5,000,000 downloads in the Google Play store. Kredivo, which is owned by Singapore-based startup FinAccel, also offers credit for online shopping in Indonesia without credit card on 30-day or 3-, 6-, and 12-month installments.
Financial comparison: As more Indonesians enter the middle class, investors have backed various financial comparison startups to help consumers become customers of financial institutions. Venture-backed companies in this category include Cermati, a online portal for financial products including auto and personal loans and credit cards, which raised a Series A extension from Orange Growth Capital in February 2017, and C88 Group, which operates financial comparison site CekAja in Indonesia and is backed by investors including Monk's Hill Ventures.
If you aren't already a client, sign up for a free trial to learn more about our platform.