India's unicorn companies are raising significantly more funding than early-stage startups. Is the country's tech ecosystem flourishing, or is its growth being driven by just a handful of companies?
India's tech startups raised nearly $10B in funding in 2017 — a record amount. However, just $206M of that went to seed- and angel-stage deals, while over $6B in funding went to the country's then-unicorns.
The difference between the country's unicorns and the rest of its tech startups is only growing more obvious. Every surge in funding has been driven by these companies valued at $1B+. When funding hit an $8.7B peak in 2015, 47% ($4.1B), went to tech unicorns.
Similarly, every drop in funding has been driven by less attention to unicorns. As India's tech startups saw funding fall over $5B in 2016, unicorns also saw their funding fall to $626M.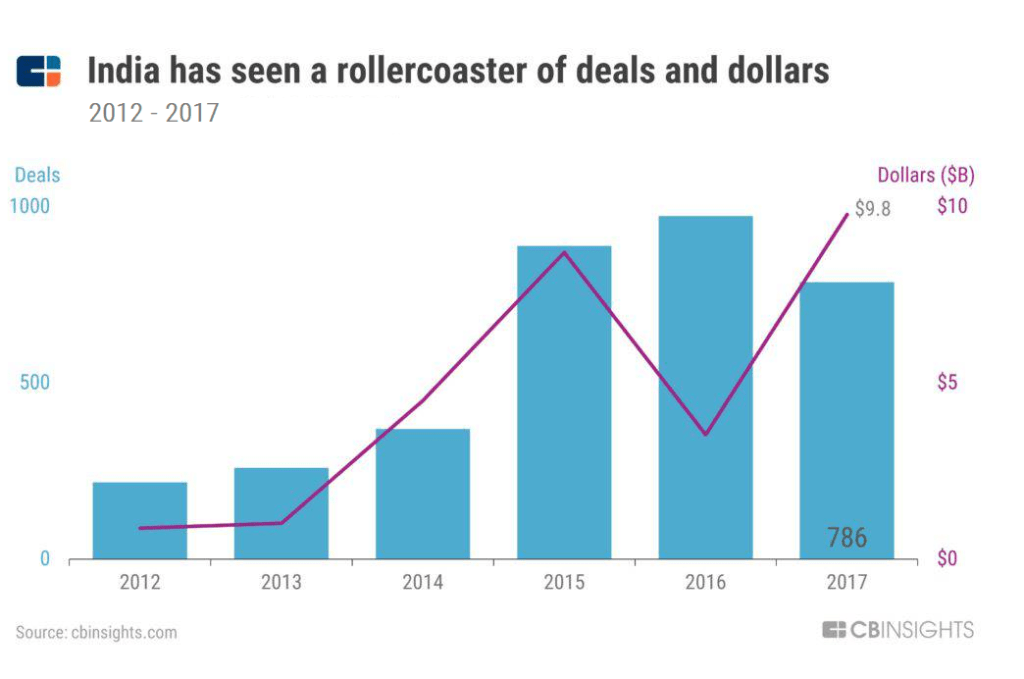 Deals, on the other hand, have moved in the opposite direction in recent years. Between 2015 and 2016, as funding more than halved, the number of deals closed jumped 9.6% — from 889 to 974. And, in 2017, when the country hit a record of nearly $10B, deals dropped by 19.3%.
This raises an important question: does the country actually have a robust tech ecosystem, or is its growth limited to a handful of companies?
unicorns run rampant
In 2017, the companies considered unicorns at the time raised over $6B in funding. Flipkart, for example, raised $2.8B across several rounds that year, including SoftBank Group's participation in the second tranche of its $1.4B Series J round in Q3'17. In Q2'18. Walmart acquired a majority stake in Flipkart for $16B.
Olacabs raised more than $1.8B in 2017, including a $1.1B Series J round from SoftBank Group in Q4'17.
Flipkart and Olacabs' rounds rank among the biggest closed in India's tech ecosystem overall.
Top VC-backed rounds to tech companies in 2017

| Company | Amount ($M) | Round | Date | Select investors |
| --- | --- | --- | --- | --- |
| Flipkart | 1400 | Series J – II | 8/10/2017 | SoftBank Group |
| One97 Communications | 1400 | Corporate Minority | 5/18/2017 | SoftBank Group |
| Flipkart | 1400 | Series J | 3/20/2017 | Tencent Holdings, Microsoft, Accel |
| Olacabs | 1100 | Series J | 10/2/2017 | SoftBank Group, Tencent Holdings, UC-RNT Fund |
| Olacabs | 330 | Series H | 2/27/2017 | SoftBank Group |
It's almost as if India's unicorn companies have a funding economy of their own.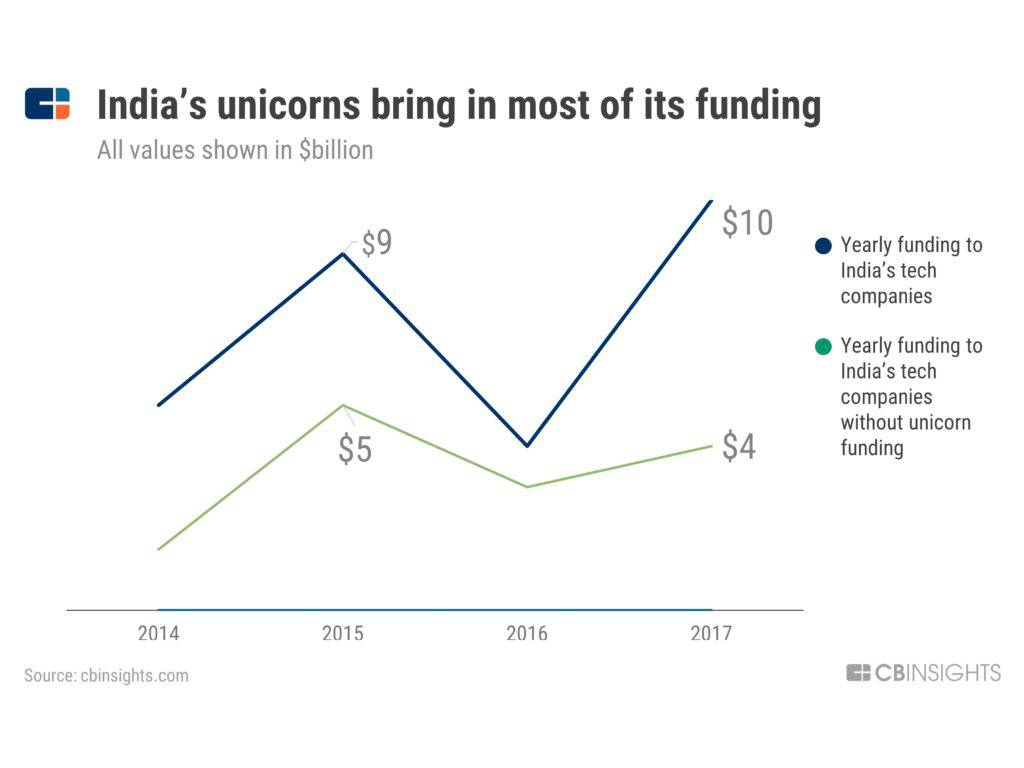 In 2015 and 2017, both blockbuster years for funding in India, unicorns raised most of the money that went into the country's tech ecosystem. Without their presence, funding would have been $4B lower in 2015 and $6B lower in 2017.
A HANDFUL OF INVESTORS HAVE CONSISTENTLY BET ON UNICORNS
A few investors have repeatedly contributed to India's unicorn companies.
New York's Tiger Global Management has invested in 22 rounds to companies that have received unicorn valuations at some point. Those rounds are spread across 5 companies. Most frequently, Tiger Global has invested in e-commerce site Flipkart and ride-hailing app Olacabs. Both companies have raised 8 or more rounds of funding that have involved the investor.
Japan's SoftBank Group has been involved in 14 rounds to companies that have received unicorn valuations at some point. The rounds are spread across 7 companies. SoftBank has most frequently invested in ride-hailing app Olacabs, which has raised 6 rounds that involve the investor. This includes a $1.1B Series J round in Q4'17.
Accel India, which is an independent arm of Silicon Valley's Accel Partners, has funded 11 rounds to unicorn-valued companies. Accel has invested in food delivery company Swiggy most frequently, participating in 6 rounds. This includes an $80M Series E in Q2'17.
NEW unicorns continue to join the club
India's heavily-funded tech unicorns are not necessarily problematic — but they do raise questions about how robust the country's tech ecosystem actually is.
One positive sign is the constant growth of the unicorn club.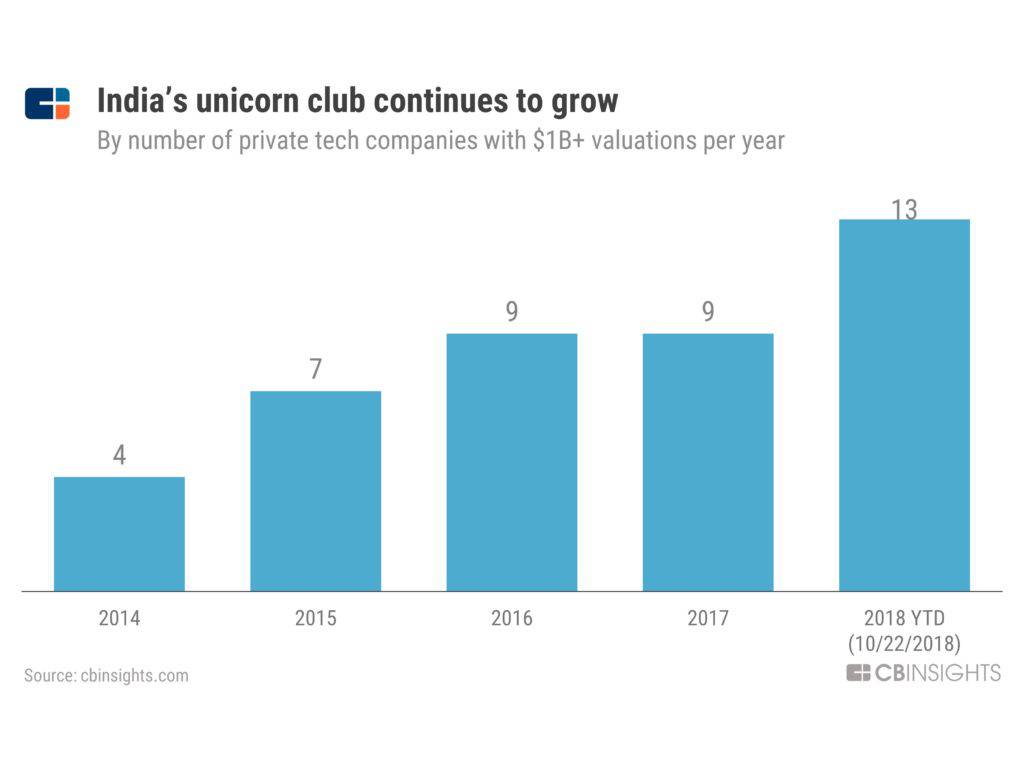 This year, India's unicorn count is up to 13. (Note: this number excludes ReNew Power Ventures, which develops wind and solar projects and is therefore not included in our definition of a technology company. It also excludes Flipkart, which was acquired by Walmart in 2018).
That number has more than tripled since 2014, when the number of private tech companies valued above $1B was only 4. To date, the only unicorn to have exited the club is Flipkart, when it was acquired by Walmart in 2018.
Several companies across industries from hospitality to insurtech have reached unicorn status this year.
Hotel aggregator Oyo Rooms became a unicorn in September 2018 after raising $1B from investors including SoftBank Group, Sequoia Capital India, and Lightspeed India Partners — putting its valuation at $5B.
However, some unicorns have contentious valuations.
For example, e-commerce site Snapdeal was last valued between $6.5B and $7B following its $200M Series F round in 2016.
But the company has had a tumultuous ride since then. After months of press that rival Flipkart had plans to acquire Snapdeal (both of which are backed by SoftBank), the deal fell apart.
Since then, Snapdeal has not received a valuation, and has therefore not been removed from the unicorn club. However, its founder has admitted that the company suffered a near-death moment, and has had to drastically cut costs and restructure parts of its team.
Beyond unicorns
In 2017, just $206M of angel- and seed-stage deals were closed. This is a steep drop from the $283M brought in the year prior, and the smallest amount of funding that's gone into early-stage tech startups since 2014. Deals also saw a steep drop, from 710 in 2016 to just 462 in 2017.
Despite an overall increase in funding, it's clear that India's tech ecosystem has not yet hit a steady pace of growth.
If you aren't already a client, sign up for a free trial to learn more about our platform.