Bengaluru, Delhi, and Mumbai together claim three-fourths of India's startup deals.
India is home to one of the world's most active startup ecosystems, with deal activity increasing for the fourth consecutive year in 2016.
Deal activity is particularly concentrated in a few key hotspots: over the last 5 years, 79% of deals went to startups based in 3 cities — Bengaluru, Delhi, and Mumbai — with Bengaluru and Delhi claiming the majority of the country's 10 unicorns.
Using the CB Insights database, we analyzed deal distribution throughout India and mapped the top 3 most well-funded startups in each tech hub in India.
Bengaluru is also home to India's most well-funded startup, e-commerce site Flipkart, which has raised $7.2B in funding since 2011. The unicorn's most recent round was a second tranche of Series J funding in August, when it raised $2.5B from SoftBank Group, which has earmarked its $93B Vision Fund for global startup investing.
India's top cities by deals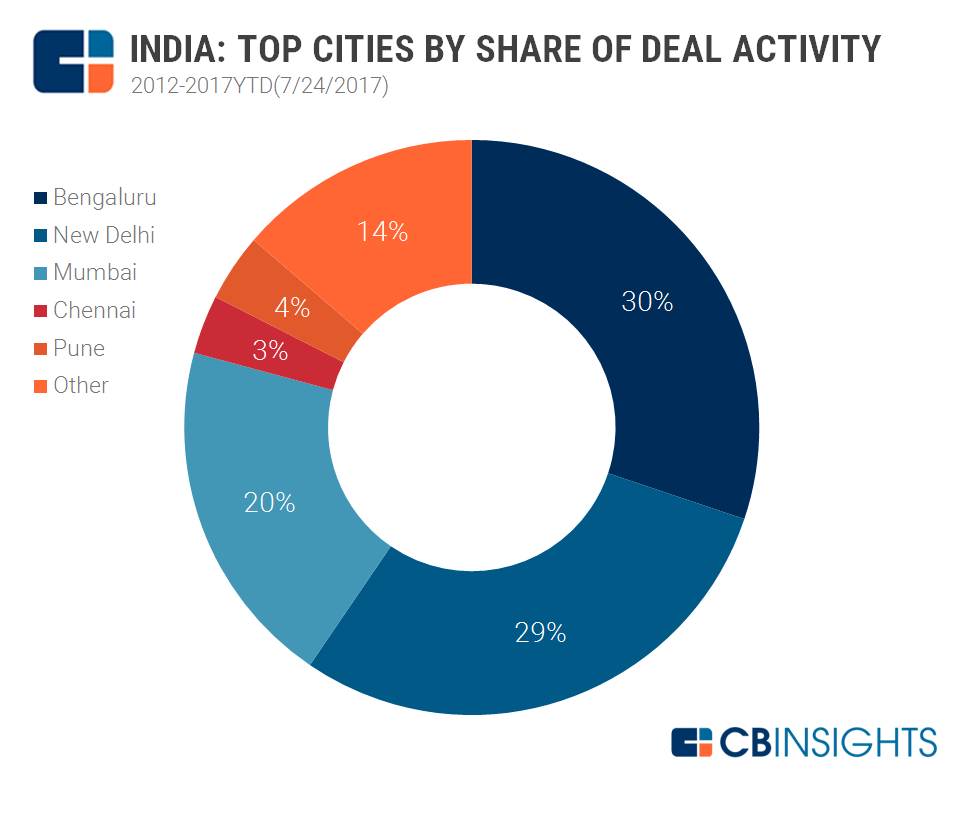 Bengaluru, the capital of the Southern state of Karnataka, took in the greatest number of deals over the past five years, at 30%. Delhi and its surrounding NCR (National Capital Region) area came in a close second, at 29% each. In third place was the coastal city of Mumbai, historically known as the country's financial capital, with 20% of deals.
With activity heavily skewed toward the main three urban hubs, the remaining top two cities (Chennai and Pune) were much less active, each taking less than 5% of deal share.
Pune, just a short distance away from Mumbai, took up 4% of all deals. Chennai, which is the capital of the southern state of Tamil Nadu, closed 3% of all deals.
Not pictured is Hyderabad, which closed slightly fewer deals than Chennai or Pune.
Most well-FUNDED STARTUPS IN INDIA'S TOP 5 CITIES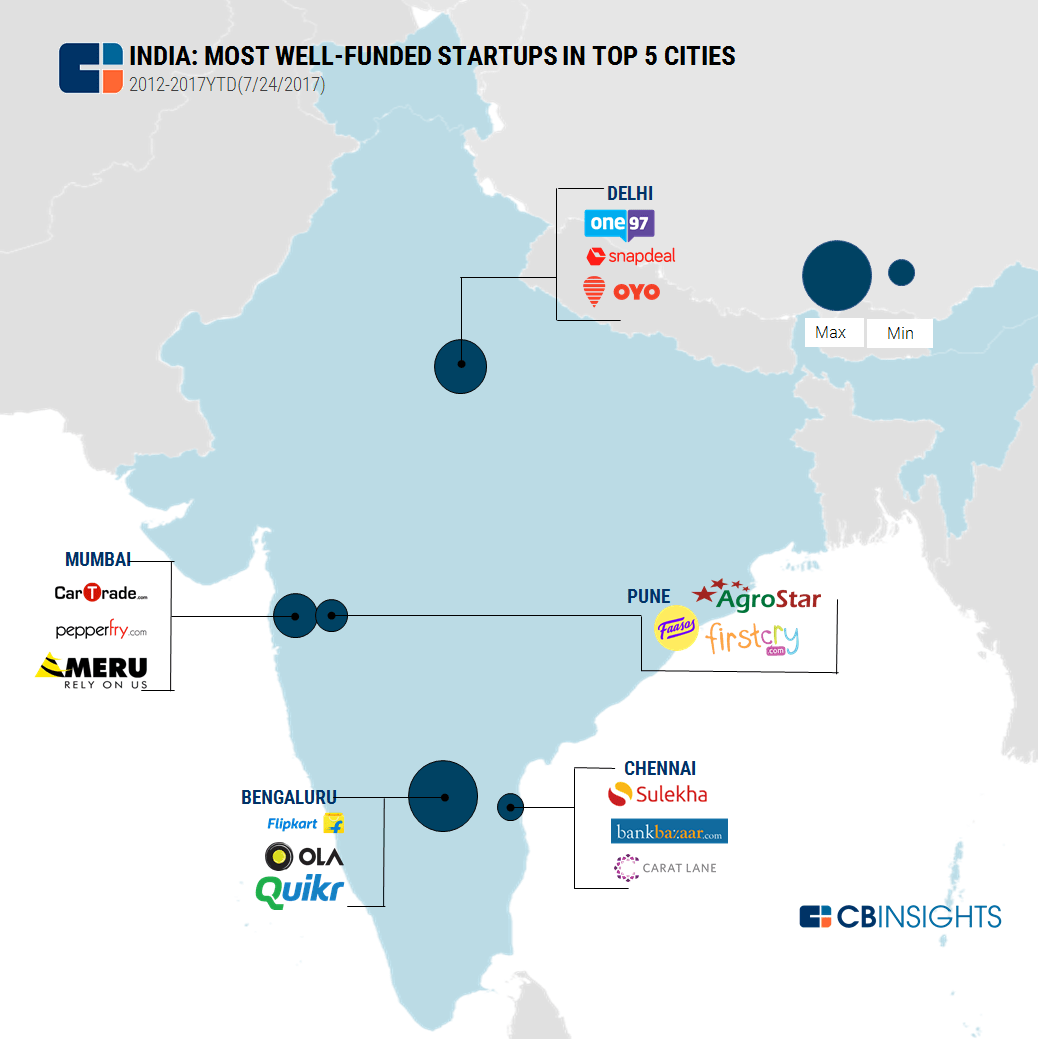 The country's most well-funded startups are mostly concentrated in the Delhi region and Bengaluru, in keeping with overall deal distribution.
Delhi/NCR is home to 6 unicorns (the most of any other region). Its most well-funded startup is One97 Communications, the parent company of e-wallet and e-commerce site Paytm, which has raised $2.77B in funding. Its most recent round was in May — a $1.4B corporate minority round from Softbank. In second place is e-commerce site Snapdeal, which has raised $1.78B in total funding. After months of rumors that Snapdeal would merge with Flipkart, the e-commerce site has denied such activity.  Hotel room aggregator OYO Rooms comes in third, having raised $543M in total funding. Other heavily funded startups include unicorn and messaging app Hike, which has raised a total of $261M . Its latest round was a $175M Series D closed in August 2016 from a long list of investors, including Japan's SoftBank Group, Taiwanese Foxconn Technology Company, China's Tencent Holdings, and New York's Tiger Global Management.
Bengaluru has the second greatest number of unicorns, 4, despite accounting for slightly more deal share than New Delhi.  E-commerce site Flipkart has raised $7.15B in total and is the most well-funded company in India as a whole. Taxi-hailing company Olacabs has been funded to the tune of $2.54B and shares a few investors with Flipkart, including SoftBank Group and Tiger Global Management. Third is classifieds site Quikr, which has raised $370M in total. Its investors include eBay, Warburg Pincus, Matrix Partners India, and Tiger Global Management. Another well- funded startup is mobile adtech firm InMobi (not pictured), another SoftBank-backed unicorn that has raised $320.6M in total.
Mumbai, in third place, is home to no unicorns. Its most well-funded startup is B2B used car marketplace CarTrade, which has raised $230M in total, with its latest infusion of $55M coming in 2017 from Singapore's Temasek Holdings. In second is furniture e-commerce site Pepperfry, which has raised $160M. Its investors include Bertelsmann India, Goldman Sachs, and Norwest Venture Partners. In third is Meru Cab, which was an early entrant into India's taxi-on-demand scene. It's raised $75M in total from True North and Brand Capital. Our list does not include telecom companies, but Tikona Digital Networks is also among the most well-funded, having raised $216M in total funding.
Pune is home to new mom and baby goods e-commerce site FirstCry, which has raised a total of $103M, closing its $34M Series E round in 2016. It's also home to Faasos, which uses tech to deliver food from its own restaurants. The startup has closed a total of $64.3M. The city is also home to Agrostar, one of India's top funded ag tech startups, which runs a site for farmers to buy seeds, tools, and nutrients. It has closed a total of $14M until date.
Chennai also has a few notable startups. BankBazaar is a loans marketplace that has raised $79M in total. The $58M-funded CaratLane sells jewelry online and local listings site Sulekha has raised $44.6M in total.
If you aren't already a client, sign up for a free trial to learn more about our platform.