The most active corporate investor in the country was India's Times Group, followed by Qualcomm Ventures.
The promise of high-growth and a mobile-enabled population of 1.3B has helped India attract investors of all types to its tech ecosystem.
While India-based Blume Ventures takes the lead for most active venture capital investor in the country, corporate and CVC deals to the tech sector have risen every year since 2012.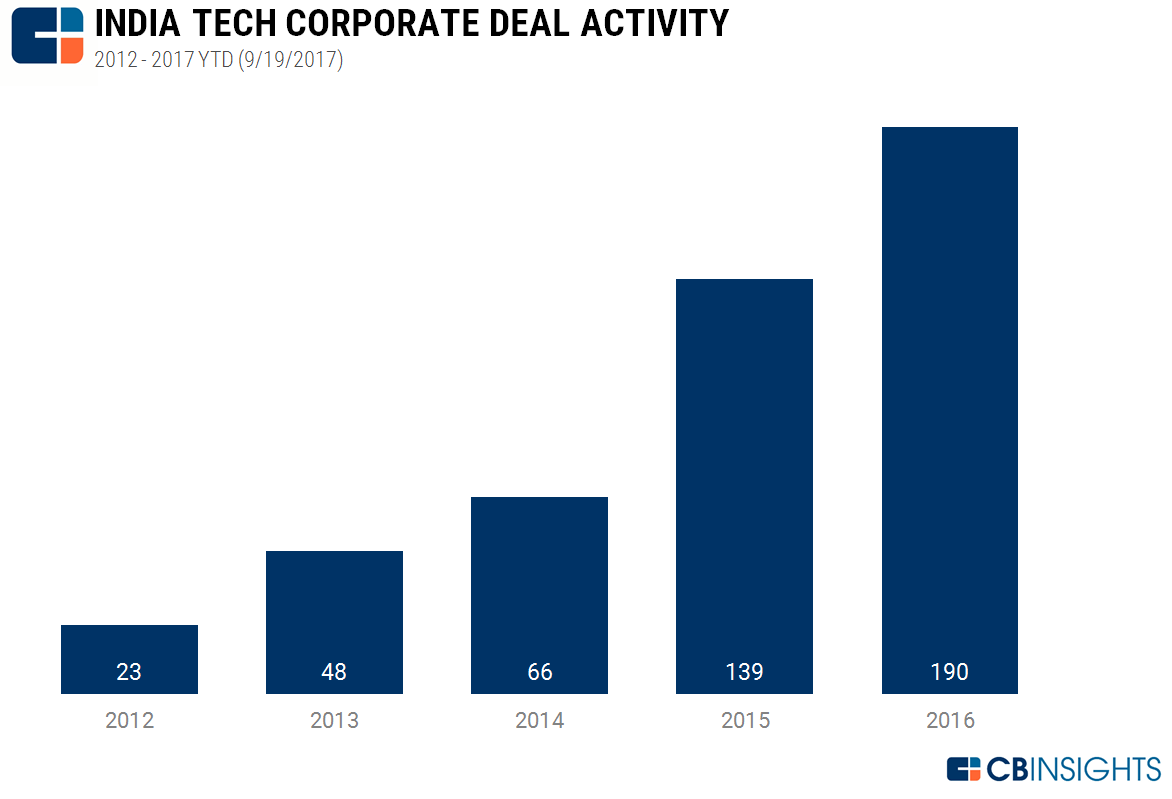 Deals with corporate participation more than doubled between 2014 and 2015 and hit a peak last year of 190 deals. We used CB Insights data to dive deep into the activity of the top ten most active corporate investors into the country from 2012 to 9/19/17.
TOP TEN CORPORATE INVESTORS IN INDIA
The Times Group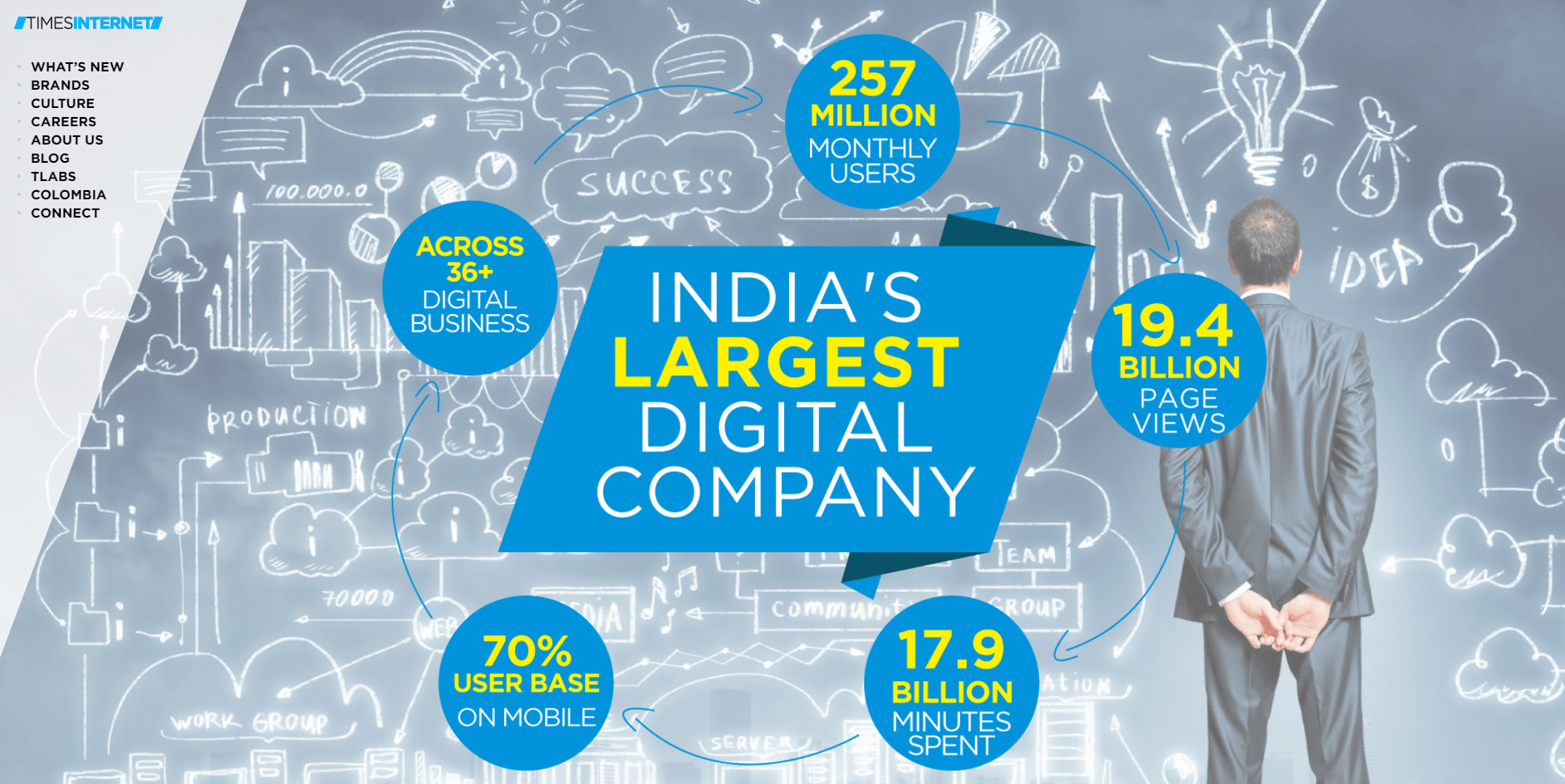 The Times Group is often referred to as the nation's largest media conglomerate. It operates some of the country's largest publications, including The Times of India and Economic Times. In India, it invests through multiple engines, making it far and beyond the country's most active corporate investor.
The Times Group also operates an internet subsidiary Times Internet that has made several investments.
The Times Group also runs a strategic investment division called Brand Capital.
Qualcomm Ventures

After the Times Group, the most active investor was Qualcomm Ventures, which functions as the corporate investment arm of San Diego-based Qualcomm. In September 2015, Qualcomm announced a commitment of $150M to startups in the country after meeting with Prime Minister Narendra Modi.
Info Edge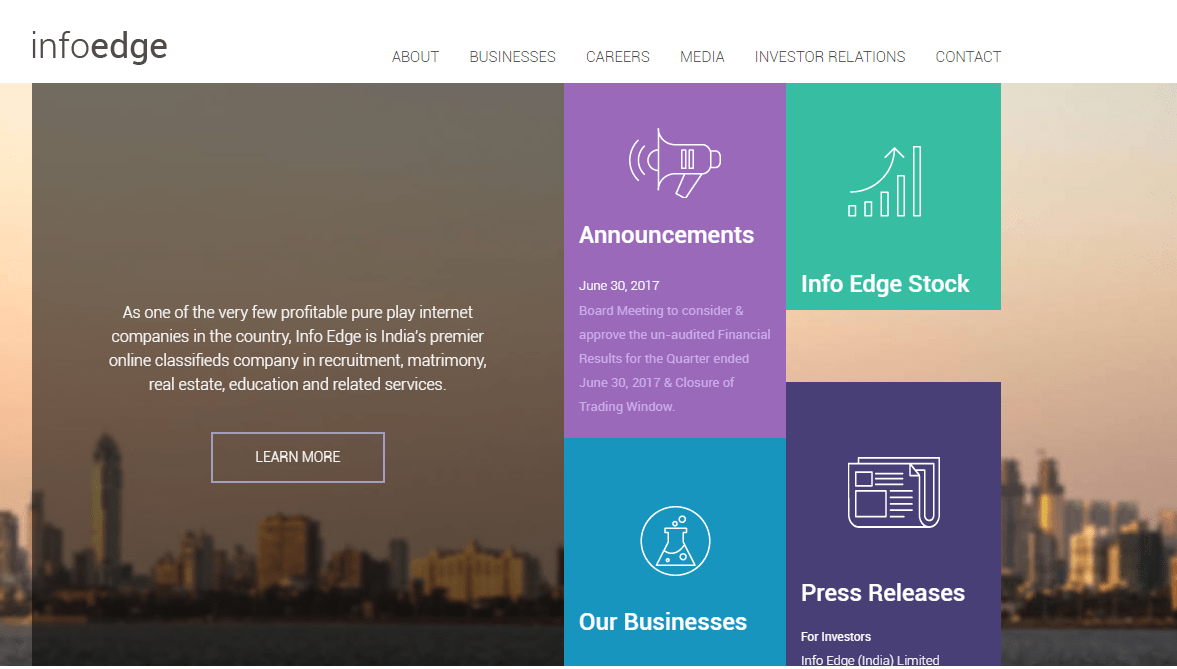 Noida-based Info Edge owns multiple major internet businesses, including job portal Naukri, which filed for an IPO in 2006, and matrimonial site Jeevansathi. In September 2017, Info Edge's valuation crossed $2B. The company is India's second most active corporate investor.
One97 Communications + One97 Mobility Fund

Paytm-operator One97 Communications is one of India's most well-funded startups and has raised $2.77B in total funding, with its latest financing provided in a $1.4B round from SoftBank Group. It's also one of the most active corporate investors in the country.
One97 has also partnered with Hong Kong-based investor SAIF Partners, which is one of its investors, to create the One97 Mobility Fund. The Mobility Fund puts money into internet startups in India.
Intel Capital

Intel Capital is San Diego-based technology company Intel's investment arm. It made the bulk of its investments in India in 2013, when it invested in seven different startups.
Flipkart
E-commerce site and unicorn Flipkart, which is also the country's most well-funded startup, has also been an active investor.
Bertelsmann India Investments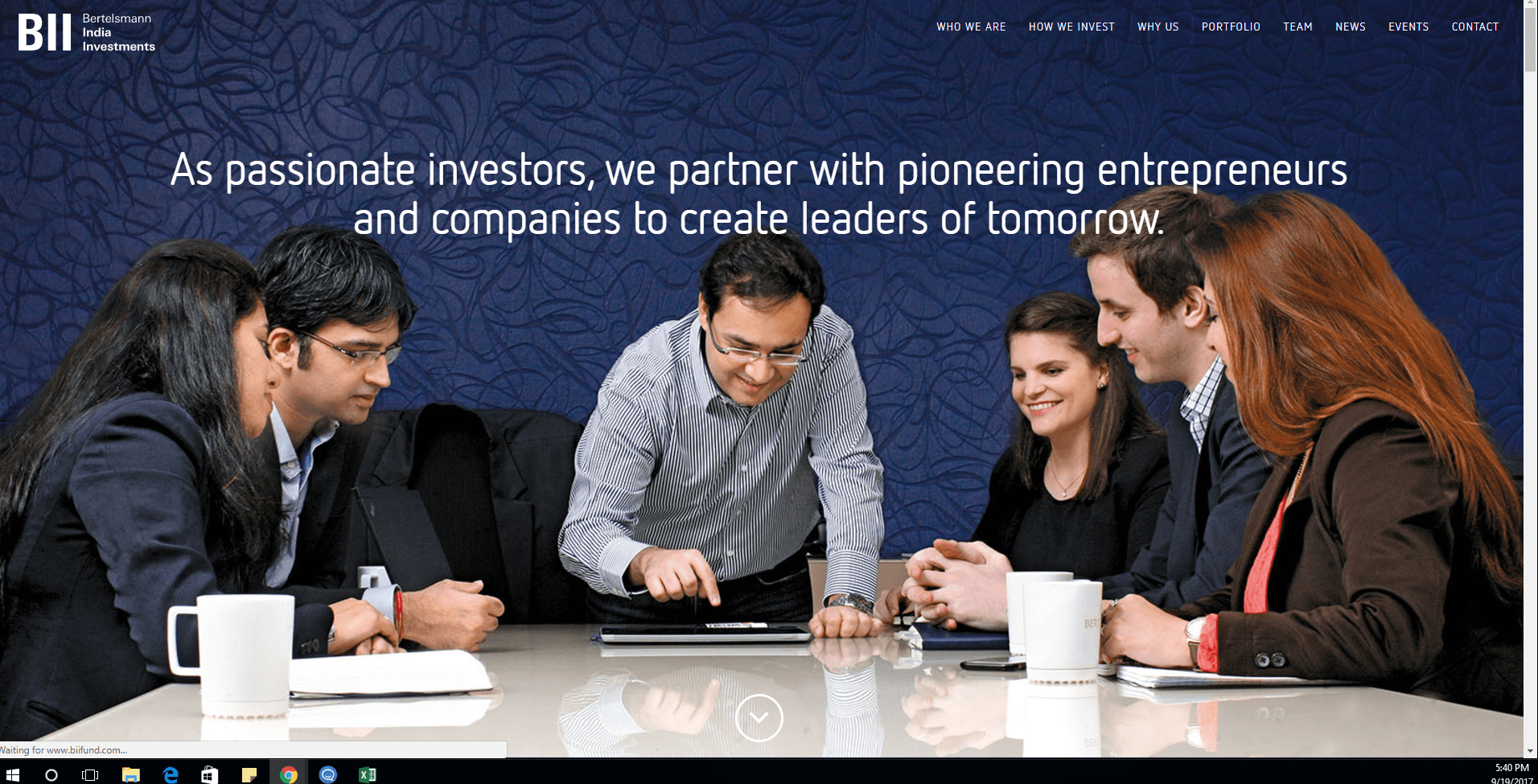 German multinational corporation Bertelsmann operates Bertelsmann India Investments (BII), which is the company's strategic investment arm in India. BII has been investing in India since 2013. Although Bertelsmann is considered one of the world's largest mass media companies, its investments in India are across diverse sectors and include no media bets.
Naspers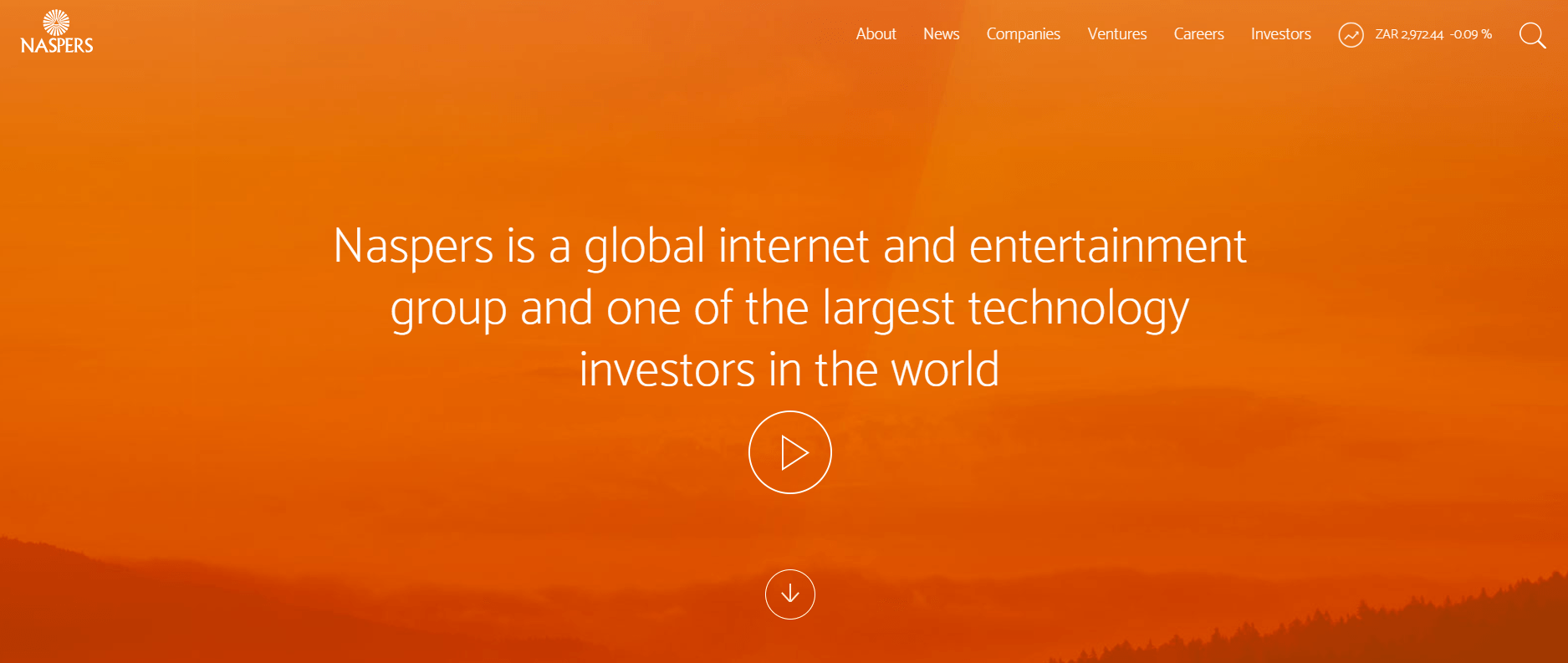 South African media company Naspers has been investing in emerging markets for several years. It bought classifieds site OLX in 2010, which is now operational in India.
Alibaba Group + Ant Financial Services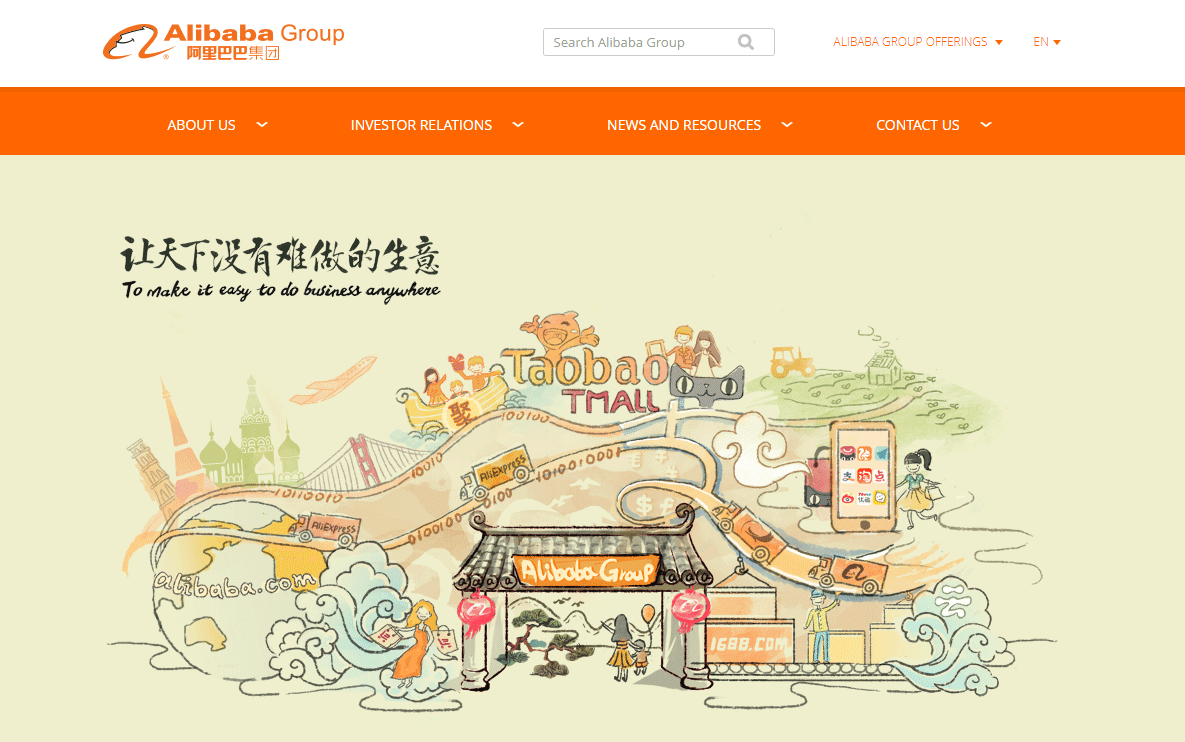 Chinese e-commerce giant Alibaba Group is also active in the country. It operates an affiliate company Ant Financial that runs all-powerful Chinese payments platform Alipay. Together, the two have made a series of investments into India.
Cisco

In 2016, IT and networking solutions company Cisco committed to invest $100M into Indian tech startups.
If you aren't already a client, sign up for a free trial to learn more about our platform.