As the world moves to automation and cloud management of IT tasks, the top IT firms that have helped define India's current tech ecosystem are at risk of losing their edge. Here's how they're investing in and acquiring startups to keep up.
India's IT companies and consultancies were built on the global trend toward outsourcing tech and back-office tasks overseas.
Today, these IT giants have grown to become some of India's most valuable firms, employing hundreds of thousands of workers. But these companies are now being threatened by the shifts toward new technologies, including cloud computing, big data, automation, and the Internet of Things (IoT).
As India's IT companies shift their strategies to seek new lines of business and markets, they're upping their M&A and investment activity, in an attempt to absorb innovation and close the gap so as not to be left behind.
We used CB Insights data to outline the private market moves being made by the companies considered to be India's top IT companies by market cap: Tata Consultancy Services, Infosys, Wipro, HCL Technologies, Tech Mahindra, Larsen & Toubro Infotech, Mphasis, and Mindtree.
(Although Oracle Financial Services is headquartered in Mumbai, we've excluded it from the list because it is a subsidiary of California-based Oracle Corporation.)
We used CB Insights' Business Social Graph, which visualizes the relationships between investors and target private companies, to analyze where some of the top players in India's IT scene are striking deals.
Note that green lines indicate investments; orange lines indicate acquisitions. Please click to enlarge.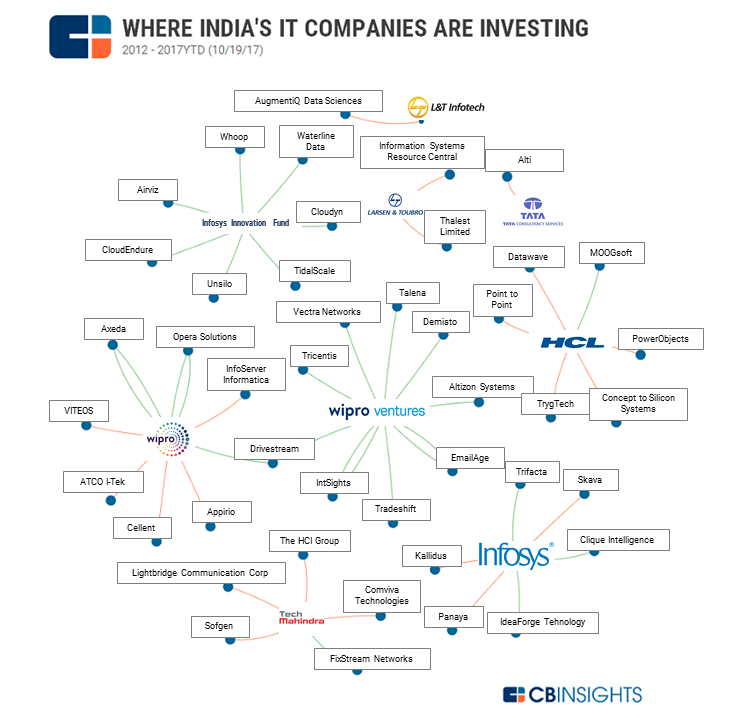 What industries are India's IT companies interested in?
Automation & cloud: Many of the IT startups being targeted for investment and M&A promise to increase the acquirer's capacity in cutting-edge technology like automation and cloud.
One example is Austria-based software testing company Tricentis, which was backed by Wipro Ventures in its $165M Series B round in Q1'17. Tricentis automates changes in testing scripts.
Another US-based company, Drivestream, specializes in moving business processes onto the cloud. In Q1'15, Wipro Ventures participated in a $5M Series A round to the company.
Data management: This was another popular theme for deals. Datawave, a company that automates large-scale data projects, was acquired in Q3'17 by HCL Technologies.
Internet of things: Companies working on the IoT were also targeted for investment. In Q1'16, Wipro Ventures participated in a $4M Series A to Altizon Systems, which focuses on industrial IoT devices and device management.
Wipro's investments also include two rounds to Axeda (since acquired by Massachusetts-based PTC), which similarly helps manage IoT products on a cloud-based platform, but for healthcare, insurance, and related applications.
Cybersecurity: Wipro Ventures has participated in two separate rounds to US-based EmailAge, which runs an email-based tool to verify the validity of financial transactions. The first investment came in Q1'16, when Wipro invested $1.9M in a second tranche of Series A funding, while the second came in Q3'17, when the company participated in a $10M Series B.
The "other" category below includes investments into tangential industries, like customer relationship management software and marketing companies.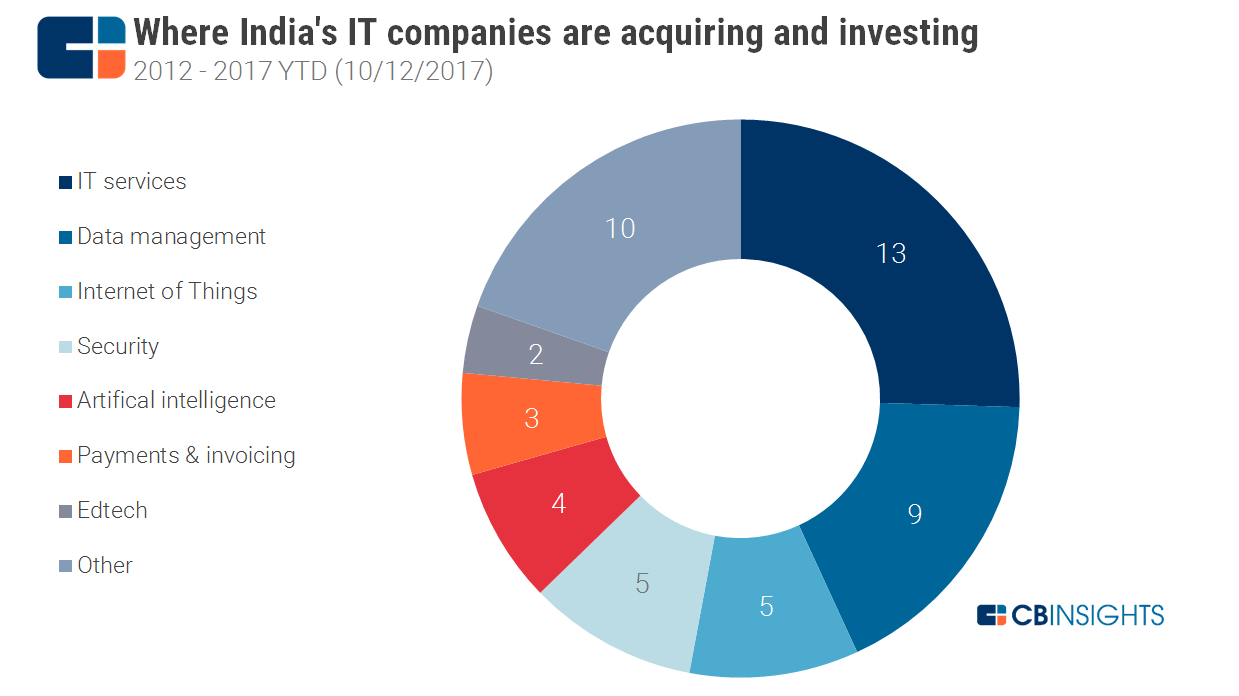 Top acquirers among Indian IT companies
Every Indian IT player in our list has made at least one acquisition of a private company, with HCL Technologies and Wipro leading the way at 5 tech acquisitions each since 2012.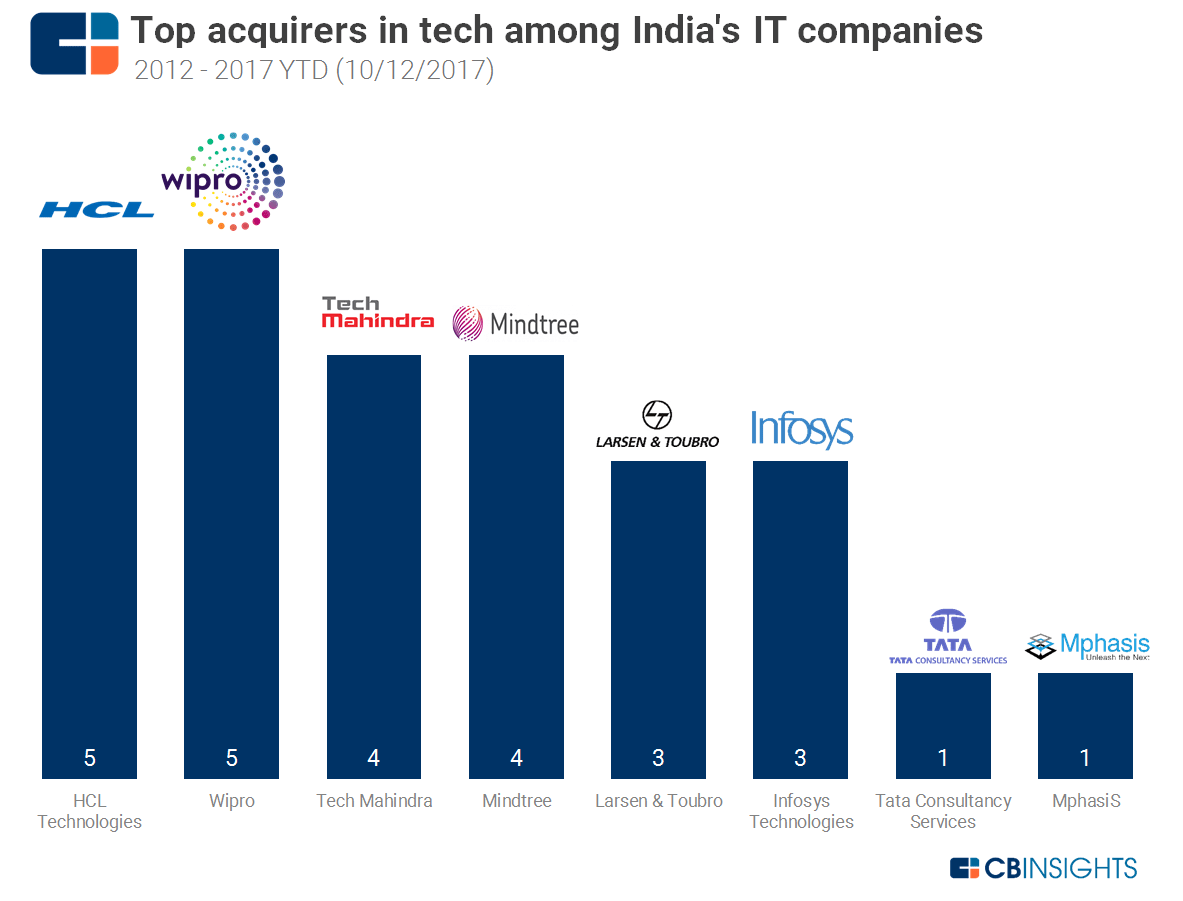 By market cap, HCL Technologies is the fourth most valuable IT company in India. Headquartered in Noida, HCL Technologies was spun off as an independent company in 1991.
HCL was most active in 2015, when it acquired 3 startups: US-based TrygTech, which connects IoT devices with business intelligence, in Q3'15; Indian engineering services firm Concept to Silicon Systems in Q4'15; and American customer relationship management company PowerObjects, also in Q4'15.
The company's most recent acquisition came in Q3'17, when it bought UK-based Datawave, a startup focused on helping clients automate and manage their data.
While HCL spread its bets across multiple industries, Wipro's five acquisitions have been more homogenous, with the company mostly acquiring startups operating in the IT services industry. (By market capitalization, the firm is considered India's third largest IT company.)
Wipro was also most active in 2015, acquiring two companies in Q4 of that year: German IT services company Cellent and US-based VITEOS, which has created a business processing technology for the alternative investment management industry.
Wipro's most recent acquisition was in Q1'17, when it bought Brazil's InfoServer Informatica for $8.7M.
India's most valuable IT company, Tata Consultancy Services, has acquired just one company: French IT services firm Alti in Q2'13.
Top investors among Indian IT companies
Across the board, India's IT companies tend to acquire rather than invest in companies. However, two of India's largest IT players, Wipro and Infosys, have been relatively active investors. Both have even raised their own corporate venture capital arms for investing.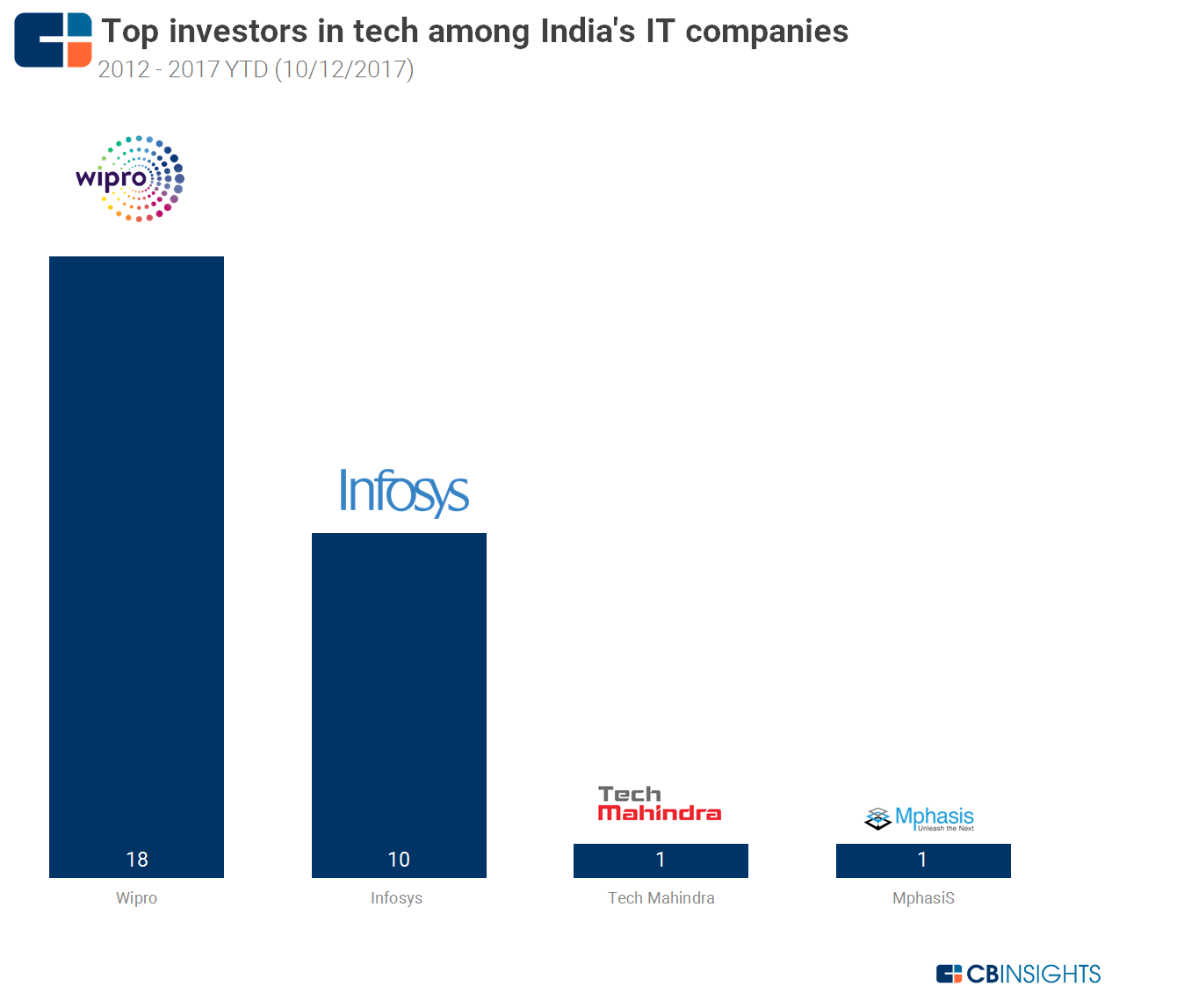 The most active investor among the IT crowd is Wipro, which, along with its $100M venture capital arm Wipro Ventures, has closed 18 deals since 2012. It has invested in Israeli fund TLV Partners, and New York-based Work-Bench, which focuses on enterprise software.
Wipro's bets include its rounds to IoT platform Axeda (mentioned above). In 2017 Wipro Ventures has participated in multiple deals, including a first-time investment into Californian cybersecurity startup Demisto and a follow-on round to Israel-based cybersecurity company IntSights.
Spotlights: Infosys and Tata
Indian multinational corporation Infosys, established in 1981, is known for business consulting, information technology, and outsourcing services. The company is headquartered in Bangalore, India and is ranked as the country's second most valuable IT company in terms of market cap.
Infosys has raised its own fund to invest in startups, the Infosys Innovation Fund. The fund is worth $500M and focuses on early-stage investments. The fund has stated that it invests across machine intelligence, big data & analytics, infrastructure & cloud and collaboration & design.
The firm was most active in 2016, when it invested in 6 startups, including 4 via its corporate venture fund.
Portfolio companies include Cloudyn, an Israeli company that manages clouds across platforms. The startup received $4M from the Infosys Innovation Fund in a second tranche of Series B funding in Q3'16.
In Q4'16, Infosys invested directly in ideaForge Technology, which creates drones for Indian businesses, participating in a $10.3M Series A alongside IndusAge Partners and California's Walden Riverwood Ventures.
Infosys' interest in tech has also driven it to back VC firms, investing as a limited partner in 2 separate venture capital firms that place bets across the world: Indian early-stage technology firm Stellaris Venture Partners and Southeast Asia-focused Vertex Ventures.
Infosys has also been acquiring companies. The company has made 3 acquisitions since 2012, all of which took place in 2015.
The first acquisition was Israeli firm Panaya, which was reportedly acquired for $200M. The firm helps ensure quality using a cloud-based software
The second was Skava, which operates a technology platform that connects retailers with tools like mobile wallets, apps, and web stores. Skava was valued at $120M at the time of the deal. Later, Infosys also bought edtech startup Kallidus (the holding company behind Skava), which powers a library of educational online content.
In contrast, India's largest IT company by market capitalization, Tata Consultancy Services, has seen scant investment and acquisition activity. The only disclosed activity of Tata Consultancy Services in the private tech ecosystem is its acquisition of French IT services firm Alti in Q2'13.
Tata Consultancy Services is owned by Indian multinational conglomerate Tata Sons, which operates multiple companies under its name, including steel-making company Tata Steel, automotive manufacturing company Tata Motors and electric utility company Tata Power.
Natarajan Chandrasekaran, who became the executive chairman of Tata Sons in February 2017, told reporters that Tata Consultancy Services accounts for 70% of the holding company's revenue.
Despite its limited investment activity, TCS does run multiple innovation labs around the world, each with a unique focus.
If you aren't already a client, sign up for a free trial to learn more about our platform.