Today, 'iBuyers' are flipping homes in 19 markets in the US and have plans to expand operations across the country.
iBuyers are real estate companies that acquire, renovate, and resell homes quickly. These startups are changing consumer behavior and removing friction from real estate transactions.
iBuyers allow homeowners to sell residential properties instantaneously online — cutting the time from sale to closing to just a matter of days.  
Below we have identified 7 iBuyers that together operate in 19 markets in the US. Additionally, based on current job postings, these iBuyers have plans to expand into 9 more regions in the near future.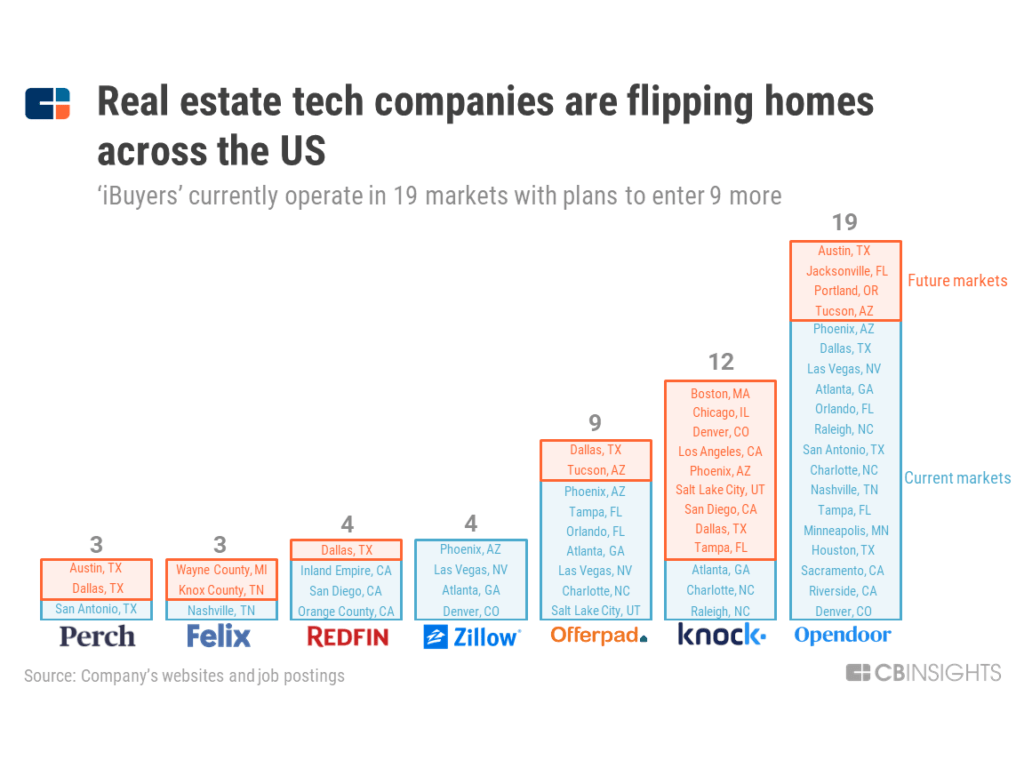 Today, the residential real estate transaction process is slow and outdated. On average, it takes nearly 50 days for a transaction to close.
This presents an enormous opportunity for iBuyers, whose model is built entirely around efficiency.
iBuyers are poised for significant growth for various reasons:
Seamless consumer experience:

By offering instant purchases, integrated mortgages, and other adjacent services, iBuyers are building a seamless experience for consumers.

Early traction:

As of September, Opendoor and Offerpad have seen combined listings jump 289% year-over-year, according to data from Macquarie Capital. Nearly 50% of these listings are new as of April.

Strong investor support: iBuyers are receiving support from top investors, h

eadlined by Softbank's $400M corporate minority investment in Opendoor, which valued the company at $2B. Other venture investors playing the space are New Enterprise Associates, Andreessen Horowitz, Khosla Ventures, FirstMark Capital, RRE Ventures, and Correlation Ventures.
As residential real estate continues to become more on-demand and consumers seek simpler processes, iBuyers are positioned to grab a share of the $1.8T US residential housing market.
If you aren't already a client, sign up for a free trial to learn more about our platform.