Corporate executives are exploring the infrastructure needed to make hydrogen a more practical source of renewable energy. We examine companies' earnings call transcripts to see what they're prioritizing. 
In July 2020, industrial gas giant Air Products announced plans to build the world's largest green hydrogen plant in Saudi Arabia. The $7B plant will reportedly generate enough hydrogen to power 20,000 electric buses daily. 
This is one of the more than 200 hydrogen projects in progress around the world, as energy, chemical, and utility companies race to build plants that could help decarbonize the global economy. Now, executives are discussing how to ramp up the infrastructure to make that happen.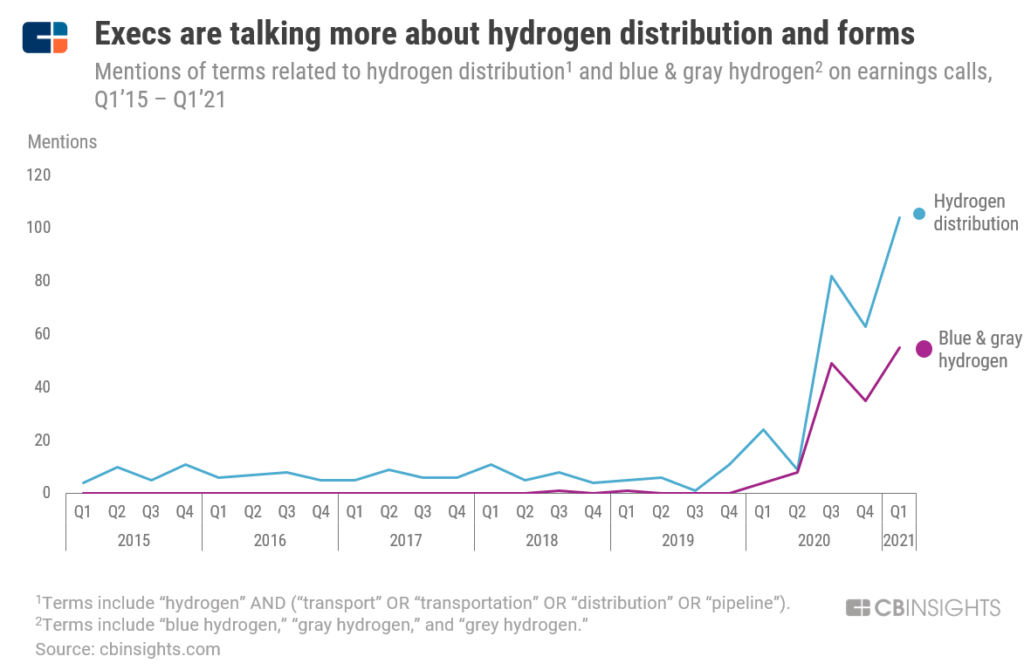 This includes figuring out how to efficiently and safely move hydrogen from production plants to end users. In Q1'21, terms related to hydrogen distribution reached an all-time high.
Mentions of gray hydrogen (hydrogen produced with natural gas) and blue hydrogen (hydrogen made with natural gas but incorporates carbon capture) also shot up. Executives are discussing using these "dirtier" forms as they transition to green hydrogen, which is produced with renewable energy. 
Below, we break down why executives are paying attention to these intertwined elements in the hydrogen economy.
Why is hydrogen distribution becoming more of a focus?
With over $300B of investment pouring into hydrogen projects and rising governmental support globally, companies are making headway in expanding hydrogen production and considering the next steps. 
Hydrogen transportation
The transportation infrastructure for hydrogen will need to increase substantially, as hundreds of hydrogen plants are being developed around the world. Moving hydrogen requires specific frameworks depending on if the hydrogen is liquid or gas. 
Hydrogen transportation networks include insulated trucking fleets, ships, and insulated pipelines for liquid and gas hydrogen. While trucking and shipping hydrogen is common, companies are still figuring out how to safely move it in pipelines. During its November 2020 earnings call, National Grid mentioned testing how pipelines react to hydrogen in England, as research shows that hydrogen can compromise steel pipelines. 
Hydrogen fueling stations are also starting to take off, which will support the hydrogen-fueled trucks coming from companies like Nikola and Daimler. For example, Air Products recently opened a hydrogen station at its industrial gas facility in Ulsan, South Korea.