With funding and industry interest in hydrogen tech reaching record highs, we explain how the element can be used to decarbonize operations — across manufacturing, transportation, and utilities — and address key challenges and opportunities in the space.
As the manufacturing, transportation, and utility sectors look to reduce their carbon emissions, hydrogen could be the most promising energy source.
But for adoption to catch on broadly, the price of hydrogen needs to drop considerably to compete with fossil fuels. Hydrogen production capacities and distribution networks will also need to ramp up to support higher volumes.
To address these challenges, investors plan to pour about $500B into hydrogen projects globally through 2030. These initiatives are designed to reduce the price of hydrogen — especially green hydrogen — dramatically.
Meanwhile, companies are beginning to power factories, vehicles, and utilities with hydrogen as they work toward their carbon-neutral goals.
Below, we address the following questions:
What is hydrogen? How is it produced, distributed, and used? 

Why does hydrogen matter?

What do manufacturing, transportation, and energy companies need to consider for adoption?

What does hydrogen investment activity look like? Who are the key players?

What's ahead?
What is hydrogen? How is it produced, distributed, and used?  
Hydrogen is the most abundant element on earth, and it has a history of being used for energy. In the 1950s, NASA used liquid hydrogen as rocket fuel — and today, the industrial gas is commonly used in petroleum refining and fertilizer production.  
Hydrogen has also recently gained attention for its potential to help decarbonize manufacturing, transportation, and energy. The molecule only emits water vapor when used as a fuel in hydrogen fuel cells, and it does not emit CO2 emissions when combusted.
That said, there are still some risks in using hydrogen for energy. For example, powering production by burning hydrogen creates NOx (nitrogen oxide) — a poisonous gas — so companies that choose to combust hydrogen will still need to implement scrubbers to clean waste gases.
The hydrogen rainbow
There are 3 kinds of hydrogen: gray hydrogen, blue hydrogen, and green hydrogen. The production process and emissions vary by type.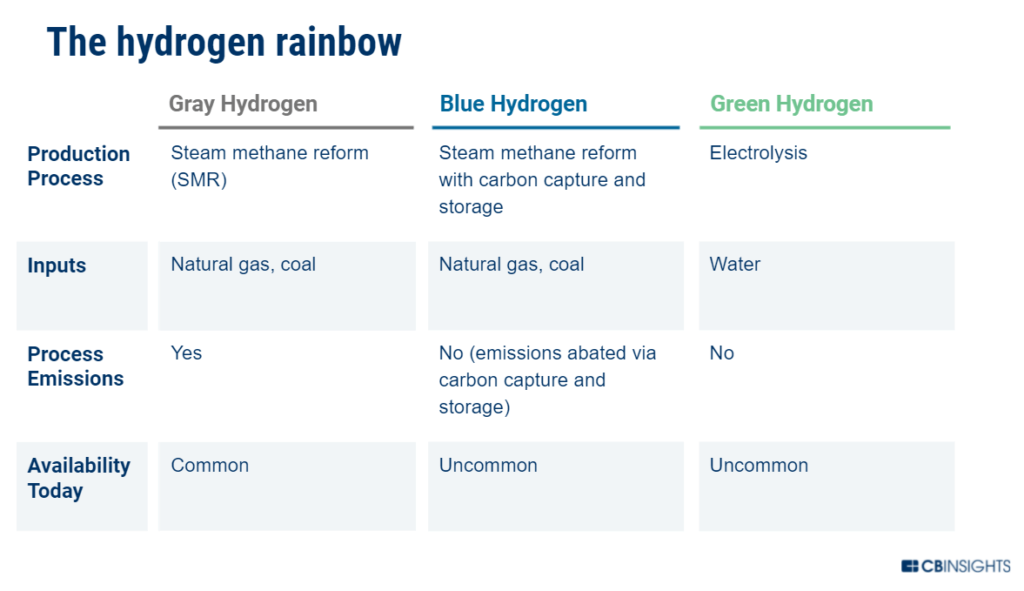 Most hydrogen produced today is gray and made via steam methane reform (SMR), which produces process emissions. 
As companies work towards carbon neutrality goals, they are aiming to use more blue and green hydrogen. This means that more hydrogen will need to be produced via electrolysis — the splitting of water (H2O) into oxygen and hydrogen.
Electrolyzers — the units that induce electrolysis — are key to increasing the green hydrogen supply. Most plants being built employ proton exchange membrane (PEM) electrolyzers, which can produce hydrogen with intermittent renewable energy flow more easily than older electrolyzer types.  
The hydrogen value chain
Hydrogen infrastructure is being built out across three main segments: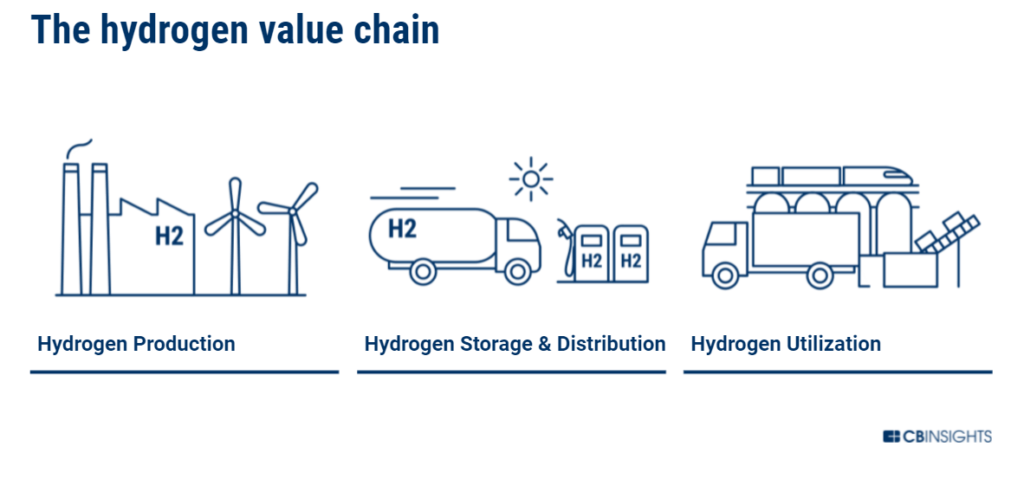 Each part of the hydrogen value chain is at a relatively early developmental stage. To bring the industry to the next level, each segment is seeing increased investment, pilot, and construction activity: 
Hydrogen production companies have accounted for more than half of hydrogen tech deals in 2021 YTD

, as companies are trying to rapidly build plants to meet the growing demand. The vast majority of these facilities are electrolysis plants that will produce green hydrogen. 

The hydrogen storage & distribution segment has accounted for less than 10% of deals in 2021 so far, as these companies tend to be specialty businesses focused on a single aspect of hydrogen storage and distribution, like hydrogen storage tank specialists. On the other hand, public companies like Chart Industries are tackling capital-intensive, large-scale investments to move hydrogen long distances via pipes, trucks, and tanks.
Utilization is primarily centered around hydrogen-powered vehicles and manufacturing

. Hydrogen-powered vehicles, planes, and other forms of transportation have attracted attention and funding in the last year. For instance, fuel cell truck maker

Hyzon Motors

went public via a SPAC this year, raising over

$600M

in proceeds. In the world of manufacturing,

H2 Green Steel

recently raised a

$105M

Series A mega-round to build a green steel plant that will replace natural gas with hydrogen to decarbonize the highly polluting steelmaking process. 
Despite the immense amount of work and funding needed to get the hydrogen market off the ground, companies could see huge gains from implementing the tech, as we discuss below. 
Why does hydrogen matter? 
With mounting government regulations and investor pressure to decarbonize, manufacturing, energy, and transportation companies are increasingly turning to hydrogen to reduce their carbon footprints. 
For manufacturers, hydrogen is the de facto energy source that they will use to decarbonize their operations. While solar and wind could help decarbonize the grid, current methods to harness them cannot generate energy densely and consistently enough for manufacturing operations. Hydrogen, however, can fuel the high-temperature manufacturing operations related to steel, glass, chemical, and cement. On-site, modular electrolysis facilities are particularly appealing for factory sites, as they eliminate the high hydrogen distribution costs. 
For energy and utility companies, hydrogen can be used for energy storage, as it is an energy carrier that can capture and store renewable energy from solar, wind, and other renewable energy sources. This can help power homes, cities, and factories at night, for instance, when the sun isn't shining. Another benefit associated with hydrogen is that it can be used to store energy for months instead of days, compared to conventional energy storage. 
As transportation OEMs consider their green vehicle options, hydrogen-powered vehicles have some advantages over electric vehicles. Specifically, fuel cell electric vehicles (FCEVs), which are powered by hydrogen fuel cells, can travel longer distances with shorter refueling times. This means that hydrogen is more ideal for trains, trucks, and other heavy machinery that may not have the time or capacity to recharge often. This could help bolster operations in remote locations, like mines, that might have limited access to charging stations.
What do manufacturing, transportation, and energy companies need to consider for adoption?
There are 4 major aspects that must be considered in the coming years when it comes to procuring sufficient hydrogen — particularly green hydrogen:
Driving hydrogen costs down while increasing supply 

Hydrogen carriers

The hydrogen transition

Hydrogen distribution infrastructure 
For manufacturers, energy, and transportation companies, each of these factors is crucial for the successful implementation of hydrogen-powered solutions. 
Driving hydrogen costs down while increasing supply 
Currently, decreasing the cost of hydrogen and increasing the supply of hydrogen are the top priorities in broadening hydrogen adoption. 
Today, hydrogen costs range from $3-6/kg, and generally, companies are aiming to reach $1-2/kg to make hydrogen a more viable option compared to natural gas. 
To achieve these lower costs, companies are looking to chip away at this problem by: 
Building more hydrogen plants to increase hydrogen supply 

Increasing hydrogen plant utilization 

Decreasing electrolyzer plant capital expenditures 

Reducing renewable (solar and wind) energy costs
All 4 of these measures must be taken in order to rapidly reduce the cost of green hydrogen, though the timeline to reach the $1-2/kg is unclear. 
Globally, companies are already putting up plants to increase supply. According to the Hydrogen Council, there were 359 hydrogen projects in progress — across production, industrial usage, transportation, and infrastructure — as of July 2021, an increase of 131 projects (57%) since February. 
As hydrogen plants start up and build up hydrogen supplies, plant owners will need to increase plant utilization and reduce capital expenditures to boost their profitability.
To determine best practices for driving plant utilization, researchers are looking to identify optimal combinations of variable factors, including electrolyzer conversion rate, renewable energy source, price and supply of renewable energy, and hydrogen's market price. This could also help reduce plant capex, as companies can more easily identify and purchase suitable electrolysis units as electrolyzer prices continue to decrease.
In terms of renewable energy, building new solar and wind farms is already cheaper than building fossil fuel power plants. With solar and wind capacities growing at their fastest rate in 20 years, renewable energy prices could continue to come down. 
Hydrogen carriers
Given hydrogen's promise as a green energy source, companies are investigating hydrogen carriers. Hydrogen carriers store energy more densely than pure hydrogen, which can facilitate the delivery of greater volumes of hydrogen. Examples include liquid organic hydrogen carriers (LOHCs) and other compounds containing hydrogen molecules.
In terms of sector usage, LOHCs are suited for manufacturing, transportation, and utilities, as LOHCs only require small-scale modules to release hydrogen from carrier chemicals.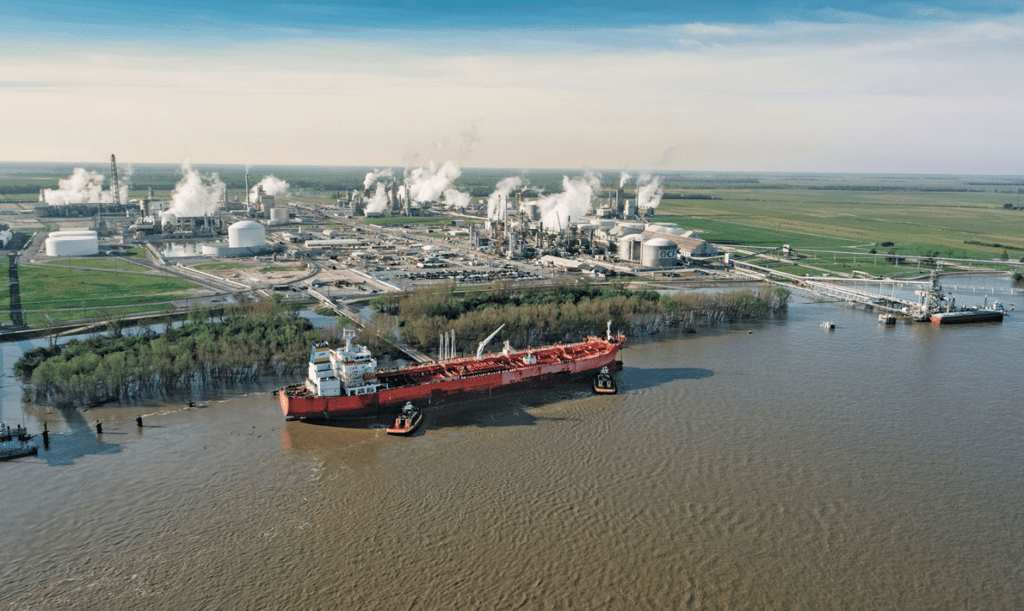 CF Industries' industrial complex in Donaldsonville, Louisiana, where the company is adding a green ammonia plant. 
In particular, ammonia, a common fertilizer, has garnered interest from corporates like Air Products. Ammonia is already widely produced and, unlike hydrogen, the compound does not need to be stored in pressurized tanks. To take advantage of this new business opportunity, fertilizer giants like CF Industries and Yara are already building green ammonia plants. Since ammonia is so promising, companies across manufacturing, transportation, and utilities are also working on solutions to use it as fuel. 
One area where companies see high potential for ammonia is shipping. Because it does not require pressurized storage and is energy dense, the chemical is more ideal for long-haul shipping than standalone hydrogen. Wärtsilä, for instance, is currently testing ammonia-powered engines in Finland — the company recently ran marine engines on 70% ammonia-blended fuels.  
However, companies still have to determine how to best build crackers, engines, and fuel cells modified to burn ammonia. 
The hydrogen transition 
While green hydrogen is the goal, companies are looking to produce, distribute, and use hydrogen faster than builders can put up plants. In the meantime, as several executives are discussing on earnings calls, companies intend to start by using gray or blue hydrogen, and they will eventually transition to using green hydrogen as supply ramps up and prices come down.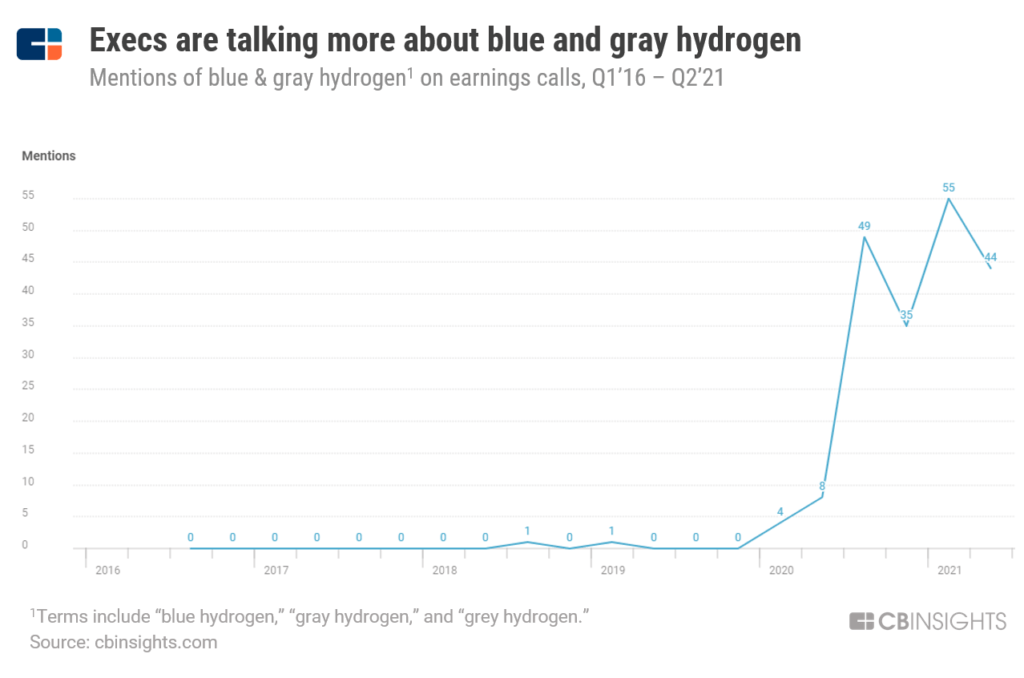 We dive deeper into corporate executives' discussion of hydrogen investments here. 
However, at present, some green hydrogen is not necessarily less polluting than gray hydrogen, as companies are still working on scaling up renewable energy in grids used for production. In countries like China and India, fueling green hydrogen production from the grid actually produces more emissions than SMR production, as these countries still rely heavily on fossil fuels for power. As such, transitioning to cleaner grid power sources as soon as possible is crucial to decarbonizing the global economy.  
Monitoring the ramp-up of local solar and wind farms could help companies figure out when green hydrogen production will truly be less polluting than SMR. This is an important factor for manufacturing, transportation, and energy companies to consider, as having greater proximity and accessibility to solar and wind power could mean a faster shift to green hydrogen. 
Hydrogen distribution infrastructure 
To handle the oncoming wave of hydrogen supply, companies will have to move hydrogen on a scale much larger than what's currently required. Corporations are facing the challenge head-on, with several pilots in place to test different ways to move hydrogen safely.
National Grid, for instance, is spending about $14M to build a hydrogen test facility in England. The utility giant aims to find out if typical steel pipelines can handle hydrogen and natural gas-hydrogen blends, as hydrogen can degrade pipelines. The facility will also determine whether hydrogen can handle typical transmission pressures, as this could also weaken pipelines.
The US Department of Energy's National Renewable Energy Lab (NREL) is also currently working to address the issue in its HyBlend project. 
Manufacturers, transportation OEMs, and utilities should closely monitor these tests to determine whether they will need to replace their current infrastructures in order to safely handle hydrogen. 
Underground grid-scale hydrogen projects are also in development. Corre Energy recently raised about $24M to develop underground grid-scale hydrogen storage projects across the EU. Manufacturing companies should pay attention to these projects, as they will require high volumes of hydrogen to power operations that could be stored underground.  
On the consumer-facing side, companies are scaling up hydrogen fueling stations. For instance, FirstElement Fuel has built out and operates the largest hydrogen network in California. Concurrent to the ramping up of hydrogen production, companies like Hyzon Motors are developing fuel cell electric vehicles (FCEVs), particularly for commercial uses like heavy trucking. The growing hydrogen fueling networks will help enable broader usage of these vehicles once they get on the road.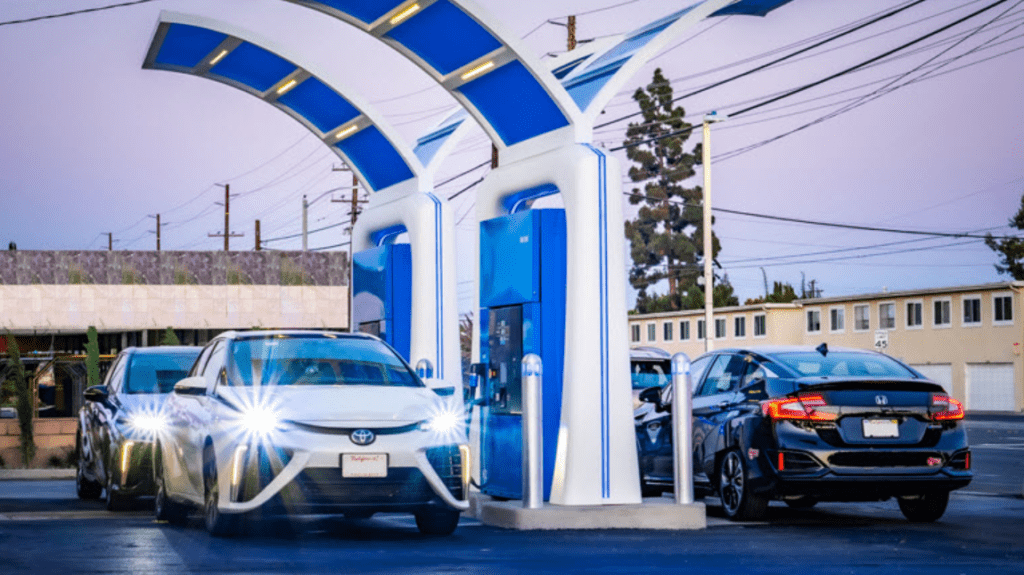 One of FirstElement Fuel's hydrogen fueling stations in California. 
What does hydrogen investment activity look like? Who are the key players? 
Private funding in hydrogen tech has already hit a record high in 2021, surpassing the previous record set in 2019. So far this year, VC investors have poured $694M in funding across 54 deals.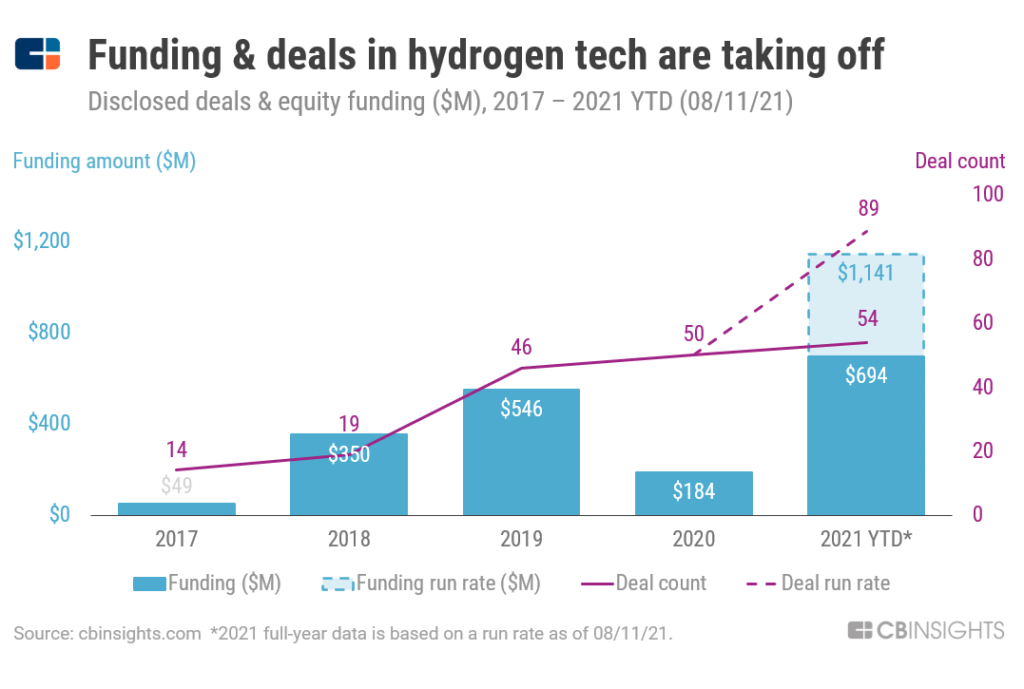 This increased investment signals that investors see a huge market opportunity in hydrogen tech. Notably, top investors are VCs that tend to focus on climate tech and energy: Breakthrough Energy Ventures, AP Ventures, Shell Ventures, SOSV, and The Engine.
To see where each VC is investing, click through below to see the Hydrogen Tech Expert Collection.
Hydrogen Energy Tech
Track companies that are driving innovation in hydrogen energy.
Access the Collection
Public companies are also pouring funding into hydrogen. Much of the aforementioned $500B invested in hydrogen facilities is coming from public corporations, as they are financing and building most of the largest hydrogen projects across the world. A considerable portion of public funding was committed in 2020, which stands in stark contrast to the drop in private deals and equity funding seen over the course of 2020. 
For example, in July 2020, Air Products announced plans to spend $7B to build the world's largest green hydrogen plant in Saudi Arabia. Additionally, McPhy recently selected a site in France to build a hydrogen gigafactory. 
As for private activity, here is a selection of the biggest private deals and notable partnerships in the space:
Modular hydrogen plant producer BayoTech raised a $187M Series C mega-round this year. The modularity of future hydrogen plants is an important consideration for manufacturers and utilities that are considering adding on-site hydrogen facilities, as these modular hydrogen plants can be scaled up or down to meet location, demand, and other parameters. 
Hydrogen-powered plane maker ZeroAvia raised $58.7M in Series A funding and received a $16M UK government grant over the past year. Its investors include Amazon and British Airways, as big tech, airlines, and other corporations are exploring market opportunities beyond automobiles, such as those related to planes, boats, and even heavy machinery.  
Chart Industries recently made its liquid hydrogen onboard vehicle tank commercially available and is partnering with Hyzon Motors to implement them in Hyzon's hydrogen-powered trucks.
In May 2021, Ballard Power Systems established a strategic alliance with Linamar to develop a fuel cell powertrain — the system of moving components within a car — to commercialize FCEVs.
What's next? 
FCEVs are poised for expansion. One example of a pilot progressing to an actual fleet is Skywell New Energy Vehicles Group's Nanjing bus fleet pilot. After an initial testing period in 2020, Skywell ordered 10 hydrogen-powered buses incorporating Canada-based Loop Energy's fuel cell modules in April 2021.
Companies should also monitor the development of hydrogen powertrains, as improvements could greatly boost adoption. OEMs like BMW, Toyota, and Hyundai are working on advancing the powertrains in their FCEVs.
Meanwhile, companies like Endua and Mainspring Energy are creating hydrogen generators that take advantage of hydrogen's status as an energy carrier. Watch for energy & utility companies that start to test hydrogen generators as they look to decarbonize their operations. For instance, Australia-based energy company Ampol is testing Endua's hydrogen generators in a move to replace off-grid diesel generators. As hydrogen generators gain more traction, they could expand into distributed industrial assets, remote infrastructure, and back-up power systems. 
Another up-and-coming factor in reducing the cost of hydrogen is eliminating the inclusion of expensive precious metals in electrolyzers, particularly PEM electrolyzers. Copenhagen-based Hymeth has developed a non-precious metal alloy catalyst made from copper, nickel, and iron, which the company claims performs well in comparison to standard precious metal catalysts.
Other companies, like Enapter, are creating different types of membranes called anion exchange membranes that also do not require precious metals. As these solutions come to market, it will be beneficial to further assess how these products could help accelerate the adoption of hydrogen, particularly in less evident sectors like agriculture.
If you aren't already a client, sign up for a free trial to learn more about our platform.