Market Map
Interest in hydrogen as a green fuel is on the rise. From green hydrogen production to engineering hydrogen-powered trucks, these companies are paving the way for a more sustainable future.
With governments and corporates increasingly establishing carbon-neutral goals, they are digging into ways to cut emissions and power their operations with cleaner fuels.
While a mix of renewable energy sources is expected to power society, hydrogen — particularly green hydrogen produced using renewable energy — stands out as a clean fuel for several reasons. As of July 2021, about $500B has been invested in hydrogen projects globally.
Hydrogen is the de facto energy source that manufacturers will rely on to power their energy-intensive operations, as they look to move away from fossil fuels. Hydrogen is also viewed as a way to store renewable energy to use when, for instance, the sun is not shining.
Hydrogen-powered cars, trucks, and even planes are gaining attention and investment, as they can travel longer distances with shorter refueling times compared to standard electric alternatives.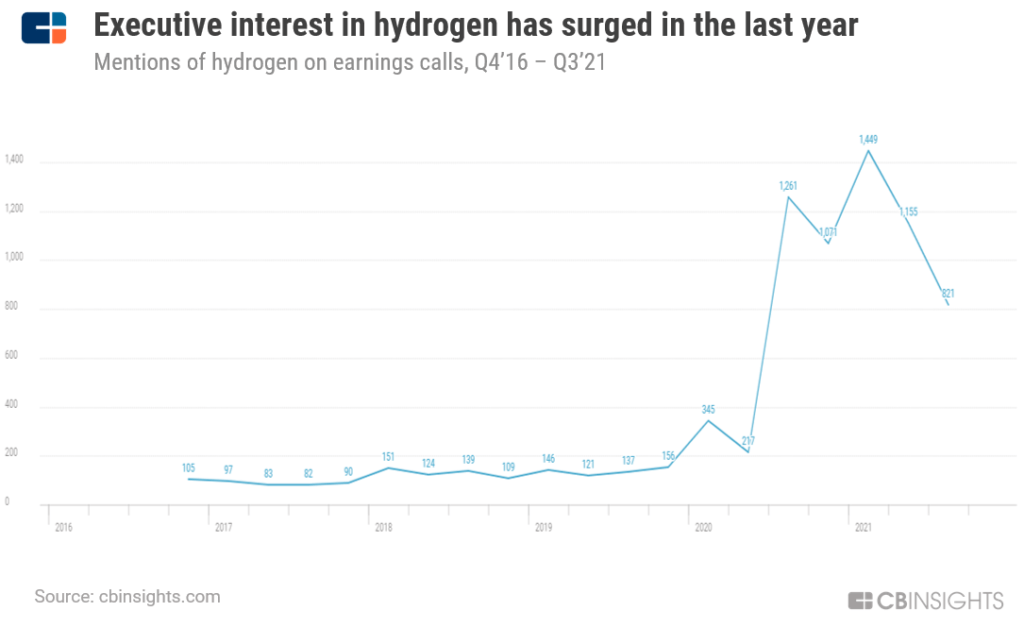 With the strong momentum in the space, startups are working on solutions to lower the cost of hydrogen production, develop efficient and safe ways to transport hydrogen, and create efficient fuel cells to power fuel cell electric vehicles (FCEVs).
We used CB Insights data and the Hydrogen Energy Tech Expert Collection to identify 130+ companies innovating in hydrogen energy technology.
This market map includes active private and public companies and is not meant to be exhaustive of companies in the space. Categories are not mutually exclusive; companies were placed in the category that represents their primary use case. Please click to enlarge.