The US card payment system involves a series of middlemen taking a cut. Digital systems, like those used in China and Kenya, could threaten banks and other players.
Payments systems vary across the globe, from cash-based economies to those driven by credit. The way consumers pay in the US, for example, might seem obsolete to consumers in other countries.
In Kenya, anyone with a mobile phone — smartphone or not — can use M-Pesa to send money, pay for things, and access credit. The service is used by almost all adults in the country.
More importantly, users don't need a credit card, bank account, credit history, or minimum balance to open an M-Pesa account. Instead, they provide cash to any one of thousands of independent cashiers to top up their mobile wallets. This effectively circumvents Kenya's limited banking infrastructure — a boon for financial inclusion and commerce.
In contrast, mobile payments in the US have yet to catch on.
This isn't due to a lack of mobile devices (according to the World Bank, the US had 123 mobile cell subscriptions per 100 people in 2016), nor is it due to a lack of offerings — a study in the same year found that 88% of US consumers were aware of Google Pay, but only 14% had tried it.
Rather, banks and payments providers have established a system that's worked — and is still working. Consumers like credit card perks, merchants have bought in, and banks and payments players are happy to provide the infrastructure in exchange for a piece of the pie.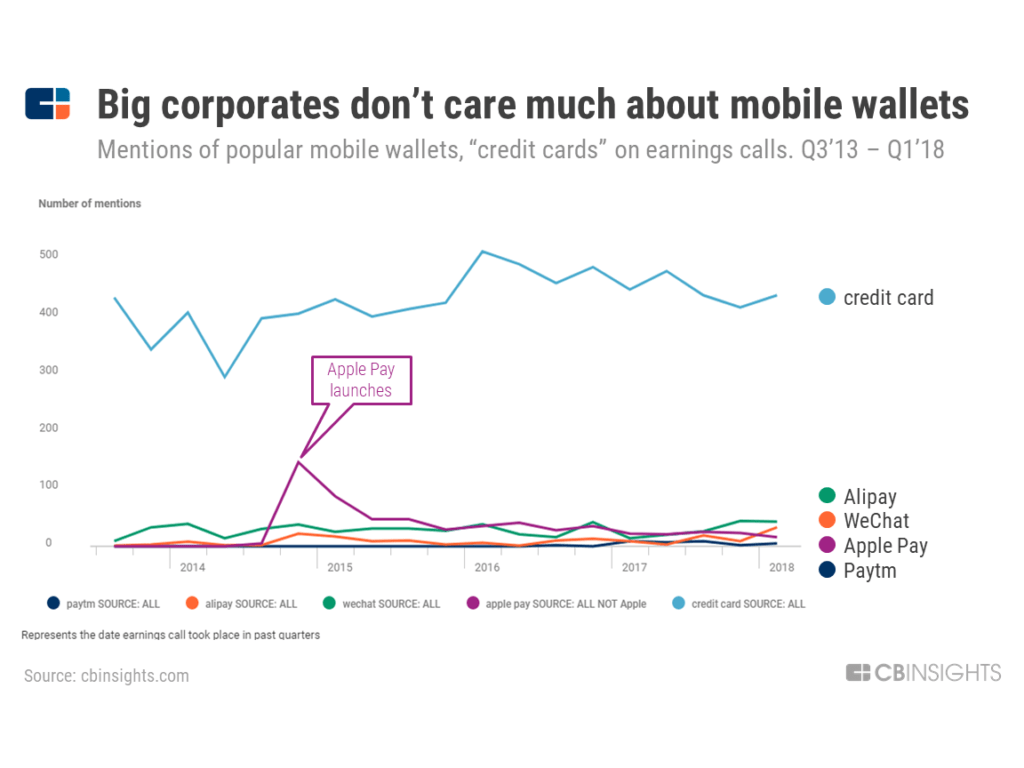 However, the rise of M-Pesa and other payments services in developing countries highlights a marked shift: consumers can access credit and pay for things without banks and card networks.
M-Pesa is owned by Kenya's largest telecom player, Safaricom. In China, Alipay and WeChat Pay are pieces of e-commerce and social players, respectively.   
In this way, disruptors are rethinking the traditional payments value chain, or how transactions are processed between consumers, merchants, and banks. Going forward, US payments players have reason for concern, as consumers and merchants could be wooed by technology-first options with fewer middlemen.
In this research briefing, we'll discuss:
The current credit and debit card value chain
Who foots the bill for credit card rewards programs
China's alternative: WeChat and Alipay
The road ahead
UNDERSTANDING the credit and debit card value chain
In the United States, 93% of consumers have some sort of bank account. Virtually all US private sector wage earners receive wages into bank accounts, according to the Global Findex database, which are insured by the FDIC and offer an easy way to earn interest.
Users of the traditional financial system can also build credit and access credit instruments, like credit cards. Banks are happy to offer credit cards to their customers — they're highly profitable, and consumers like their convenience, among other benefits.
The credit card system involves a number of different parties that allow consumers to pay using a line of credit. Banks, payment gateways, payment processors, and card networks (among others) establish a web of trust between customers and merchants. For their services, these middlemen charge fees.
In the scenario below, five middlemen — the issuing bank, payment gateway (or point-of-sale terminal provider), payment processor, card network, and acquiring bank — establish trust and take a cut.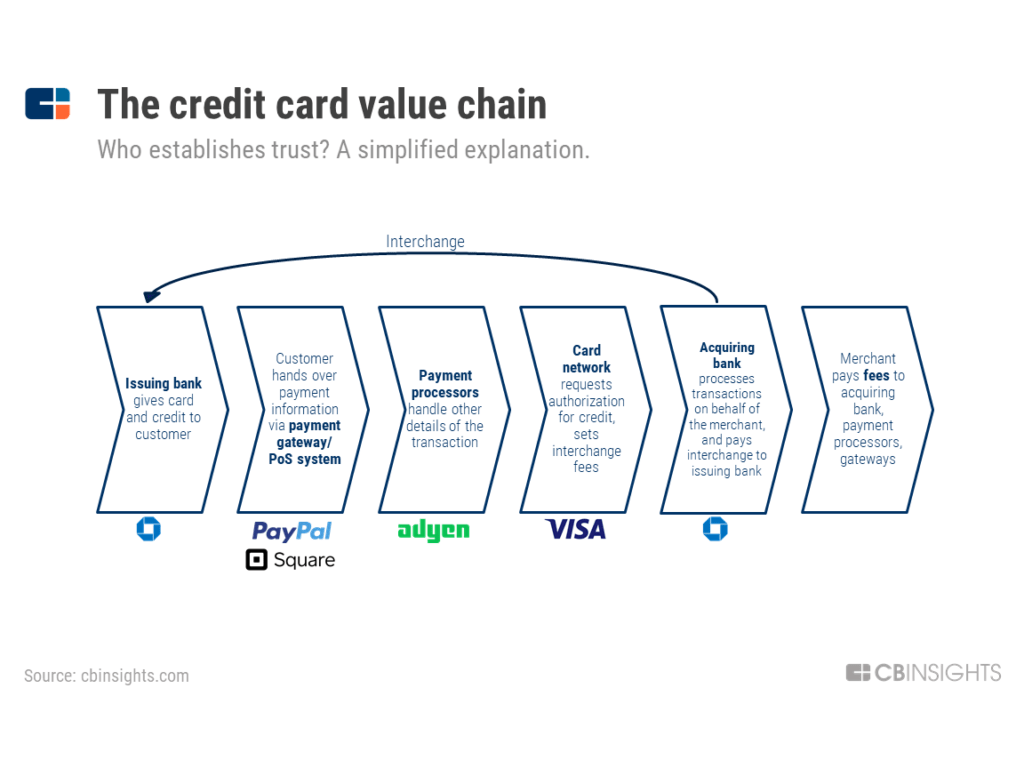 The

issuing bank

maintains the customer's credit account and issues the credit card. When a customer purchases something on credit, the issuing bank pays the acquiring bank (the merchant's bank), and assumes a debt. For taking on this risk, the issuing bank takes a cut, called "interchange," which card networks (e.g. Visa, MasterCard) set, and the acquiring bank pays. The customer is then responsible to repay the issuing bank's debt.

The

payment gateway

(or PoS terminal) is software or hardware that transfers the customer's payment information from the merchant to the acquiring bank (and other processors). PayPal is an example of an online payment gateway, while Square is a provider of point-of-sale terminals for brick-and-mortar retailers. The line between the two is blurring; PayPal just purchased iZettle (for $2.2B) to compete more directly with Square for brick-and-mortar market share.

The

payment processor

works in the background to process transactions. This means accepting and processing payments, and clearing and settling funds. Adyen is a processor that helps merchants accept a wide array of payments types. The company also offers a suite of tools that include risk management, fraud protection, and data analytics.

The

card network

connects issuing and acquiring banks. When a customer wants to purchase something, the card network (e.g. Visa, MasterCard) asks the issuing bank to grant credit and then communicates a response to the acquiring bank. Card networks take a small percentage of total transaction volume as payment. Card networks also set interchange rates between acquiring and issuing banks. This fee varies based on card type, purchase type, and a number of other factors. 

The

acquiring bank

works for the merchant, often processing transactions and providing a merchant account. Upon a purchase, the acquiring bank takes a cut, and then pays an interchange fee to the issuing bank.

The merchant deducts a "merchant discount rate" from the sale of an item. This is subsequently distributed to the middlemen involved. For instance, if the merchant sells an item for $100, the merchant might receive $97.50, as the issuing bank, card network, acquiring bank, and other processors all take a cut.
Deeper down the credit card rabbit hole
The above begs the question: why are credit cards so widely used if merchants have to pay so much?
The answer is that banks — and their customers — love them. In order to incentivize customers to use credit cards, issuing banks offer a slew of rewards programs, consumer protection services, and other perks.
Perks attract consumers to buy on credit, and banks profit from interchange fees. US merchants pay about $90B annually to accept cards and mobile payments (according to the Nilson Report), most of which goes to the issuing banks.
Issuing banks don't lose money by offering these perks. Instead, cash, debit, and lower-tier credit card holders (with fewer perks) effectively subsidize rewards for higher-tier credit card holders.
This is because higher-tier cards come with higher interchange fees for merchants, whereas lower-tier cards come with lower fees. Debit cards cost even less to process, and cash costs near nothing to process.
At the same time, merchants don't (and often aren't allowed to) set different prices for different cards. Instead, the merchant raises prices across the board to account for the highest interchange fees.
Interchange, then, is passed on to the customer. The cost of perks is also passed on to the customer — specifically those paying via cash and debit cards. These customers don't receive benefits, but are still paying a higher cost per item.
According to a 2010 Federal Reserve Study: "On average, each cash-using household pays $149 to card-using households and each card-using household receives $1,133 from cash users every year."
China's alternative: Alipay and WeChat
Compare the above payments web to services like Alipay and WeChat, which reign supreme in China. Nearly 600M Chinese users actively use these services for mobile payments.
Alipay is the brainchild of Alibaba, which is one of China's largest e-commerce marketplaces. Alipay solves for digital trust by acting as an escrow agent. Alipay ensures that the customer has the means to pay the merchant, and that the merchant renders a satisfactory product or service.
WeChat is also an escrow agent, but approaches the same problem from a different angle. Offered by Tencent, one of China's largest social and messaging networks, WeChat Pay was first launched to enable peer-to-peer payments among its hundreds of millions of users. Now, WeChat has expanded into e-commerce, hosting digital shops within its app where users can pay via its native wallet.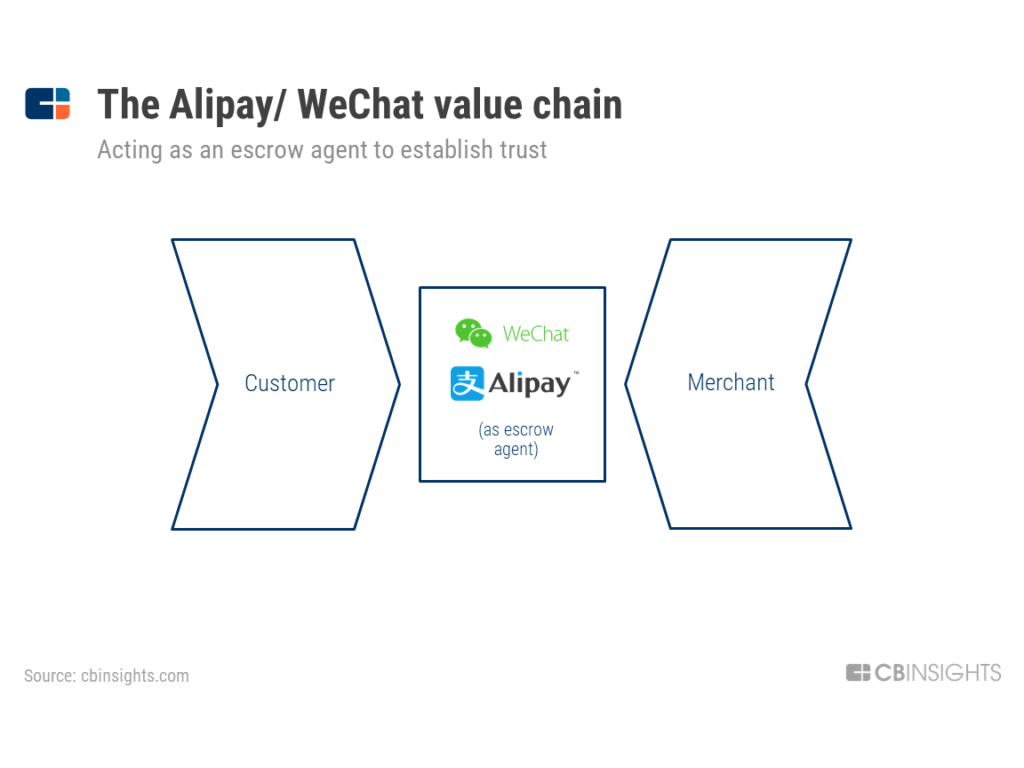 It's also important to note that Alipay and WeChat look quite different from US-facing counterparts, like Apple Pay. Users in China don't need credit or debit cards to access Alipay and WeChat. Apple Pay, on the other hand, merely digitizes credit and debit cards to pay via mobile. While there's certainly a convenience factor at play, Apple Pay doesn't fundamentally change the card value chain, and is another mouth that merchants have to feed.
The road ahead: Why banks and card networks should pay attention
By acting as escrow agents, Alipay and WeChat cut out many of the middlemen that US merchants have grown accustomed to. Mobile payments in China make up a $16T market, and users often pay very small transaction fees — sometimes no fees at all.
As a result of holding billions of dollars, the two have added credit offerings, money-market funds that earn interest for users, and other pieces of the financial stack. Alipay, for example, offers credit services for consumers like Ant Credit Pay and Ant Cash Now.
In addition to their first lines of business in e-commerce and social, Alipay and WeChat are now diversified financial institutions. The two internet giants control the payments value chain in China, but have leaner infrastructure needs and much lower fees than traditional banks or card networks.
It's not too difficult to imagine a similar scenario playing out in the US. With their massive user bases, Amazon and Facebook could feasibly compete with big US payments players by offering mobile wallets and other financial products.
Amazon has launched Amazon Pay in India to compete with the popular Paytm mobile wallet, and Amazon Cash in Mexico, which enables e-commerce by bypassing credit cards and checking accounts. Alipay and WeChat are also starting to make inroads into the US, launching in certain townships, New York City cabs, and at hotels popular with Chinese tourists.
Payments players, then, face competition from all angles. Traditional banks, card networks, gateways, and processors will all likely have to adapt as the payments system begins to shift.
If you aren't already a client, sign up for a free trial to learn more about our platform.