The company plans to use the funding to scale its digital health platform. Here are the top-line bullets you need to know.
Hello Heart, a hypertension management application, has raised $45M in a Series C with participation from Institutional Venture Partners, Khosla Ventures, and BlueRun Ventures, among others.
HOW'S THE COMPANY PERFORMING?
California-based Hello Heart is an AI-based health tech platform that tracks its users' sugar levels, blood pressure levels, and irregular heartbeats and offers customized feedback, with the help of an application, for patients to take timely action.
The company's digital therapeutic hypertension product provides a peer-reviewed clinical review on blood pressure effects, which has been recognized for hypertension management by the American Heart Association.
The company's solution is offered by CVS Health and several other Fortune 500 corporations, which has helped it triple its business over the last year.
Hello Heart serves over 90,000 patients through its platform.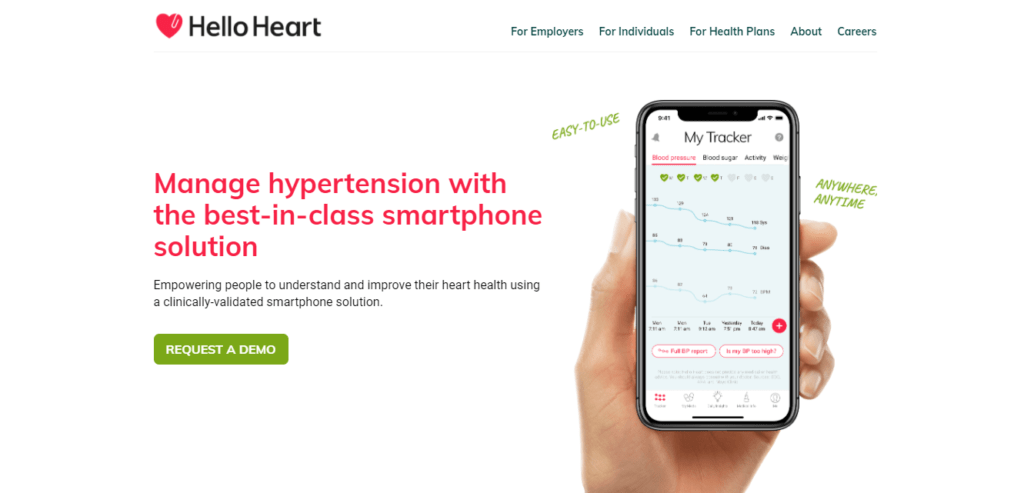 Source: Hello Heart
WHY DOES THE MARKET MATTER?
The digital health market is projected to grow at a CAGR of 28.5% to reach a value of $639B by 2026, according to Global Market Insights.
Equity funding to digital health companies reached an all-time high of $9B+ in Q1'21, while deal count increased by nearly 13%.
Global telehealth companies raised a record $4.2B in equity funding in Q1'21. Deal count increased 10% QoQ with over 130 deals from 32 countries – the most on record. Six telehealth companies became unicorns ($1B+ valuations).