Plant-based beauty brand Yes To raised the largest round in Q2'17, as consumers seek natural ingredients across the CPG industry.
Deals to beauty and grooming startups have grown steadily since 2012, and are racing toward an all-time high in 2017. Early-stage deals are on the rise, as new growth in plant-based ingredients and customized products drives momentum in the industry.
get the free beauty trends report
Find out the 14 trends changing the face of the beauty industry, from "waterless" beauty to virtual try-ons.
Annual deals and dollars
2017 has seen 78 deals so far, and if deals continue at their current rate, the full year total may hit 145+. This would represent 9% growth from the 134 deals in 2016 (and 70% growth from 86 deals in 2012).
Despite deal growth, funding totals have been slipping since 2014 — though this is largely due to momentum among newer startups, which are seeing an increasing number of smaller, early-stage deals.
This year's largest deal to date took place in Q2, and embodied the industry-wide trend toward plant-based ingredients. San Francisco-based Yes To, which sells skin and hair products based on fruits and vegetables, raised a $56M Series B in June from Viking Global Investors. The deal boosted Yes To's total funding to $73.5M, making it one of the ten most well-funded private beauty companies.
This year's second-largest deal to date was a $17.2 private equity investment to Rush, a UK-based salon chain. London-based PE firm LDC led the round. Function of Beauty, a personalized shampoo and conditioner startup, ranked third with a $9.5M Series A in March. Function of Beauty's focus on direct-to-consumer and customized products (the startup promises 12 billion possible combinations for its products, which are blended based on users' online hair assessments) show how beauty startups can use new technologies to gain momentum.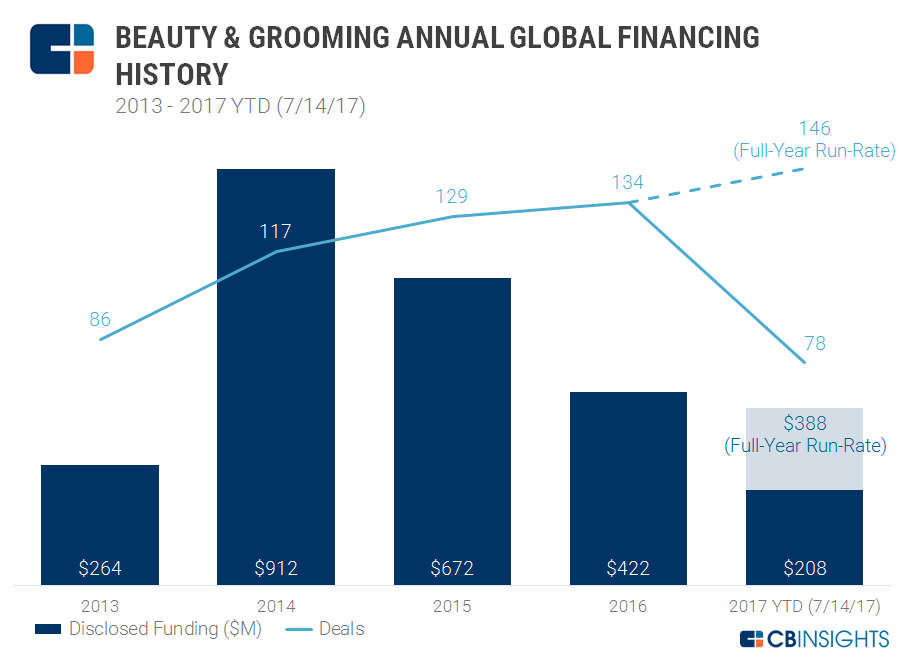 Track all the beauty startups in this brief and many more on our platform
Startups working on beauty & personal care have the potential to upend the industry. Look for Beauty & Personal Care in the Collections tab.
Track beauty and personal care startups
Quarterly deals and dollars
From a quarterly perspective, deals fell slightly in Q2'17 to 35, down from 38 the prior quarter. Yes To raised the quarter's largest round, described above, followed by nail salon chain MiniLuxe, which raised $9M from Cue Ball Capital and The Horowitz Group. Tied for third, Brazilian direct sales essential oils startup Aloha Oils raised a $6M angel round, and UAE-based beauty booking platform Shedul raised a $6M Series A.  
The quarter saw a large proportion of smaller, seed-stage deals, including to men's skincare brand Oars + Alps and unisex beauty brand Context. L'Oreal also announced the first class of startups for a new accelerator program, launched in partnership with Founders Factory.
Boosted by Yes To's $56M raise, funding rose slightly in Q2 to $102M, up from $100M in Q1. The largest deal in Q1 was much smaller — a $9.5M Series A to Function of Beauty (mentioned above), with participation from GGV Capital and Y Combinator. Beauty-focused digital media company Beautycon Media raised the second largest deal in Q1'17, a $9M Series A from A+E Networks, L'Oreal, Hearst Corporation, and others. Probiotic skincare startup Tula ranked third with a $8.5M Series A from private equity firm L Catterton.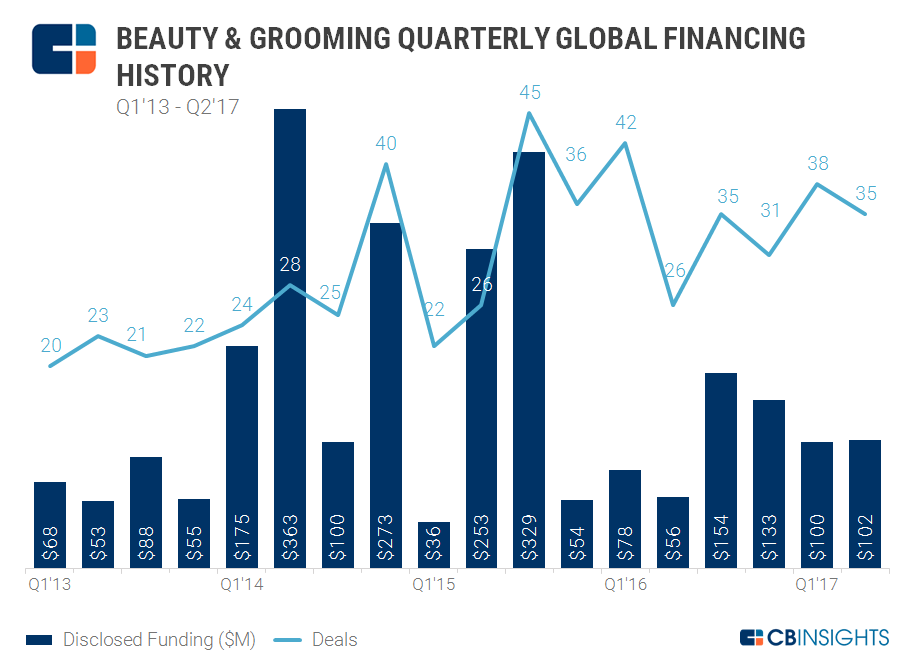 If you aren't already a client, sign up for a free trial to learn more about our platform.