Our market map highlights companies poised to transform the future of healthcare.
From improving patient care to designing new therapeutics, startups are emerging to provide all types of solutions across the healthcare industry.
Benevolent AI, for example, uses artificial intelligence for drug discovery and development. GoodRx's online platform providers consumers with information on drug pricing (as well as price matching tools).
Both of these companies (among several others) are valued at $1B+, making them part of the global unicorn club. In 2019 alone, 3 healthcare unicorns were minted, including Doctolib, Hims, and 10X Genomics.
Using CB Insights data, we identified 33 private VC-backed healthcare companies that are currently valued at $1B+.
Please click to enlarge.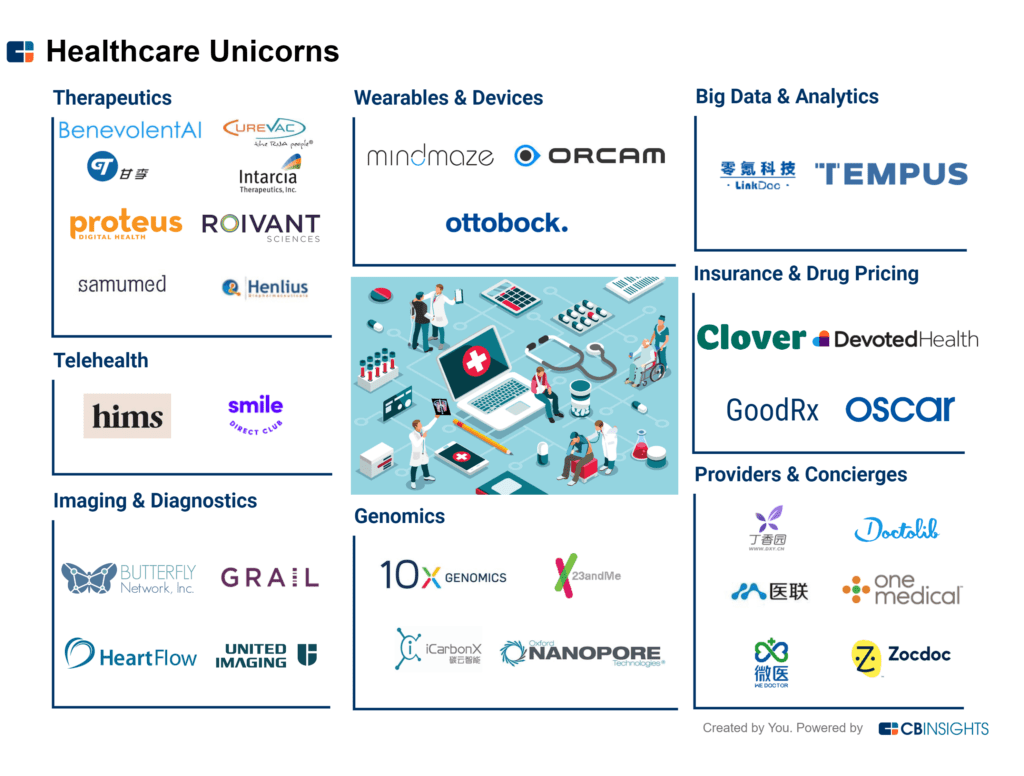 This market map is not comprehensive of all private VC-backed healthcare startups and is not meant to be exhaustive. Categories are not mutually exclusive and companies are mapped according to the integration's primary use case, not necessarily the company's. 
Category breakdown
Wearables & Devices – Companies in this category are designing and producing wearables and devices for various medical care applications, including rehabilitation and recovery.
Orcam, for example, has created a computer vision device that attaches to eyeglasses and can help blind or partially sighted people read by vocalizing written texts.
Mindmaze is designing a 3D VR medical device system that serves as a neurorehabilitation therapy program.
Imaging & Diagnostics – Startups here are combining medical imaging tech, data platforms, and tests to diagnose and detect diseases.
Grail is a liquid biopsy startup that combines genomic sequencing and computational algorithms to develop population-wide blood tests to help detect early-stage cancer.
HeartFlow is a digital diagnostics startup that uses CT scan data to provide a customized 3D computer model of coronary arteries to analyze the impact that blockages could have on blood flow.
Genomics – Companies in this category are involved with capturing, sequencing, or analyzing genetic data.
Oxford Nanopore Technologies, for example, is a UK-based biotech company that offers DNA/RNA sequencing technology.
Insurance & Drug Pricing – Startups here are using software technology to deliver healthcare insurance and drug price information directly to consumers via online platforms.
Oscar Health, for example, is an online direct-to-consumer insurance company that provides access to on-call doctors and health management applications. Devoted Health offers Medicare Advantage plans to seniors.
Therapeutics – Companies in this category are focused on the design, discovery, and development of traditional and digital therapeutics.
Intarcia Therapeutics is a medical technology company that is designing a small-scale drug delivery device that can be placed underneath the skin to help treat and monitor chronic diseases. 
Roivant Sciences is a biotechnology company that designs and manufactures therapeutics to treat a wide range of diseases, including Parkinson's disease, diabetes, and sickle cell disease.
Providers & Concierges – This category includes startups with online portals to connect patients and physicians to health facilities and services.  
Medlinker, for example, is a mobile social networking platform for physicians to connect over and discuss treatment measures for various medical cases.
One Medical is a membership-based platform looking to streamline primary care. The platform allows patients to book appointments online for any of its locations (which are located across 9 cities).
Telehealth – Companies in this space are developing digital platforms to deliver various informational resources and affordable health products to consumers.  
For example, Hims is a men's health startup that provides direct-to-consumer hair loss prevention medicines, skincare, and sexual wellness products. 
Smile Direct Club is a teledentistry company that produces at-home invisible teeth alignment products.
Big Data & Analytics – Startups here are involved with collecting, cleansing, and restructuring medical datasets.
For example, Tempus is a data technology company using artificial intelligence to analyze clinical and molecular data to create personalized cancer treatment plans for patients. 
Linkdoc Technology is a big data startup that partners with oncology hospitals in China for the collection, integration, and analysis of cancer patients' medical records and clinical data.
If you aren't already a client, sign up for a free trial to learn more about our platform.