Our timeline visualizes the exits of 20 healthcare companies with valuations of $1B+, from GoodRx's $12.7B public offering to Illumina's massive purchase of GRAIL. 
Globally, there are 51 healthcare unicorns (private companies valued at $1B+) that have an aggregate valuation of $118.1B (as of 3/3/21).
As these companies have matured, the number of healthcare unicorn exits at $1B+ valuations has also grown: 55% of the group's total exits have occurred since 2020. Already in 2021, unicorns like 23andMe have announced their exits.
Below, we analyze the recent uptick in healthcare unicorn exit activity and what it could mean for the future of the healthcare industry.
Please click to enlarge.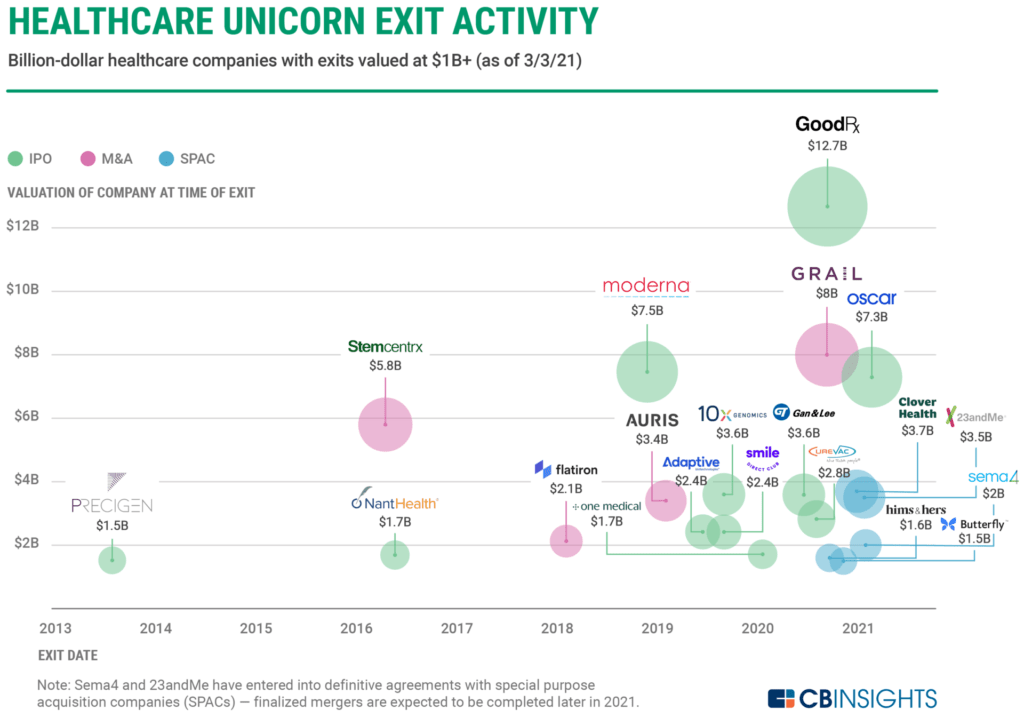 WHAT YOU NEED TO KNOW:
Healthcare unicorn exit activity hit record levels in 2020.

In 2020, there were 7 healthcare unicorns that exited — a clear uptick from the 2 exits in 2018 and 4 in 2019. These exits include primary care startup

One Medical

(January 2020), biopharma company

CureVac

(August 2020), and cancer liquid biopsy startup

GRAIL

(September 2020).

Here come the healthcare SPACs:

As Covid-19 created uncertainty in public markets, 2020 saw a surge in formation of

special purpose acquisition companies

(SPACs) — "blank check" shell corporations designed to take companies public without going through the lengthy traditional IPO process. Since 2020, 5 late-stage (Series D+) healthcare unicorns — including

Butterfly Network

,

23andMe

, and

Hims

— have looked to SPACs as a way to go public, with the potential benefit of a faster, more reliable exit pathway.

Healthcare Smart Money investors see major ROI:

Healthcare Smart Money VCs

made up 5 of the top 10 investors in healthcare unicorns by unique deal count from 2015 to 2021 YTD (3/3/21). Examples include General Catalyst, Sequoia Capital China, and Venrock. These investors received major return on investment (ROI) from their bets on unicorns such as

10X Genomics

and Oscar Health.
WHAT'S NEXT?
Anticipate more healthcare unicorn exits in the near term:

Considering 67% of the current healthcare unicorns are late stage, we could see more exits as these companies look to raise capital from public investors. Overall, across the broader health tech market, there are numerous mature companies with investors seeking exits.

2021 could be a year of the healthcare SPACs:

With about

53 SPACs

actively searching for target companies across the healthcare and life sciences industries according to SPAC Track, we could see more startups choose to go public via this exit pathway throughout 2021.
If you aren't already a client, sign up for a free trial to learn more about our platform.