Healthcare is being reshaped by the Covid-19 pandemic. We answer some of our readers' most pressing questions on the state of the industry, and what to expect in the future.
Emerging trends within healthcare are being accelerated by efforts to combat the coronavirus pandemic. Whether it's telehealth, infectious disease mitigation, or mental health, there is a renewed focus on startups looking to tackle challenges of healthcare accessibility and effectiveness.
Our State Of Healthcare Q1'20 Trends To Watch report, which digs into the changing healthcare landscape, was the focus of our recent webinar: Global Healthcare Trends Q1'20 And The Pandemic Impact.
Below, we answer some of our readers' most pressing questions on the state of healthcare that emerged from the webinar.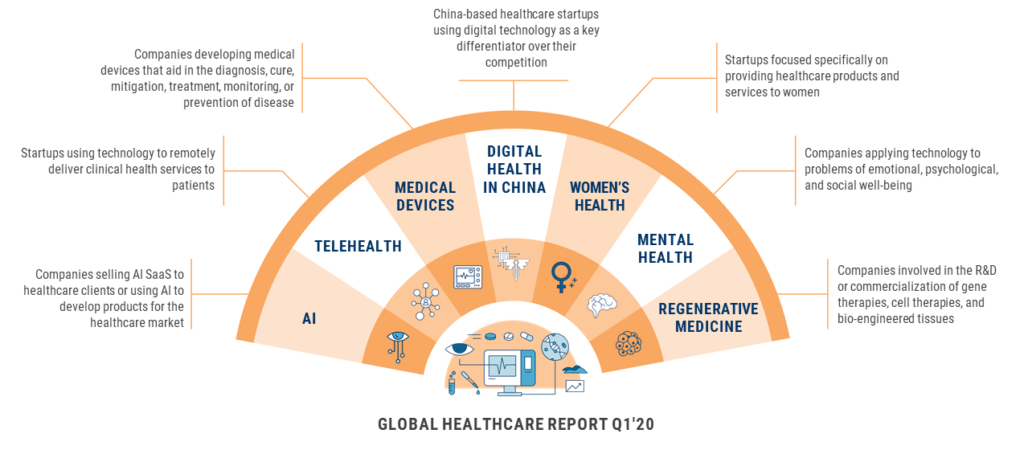 What is the expectation for the use of telehealth platforms post-pandemic?
Telehealth is currently positioned to generate buy-in from those who otherwise may not have experimented with it. This applies to multiple healthcare fronts — including the consumer side, provider side, and payer side.
However, when we emerge from the pandemic, usage will likely recalibrate a bit.
In the long-run, adoption is likely to increase above pre-pandemic levels as more payers and providers expand their offerings, patients embrace the technology, and more startups expand their presence in the space — Q1'20 deal activity reached a record high. But, in the near term, there are finer points around issues like reimbursement and credentialing that will need to be worked out before telehealth becomes a mainstay.
Post-pandemic reimbursement policy is a big question and could influence what types of services are adopted.
On the consumer side, for example, those without telehealth coverage could potentially see value in individual memberships, specifically services with more affordable out-of-pocket costs. Anecdotally, these services tend to be asynchronous, text-only platforms. These may be more limited in scope than multimodal platforms but could be sufficient for some everyday health concerns.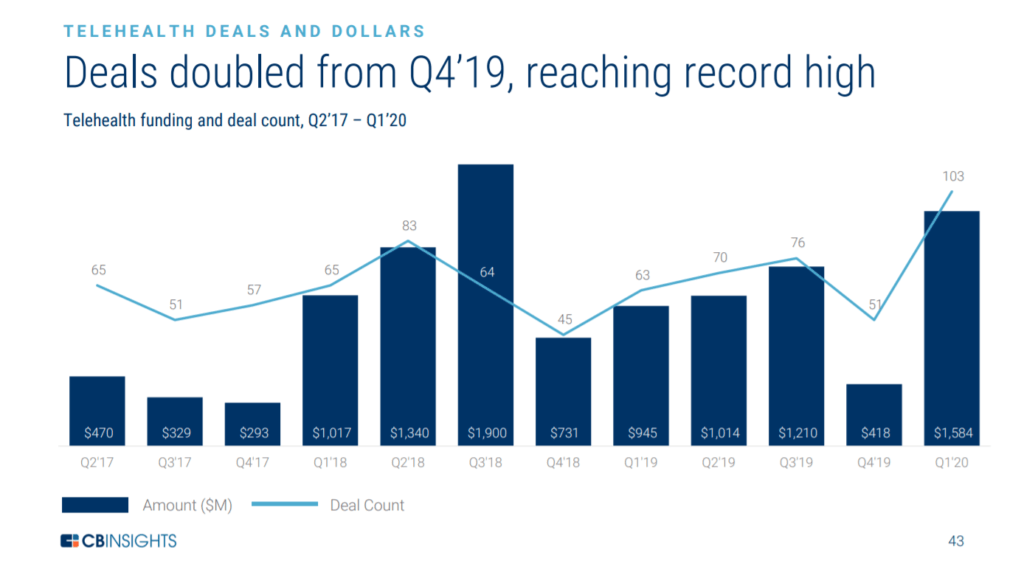 Going forward, will big pharma play a bigger role in digital health startup M&A activity?
Big pharma players are continuing to invest and build partnerships with digital health startups. Increased M&A activity is possible, especially as pharma companies have ramped up their digital initiatives in recent years.
However, as the impact of the pandemic is still playing out, it may be too early to tell which specific technologies, therapeutic areas, or commercial strategies they choose to double down on going forward. Regulatory changes and a shifting patient mindset will also impact their evaluation of potential M&A targets.
A key question here is: What technology or platform can meet the current priorities while remaining relevant in a post-pandemic future?
A couple of areas that could be of interest include drug R&D and digital therapeutics.
Tech that aims to accelerate drug R&D could remain valuable in the long-term, particularly solutions that facilitate more patient-centric clinical trials (e.g. virtual/hybrid models, telemedicine, remote monitoring, AI applications, and real-world evidence).
Meanwhile, select digital therapeutic devices could be attractive assets if they can supplement pharma companies' drug portfolios and provide channels for better patient engagement and support. Two big challenges here will be demonstrating robust clinical evidence and gaining industry adoption.
How do you see the role of clinics and hospitals changing?
Overall, the post-Covid role for providers might not change that much, though we might see optimization moves in response to revenue pressures — like a decrease in elective procedures — stemming from the pandemic.
So coming out of this environment, many of them will likely prioritize projects that improve efficiency, ensure patient safety, and capture new revenue opportunities.
We might also see big health systems continue to integrate vertically through acquisitions of independent practices, ambulatory surgery centers (ASCs), or even smaller health systems that have been financially hard hit by the pandemic. A common aim of these acquisitions will be to gain market share relatively cheaply and to help counteract payer weight in their markets.
Is funding to digital mental health services growing?
Broadly speaking, mental health startups have gained more traction with respect to funding. Last year set a new funding record and this year is poised to see more growth. Virtual mental health platforms offering teletherapy, digital content for cognitive behavioral therapy (CBT), and wellness solutions are driving this trend. Key players here include Talkspace (total funding of $109M) and Lyra Health ($174M).
We're also seeing dominant players in the digital care space such as Omada Health and Livongo prioritize mental and behavioral health in their chronic care offerings. Employer solutions (e.g. Lyra Health, Modern Health, and Spring Health) will continue to play a pivotal role in how virtual mental health services grow during this time.
What emerging trends are you seeing around telehealth for mental health?
Amid the pandemic, telehealth solutions are continuing to grow for mental and behavioral services, especially for virtual therapy platforms. In particular, employer solutions (e.g. Lyra Health) are expanding offerings for experiences that combine telehealth with virtual health coaching and wellness tools.
Mental health is also becoming a bigger priority for payers and providers.
Payers have become particularly active here, as demonstrated by Optum's acquisition of teletherapy company AbleTo in April. Optum also led a $13M Series A investment for mental health VR company Oxford VR in February.
The increased demand for remote care, along with rising concern for mental health, will encourage healthcare stakeholders to partner and acquire in this space. An example here is Cigna's recent partnership to add Talkspace to its behavioral provider network.
Additionally, bigger telehealth players (e.g.Teladoc, Doctor On Demand, Amwell) may look to expand their mental health offerings as they compete for market share.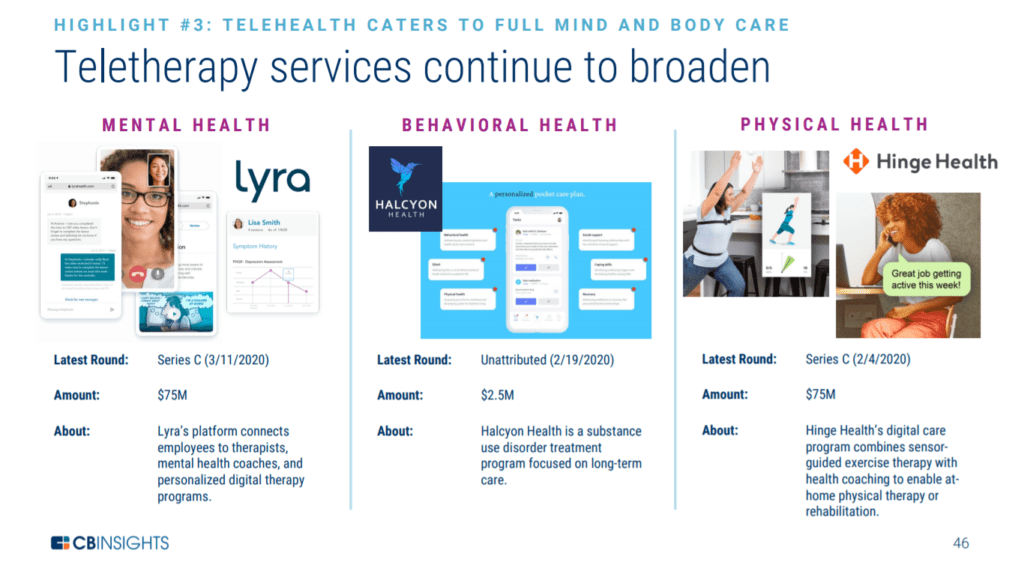 What's the landscape like for telehealth startups focused specifically on eating disorders?
Many mental health startups that offer telehealth services include eating disorders as a part of their range of coverage, often along with conditions like depression, anxiety, substance abuse, and trauma. So far, we haven't seen many platforms focused solely on eating disorders, but rather an emphasis on providing more holistic coverage.
For example, platforms such as Maven Clinic provide women and families remote care services that include mental health and nutrition.
In the future, it's likely that we'll see more digital tools looking to address eating disorders using CBT or other clinically validated methods.
Are you finding the use of virtual/augmented reality (VR/AR) to be a common factor in mental health tech solutions?
There are a handful of startups offering AR/VR technology for mental health use cases like helping to treat stress or as an additional tool for therapists.
Examples here include Healium, Psious, and Oxford VR.
Oxford VR has gained particular traction in using its clinically-validated VR system to treat mental health disorders. The startup also began working with the UK's National Health Service (NHS) to use its platform to treat social anxiety.
However, there are also pivots being made away from the tech, as seen by Limbix's recent retreat from the use of VR in favor of more conventional CBT methods in its digital mental health therapies.
If you aren't already a client, sign up for a free trial to learn more about our platform.