The CB Insights Healthcare Smart Money list features the world's top-performing VCs for healthcare investment. We analyze their portfolios to identify where they see opportunity and risk.
Healthcare is one of the top areas of investment for VCs.
Technological advancements in fields like genomics, AI, and wireless computing, along with the shift to value-based and more patient-centric models of care, have created potentially lucrative investment opportunities for investors in healthcare startups. And the Covid-19 has served to accelerate growth for some emerging areas, like telehealth.
But which VC firms are consistently finding the next healthcare superstars before they hit it big? Using the CB Insights database, we surfaced the top 25 VCs for investing in healthcare out of thousands of firms to create a "Healthcare (HC) Smart Money" list.
The major healthcare success stories of the 2020s will likely emerge from the portfolio companies of these "HC Smart Money" firms, making this list a powerful filter for uncovering startups and trends that could transform healthcare over the next decade.
The heatmap below shows how the deal concentration from these investors has shifted over the last 5 years.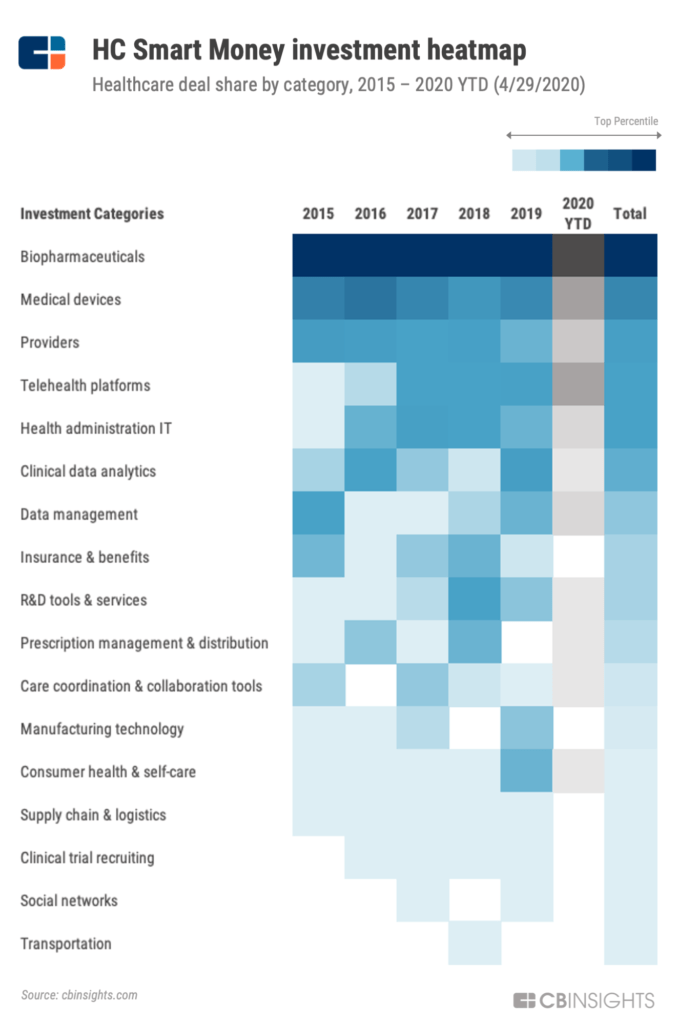 Investment categories are ranked by percentile within each calendar year, based on the number of deals with participating Healthcare Smart Money investors.
Among these investment categories, some have seen stark growth in Healthcare Smart Money deal count while others have lost momentum. For instance, telehealth, clinical data analytics, and consumer health are on the rise, while areas like biopharmaceuticals and prescription management have declined to varying degrees.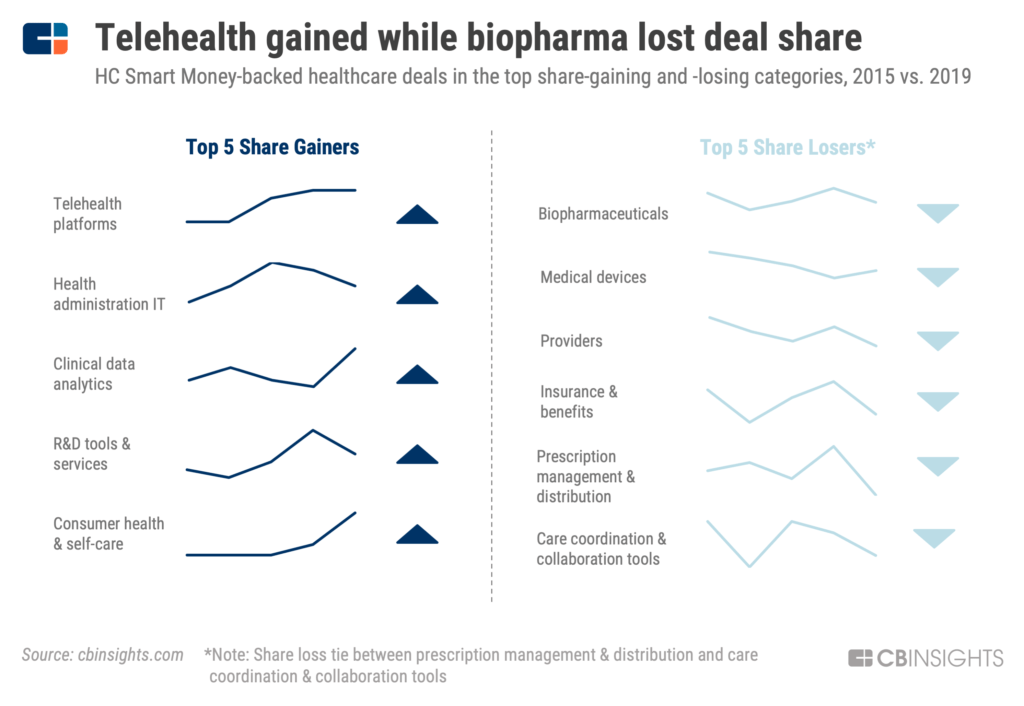 See the methodology section at the bottom of this post for the full Healthcare Smart Money VC list.
Key takeaways
Using the Healthcare Smart Money VC list, we analyzed how deals with Healthcare (HC) Smart Money VC participation have changed over the past 5 years and uncovered the following key takeaways:
Overall, healthcare deals with Healthcare Smart Money VC participation peaked in 2018 at 186, but then fell 17% year-over-year (YoY) in 2019.
Healthcare Smart Money VCs are finding investment opportunities across a broadening range of geographies.
Biopharmaceuticals are by far the hottest category for Healthcare Smart Money VC investment, despite a loss in deal share in 2019 compared to 2015.
Within medical devices, in vitro diagnostics consistently ranks as the top segment for Healthcare Smart Money VC investment.
Digital health is gradually occupying a larger portion of Healthcare Smart Money deal flow, driven largely by investments in AI startups.
Telehealth is an emerging area of focus for Healthcare Smart Money VCs.
Healthcare Smart Money VC investment trends
1. HC SMART MONEY investment activity could rebound in 2020

Healthcare deals with Healthcare Smart Money VC participation hit peak funding ($10.8B) in 2018, but fell 21% YoY in 2019.
Deal stage, exit, and investment trends suggest that deals and dollars could inflect back upward in 2020.
Healthcare Smart Money VC deal participation peaked in 2018 with 186 healthcare deals before dropping 17% to 155 deals in 2019.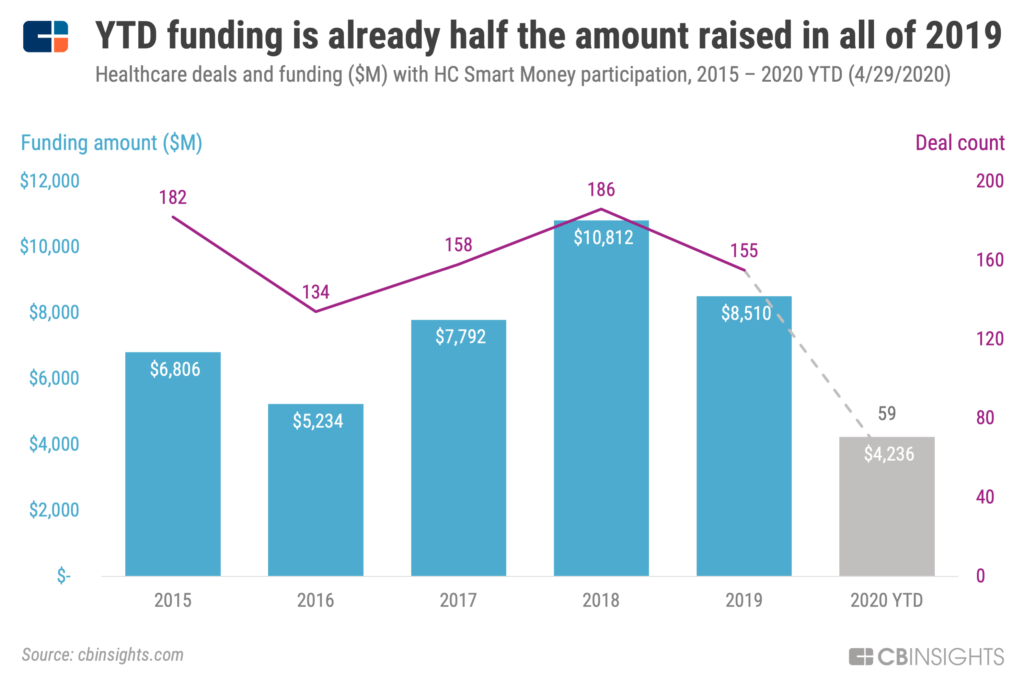 However, Healthcare Smart Money VCs have already been active in 2020. So far this year, they've participated in 59 deals — a rate which, if it continues, would result in a 14% YoY increase. Those 59 deals represent $4.2B in aggregate funding, roughly half of what was raised from Healthcare Smart Money-backed deals in 2019.
Though the funding amount can't be exclusively attributed to Healthcare Smart Money investors, it indicates the scale of the capital being deployed during the pandemic and signals that 2020 will be a big year for healthcare funding.
Healthcare Smart Money portfolios appear to be undergoing a period of maturation, given the gradual rise in exits (90 in 2019 compared to 67 in 2015) and recent decline in early-stage deal share (30% in 2019 compared to 36% in 2015).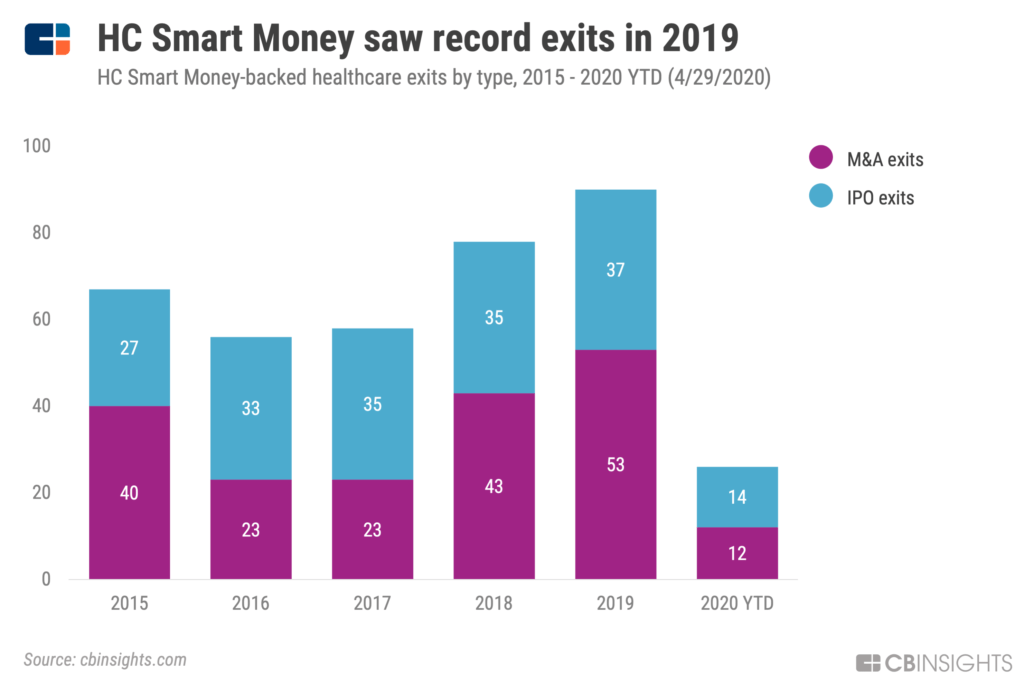 Going forward, that could mean we see either a continuation of the current trend — follow-on participation in large, later-stage rounds (e.g. Nurix Therapeutics' $120M Series D, Iora Health's $126.4M Series F, and Element Science's $145.6M Series C) — or the reverse of it, as Healthcare Smart Money VCs seek out earlier-stage investment opportunities that could deliver bigger returns.
Since mid-stage deals have accounted for around 50% of Healthcare Smart Money deals over the last 3 years, and are already tracking at 54% of deals YTD, we see a strong potential for more later-stage, follow-on investments going forward.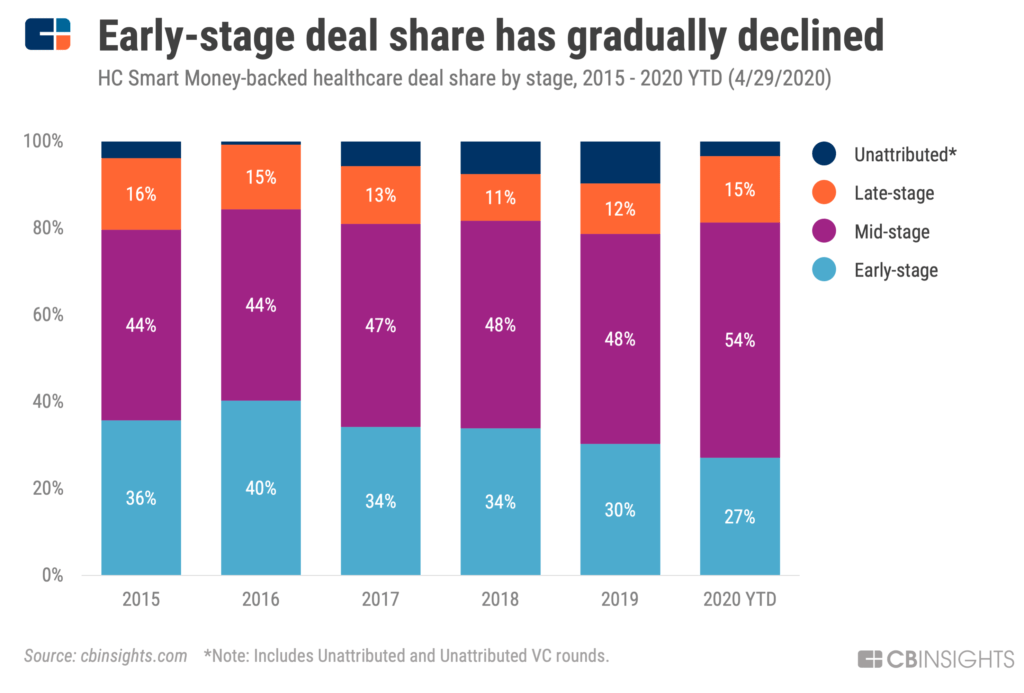 2. HC SMART MONEY VCs SET their SIGHTS ON NEW GEOGRAPHIES
Since 2015, Healthcare Smart Money VCs have placed bets in healthcare startups across 16 different economies.
In 2019, Rwanda and Hong Kong became the latest 2 markets added to the list.
Though US-based startups consistently account for around 90% of Healthcare Smart Money deals, the startups in the other 10% represent a diversified array of geographies.
Since 2015, Healthcare Smart Money VCs have funded healthcare startups across 16 different markets.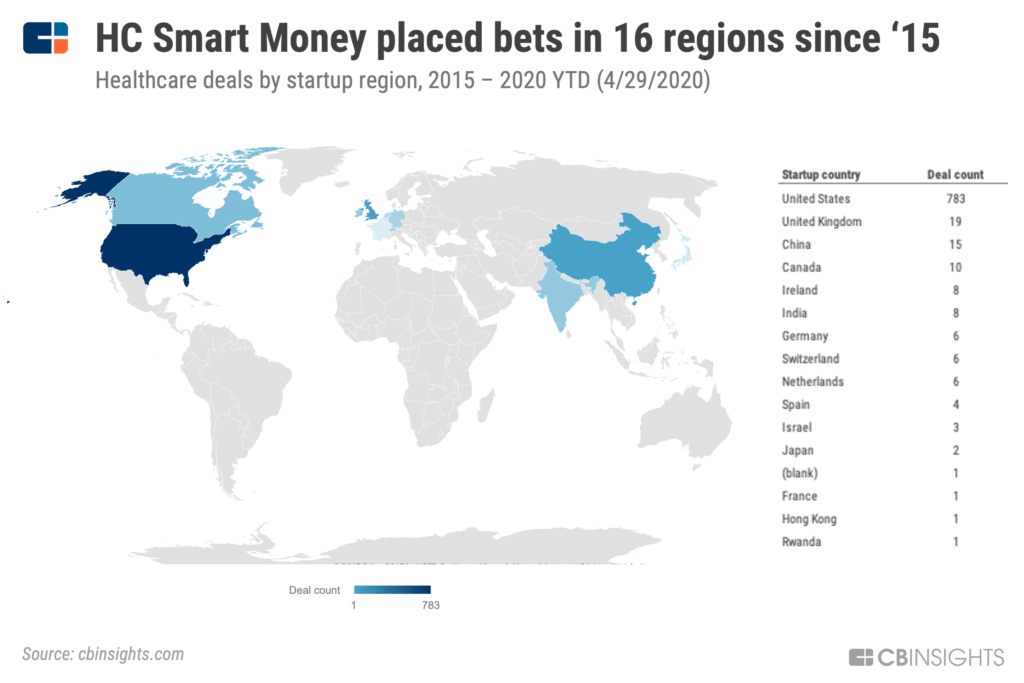 According to CB Insights' data, over the last 30 years, Healthcare Smart Money VCs have gradually broadened their geographic scope, making investments in 1-2 new markets every couple of years.
While the majority of their investments to startups not based in the US have been in other developed economies, Healthcare Smart Money VCs have made select bets in emerging markets, notably in China (e.g. Medbanks Network Technology, Qihan Biotech) and India (e.g. Caplin Steriles, PharmEasy).
In 2019, Rwanda and Hong Kong became the latest additions to the growing list of geographies, with Healthcare Smart Money investments in Rwanda-based startup Africa Healthcare Network and Hong Kong-based startup Insilico Medicine.
3. BIOPHARMA DRAWS THE MOST INTEREST FROM HC SMART MONEY
Biopharmaceuticals is by far the hottest category for Healthcare Smart Money VC investment, despite a loss in deal share in 2019 compared to 2015.
Within biopharma, small molecules have attracted the most attention, but new drug classes like nucleic acid-based therapeutics are gaining momentum.
Biopharmaceutical startups accounted for more than 50% of Healthcare Smart Money deals since 2015.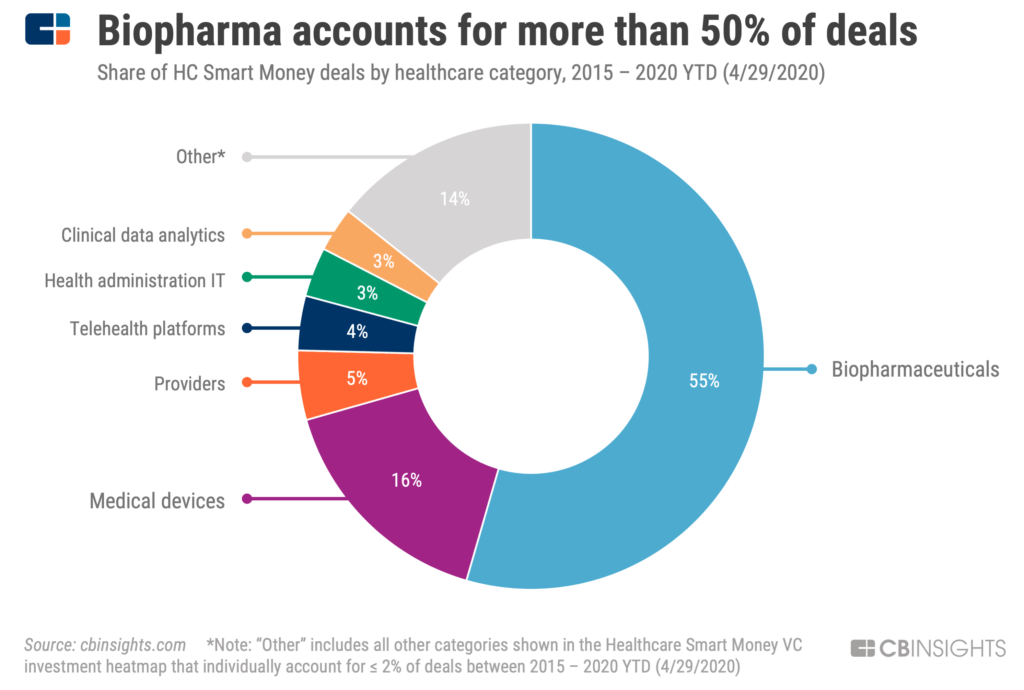 The skew is likely explained by the high-risk, high-reward nature of investing in biopharma.
New drug candidates entering Phase I clinical trials tend to have a relatively small chance of ultimately being approved. The process takes at least 10 years on average and can require billions in investment to bring a new drug to market.
That said, the payoff for a "home run" biopharma investment can be substantial. Therefore, Healthcare Smart Money VCs may be disproportionately investing here to improve their chances of backing a successful drug.
Within the biopharma category, small molecule drugs — low molecular weight organic compounds that are synthesized through chemical processes — have consistently captured the greatest share of Healthcare Smart Money deals (between 40-60%).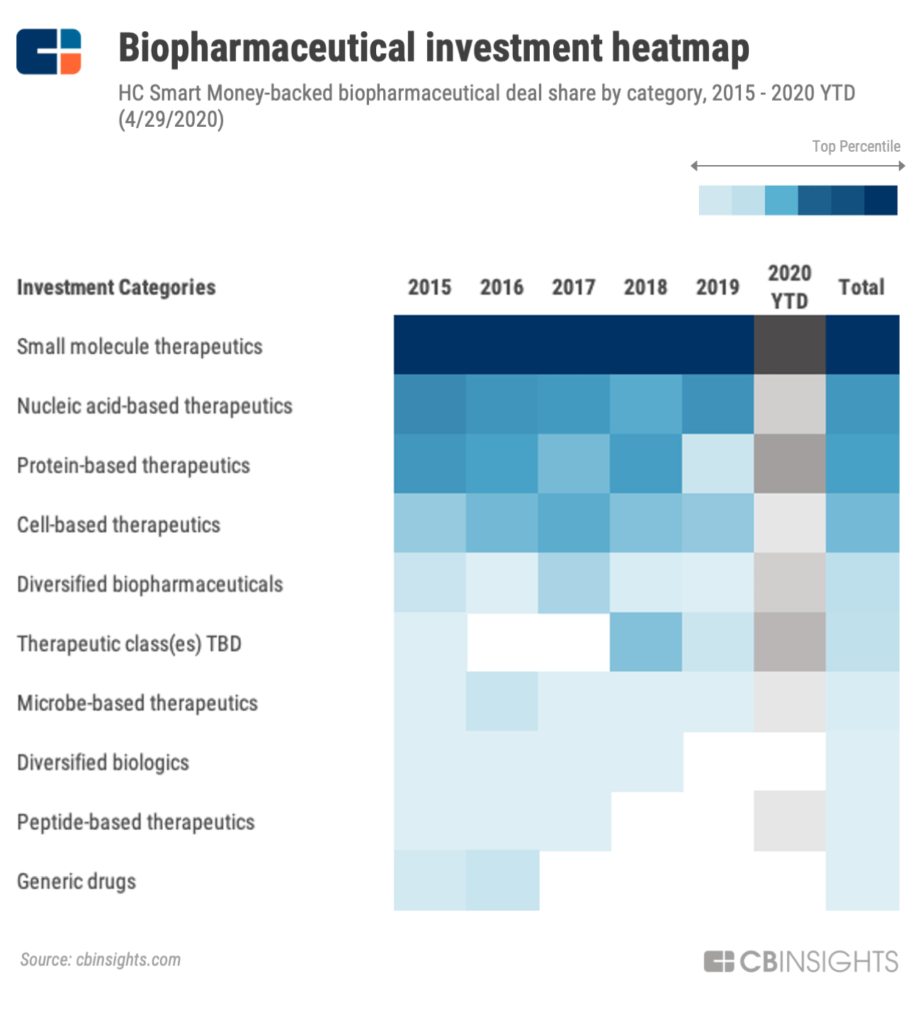 Yet on an absolute basis, Healthcare Smart Money-backed small molecule funding may have peaked.
In 2018, small molecule startups raised $3.5B in funding across 65 deals with Healthcare Smart Money participation — with funding buoyed considerably by a small handful of mega-rounds, including Relay Therapeutics' $400M Series C and Gossamer Bio's $230M Series B.
In 2019, deal count dropped 37% YoY to 41 deals.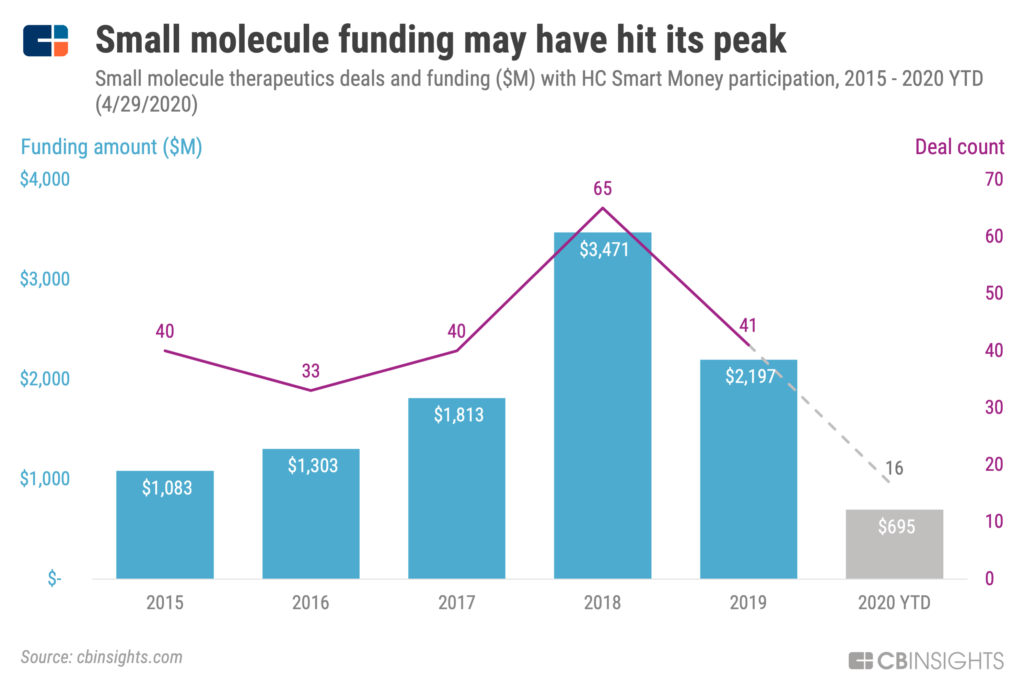 Compared to biologics — drugs made with components of living organisms — small molecules have more well-defined, precisely controlled, and less capital-intensive manufacturing processes. They also make up a vastly larger percentage of global drug sales.
On the other hand, small molecules face far greater competition, have a much lower likelihood of approval, and are offered at a significantly lower price than biologics. So, while biologics currently comprise a smaller part of the market, they're concentrated among the top-grossing products each year.
Notably, one class of biologics, nucleic acid-based (e.g. DNA, RNA) therapeutics, saw a substantial Healthcare Smart Money deal share gain while small molecule investment declined.
Between 2018 and 2019, nucleic acid-based therapeutics experienced a 78% jump in deals as a flood of early-stage startups raised their first rounds of capital (e.g. Passage Bio, Verve Therapeutics, Ring Therapeutics).
4. IN VITRO DIAGNOSTICS is A HOT SPOT WITHIN MEDICAL DEVICEs
Behind biopharmaceuticals, medical devices is the second-most popular category for Healthcare Smart Money VC investment.
Within medical devices, the in vitro diagnostics (IVDs) segment remains rich with opportunity. 
The $102B global IVD market has long been heralded as one of the fastest-growing and most attractive investment areas within healthcare. It's no surprise then that Healthcare Smart Money VCs have disproportionately favored IVD deals over other medical device segments.
Driven by emerging technologies — like precision genomics, liquid biopsies, molecular point-of-care (POC) tests, and even smartphone-based self-tests — IVDs can facilitate earlier detection and more effective treatment of disease, which can translate into substantial cost savings down the line.
In 2019, Healthcare Smart Money VCs invested in several startups pursuing potentially game-changing IVDs.
For example, Third Rock Ventures and Casdin Capital-backed Thrive Earlier Detection and Polaris Partners-backed Freenome are both developing minimally invasive blood tests to screen for early-stage cancer.
Thrive recently published data from the first prospective, interventional study of its multicancer liquid biopsy test. The company says that its test more than doubled the positive detection rate compared to current standard-of-care screening tests — which positively identify only 25% of patients later diagnosed with cancer.
Separately, Sequoia Capital-backed Athelas and Founders Fund-backed Scanwell Health are developing devices that allow patients to self-test at home and share their results with remote providers.
The IVD industry is highly dynamic and is characterized by robust M&A activity. Large clinical laboratories and life science conglomerates are increasingly looking to acquire smaller IVD players with proprietary technology in niche categories. That kind of market backdrop for potential exits is a big plus for VCs that can identify promising IVD startups early.
Some examples from recent years include Bio-Techne's $575M acquisition of Forbion-backed Exosome Diagnostics and Myriad's $410M acquisition of Sequoia-backed Assurex Health.
5. hc smart money is leaning into digital health

Digital health is gradually representing a larger portion of deal flow as Healthcare Smart Money VCs invest more heavily in AI.
Despite growing momentum and hype more broadly, digital health startups make up less than a third of recent Healthcare Smart Money deals. However, it appears that these VCs are gradually leaning more into the space, with digital health deal share increasing by 3 percentage points since 2015 to reach 26% in 2019. This trend could be speeding up, with digital health deal share at 31% in 2020 YTD.
Increased exposure to digital health appears to be largely driven by artificial intelligence (AI). After not making any healthcare AI investments in 2015, Healthcare Smart Money VCs have increased their bets in the space, closing 19 deals in 2019.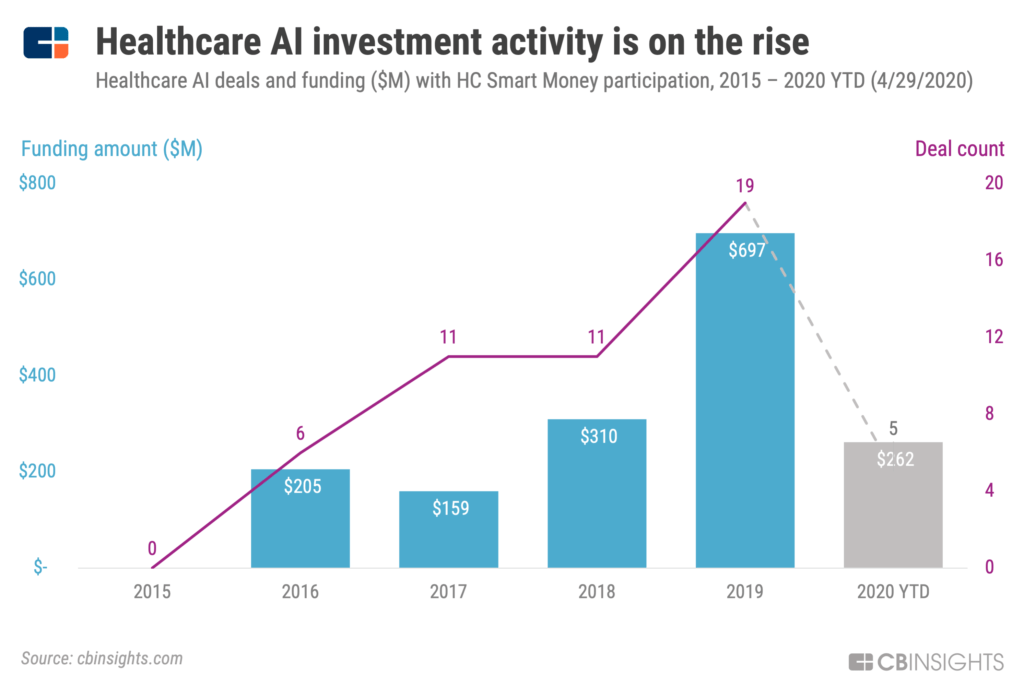 AI could expedite the drug discovery process by finding new molecular compounds faster than traditional methods. The tech is also touted as being able to improve predictions for the outcomes of new drugs, potentially boosting the likelihood of success through each stage of the drug development pipeline.
Large pharmaceutical companies are increasingly turning to AI startups for help developing new treatments. Pharma companies have forged an intricate web of partnerships that may foreshadow future M&A activity and exit opportunities for VC investors.
6. TELEHEALTH IS AN EMERGING AREA OF INTEREST
The telehealth category appears to be gaining momentum among Healthcare Smart Money investors.
This trend could accelerate as telehealth adoption increases in response to Covid-19.

As we discussed in our State Of Healthcare Q1'20 Report, Covid-19 has put a bright spotlight on telehealth. In Q1'20, both overall telehealth deals and news mentions doubled from Q4'19. Several payers and providers expanded access to virtual care, and telehealth companies from around the globe — including Venrock-backed Doctor on Demand — reported significant upticks in visit volume.
Irrespective of these recent tailwinds, Healthcare Smart Money VCs have been placing an increasing number of bets in the telehealth space for a few years now. And their YTD activity suggests the trend is set to accelerate.
So far in 2020, Healthcare Smart Money VCs have already participated in as many telehealth deals as they did in all of 2019. On a funding basis, the Healthcare Smart Money-backed deals completed YTD have been larger than in previous years: these investors have already participated in deals this year worth more than the total amount invested in record-breaking 2018.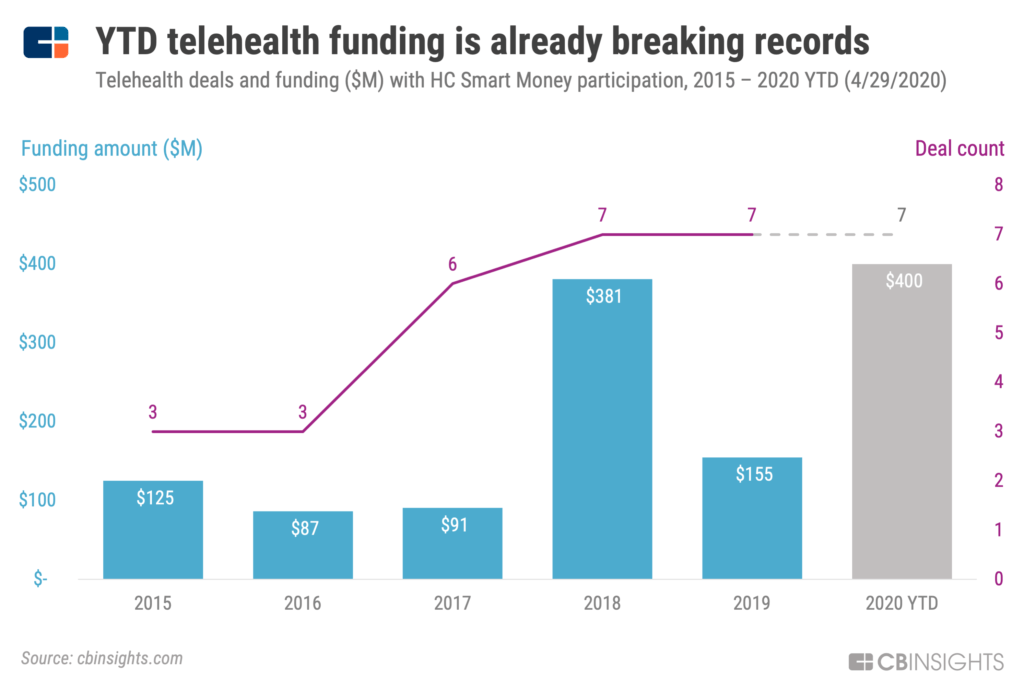 The CB Insights Healthcare Smart Money list: methodology and firms
Our methodology for the Smart Money list goes beyond returns and prestige rankings used for many comparable lists. It combines factors like portfolio quality and Mosaic scores, exit and unicorn hit rates, stage of investment entry, and Digital Health 150 appearances, among other metrics.
WHAT IS THE HEALTHCARE SMART MONEY LIST?
The Healthcare Smart Money list is an unranked collection of the top 25 venture capital firms worldwide for healthcare investment. We crunched the numbers for over 2,200 VC firms in the CB Insights database to surface the highest-performing investors based on our methodology (more on that below).
WHAT MAKES A VC "SMART"?
Comparable lists in other asset classes rank firms based on investment performance, but returns data is hard to come by in the VC world and rates of return can be easily manipulated.
Our methodology factors in portfolio company outcomes, appearances on the CB Insights Digital Health 150 list, the ability to consistently deploy capital, and portfolio quality. These factors capture the combination of a firm's network and access, scale and repeatability, and profitability that makes VCs "smart."
WHAT CAN I DO WITH THIS COLLECTION?
The Healthcare Smart Money list is available on the CB Insights platform as an Expert Collection, which can be used as a filter for deal and company searches. Rather than publish a standalone, prestige list, we want the Healthcare Smart Money Expert Collection to be used as a tool to help our clients surface high-quality companies and emerging industries.
WHICH VC FIRMS ARE ON THE HEALTHCARE SMART MONEY LIST?
Firms are presented in alphabetical order.
Kleiner Perkins Caufield & Byers
If you aren't already a client, sign up for a free trial to learn more about our platform.