We take a look at some of the top healthcare investment trends that could carry over into the new year, notable wearable startups, and more.
We recently released our Q3'19 Global Healthcare Report.
With the dust settling on the quarter, we take a quick look at some of the more interesting healthcare investment trends that could spill over into 2020.
Also — under the backdrop of the Google/Fitbit deal — we explore wearable startups that could be future M&A targets.
And finally, did you see all the activity in China healthcare these past two weeks? See below for the recap.
in the report
In our Global Healthcare Report, we take a data-driven look at global healthcare technology investment trends, top deals, active investors, and corporate activity in Q3'19. We dug into digital health and 7 sub-sectors within the healthcare landscape, including:
Microbiome
Women's health
Cannabis
Artificial Intelligence
Virtual Primary Care
Pharma Supply Chain
Digital therapeutics
Want to see which digital health startups saw the most funding? Or which companies reached billion-dollar valuations? (Hint: there are 37 unicorns.)
Download the report here to find out, and check out 3 big takeaways below:
Takeaway 1: AI in healthcare funding is unstoppable
Healthcare AI funding hit a record high in Q3'19, raking in $1.6B across 103 deals. In the top spot was virtual health assistant Babylon, which hauled in a whopping $550M.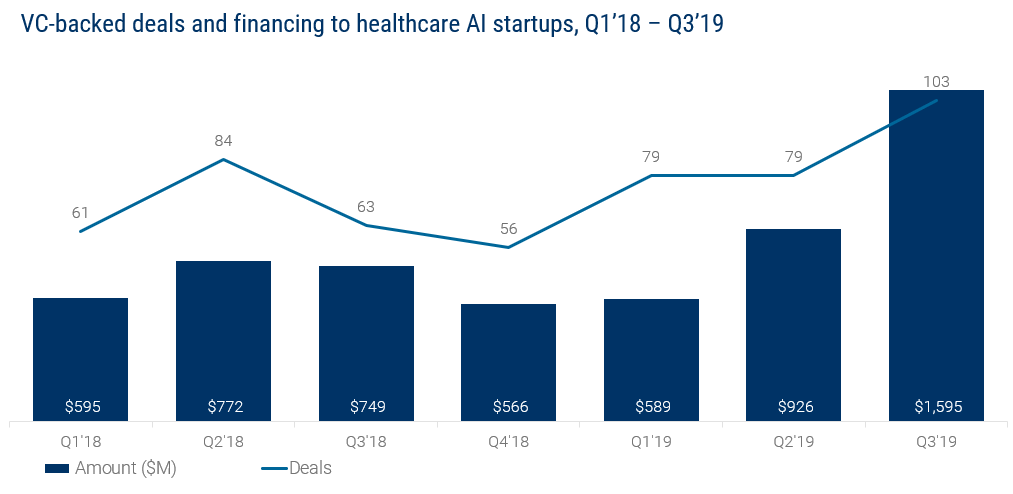 Takeaway 2: Pharma supply chain had a massive quarter
Startups working in the pharma supply chain raised over $1B across 44 deals — the most they have seen over the past 7 quarters. The jump was partially attributed to Capsule, which raised $270M.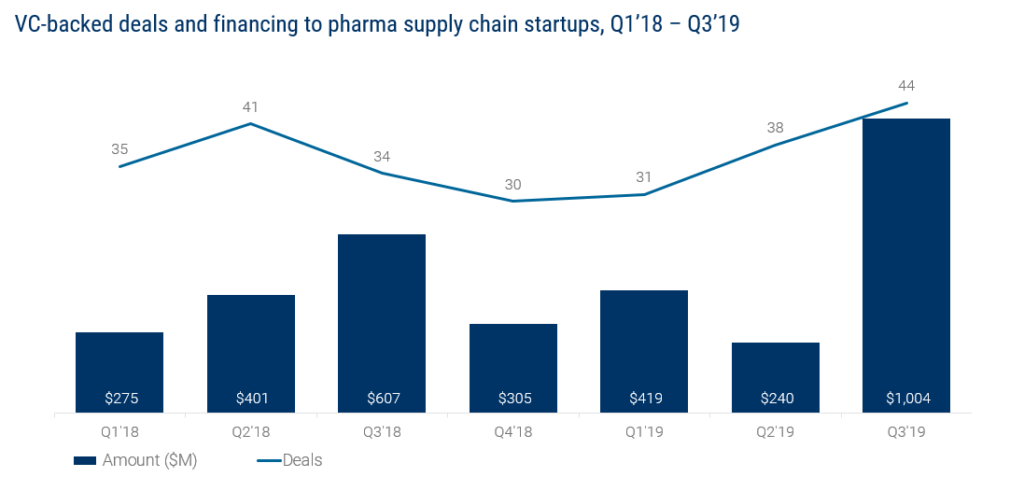 Takeaway 3: New York wins … at something
We might have lost the ALCS … our football teams are struggling … and, you know what, lets not even talk about basketball.
But New York City remained the hottest metro area for digital health.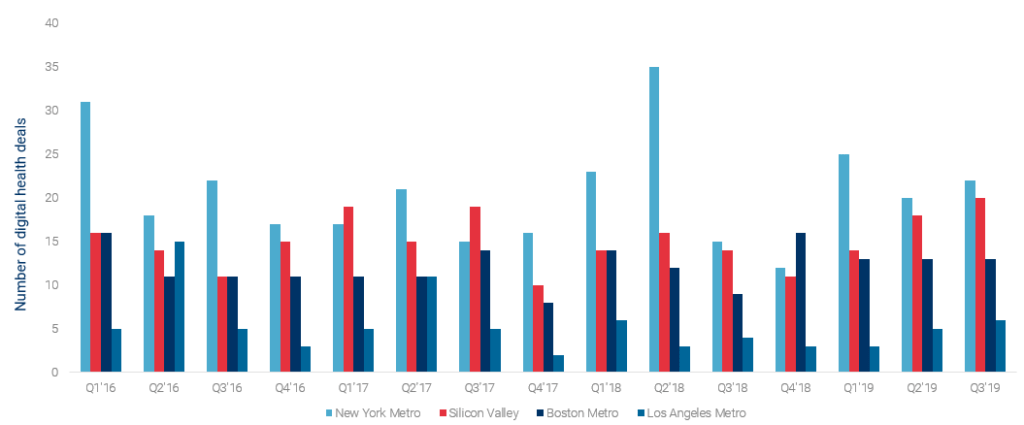 Wearables M&A?
At a purchase price of $2.1B, Fitbit became Google LLC's fifth-largest acquisition to date, placing it between #4, Looker ($2.6B, 2019), and #6, YouTube ($1.7B, 2006). The acquisition, expected to close in 2020, would immediately give Google a vast installed base of consumer wearables being used in both B2C and B2B2C contexts.
But it gains a lot more than a fitness tracking business.
It also gets all of the biometric data that Fitbit collected from its tens of millions of active users over the years. This could help could accelerate (and intensify) the tech giant's foray into healthcare — shifting competitive dynamics within the broader consumer health monitoring market.
We recently highlighted 7 wearables startups — across wristbands, rings, headbands, and patches — that could become more interesting to strategic acquirers.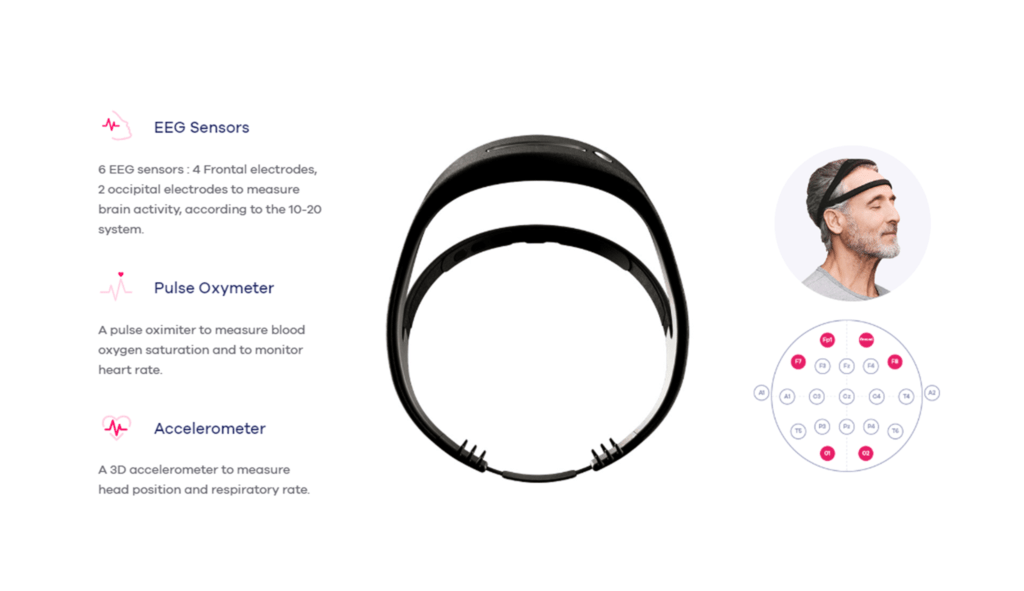 One of those startups is Dreem. Dreem's headband, worn overnight, uses 6 EEG sensors, a pulse oximeter, and an accelerometer to track brain activity, heart rate, breathing, and movement.
Clients can read about the other startups we highlighted here.
china healthcare in the news
We highlighted a number of important deals announced over the past two weeks in China:
Big tech's race to building healthcare super-apps continues
Ping An Good Doctor bought a $20M stake in Shanghai Hydee Software, a pharmacy ERP software provider, in a bid to bulk up its pharmacy capabilities. The deal came shortly after e-commerce giant Alibaba's $1B investment in a leading clinic as it grows care delivery infrastructure. We highlighted China big techs' healthcare bets in this report.
Multinational drug makers continue to aggressively invest in China
AstraZeneca is raising a $1B fund to invest in Chinese healthcare startups
Amgen invested $2.7B into BeiGene to co-develop cancer drugs
Novartis announced building a CHF-patient focused program with Tencent
Boehringer Ingelheim signed a deal with 7 leading digital health companies to collaborate on chronic disease management.
A mega-round
Matrix Partners China, Lily Asia Ventures, and others poured $100M into the device maker Peijia Medical. The Suzhou-based company's TAVR product will hit the market in 2020.
If you aren't already a client, sign up for a free trial to learn more about our platform.