Innovation labs have found a new home in healthcare as essential tools for developing solutions to some of the industry's biggest problems.
From the digitization of medical records to smart patient care platforms, technology is disrupting the healthcare industry.
And as the space evolves, companies, universities, and hospitals are looking for ways to stay ahead of the curve.
One solution: in-house healthcare innovation labs.
These labs and accelerators are tasked with finding the next big idea that will deliver on patient care while bringing more transparency and reducing costs over the long run.
We put together a list of healthcare innovation labs from new entries to the field, as well as some of the oldest and most familiar names in health.
For more on corporate innovation labs, you can see our list of 40 fintech labs here, as well as 85+ labs across 10+ industries here.
---
novartis & Microsoft — AI Innovation Lab
Founded: 2019
The AI Innovation Lab is a collaboration between Novartis and Microsoft, bringing together the former's datasets and research capabilities with the latter's AI solutions and data management expertise.
The initiative aims to 1) empower Novartis employees to glean more insights from Novartis' datasets using AI models; and 2) open up opportunities to explore and accelerate "some of the hardest computational challenges within life sciences."
Outside of its partnership with Microsoft, Novartis also runs the Novartis Biome, a network of innovation hubs located around the world that bring together employees and external partners to develop digital healthcare solutions with the backing of Novartis' resources and clinical trial data.
Notable projects: One of the focuses of the AI Innovation Lab is using machine learning models to develop more personalized treatment plans for patients with age-related macular degeneration (AMD), which results in irreversible vision loss. Using data such as scans of a patient's retina, the models could help give clinicians better guidance on dosing frequency for a particular patient.
Associated funds: The Novartis Venture Fund, with $750M under management, primarily invests in biotech and biopharma life sciences companies, regardless of funding stage. Current portfolio companies include drug discovery startup Exo Therapeutics and clinical trial management platform Science 37.
---
American Medical Association (AMA) — Health2047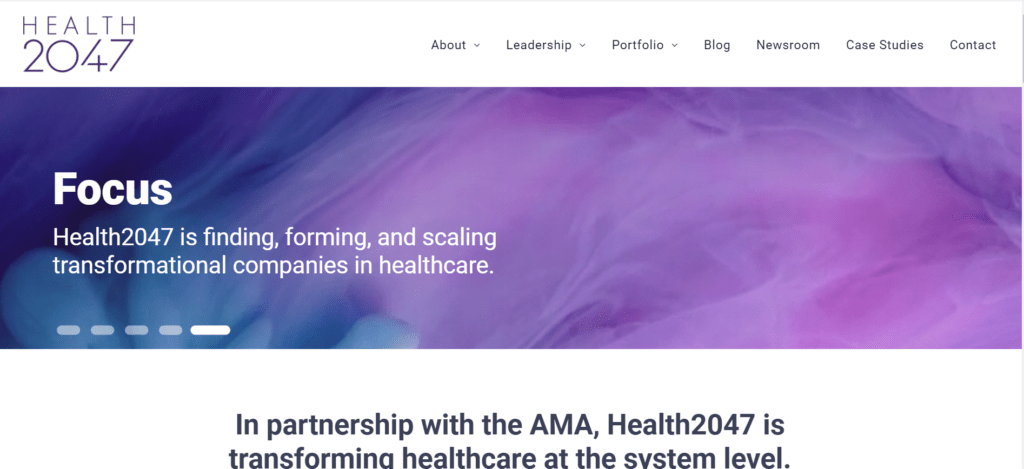 Founded: 2016
Health2047 is the innovation arm of the American Medical Association (AMA). Existing at the intersection between accelerator, incubator, lab, and venture arm, Health2047 aims to build companies that address systemic issues in the US healthcare system.
Health2047 focuses on 4 areas — data liquidity, chronic care, radical productivity, and healthcare value — that could improve the work of AMA's 240,000 US physicians, their patients' outcomes, and the healthcare system more broadly.

Notable projects: Company spin-outs include chronic care platform First Mile Care and network-as-a-service health data platform Akiri.
---
VSP Global — Global innovation center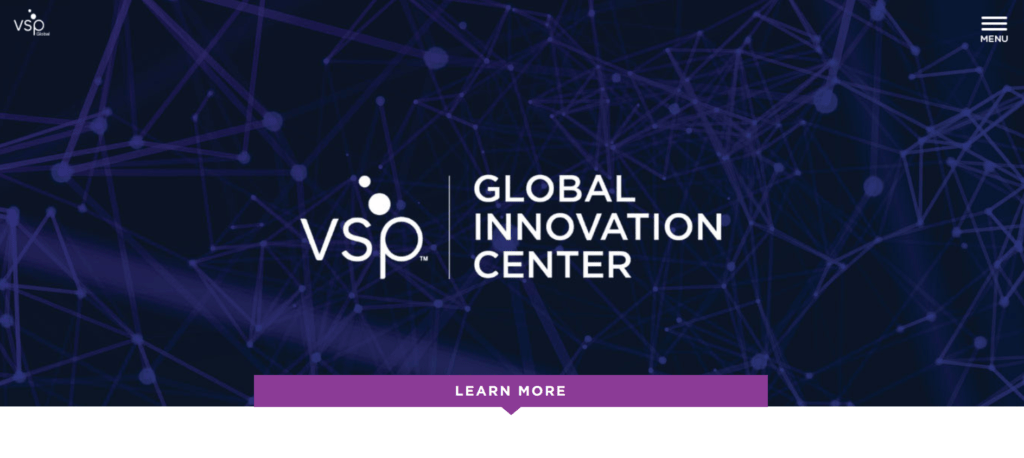 Founded: 2020
In October 2020, VSP Global announced a new chapter for its innovation efforts with the launch of the VSP Global Innovation Center, which looks to harness VSP's industry expertise alongside partners to bring innovative products, services, and experiences to the market.
Based in Sacramento, CA, with a global interdisciplinary team, the center aims to encourage collaboration between VSP Global and outside partners to discover, evaluate, and integrate new products, services, and experiences for the organization's network of 90M members and over 30,000 eyecare professionals.
The VSP Global Innovation Center focuses its initiatives in 4 areas related to VSP Global's vision care and eyewear operations: digital supply chain, health-focused vision care, personalized vision products, and smart glasses.
Notable projects: In partnership with CB Insights, the VSP Global Innovation Center created the Futurist Report series, which identifies emerging trends in consumer behavior and explores the technologies, companies, and partnerships shaping industries worldwide. The first report examines the future of the consumer experience in health and wellness.
In addition, the center has:
Launched the first VSP blue light-reducing eyewear offering to its network to combat digital eyestrain;
Spearheaded sustainability efforts to bring new materials and processes to market;
Introduced performance-based vision care upgrades to improve employee health and productivity; and
Onboarded new health care model partnerships.
---
GlaxoSmithKline — Innovation labs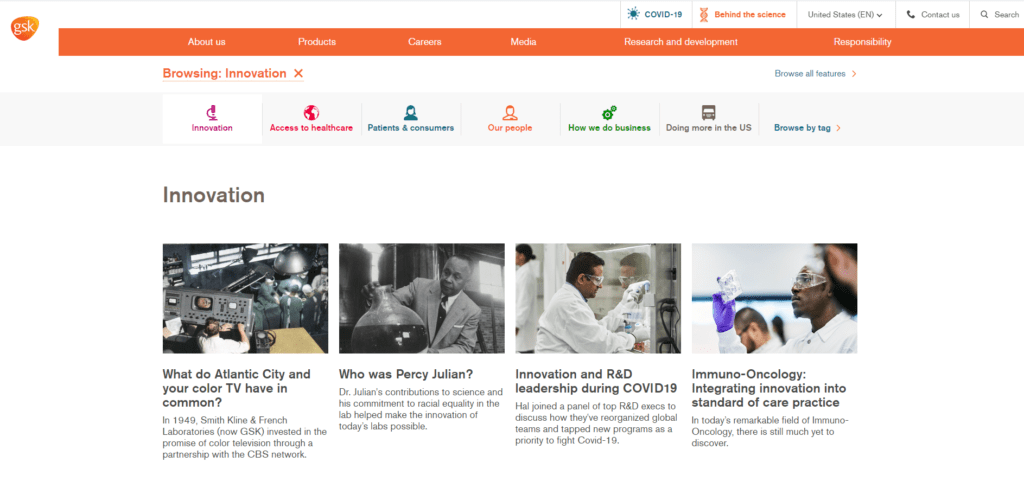 In addition to its global R&D centers, UK-based pharmaceutical giant GlaxoSmithKline runs several innovation labs, including the GSK Warren Innovation Lab Suites and Digitisation Lab.
At the Innovation Lab Suites in Warren, New Jersey, GSK gets feedback on its over-the-counter options from consumer panelists, who test products in the Consumer Sensory Lab and Shopper Science Lab. At the Digitisation Lab, teams of data scientists and engineers work to accelerate GSK's adoption of new technologies, specifically in pharmaceutical manufacturing.
Through an "open innovation" strategy, GSK aims to "encourage innovation targeting diseases of the developing world."
The Open Lab, located in Tres Cantos, Spain, brings together scientists and academics to research global health issues like malaria and TB with access to GSK's resources and network.
At the Stevenage Bioscience Catalyst campus, GSK looks to support and partner with early-stage biotech startups so that they can commercialize their tech.
The R&D Open Lab aims to better understand variations in non-communicable diseases like cancer and diabetes in Africa.
Notable projects: A team at the Innovation Lab Suites developed SSL eCommerce Evaluation — a tool that can "embed new images over a retailer's operational website," enabling GSK to test different versions of websites in real time with shoppers.
Associated funds: GSK's Action Potential Venture Capital (APVC) fund invests in companies developing bioelectronic medicines, such as Cala Health and Axon Therapies.
---
Mayo Clinic — Center for Innovation (CFI)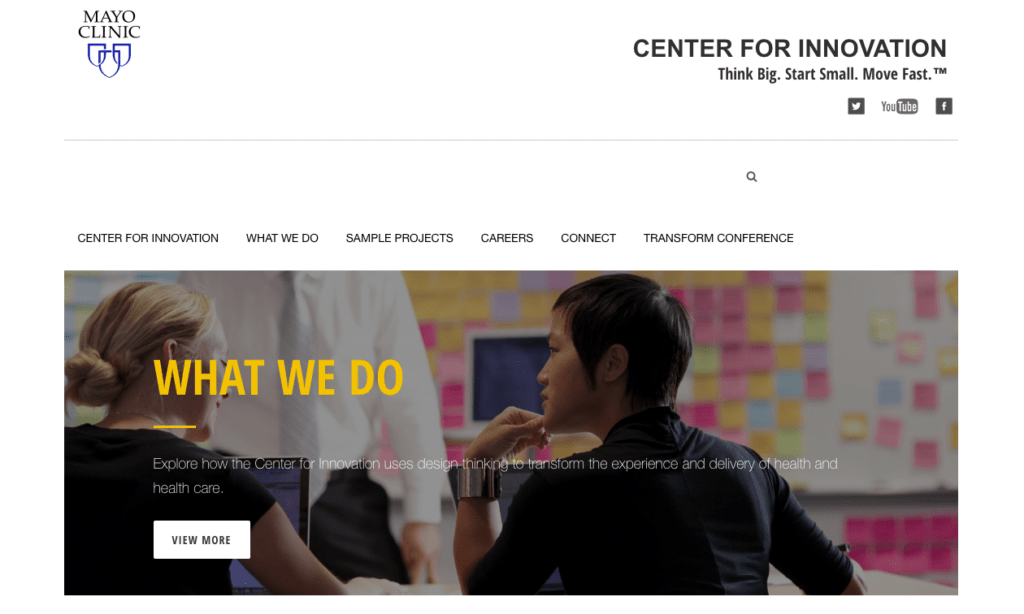 Founded: 2008
The philosophy at the Mayo Clinic Center for Innovation (CFI) can be summed up as: "Think big. Start small. Move fast." Here, a team of professionals in healthcare, design, IT, and project management work around a business strategy called design thinking. This approach paves the way for healthcare professionals to move beyond old ideas and toward a patient-centered focus that encourages redesigning models of care.
Another feature of Mayo Clinic's innovation ecosystem is its Innovation Exchange, a membership-based platform that offers members — including internal employees and external entrepreneurs — access to Mayo Clinic scientists, facilities, and a network of outside partners.
Notable projects: The Mayo Clinic OB Nest explores ways for women with low-risk pregnancies to reduce the number of their in-person doctor visits through a combination of dedicated nurses, a special online community, and in-home monitoring. This in-house project has been implemented as a care model for expecting parents within Obstetrics and Gynecology at the Mayo Clinic Rochester.
Associated funds: Mayo Clinic Ventures commercializes Mayo Clinic's intellectual property, licensing its technology to partners as it aims to bring its inventions to market. It also provides funding to select startups.
---
OPTUM AND THE MAYO CLINIC — OPTUMLABS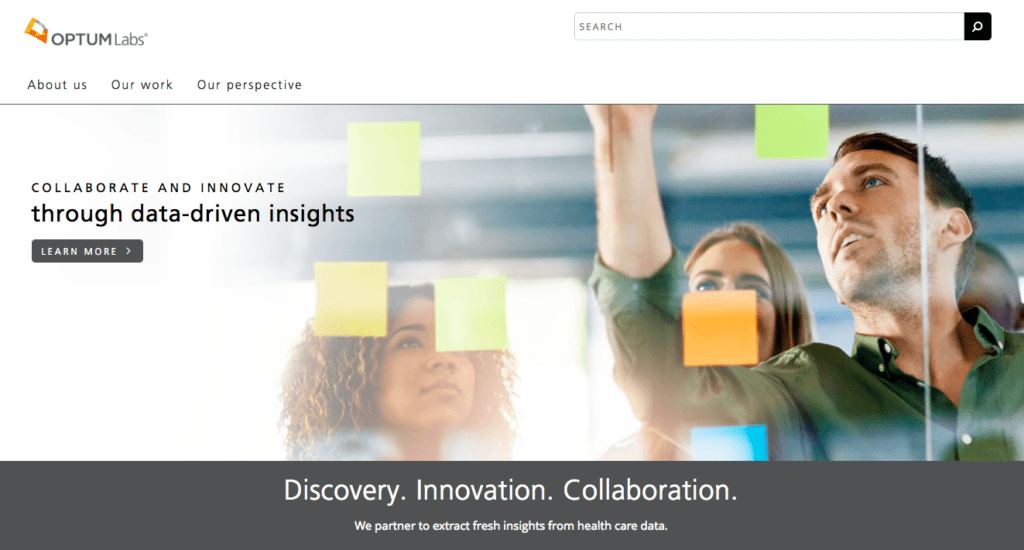 Founded: 2013
When Optum, the IT health services division of UnitedHealth Group, teamed up with the Mayo Clinic to create OptumLabs, the goal was to collaborate around "big data" to find solutions to some of the most pressing problems in healthcare. The lab seeks to leverage the skillsets of its partners — the technological tools and framework from Optum, and the clinical research expertise from Mayo — to "collaborate and innovate through data-driven insights."
The OptumLabs approach is simple: Bring together experts from the healthcare industry in academic, research, and clinical settings from around the world. Then, with access to millions of datasets, innovators can use analytics and data visualization to collaborate on finding solutions.
Notable projects: Project INSIGHT was formed through a collaboration with OptumLabs and the Global CEO Initiative on Alzheimer's Disease to develop predictive models that can help identify people at risk for dementia and Alzheimer's. Current testing on models has shown the potential signs of dementia can be identified "five to eight years earlier than the first diagnosis."
OptumLabs is also working to tackle the opioid epidemic. A team has developed a series of 29 key performance indicators (KPIs) based on claims data that can help medical professionals monitor pain management, addiction prevention, opioid use disorder treatment, and maternal and child health. These efforts are being used to try to better identify, prevent, and manage opioid addiction more effectively.
---
Cardinal Health — Fuse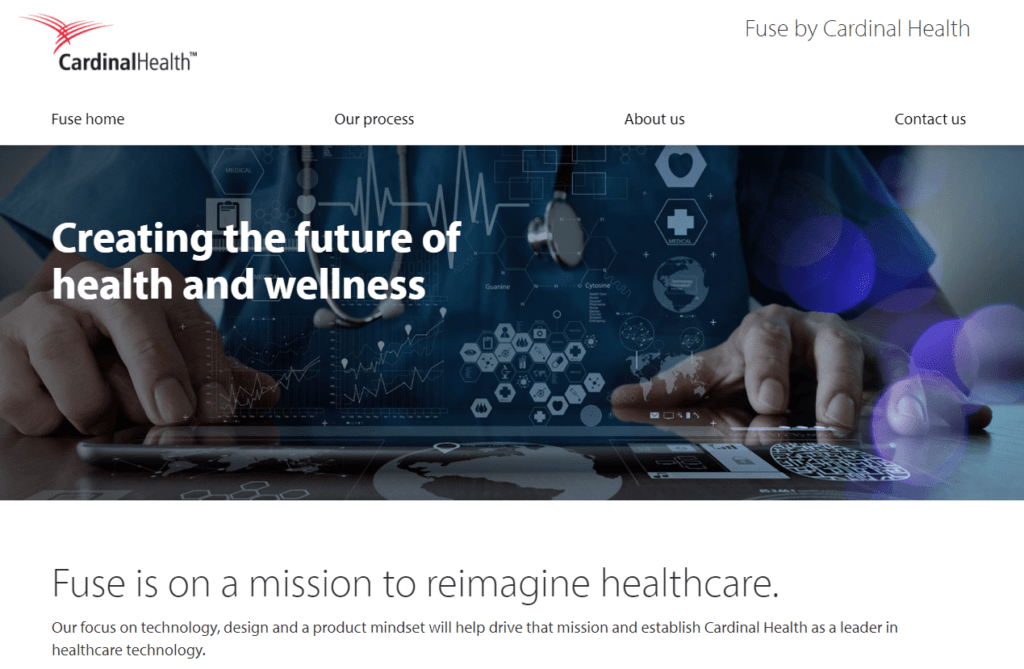 Founded: 2014
Fuse was created to integrate ideas and feedback from engineers, medical professionals, design experts, and patients into the healthcare process.
Its human-centered focus zeros in on 4 core areas of care: transitions of care, adherence and wellness, advances in treatment, and effective care delivery. To serve those core areas, Fuse creates products, services, and tools that help solve complex healthcare problems and anticipate future healthcare trends.
In many respects, Fuse looks more like a startup than a healthcare company. It has adapted techniques from startups, including a 3-step innovation process that allows the company to pivot to new ideas quickly.
Notable projects: MedSync Advantage is a web-based tool developed in house by the Fuse team. The tool helps community pharmacists identify and work with patients who can benefit from medication synchronization (when the pharmacist coordinates refills of a patients' medications so that they can be picked up at the same time, rather than requiring multiple visits to the pharmacy). This simplifies the prescription filling process for patients and improves pharmacy inventory management.
---
Johnson & Johnson — Johnson & Johnson Innovation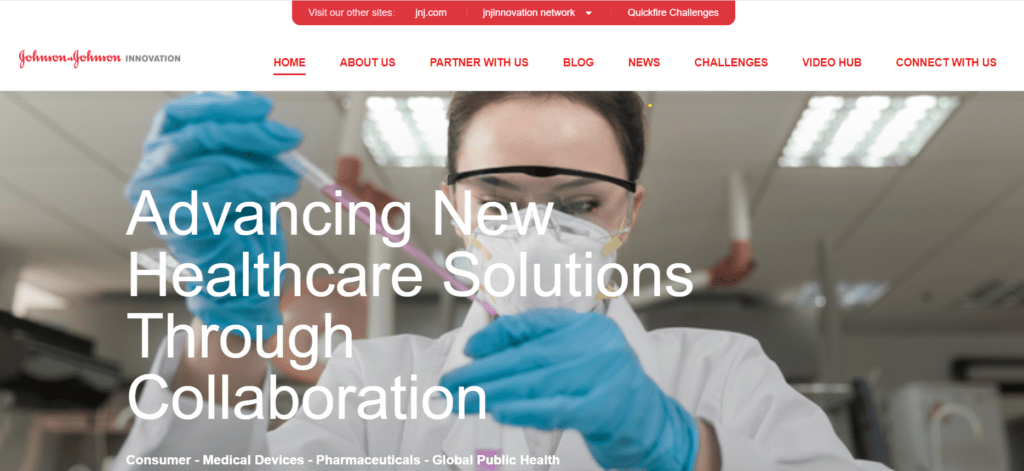 Founded: 1979
Johnson & Johnson Innovation's mission is to improve human health through innovation. It uses a collaborative "family" approach, with 4 complementary teams that serve under the main umbrella of Johnson & Johnson Innovation. Each plays a specific role in attracting and developing entrepreneurs and companies for collaborations.
Innovation centers across the globe in Boston, London, South San Francisco, and Shanghai serve as regional hubs that can connect with local entrepreneurs, scientists, and technologies.
JLABS was formed as an incubator to support healthcare entrepreneurs.
Johnson & Johnson Development Corporation (JJDC) is the venture capital arm, providing funding across a number of segments in the industry.
Janssen Business Development coordinates with corporate entities for collaborations or mergers & acquisitions.
With this system, Johnson & Johnson Innovation has developed a global network aimed at innovating "transformational healthcare solutions."
Notable projects: After 7 months of work in the JLABS incubator, Arcturus Therapeutics found a way to deliver RNA therapeutics to cells that are infected with Hepatitis B. From there, Arcturus formed a collaboration and a worldwide licensing agreement worth $2B with Janssen, another part of the Johnson & Johnson Innovations family, and a handful of other pharmaceutical companies.
JLABS recently partnered with Biomedical Advanced Research and Development Authority (BARDA) to launch Blue Knight, an initiative aimed at accelerating innovations that will "improve global health security." The first cohort of selected startups will receive funding and mentorship to develop solutions aimed at combating the Covid-19 pandemic.
Associated funds: JJDC is the venture capital arm of Johnson & Johnson and falls under the umbrella of Johnson & Johnson Innovation. The fund aims to invest across sectors — pharmaceuticals, medical devices, and consumer healthcare — and at all stages, from seed rounds to Series B and beyond. To date, it has made over 300 investments, including recent participation in rounds to Cue Health and Legend Biotech.
---
AARP — innovation labs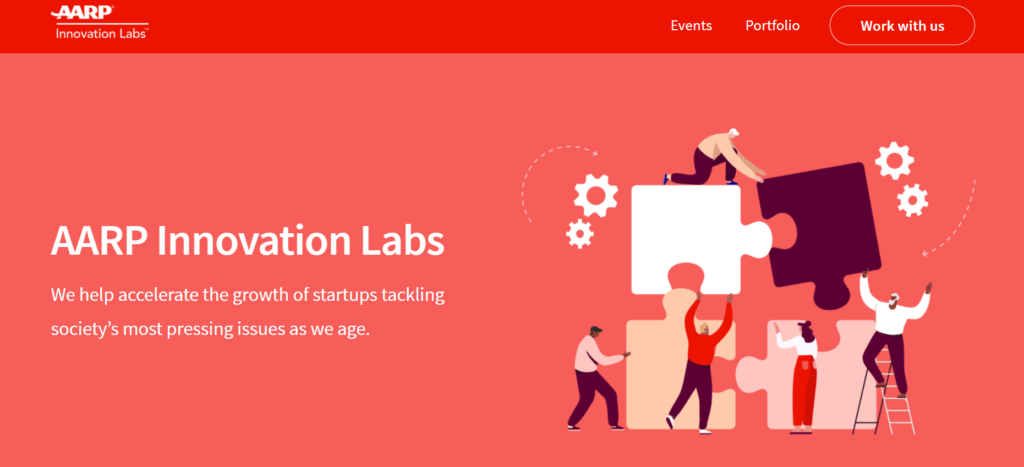 Founded: 2016
AARP's Innovation Labs, its accelerator-style program, is driven by AARP's core social mission — "health, wealth, and self" — and aims to use innovation to serve people aged 50+ across America.
Through its pitch events, accelerators, and challenges, AARP Innovation Labs partners with startups to provide access to AARP's innovation talent and resources. Startup partners include health data platform Embleema and caregiver coordination platform ianacare.
AARP also runs an innovation lab at the University of Illinois at Urbana-Champaign's Research Park called The Tech Nest, which serves as its "rapid prototyping arm."
Notable projects: In March 2020, AARP Innovation Labs debuted AARP Community Connections, a community organizing platform aimed at combating the social isolation facing seniors amid the Covid-19 pandemic. Platform users can reach out to volunteers or other members in their community to receive emotional, financial, or physical support.
---
Merck — Center for Observational & Real-world Evidence (CORE)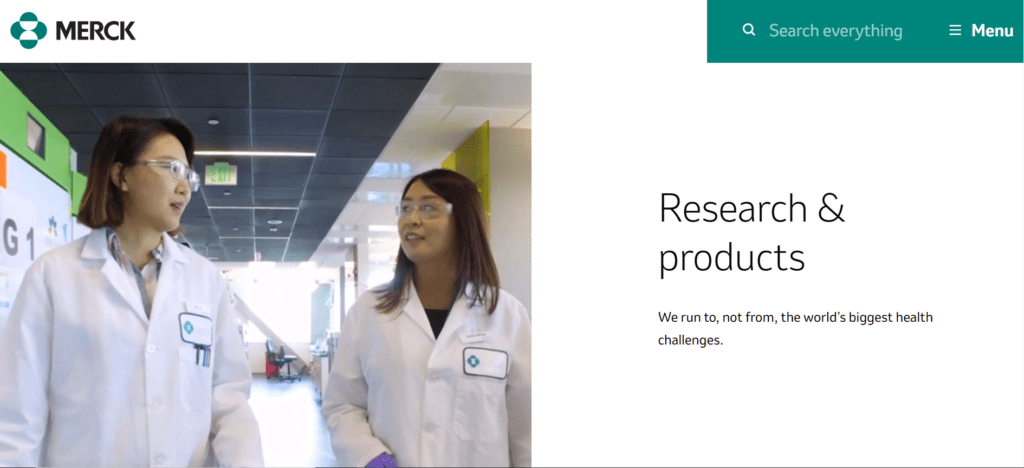 Founded: 2014
Big pharma is often under the gun to provide accurate real-world results and data about their therapeutics. To this end, Merck created an innovation center focused on highlighting the value of its medicines.
In order to accomplish this task, the CORE team unites various research groups inside Merck and works with insurers and other outside groups to gather the necessary data to track the efficiency and value of its medicines.
This real-world evidence is used to complement trial data to present a more holistic view of the results.
Notable projects: In 2019, CORE launched the Real World Data Exchange (RWDEx), a cloud-based analytics platform meant to facilitate the housing, managing, and sharing of RWD evidence across the company.
Associated funds: Merck's Global Health Innovation Fund has invested in over 50 digital health companies, leveraging its expertise in oncology, immunology, and virology, as well as real-world evidence, as it looks to accelerate the development of solutions that improve health outcomes and reduce costs. Recent investments include AeroSafe Global, which specializes in cold chain solutions, and Preventice Solutions, a remote cardiac monitoring provider.
---
Alphabet (Google) — Verily life sciences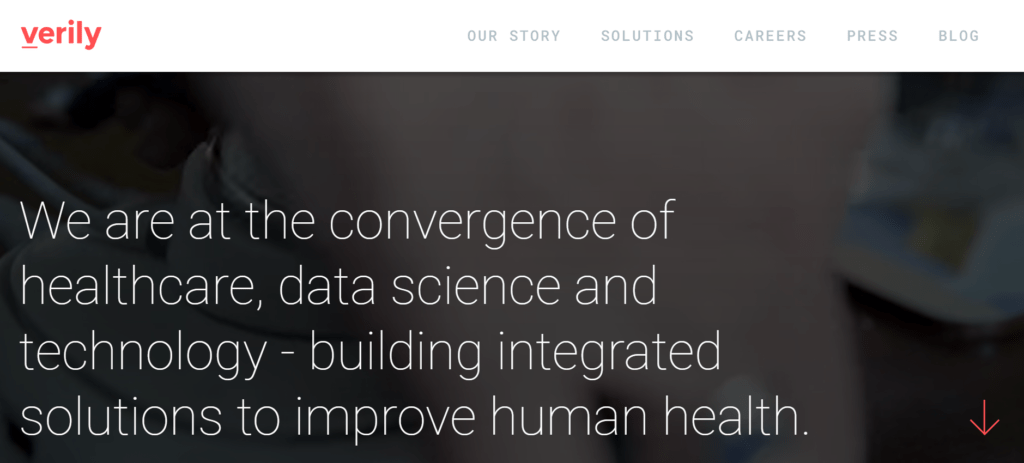 Founded: 2015
Verily was formerly known as Google Life Sciences, and in 2015 became an independent subsidiary of Alphabet Inc.
Today, its mission "lives at the intersection of technology, data science, and healthcare." The company wants to make health data so useful people will leverage it to improve their everyday lives. Verily takes a multidisciplinary approach to creating tools that will collect, organize, and optimize health data.
Another focus is building partnerships. Diverse teams within Verily work with partners in healthcare, technology, and engineering to develop new hardware and software, publish studies, and encourage startups.
In December 2020, Verily raised $700M in equity funding to advance its research and health programs.
Notable projects: Liftware is an in-house project first started when Verily was still Google Life Sciences. It was created to help people with limited hand and arm mobility eat comfortably. Its spoons use electronic stabilizing technology to adapt to tremors and other motions so users can "eat with confidence."
Project Baseline is a collaboration between Verily, Duke University School of Medicine, Stanford Medicine, and Google. It is a "longitudinal observational study that will collect, organize, and analyze broad phenotypic health data from approximately 10,000 participants over the course of four years."
Project Baseline's goal is to use data to find a baseline for good health and identify potential risk factors for a number of diseases. Amid the Covid-19 pandemic, the project added free Covid-19 testing services.
Associated funds: Verily's parent company, Alphabet, has been ramping up healthcare-related investments in the past few years via its investment arm Google Ventures. Verily has also invested in a handful of deals, most notably participating in a $165M investment to Oscar Health in August 2018, as well as a $45M investment to Mammoth Biosciences in January 2020.
---
Boston Children's Hospital — Innovation and Digital Health Accelerator (IDHA)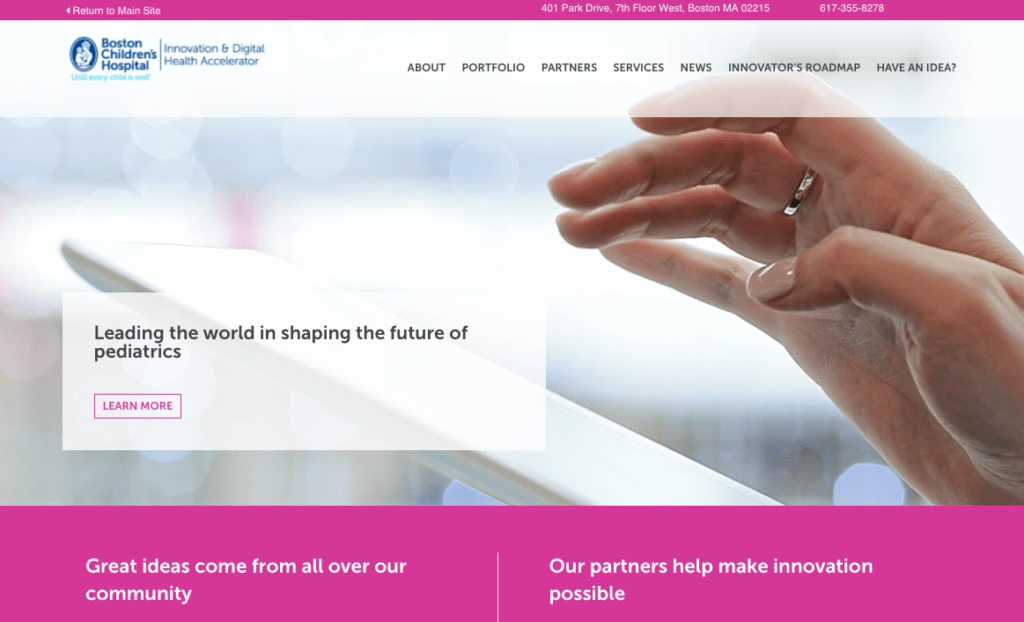 Founded: 2015
The goal of Boston Children's Hospital's in-house innovation accelerator is to quickly vet early-stage ideas by providing support and feedback in the form of experienced in-house mentors and a network of strategic partners and outside experts. Ideas that move through the process can be tested and developed more easily in a clinical setting.
Notable projects: Dock Health is a task management platform that helps teams organize clinical tasks for real-time collaboration, delegation, and coordination of patient care in a HIPAA-compliant setting. It was created in house through the accelerator program and raised $3.5M in seed funding from August Capital in March 2020.
Circulation is an app that partners with services like Uber and Lyft to allow hospitals to provide transportation to patients in a HIPAA-compliant platform. It's used in over 1,600 facilities across the US. After Circulation raised $10.5M in VC funding, it spun out into its own company. In 2018, the company was acquired by ModivCare (fka LogistiCare) for $58M.
---
BJC HealthCare & Washington university school of medicine — healthcare innovation lab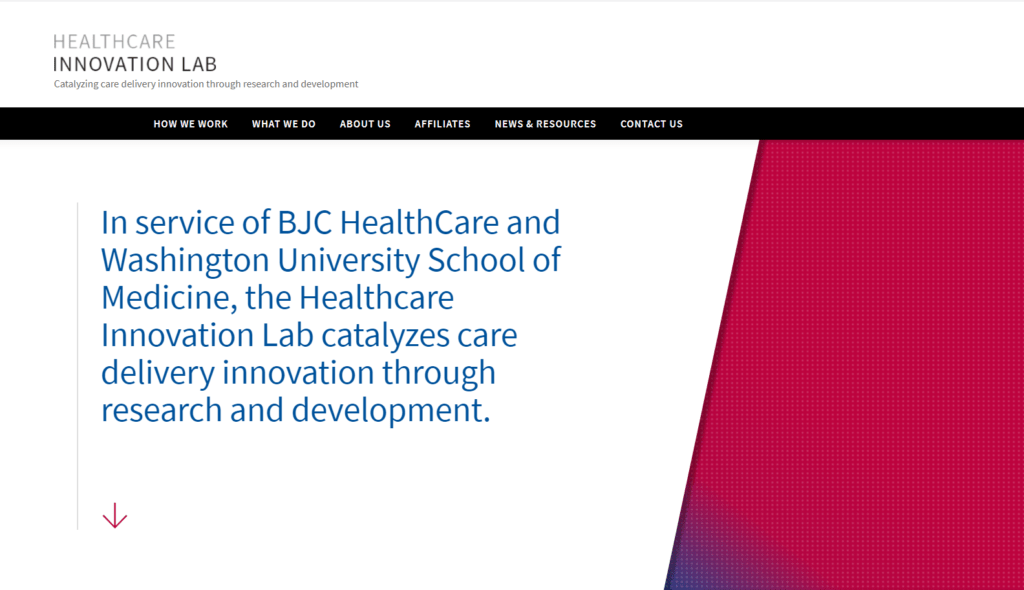 Founded: 2017
The Healthcare Innovation Lab was formed in 2017 through a partnership between BJC HealthCare and Washington University School of Medicine (WUSM), with BJC HealthCare committing to a $20M investment in the lab over a 10-year period. The lab aims to improve healthcare outcomes by developing "care delivery innovations in data, analytics, and technology."
The lab operates under 3 "portfolios of activity": operational (sourcing and testing both external and internal innovations), academic (providing support to WUSM faculty), and ecosystem (supporting innovations from its partners and network).
Notable projects: In response to the Covid-19 crisis, the Healthcare Innovation Lab partnered with electronic health record company Epic to develop a program that can monitor patients diagnosed with Covid-19 but who remain at home, making sure that their symptoms do not worsen.
---
Pfizer — Centers for therapeutic innovation (CTI)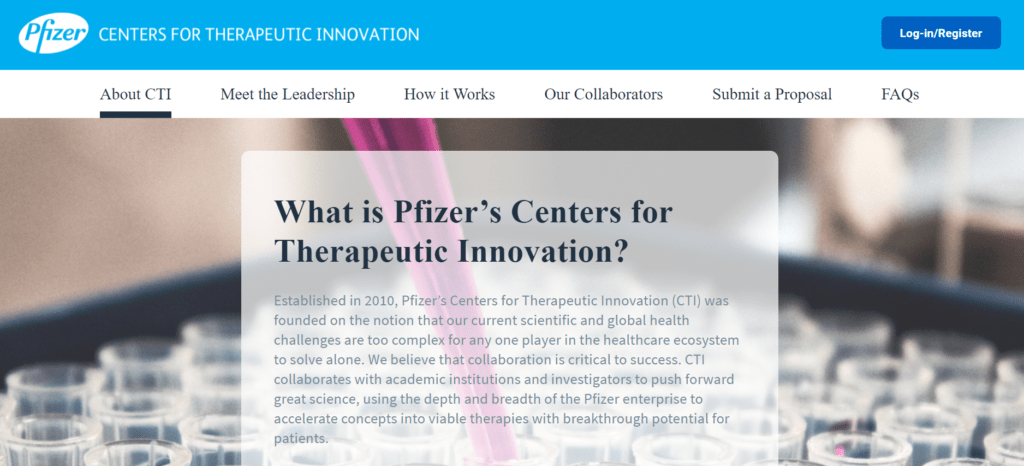 Founded: 2010
Pharmaceutical giant Pfizer's CTI aims to advance drug R&D through collaboration with outside researchers.
Based in labs in 4 cities across the US, CTI scientific teams partner with researchers on their submitted proposals to "accelerate concepts into viable therapies."
Notable projects: As of April 2020, CTI is running 26 programs and has advanced 6 drug candidates into clinical trials.
Associated funds: Pfizer Ventures (PV) is the venture capital arm of Pfizer. It was given an initial capital investment from Pfizer of $600M and primarily focuses on investing in therapeutics companies. Some notable investments include Arrakis Therapeutics, BioAtla, and Palleon Pharmaceuticals.
---
University of Pittsburgh Medical Center — UPMC Enterprises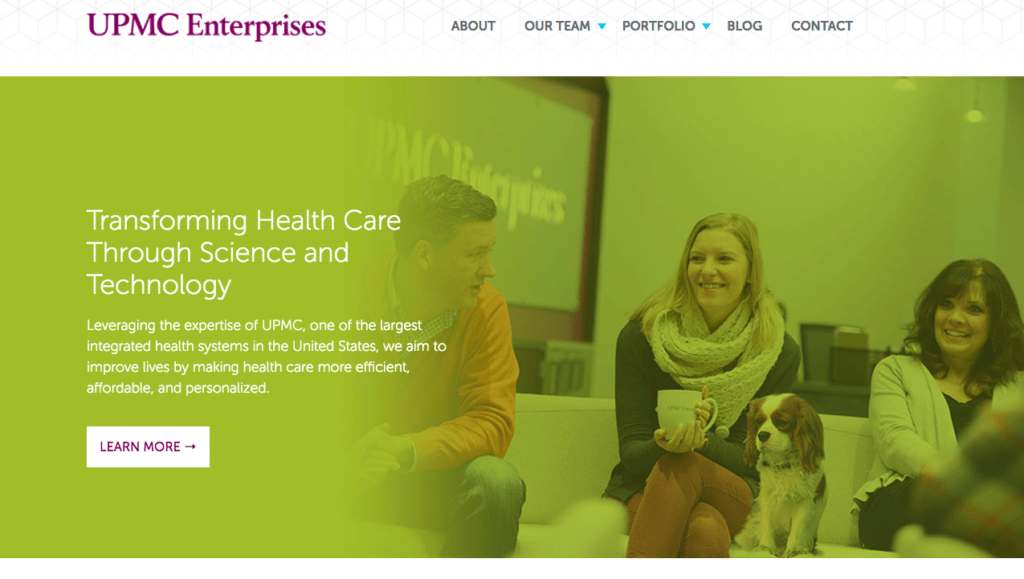 Founded: 2014
UPMC Enterprises invests in 2 core areas: translational science (which conducts laboratory-to-human research, applying research to human subjects) and technology solutions to empower both medical professionals and patients.
Since 2018, the venture has formed 5 companies, supported 30 internal research projects, and invested in a variety of healthcare-related companies.
In January 2020, UPMC Enterprises announced it would invest $1B in the life sciences sector by 2024 as it looks to finance developments in "new drugs, diagnostics, and devices."
Notable projects: In 2018, UPMC Enterprises teamed up with the University of Pittsburgh to launch the UPMC Immune Transplant and Therapy Center, committing $200M to the initiative. The center focuses on researching the immune system and its potential to treat cancer and other chronic diseases.
---
Mount Sinai Health System – Sinai applab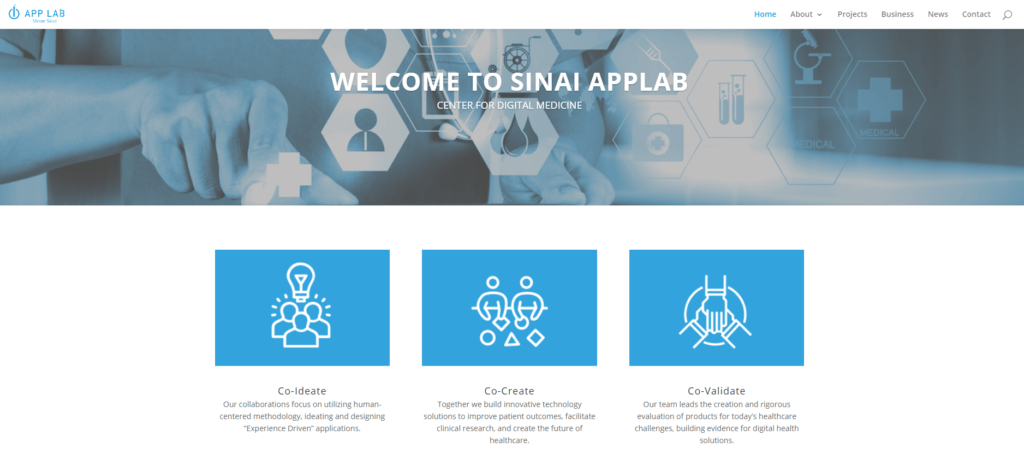 Founded: 2012
The Sinai AppLab aims to improve patient outcomes by focusing on how digital health innovations are delivered. The lab develops apps, among other solutions, that are "experience driven," meaning teams aim to make the technology as user-friendly as possible for clinicians and patients.
Notable projects: The AppLab participated in a Mount Sinai Health System-wide effort at the start of the pandemic to develop STOP COVID NYC, a web app to track the spread of Covid-19 in New York City. Enrolled members are texted daily surveys to report their symptoms so medical professionals can stay abreast of possible outbreaks and other population-spread trends in the city.
---
Bayer — innovation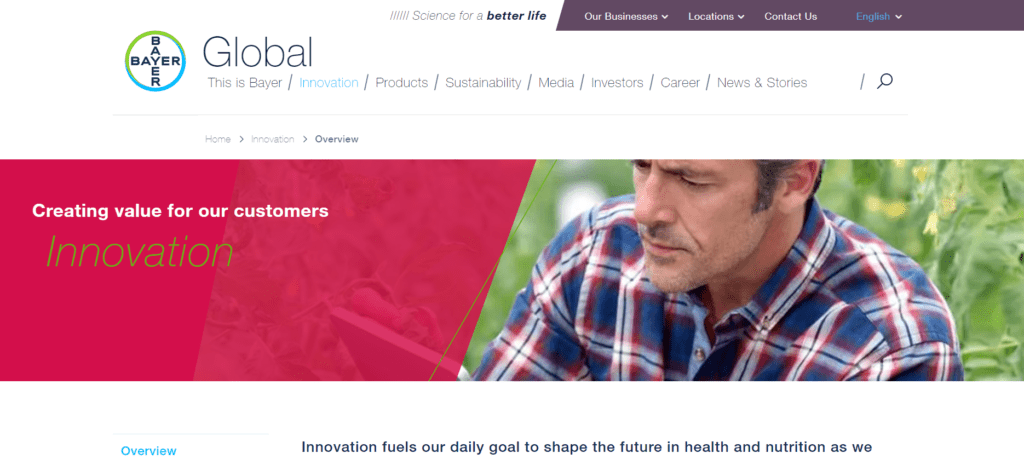 Innovation at Bayer falls under 4 main umbrellas: research and development, employee innovation, social innovation, and open innovation. In each of these categories, Bayer focuses on developing solutions that respond to global challenges in health, agriculture, and nutrition.
Roughly 16,000 scientists work on these challenges in Bayer's R&D centers around the world. Meanwhile, Bayer runs a network of co-working spaces called LifeHubs in cities like Berlin and Singapore where entrepreneurs can collaborate on their health- and nutrition-related projects.
Its 5 CoLaborator research spaces serve as incubators for early-stage life sciences companies, offering lab space and access to internal research and partnerships.
Notable projects: Bayer G4A is an in-house program that supports startups working on innovative solutions in healthcare. Its offerings include workspaces, mentorship, financial support, and networking opportunities. Over 150 startups have gone through the program, including xbird and Modern Fertility.
Associated funds: The Bayer Trendlines Ag Innovation Fund was established in 2016 as a 5-year partnership between Bayer and The Trendlines Group. This agtech innovation fund began with a $10M investment from Bayer, and in 2017 it established IBI-Ag, a crop protection company. In January 2020, the fund created ProJini Agchem, a company aiming to develop new, more efficient pesticides.
---
AstraZeneca — Open Innovation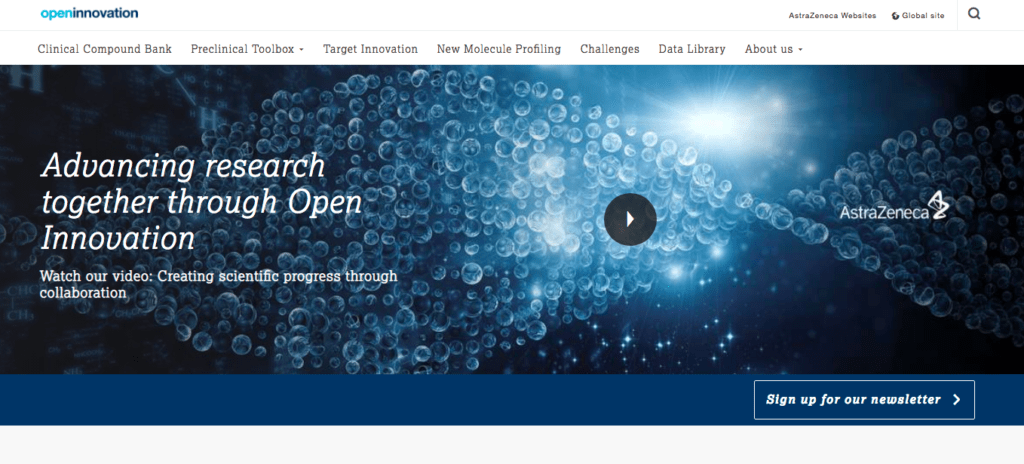 Founded: 2014
The Open Innovation concept at AstraZeneca began as an internal initiative, but quickly turned outward to explore crowdsourcing. Rather than shelving problems that couldn't be solved in house, why not ask for help from external sources?
Now, the Open Innovation team embraces collaborative problem-solving with the hope that it will accelerate the discovery of new medical solutions to patient problems.
AstraZeneca has worked on 250 collaborations thus far in areas including new molecule profiling, compounds, and pre-clinical research.
Under its Open Innovation framework, AstraZeneca runs a quarterly initiative called CoSolve, where participants can submit proposals to posted challenges related to drug development. It also runs the AstraZeneca Incubator for biomedical research startups at its Boston BioHub research facility, offering selected companies lab space and mentoring.
At the BioVentureHub embedded in AstraZeneca's Gothenburg location, biotech startups and academic groups can work with AstraZeneca's employees and access the company's lab equipment and supplies. Its goal is to create "an open and collaborative scientific community."
Notable projects: The Open Innovation team formed a partnership with Cancer Research UK (CRUK) to give CRUK access to clinical and molecular information on molecules CRUK has identified.
In return, AstraZeneca has first rights to negotiate on any series that might be able to be developed into drugs. In addition, it has formed partnerships with Bicycle Therapeutics, The Crick Institute, and Merck to develop new medicines and conduct early-stage research.
---
Medtronic — Innovation Lab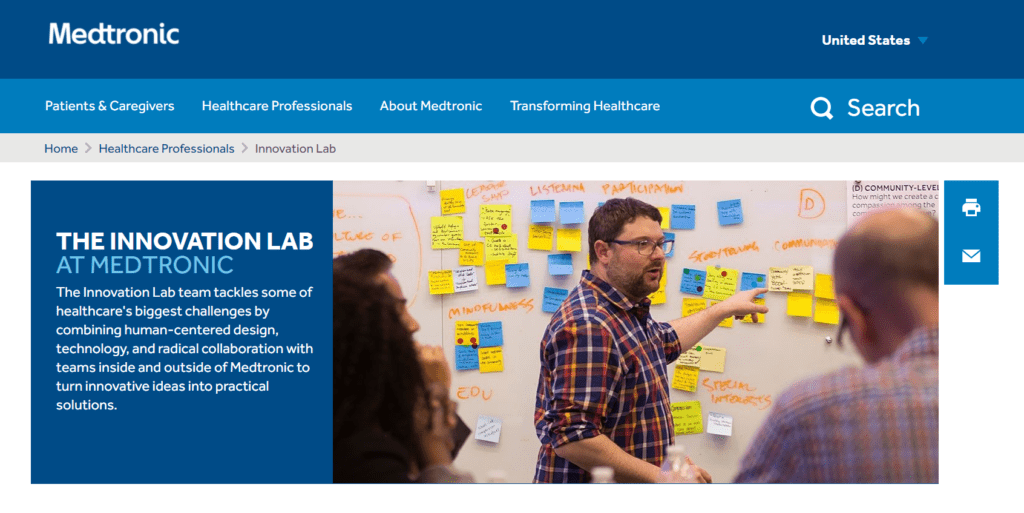 Founded: 2015
The Innovation Lab represents a future-facing shift for Medtronic. Beyond developing medical devices, the company hopes to focus on digital health solutions for chronic health conditions.
In doing so, the lab encourages collaboration between tech and medical experts and patients.
As part of its "human-centered design" thinking approach, the centerpiece of the lab offers a 360-degree video projection screen. This allows the team that uses this space to be "on the ground" anywhere in the world when speaking with medical professionals.
The lab can also track patients' experiences with devices to highlight challenges during their day-to-day lives.
Notable projects: The Innovation Lab is applying technology to underserved areas around the world. The lab collaborated with humanitarian organization Alight using its human-centered design process to develop the Amandi Compassionate Care Initiative, an effort that seeks to make humanitarian outreach in Rwanda more compassionate.
---
roche — pReD Innovation centers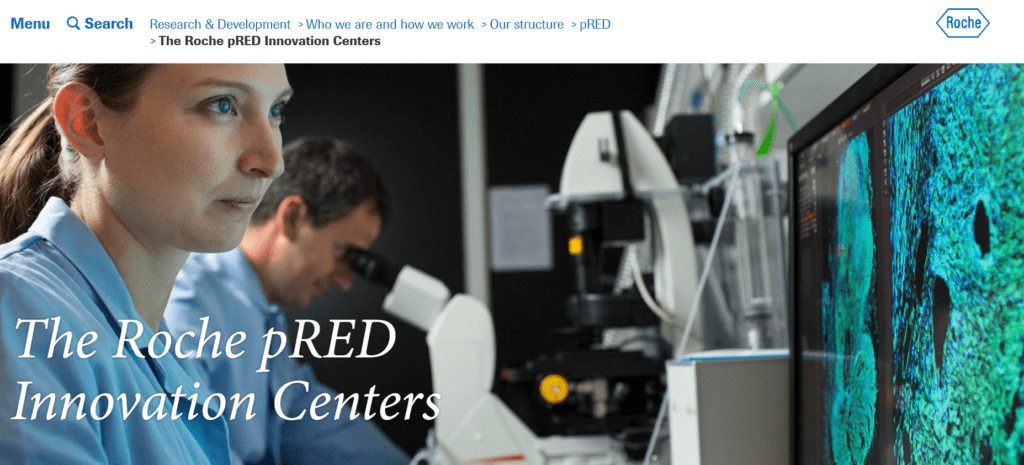 Pharmaceutical giant Roche brings together 2,200 scientists and specialists at its 7 pRED Innovation Centers located in cities like Basel, Copenhagen, and New York City. At these high-tech sites, Roche aims to drive collaboration, information-sharing, and ultimately innovation.
Roche also runs the Innovation Lab (InnoLAB), which focuses on digital innovation.
Notable projects: Roche partnered with biotech company Ribometrix in January 2021 to develop RNA-targeted drugs. As part of the deal, Roche will pay Ribometrix $25M to start, plus more in conditional payments if certain milestones are met. In April 2020, Roche formed a similar partnership with Arrakis Therapeutics to the tune of $190M.
Associated funds: The Roche Venture Fund is Roche's CHF 500M ($562M) evergreen fund that invests in life sciences companies. Current portfolio companies include DNA testing company 23andMe and AI cancer detection platform Freenome.
---
Cleveland Clinic — Cleveland Clinic Innovations (CCI)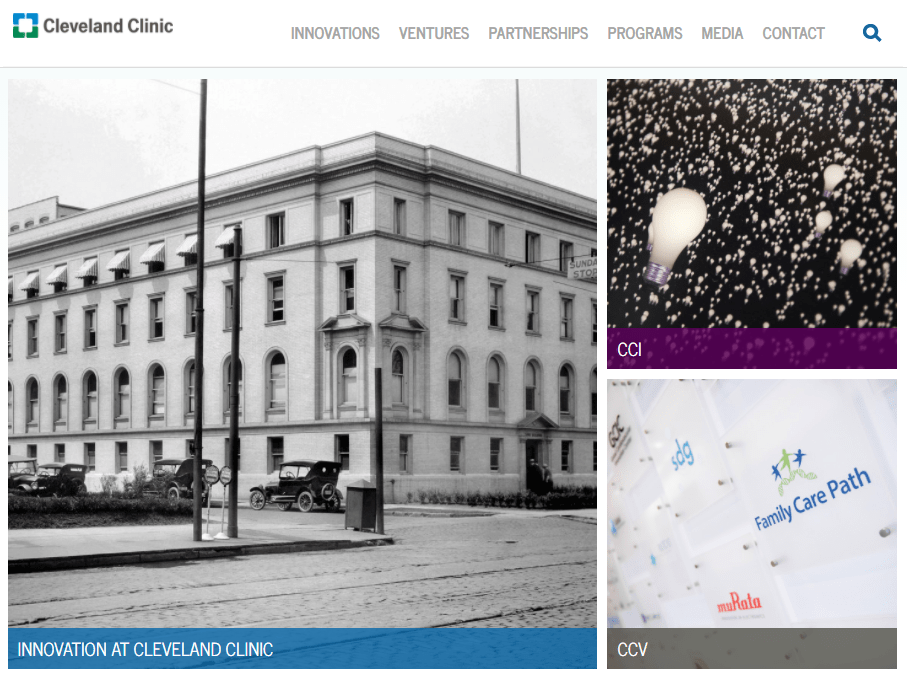 Founded: 2000
For CCI, it's all about bringing technology from academic spaces to the open market.
Per the company's website, "CCI, the commercialization arm of Cleveland Clinic, turns medical breakthrough inventions of our caregivers into patient-benefiting medical products and companies."
It does this by creating a robust network of team members, both inside the Clinic and externally, from a variety of fields including business, design, IT, and healthcare.
Inside CCI, technology and ideas are developed and incubated through a process called INVENT, which assesses them for viability from a team of subject matter experts and analysts.
The ideas deemed most successful are commercialized in the form of spin-off companies. Combined with Cleveland Clinic Ventures (CCV), CCI has a portfolio of over 1,200 issued patents and 80 spin-off companies to date.
Notable projects: Products or companies that have been brought to market include the Cooling Vest, which can help keep surgeons from overheating while operating, and Explorys, a healthcare computing company which was later acquired by IBM.
Associated funds: Cleveland Clinic Ventures supports the development of companies that pass through CCI's processes and meet a significant need in the market. Most of these inventions need investments beyond the Cleveland Clinic to be brought fully to market.
---
Massachusetts General Hospital — Consortium for Affordable Medical Technologies (CAMTech)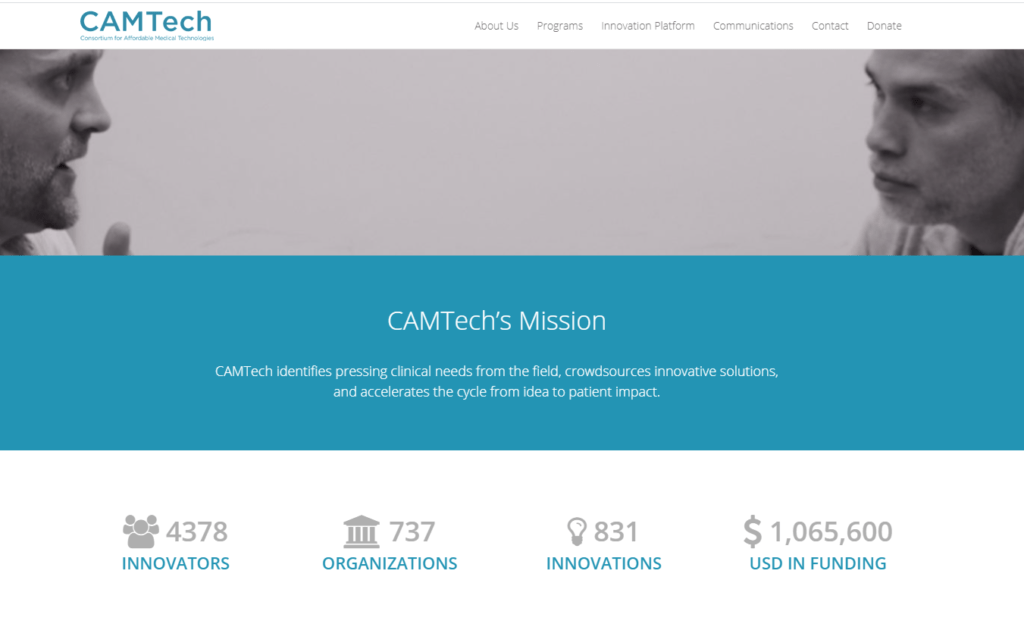 Founded: 2012
CAMTech has built a global network of partners across academia, governments, corporations, and clinics that work together on healthcare innovation projects.
Its main focus is identifying clinical needs in the field. From there, CAMTech provides support for innovators and entrepreneurs from a variety of disciplines — including business, engineering, and public health — to work with clinicians on developing technology-based solutions.
CAMTech also has an Accelerator Program (AP) that looks "for early-stage global health technologies focused on improving health outcomes in low- and middle-income countries." The goal of the AP is to help these companies develop a sustainable business model that can benefit local economies.
Other programs in the the Mass General innovation system include:
Notable projects: Sanidrop is a gel-based hand sanitizer that can be produced in small units that helps reduce the spread of infectious diseases in Uganda. It's affordable to create and can easily replace soap and water in areas where they're not available. It was created in the CAMTech Uganda program and then spun off as its own startup.
---
MD Anderson Cancer center — innovation center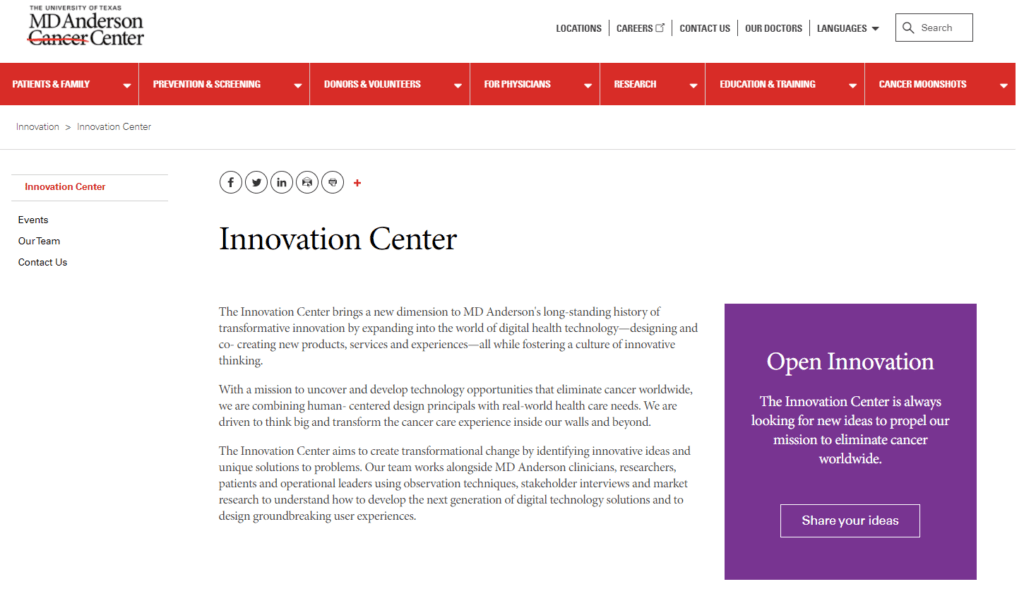 Founded: 2015
The Innovation Center at MD Anderson aims to bring the cancer center "into the world of digital health technology" by developing new products and services that improve cancer care. The team works with MD Anderson healthcare professionals, patients, and researchers to identify treatment needs and create digitally enabled solutions.
Strategic Industry Ventures (SIV) is the outward-facing arm of MD Anderson's innovation network. SIV connects center faculty and outside entrepreneurs and manages the Office of Technology Commercialization, which licenses MD Anderson inventions to industry partners.
Notable projects: In January 2021, MD Anderson Cancer Center announced a research partnership with biopharmaceutical company Xencor to develop antibody therapies for cancer treatment. The collaboration will combine Xencor's technology with MD Anderson's research expertise.
---
 MedStar health — MedStar Institute for Innovation (MI2)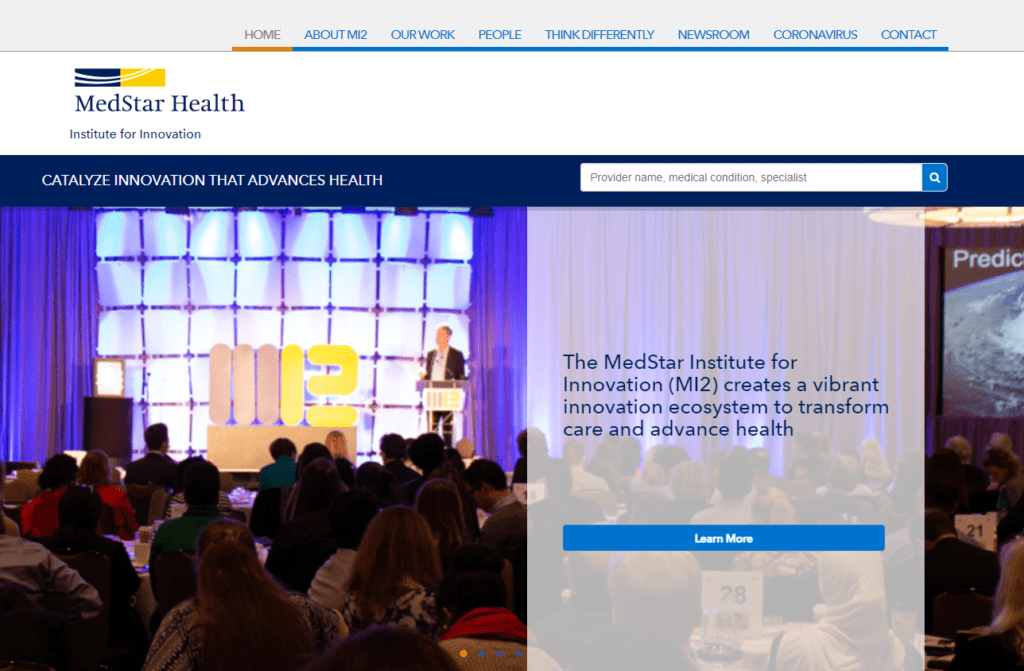 Founded: 2009
MI2's mission is to "catalyze innovation that advances health." Teams at the institute first aim to "think differently" about health challenges before then "doing differently" — innovating — where technical advancements are possible.
Notable projects: Since the start of the Covid-19 pandemic, MedStar Health has delivered more than 500,000 telehealth sessions, as of October 2020. Innovations launched and scaled at MI2 — such as the MedStar Health Video Visits service, which was developed in just 5 days — made this possible.
---
AbbVie — AbbVie Innovation Center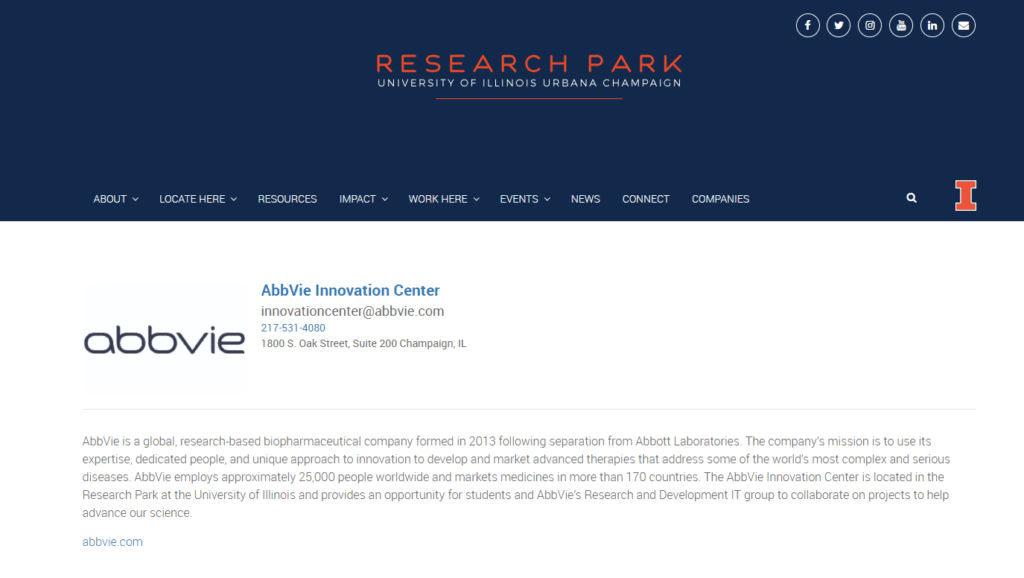 Founded: 2015
Located in the Research Park at the University of Illinois at Urbana-Champaign, the AbbVie Innovation Center brings together AbbVie R&D IT professionals with university students to work on projects related to the biopharmaceutical company's work.
Through the partnership, AbbVie aims for students to get hands-on experience working in the pharma industry, and for its experts to encounter fresh ideas that may spark new innovations.
Notable projects: Within 4 years of launching, the AbbVie Innovation Center had grown from employing 5 students to 95. At the Center's annual 2-day hackathon event, teams of AbbVie experts and University of Illinois students work together to find solutions for a specific business challenge — in 2019, the focus was on developing digital health wearables.
---
Memorial Sloan Kettering Cancer Center — Innovation Hub (iHub)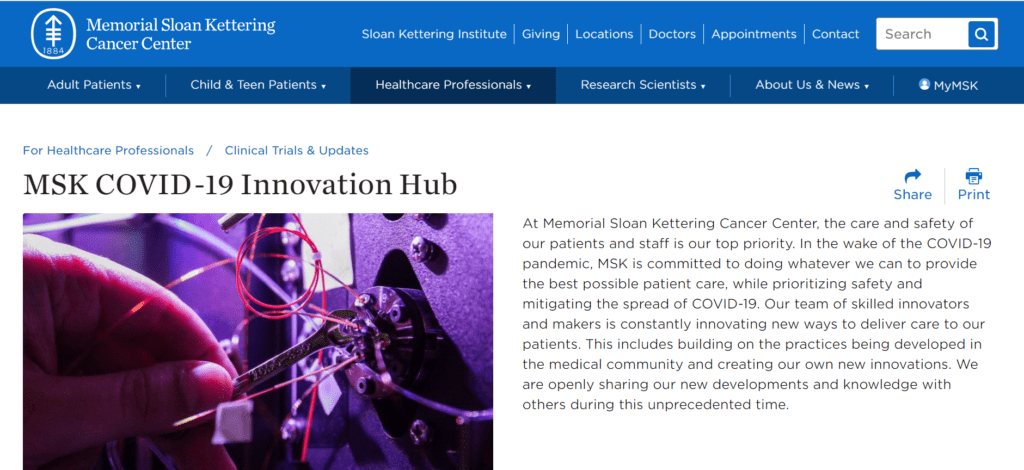 Founded: 2020
Launched in October 2020, the Innovation Hub (iHub) looks to partner with healthcare entrepreneurs to accelerate innovations in cancer care. MSK will focus investment in 4 areas: digital therapeutics, AI-enabled computational oncology, population insights, and remote patient monitoring.
Following an initial application stage, MSK will select candidates according to its investment areas, providing resources such as its clinical and market intelligence to help commercialize the selected solutions in exchange for a stake in the venture.
MSK has also created an innovation hub to develop and disseminate innovations that mitigate the spread of Covid-19 and improve patient care and health worker safety.
Notable projects: The MSK Covid-19 Innovation Hub redesigned the headband of face shields so they can be 3D printed more quickly and worn more comfortably.
---
NewYorK-Presbyterian — Digital Health: Innovation Center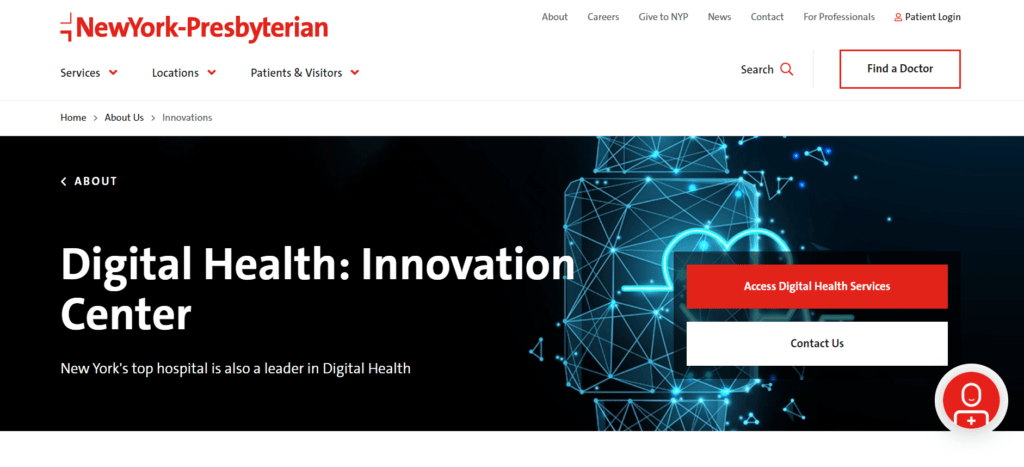 NewYork-Presbyterian's Digital Health team works to enhance healthcare delivery with technology. Its digital health platform provides telemedicine services that range from emergency care (Community TeleParamedics) to psychiatric consults (TelePsych).
Notable projects: NewYork-Presbyterian has forged ahead with augmenting its command center using artificial intelligence. The center's AI algorithms crunch info on key metrics, like bed availability and medical supply levels, to provide recommendations to staff. For example, one of its machine learning models analyzes past patient data to identify which tests and procedures current patients with similar conditions might need.
Associated funds: NYP Ventures works with the NewYork-Presbyterian Digital Health Innovation Center to identify promising digital health companies for investment.
If you aren't already a client, sign up for a free trial to learn more about our platform.