From basic testing to clinical trials, here's how LabCorp is being unbundled.
LabCorp is being disrupted across both its traditional testing business as well as its clinical research organization (CRO).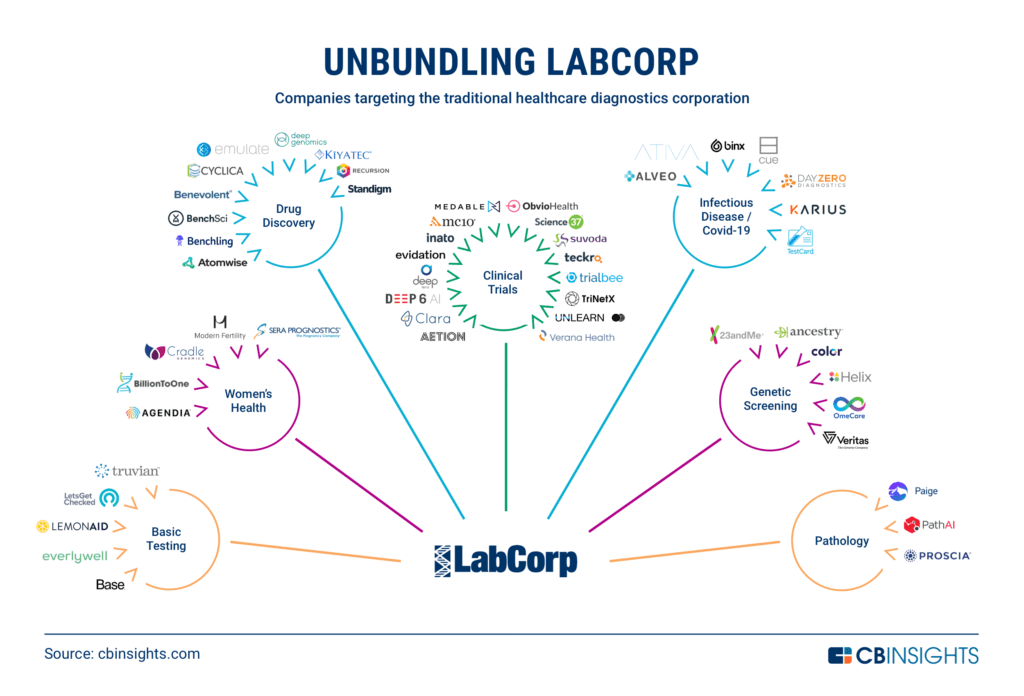 In 2019, LabCorp's annual revenue was nearly $11.6B. LabCorp Diagnostics, its laboratory testing segment, accounted for around $7B while Covance Drug Development, its clinical research organization, earned about $4.6B. 
The Covid-19 pandemic has forced lab testing giants to rethink their businesses to better cater to remote healthcare. For instance, LabCorp's at-home Covid-19 test — recently granted emergency use authorization by the FDA — could provide a boost for LabCorp's diagnostics arm, which has seen its revenue decline in recent years.
But the pandemic has also provided an opportunity for direct-to-consumer (D2C) startups offering mail-in lab testing and at-home tests to challenge incumbents on a more level playing field. 
The clinical research organization business has also been affected by Covid-19, which pushed many clinical trials to be conducted remotely. This has accelerated trends that were already in motion and generated demand for companies working on services like decentralized clinical trials, patient recruitment platforms, and incorporating more real-world evidence.  
Below, we take a look at how private companies are unbundling LabCorp, from basic testing to genetic risk screening to drug discovery and more. 
Category breakdown
BASIC TESTING
Companies in this category look to streamline basic testing and bloodwork for patients, often with a D2C focus. These companies have gained traction during the Covid-19 pandemic due to safety concerns for in-person testing centers.
EverlyWell

recently reached unicorn status after raising a $175M Series D at a $1.3B valuation from investors including

BlackRock

. EverlyWell's e-commerce platform enables consumers to order tests, collect samples, and view results remotely.

Base

integrates mail-in lab tests with an app that tracks results. The company offers services intended to improve diet, sleep, stress, and fatigue. Base closed a $3.4M funding round earlier this month.
WOMEN'S HEALTH
These startups want to make it easier for women to manage their health and support physicians with woman-specific testing services. 
Modern Fertility

is aiming to make fertility testing more accessible by allowing women to test at home instead of visiting a fertility specialist, which can be cost-prohibitive.

The company raised a $15M Series A from

Forerunner Ventures

, which has backed a number of successful D2C companies, including Dollar Shave Club, Bonobos, and Glossier.

T

he

non-invasive prenatal testing (NIPT) market,

estimated to be worth about 10x more than the

fertility testing market, is being targeted by a growing number of startups.

Companies like

Cradle Genomics

and

Sera Prognostics

provide tests that rely on fetal cell-free DNA circulating in the mother's bloodstream to assess pregnancy risks and genetic abnormalities.

Another women's health company is

Agendia

, which focuses on enabling personalized breast cancer therapy through genomic testing.
DRUG DISCOVERY
Companies in this space are developing tools for drug discovery and preclinical development. These startups are using software and novel analytical systems to improve the efficiency of identifying, optimizing, and testing drug candidates.
Benchling has raised $112M for its software platform that offers R&D process management from drug discovery through to manufacturing — a process that was previously done mostly manually.
BenevolentAI and Atomwise are among a number of companies applying AI to complex biological datasets to identify drug candidates. Artificial intelligence in drug discovery, which could help save time and money, is estimated to be a $12B market, according to CB Insights' Industry Analyst Consensus.
Other companies are building analytical systems to improve the quality and relevance of preclinical data. Founders Fund-backed Emulate offers an "Organs-on-Chips" approach that mimics human physiology and is billed as generating more accurate responses to drug candidates compared to traditional animal testing.
CLINICAL TRIALS
Clinical trials represent a lot of commercial uncertainty for drug development, with only 14% of drugs making it through all the phases and receiving FDA approval, according to an MIT study. Startups here are reducing cost and risk by providing site management software, augmenting clinical trials with real-world evidence, and improving patient recruitment.
Teckro is one of a number of companies offering clinical trial management software. It has raised $40M for its machine learning-powered platform that provides data to clinical trial personnel.
Evidation Health uses novel digital health datasets — including from electronic health records (EHRs), claims, and wearable sensors — to support clinical trials.
Patient recruitment can be a costly component of clinical trials. Deep 6 AI, a startup in the space, applies machine learning to massive amounts of patient data to identify matches for a trial. Meanwhile, Science 37 provides software that enables decentralized clinical trials, a trend that has accelerated during the Covid-19 pandemic.
INFECTIOUS DISEASE/COVID-19
Current approaches for diagnosing infections and selecting treatments can take 2-5 days, during which time the survival rate for some diseases can drop significantly. Companies in this space are working to enable faster sequencing and analysis, often at the point-of-care (POC). Many of the companies in this space are also providing Covid-19 testing services.
Cue

provides a portable, POC molecular testing device that it claims provides lab-quality results in about 20 minutes. It recently received a $481M grant from the

US Department of Health and Human Services

to produce 30,000 devices and conduct 6M Covid-19 tests.

 

Karius

, valued at $700M, uses next-generation sequencing (NGS) to identify 1,000+ pathogens.

Day Zero Diagnostics

, another company in the space,

aims to identify the cause of the infection while also providing antibiotic susceptibility profiles to support treatment decisions.
GENETIC SCREENING
Genetic screening for hereditary conditions and disease risk can significantly improve patient outcomes through early treatment while also reducing disease management costs for payers. A number of startups are going after the space.
Helix

($418M in total disclosed funding) and

Color Genomics

($229M) are partnering with healthcare providers to offer genetic screening to patients. 

Other companies, including

Veritas Genetics

, OmeCare, and

Ancestry.com

, use a "consumer-initiated, physician-mediated" model, where consumers order and pay for the test, but results are approved by a physician before they are returned.

Unicorn

23andMe

has a strong presence in the D2C segment, with multiple FDA approvals for hereditary genetic tests.
PATHOLOGY
Startups are working to augment pathologist workflows and improve disease detection through pattern matching. The massive amounts of data involved, combined with advances in machine learning, have made this a hotspot for AI in medicine.
PathAI has raised $90M to apply machine learning to patient datasets and help pathologists improve diagnosis accuracy and treatment efficacy. Most recently, it raised $15M from Bristol-Myers Squibb and Merck Global Health Innovation Fund.
If you aren't already a client, sign up for a free trial to learn more about our platform.