Centene's $15.3B acquisition of WellCare is the latest example of insurer consolidation.
Centene announced its $15.3B acquisition of WellCare last month. The transaction helps diversify Centene away from the individual marketplaces, where it is a market leader, and towards government funded programs like Medicaid managed care and Medicare Advantage. (We've discussed Medicare Advantage at length here, and for clients, here and here.)
The acquisition is part of broader trend of insurer consolidation that will have uncertain impacts for consumers and startups.
Centene and WellCare are both products of insurers being acquired. Centene spent over $10B on its purchases of Fidelis Care and Health Net. Wellcare acquired insurer Meridian Health Plan of Michigan, Meridian Health Plan of Illinois, and MeridianRx, a Pharmacy Benefit Manager, for $2.5B in 2018 — a year after acquiring Universal American for $800M.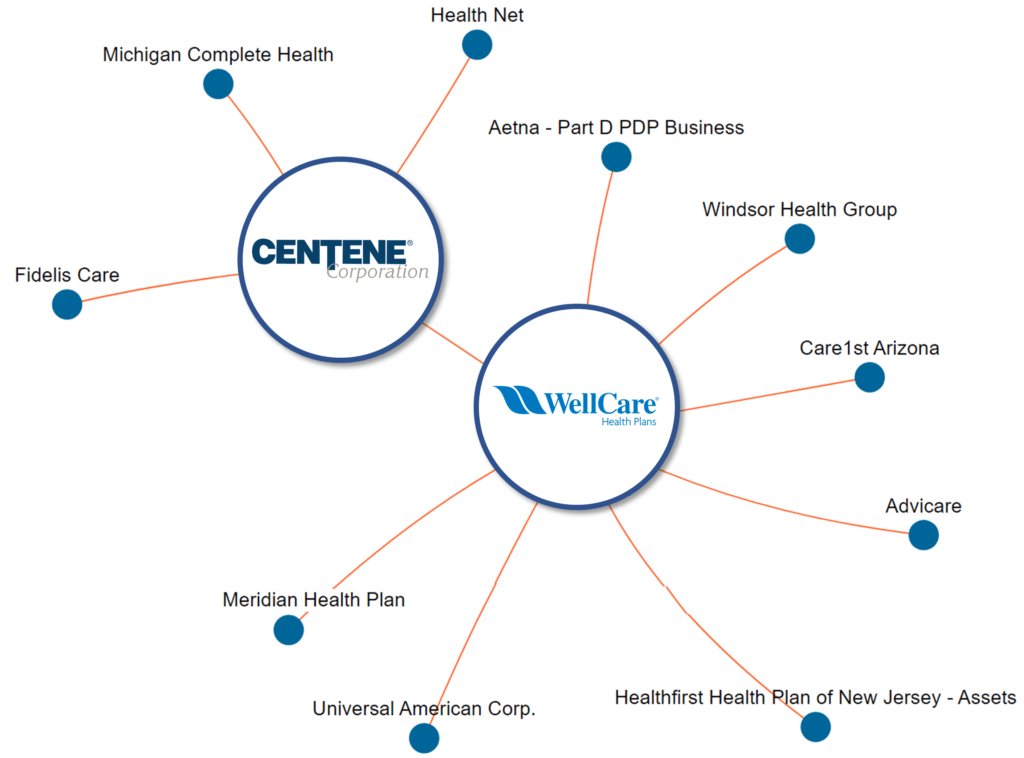 Consolidation has been the prevailing theme in health insurance for almost a decade, but its effects on the consumer are uncertain.
Combined plans have more members, and therefore more leverage in negotiations with other players in the healthcare industry. In theory, insurers could pass along their better negotiated rates to their members in the form of lower out-of-pocket expenses.
However, this has not been the case. The insurance market is beginning to look more and more like an oligopoly, where a few major players can cooperate to maintain high pricing. The below Business Social Graph shows major insurer's acquisitions of health plans since 2012.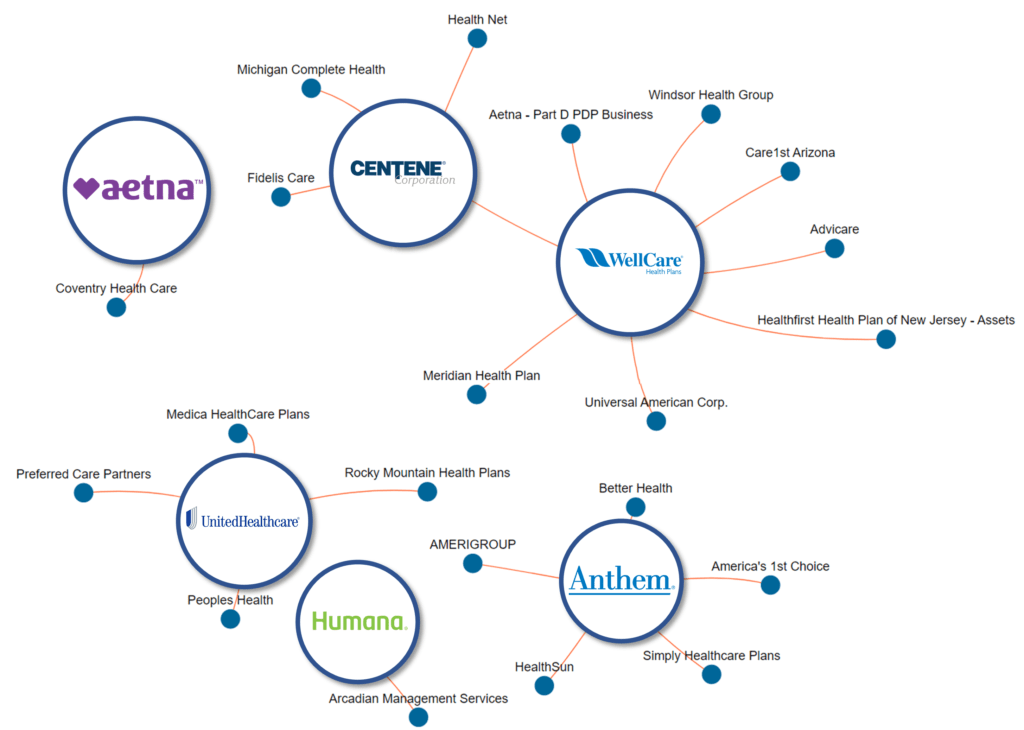 Aside from the physicians, hospitals, and PBMs, who face worse rates in negotiations with big insurers, insurance startups like Oscar Health, Clover Health, Devoted Health, and Bright Health could be impacted.
With total membership of less than 1% of some of the largest insurers, these startups have less scale with which to negotiate and lower recognition within the Medicare population.
As insurers continue to consolidate, we will see a divide in the insurance space between the haves and the have-nots. Oscar is betting that a high-touch, tech-enabled approach can bridge that divide by recruiting new members and driving down expenditures.
If you aren't already a client, sign up for a free trial to learn more about our platform.