As digital health companies Health Catalyst and Livongo make their NASDAQ debuts, we look at how much their top stakeholders' shares are worth.
This morning, Health Catalyst and Livongo Health made their public debuts on NASDAQ. With share prices of $26 and $28, respectively, each company exceeded their estimated price ranges ($24-$25 for Health Catalyst, $24-$26 for Livongo).
These listings come on the heels of IPOs by digital clinical information exchange company Change Healthcare, as well as customized patient intake software company Phreesia — two other notable digital health success stories.
IPO presents a crucial moment for these companies' top investors, which include Sequoia and Norwest for Health Catalyst and General Catalyst and Kleiner Perkins for Livongo.
Using Health Catalyst's and Livongo's S-1 filings, we calculated the ownership values of each company's top stakeholders.
Health Catalyst
Salt Lake City-based Health Catalyst provides data unification and analytics software services to healthcare organizations throughout the US, with a goal to improve clients' clinical, financial, and operational outcomes. Prior to IPO, the former healthcare unicorn was last valued at $1B in February 2019. 
Breakdown of Top Stakeholders
Based on the $26 IPO share price, we calculated how much Health Catalyst's top stakeholders' shares were worth. Here's the breakdown.
Please click to enlarge. 

Sequoia Capital and Norwest Venture Partners nearly tied for the largest ownership stake at the time of the IPO. Sequoia held 21.9%, worth approximately $161M, while Norwest held 20.9%, worth $154M.
Following these two institutional investors were the University of Pittsburgh Medical Center (UPMC) and Sorenson Capital, with 6.3% and 4.3% stakes, respectively. Leerink Transformation Partners was also a significant stakeholder at the time of the IPO, with a 3.9% stake worth $28M.
The company's co-founders, Steven Barlow and Thomas Burton, each maintain over 5% ownership in the company, worth approximately $75M in combined value.
Top Institutional Investors Timeline
While Sequoia Capital was Health Catalyst's first (and only) investor back in 2011, the company came to attract many other top investors throughout its private market life. Health Catalyst has raised 9 equity rounds over the last 8 years, including a Series F in February of this year.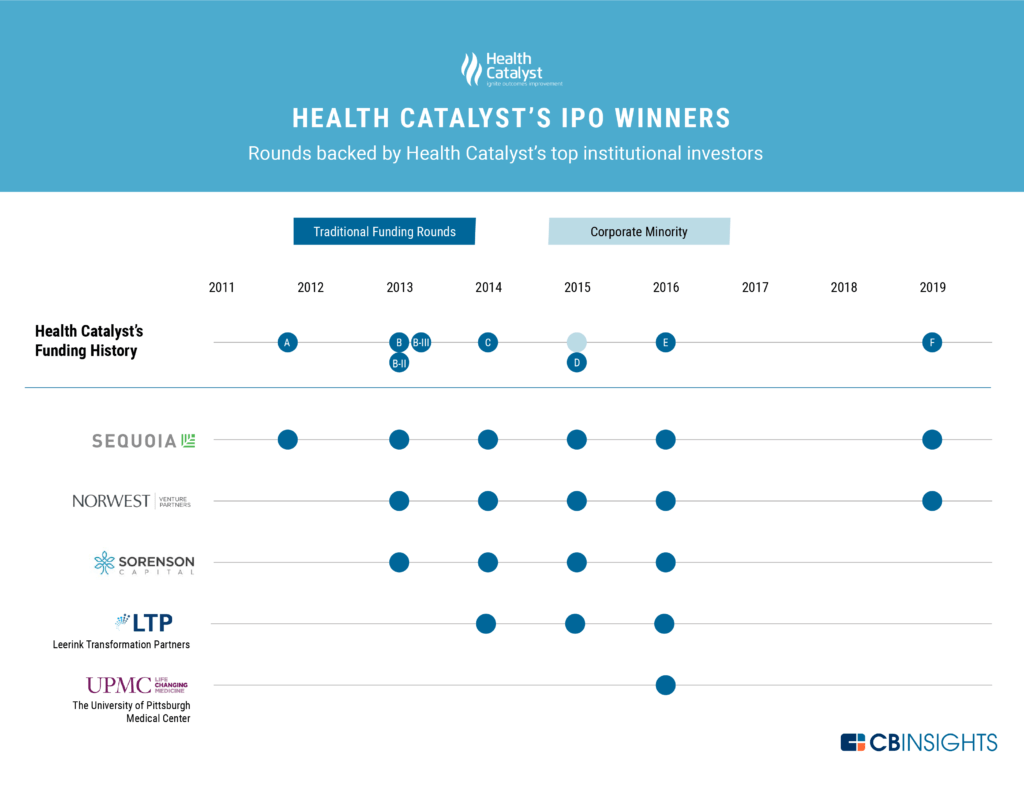 Sequoia has remained committed to Health Catalyst, investing in every equity round between 2011 and 2019 — and seeing the company's valuation steadily grow from a modest $30M at its Series A to a $1B valuation at its recent Series F.
In contrast, UPMC only participated in one round, a 2016 Series E, in order to secure its 6.3% stake in the company.
Livongo
Marketing it itself as "the applied health signals company," Livongo allows users to aggregate, interpret, and apply data received from its line of medical devices, in order to provide customers with a real-time picture of their health.
The company was valued at nearly $2.5B in today's IPO — more than triple its previous valuation of $800M in April 2018.
Breakdown of Top Stakeholders
Using Livongo's S-1 filing, we calculated how much its top investors' shares were worth at the time of IPO, based on a $28 share price. (Notably, the company's S-1 was published on June 28, 2019, just a day after Health Catalyst's.)
Here's the breakdown of Livongo's top investors.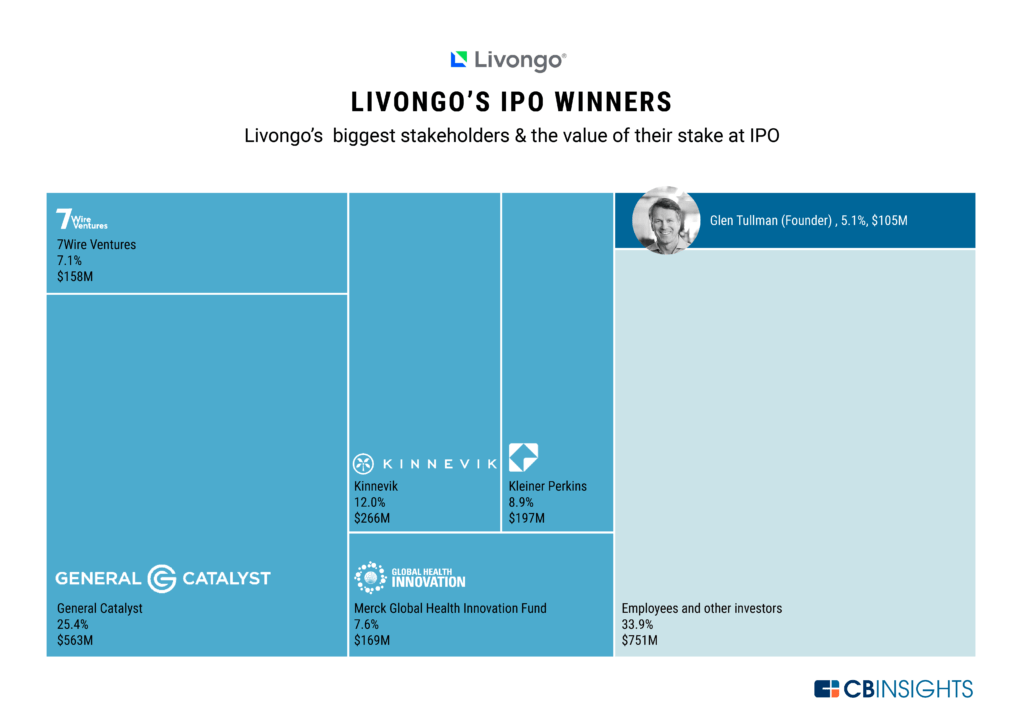 General Catalyst amassed a 25.4% stake in Livongo, the largest share of ownership by a wide margin. At the time of IPO, this stake was worth approximately $563M.
In second place, Kinnevik holds a 12% stake in Livongo, worth approximately $266M at the time of the IPO. Kleiner Perkins, Merck Global Health Innovation Fund, and 7Wire Ventures (a healthcare VC firm founded by Livongo founder Glen Tullman) collectively own approximately 23.6% of the company worth a combined $524M.
In addition to the 7.1% stake owned by 7Wire Ventures, Glen Tullman personally owns 5.1% of the company, worth $105M at the share price of $28.
Top Institutional Investors Timeline
Livongo's top institutional investors pursued varying investment strategies, often co-investing but never perfectly overlapping.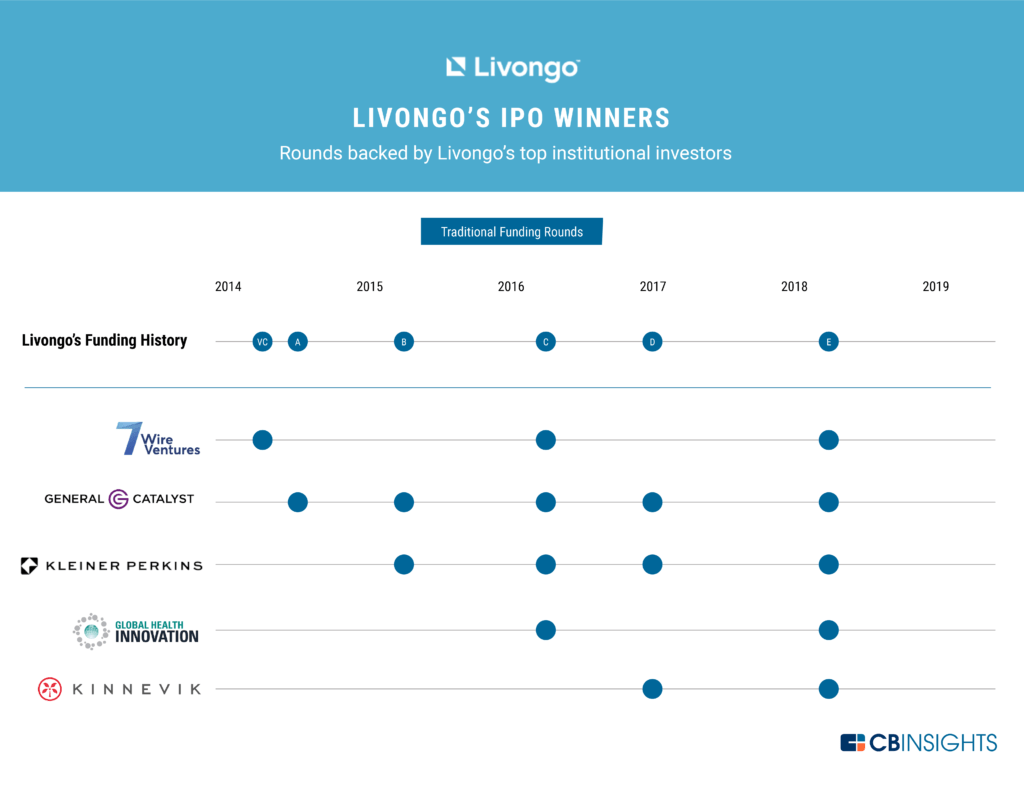 Aside from Livongo's earliest VC round, General Catalyst has invested in every round since the 2014 Series A. Kleiner Perkins is another repeat investor, consistently investing since Livongo's Series B to garner its 8.9% stake at IPO.
Kinnevik and Global Health Innovation took a different approach, securing their major stakes by only investing in two rounds each.
If you aren't already a client, sign up for a free trial to learn more about our platform.