From sugar-free candy to craft chocolate to cannabis-infused chocolate, these new treats could take over your Halloween goody bag.
From costumes to decorations, spending on Halloween in the United States is projected to reach $8.8B in 2019. Candy alone is projected to reach $2.6B in sales.
While M&Ms, Hersheys, and Twix dominate Halloween candy sales, old and new players are reinventing the candy experience for consumers.
Many new brands are positioning themselves as healthier candy options with labels such as "organic," "all-natural," "non-GMO," and "preservative-free."
Meanwhile, snacks, beverages, and healthier baked goods are gaining popularity and investor interest, and could eventually take up a bigger chunk of trick-or-treaters' baskets.
We used the CB Insights database to identify 90+ brands disrupting the candy space across eight categories, from sugar and fat replacements to cannabis- and alcohol-based treats.
Scroll down to see the full list of companies in the graphic.
This market map includes private companies as well as select acquired brands and is not meant to be exhaustive of companies in the space. Categories are not mutually exclusive. Please click to enlarge.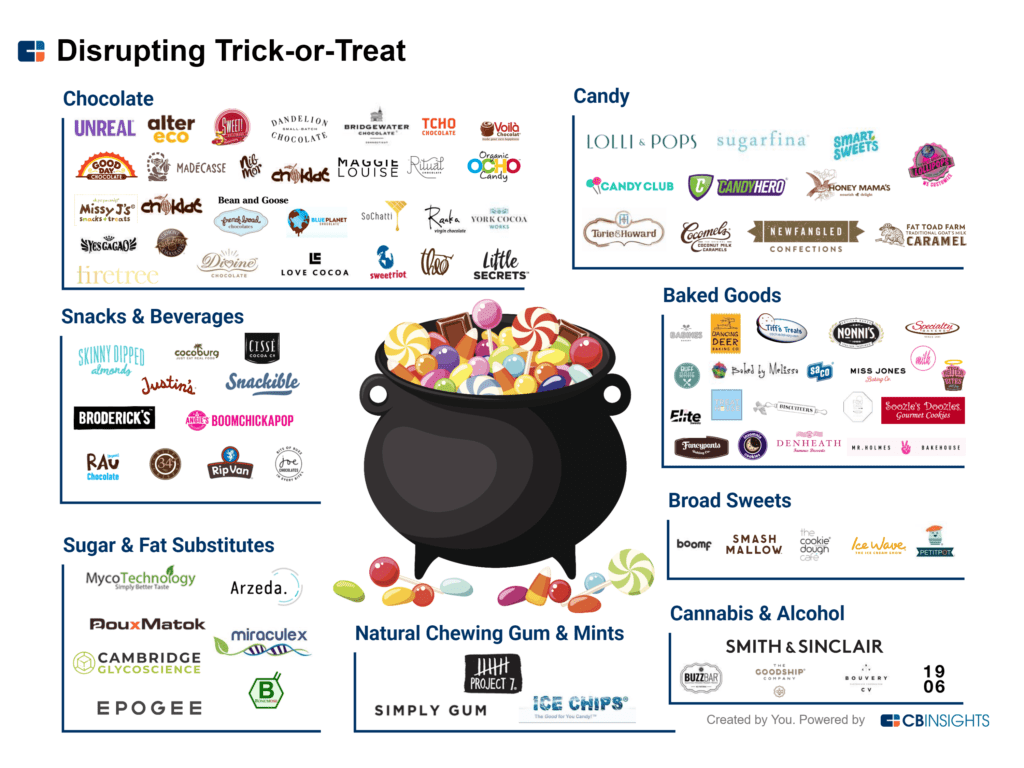 CATEGORY BREAKDOWN
Chocolate — The most well-funded company in this category is Unreal Brands, which produces better-for-you chocolates that feature non-GMO and organic ingredients.
San Francisco-based Dandelion Chocolate has raised $10M for its small-batch "bean to bar" chocolate factory. Tcho Ventures, a chocolate maker acquired by Japan-based confectionery products manufacturer Ezaki Glico in 2018, has raised $4M.
Food & Beverage Startups
Startups working on new foods and beverages have the potential to change how and what we eat. Look for Food & Beverage Startups in the Collections tab.
Track food & beverage startups
Candy — Some companies in this category blend physical candy boutiques with e-commerce sites that turn candy into premium, giftable experiences. For example, Sugarfina has raised nearly $40M for its cocktail candies, gummies, chocolates, and more.
Other brands aim to provide healthier candy options. SmartSweets ($2M), for example, produces sugar-free candies.
Snacks & Beverages — Brands in this space produce better-for-you snacks. Wild Things Snacks, the brand behind Skinny Dipped Almonds, has raised $11.6M from CAVU Venture Partners, AccelFoods, and other investors. Other brands in the category produce sweet beverages, such as Rau Chocolate, which makes organic vegan drinking chocolates.
Baked Goods — This category includes baked goods and baking accompaniments. Online cookie delivery company Tiff's Treats has raised $54M, while Insomnia Cookies was acquired by JAB-owned Krispy Kreme in July 2018.
Bakeries are also included in this sector. For example, Baked By Melissa, which has raised $6M, is a New York City-based bakery known for its bite-size cupcakes.
Broad Sweets — These brands sell a variety of sweets beyond chocolate and candy. SmashMallow, which has raised $10M from Sonoma Brands and VMG Partners, offers premium marshmallows made with natural ingredients.
Ice Wave makes fresh ice cream on a frozen pan using fresh ingredients.
Cannabis & Alcohol — Companies in this category incorporate cannabis or alcohol into their sweets. For example, The Goodship Company ($1M) produces cannabis-based edibles.
Bouvery has developed an organic, gluten-free chocolate vodka brand while Smith & Sinclair raised $2.6M for its alcoholic cocktail gummies and was acquired by Tilray in July 2019.
Chewing Gum & Mints — Early-stage startups in this category are developing natural chewing gum and mints. For example, Simply Gum produces all-natural premium chewing gum and Ice Chips Candy offers 20 flavors of its natural mints.
Sugar & Fat Substitutes — Startups are developing biotech-based sugar and fat substitutes to help food brands reduce calories while maintaining sweetness. Among notable sugar substitute startups is MycoTechnology ($83M), which produces mushroom-based "bitter blockers" to sweeten foods. (We explore more sugar substitute companies here.)
Beyond sugar, Epogee ($8.6M) offers a modified fat that reduces calories from fat by 92% without compromising taste, texture, or appearance.
If you aren't already a client, sign up for a free trial to learn more about our platform.