H2O.ai plans to use the funding to invest in partnerships, sales, marketing, and customer success. Here are the top-line bullets you need to know.
H2O.ai, an open-source machine learning platform, has raised $100M in a Series E. The round drew participation from Goldman Sachs, Crane Venture Partners, and the Commonwealth Bank of Australia, among others.
How's the company performing?
California-based H2O.ai uses its automated machine learning (autoML) capabilities to develop products that allow organizations to solve complex business-related problems and speed up the discovery of new ideas.
The company caters to over 20K global organizations — and its client base includes more than half of the Fortune 500 companies, e.g., Citi, Capital One, AT&T, PWC, Progressive, PayPal, and Hitachi.
The platform recently announced the launch of its Wildfire and Bushfire Challenge — a global hackathon geared toward finding solutions to reduce the economic and climate impact stemming from wildfires and bushfires.
H2O.ai operates across North America, EMEA (Europe, the Middle East, and Africa), and the Asia-Pacific region, and it maintains offices in California, New York, Canada, the Czech Republic, India, and Singapore.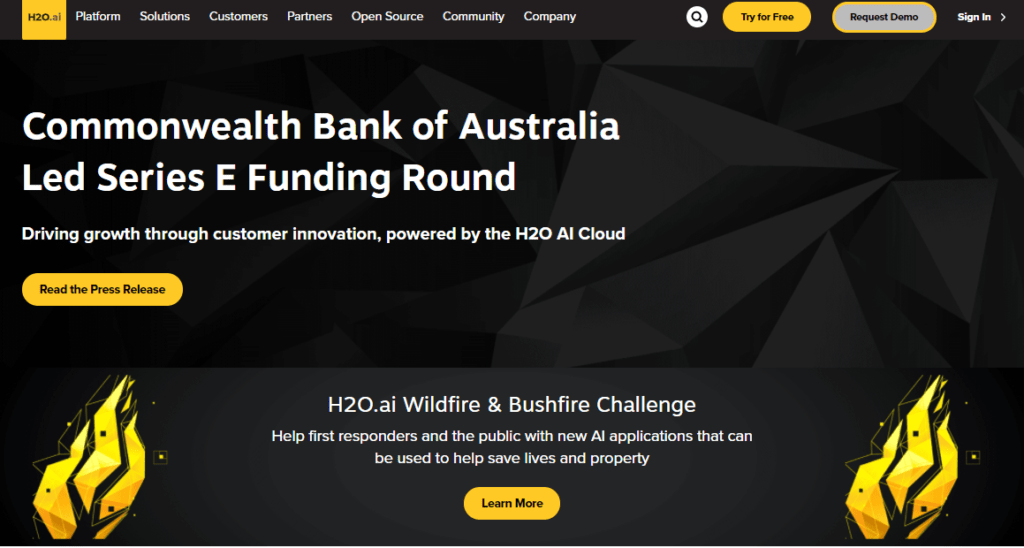 Source: H2O.ai
Why does the market matter?
The enterprise AI market is projected to grow at a CAGR of 35.4% and reach a value of $53.1B by 2026, according to Allied Market Research.
As commercial applications of AI scale rapidly, enterprises are aiming to become "AI-first" by upgrading their existing data management and IT infrastructure.