The funding will help H1 reach more pharma and life sciences companies. Here are the top-line bullets you need to know.
H1, a provider of a platform that connects healthcare professionals, has raised $100M in a Series C round. The round drew participation from Lux Capital, Transformation Capital, Altimeter Capital, and Goldman Sachs Asset Management, among others.
How's the company performing?
New York-based H1's platform hosts a network of 10M healthcare professionals in order to help life sciences companies, hospitals, academic medical centers, and health systems connect with industry experts and find clinical research.
The company's solutions include Explorer, HCP Universe, Trial Landscape, and Carevoyance.
The company has around 100 clients, including 7 of the top 10 pharmaceutical companies, such as Novartis and AstraZeneca, as well as several academic medical centers.
H1's ARR has grown by more than 250% this year.
The company maintains 5 global offices and operates across 84 countries.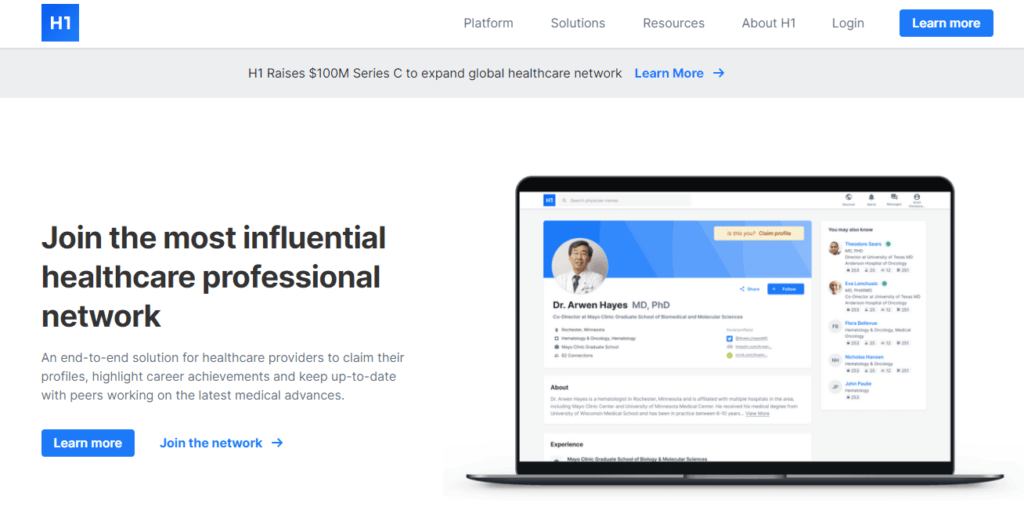 Source: H1
Why does the market matter?
The digital health market is expected to be valued at $426.8B by 2027, growing at a CAGR of 17.4%, according to Global Market Insights.
Venture funding to digital health tech startups came in at $24.7B in H1'21 across 1,194 deals, up 118% year-over-year.
The impact of Covid-19 on healthcare infrastructure has led to a relaxation in government regulations, accelerating the trend of shifting healthcare to digital platforms.