GV, formerly Google Ventures, has invested in 120+ companies since 2018. From healthcare to artificial intelligence to cybersecurity, here's where Google's venture capital business sees the next big opportunities.
Alphabet's VC arm, GV, has been regarded as one of the most active — and successful — corporate venture capital firms since its inception in 2009. Among Google's investment arms, including growth equity fund CapitalG and AI-focused arm Gradient Ventures, GV continues to maintain the most active and diverse portfolio.
Founding CEO Bill Maris led the early days of GV's investment fund to focus on early-stage companies across industries ranging from cloud computing to healthcare. Since Maris's departure in 2016, Google veteran and former director of Global Communications and Public Affairs David Krane has taken lead as CEO.
While many of GV's earliest investments focused on traditional internet and mobile companies, the firm has since expanded its investment strategy to include life sciences, cybersecurity, and artificial intelligence companies.
We used CB Insights data to highlight GV's investments since 2018, to see where the future is headed according to the investor.
Please click to enlarge.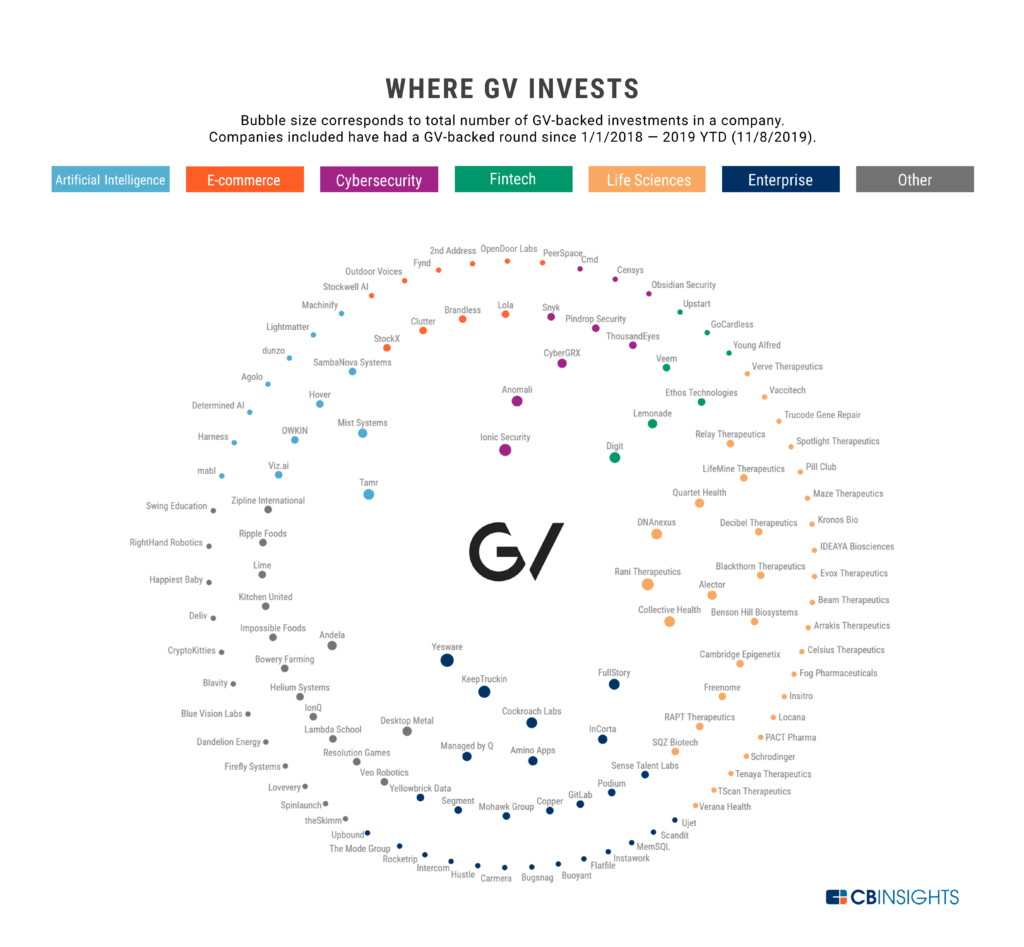 Our graphic includes all GV-backed equity investments since 1/1/2018. Bubble size and proximity to the center indicate the total number of rounds with GV participation. Categories are not mutually exclusive.
To see every GV-backed deal, clients can run this search.
Artificial Intelligence
Leveraging Google's world-class artificial intelligence and machine learning researchers, GV's investment team is in an optimal position to make informed bets in this space. Among GV's portfolio companies, artificial intelligence is being used in a range of applications, from drug discovery to data analytics.
For example, Viz.ai leverages AI to help physicians streamline their workflows with stroke patients, providing real-time updates to patient health metrics via mobile devices.
e-Commerce
The e-commerce startups in GV's portfolio provide online marketplaces for consumers to buy or sell goods in a variety of industries, from women's athletic wear to real estate.
Two of GV's real estate marketplace investments are 2nd Address and OpenDoor Labs, which allow users to buy and sell homes online.
GV is also investing in online fashion brands and exchanges, including custom sneaker exchange StockX, athletic clothing brand Outdoor Voices, and India-based brand aggregation website Fynd.
Cybersecurity
Since the beginning of 2018, GV has invested in several cybersecurity startups working on cloud security, including companies like Thousand Eyes, Obsidian Security, and Anomali, which provides threat intelligence platforms to help organizations detect and mitigate cyber-attacks.
While most recent cybersecurity investments have been follow-on deals, Cmd, a company developing a cloud-stored data protection platform, raised its Series B from GV and other investors at the beginning of 2019. The deal was GV's initial investment into the company.
Fintech
Google Ventures has been a lead investor in several fintech startups, participating in seed rounds to companies like Digit, Gusto, Robinhood, and Upstart. The VC's earlier fintech investments focused on payments and investment platforms, such Robinhood, CircleUp, and Stripe.
Recently, GV has made several investments in insurance platform providers, backing follow-on deals to Lemonade, Young Alfred, and Ethos Technologies.
Health & Life Sciences
As Google makes moves into the healthcare space with businesses like Calico and Verily, it seems that GV is also pursuing this sector, backing more than 30 health and life sciences companies since January 2018.
As the firm's largest investing team, the life sciences group includes oncologists, bioengineers, and statistical genomics researchers. The team has focused heavily on the biotechnology space, with recent investments into companies like Spotlight Therapeutics, which is developing biologics that target specific cell populations in gene editing. Other recent biotech investments include deals to Trucode Gene Repair, Beam Therapeutics, and Maze Therapeutics.
Recently, GV has also focused on the clinical research and clinical trials space, where it has made investments in startups like Schrodinger and Verana Health.
Enterprise
Led by the company's cloud division, Google has been aggressive in its enterprise services strategy, which has become one of GV's primary areas of interest. The corporate venture arm has invested in cloud-centric companies such as Incorta, Upbound, and Cockroach Labs.
The firm has also bet on the service mesh space, backing a March 2019 Series B investment in Buoyant, a startup creating an open-source service mesh platform for complex API network communications.
Other deals in the enterprise category have targeted B2B SaaS companies working on networking, application integration, and customer relationship management platforms. An example of a smart CRM investment is Ujet, a cloud-based customer support platform that uses voice and chat communication methods.
Other
GV has also invested across food and beverage, logistics, and other consumer products.
Portfolio companies Impossible Foods and Ripple Foods are creating sustainable meat and dairy alternatives, respectively.
Meanwhile, GV-backed RightHand Robotics, Bowery Farming, and Veo Robotics use robotics to solve problems in the agriculture and manufacturing industries.
If you aren't already a client, sign up for a free trial to learn more about our platform.