This news comes on the heels of its Series C round. It plans to use the funding to develop new tools and financial services. Here are the top-line bullets you need to know.
Grover, a technology rental service provider, has raised $330M in a combination of debt and equity. Its $110M Series C round drew participation from Energy Impact Partners, Viola Group, LG Electronics, and Coparion, among others. Fasanara Capital provided $220M in debt financing.
How's the company performing?
Germany-based Grover allows consumers and businesses to rent the latest technology on a monthly basis.
Its product catalog contains 500K devices.
It also offers a Grover Card, which rewards its users with 3% cash back that they can put toward their monthly subscriptions.
Grover currently has around 250K active customers and 2M registered users on its platform.
The company currently operates across Spain, the Netherlands, the US, Austria, and Germany.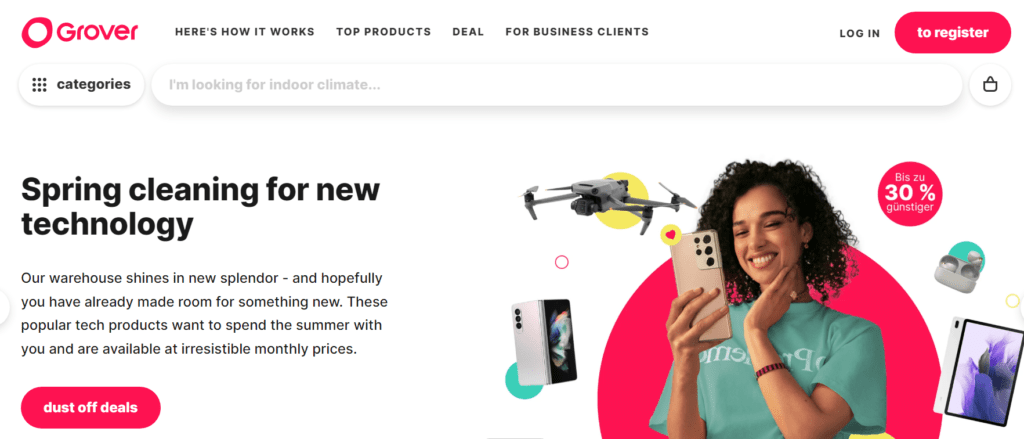 Source: Grover
Why does the market matter?
The global consumer electronics market is expected to reach a value of $989.4B by 2027, growing at a CAGR of 5.3%, according to Fortune Business Insights.
The increasing popularity of connected homes and the institution of supportive government policies have contributed to market growth.
Post-pandemic supply chain recovery will likely have a positive impact on this market.