We analyzed 10 years of earnings transcripts from Google and found that the company mentions YouTube more than Search, Android, or any of its newer initiatives.
Google first started as a search engine in 1998 with the intention of making internet information more organized and accessible for everyone. Since that time, the company has evolved into a multinational conglomerate, now operating under its recently established parent company, Alphabet. 
Today, the company owns dozens of products that generate revenue in a variety of ways. However, advertising revenue remains core to the Google business model and the lifeblood of many Google products. While traditional Search still reigns king, new mediums have emerged to supplement the Search ecosystem.
In analyzing Google's quarterly earnings calls since 2008, we noticed that while Search is still a significant topic of conversation, YouTube has become a dominant focus for the company.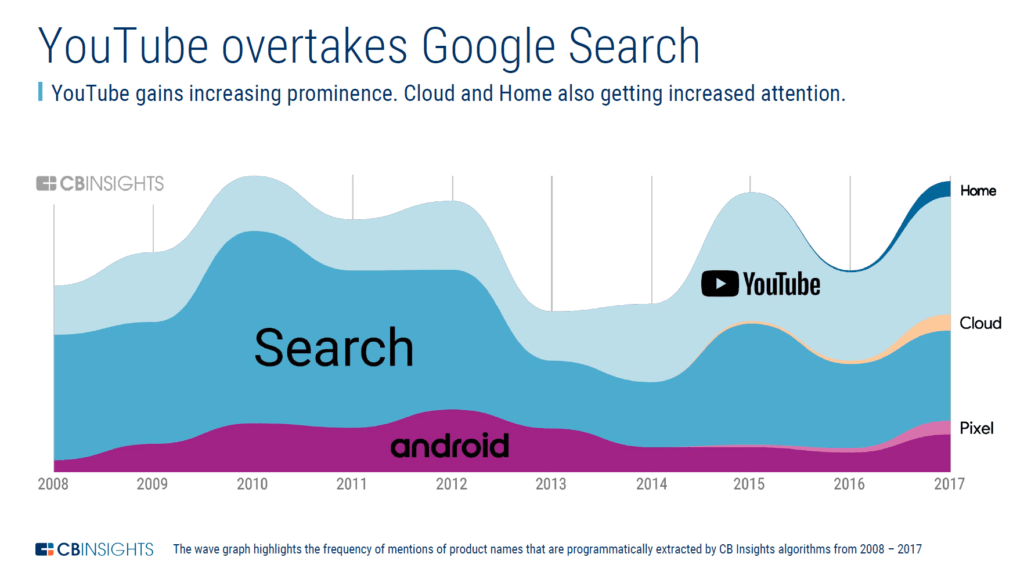 Google saw YouTube — which it acquired in 2006 — as an opportunity to diversify its products away from traditional Search while creating a near monopoly for the growing medium of online video content.
Since then, YouTube has become a primary contributor to the company's advertising revenue and a successful testing ground for new advertising strategies.
Back on a July 2017 earnings call, CEO Sundar Pichai drew comparisons between the growth of YouTube and the growth of Search early in the company's history.
"YouTube is one of those products which, you know, is scaling really well globally, just like Search did, and … we are seeing real strong growth on mobile and we're seeing real strong growth for YouTube on emerging markets as well. And we are seeing real strong growth on television.

So if I look at YouTube on mobile, on emerging markets, on larger screens, they all look like newer opportunities … I think there's a lot more growth ahead."
Recently, the company has started to talk about new initiatives like its Google Cloud Platform, which competes with AWS and Microsoft Azure, as well as consumer hardware products like the Google Assistant-enabled Google Home and Android-based (acquired by Google in August 2005 for an estimated $50M) Google Pixel.
And while much of Google's recent progress in online video has developed internally, the company has made a series of acquisitions to bolster each of these newer initiatives. Google purchased Pulse.io (acquired in May 2015) for Android, bebop (November 2015) for Google Cloud Platform, Api.ai (September 2016) for Google Assistant & Home, and Redux (January 2018) for Google Pixel.
If you aren't already a client, sign up for a free trial to learn more about our platform.