Using weather-related sensor data from smartphones, Google plans to predict 'micro-climates' (and maybe even map your commute away from inclement weather).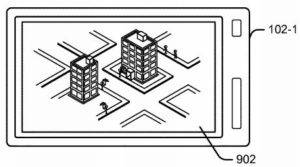 Over its 19 years in business, Google has revolutionized the way we interact with online information. With its latest innovation, Google might reshape the way we walk around the outside world … or at least how we get dressed for it.
A patent approved September 26 (one day before Google's 19th birthday) outlines a way for Google to use sensor data from mobile devices to determine and forecast up-to-the-minute weather conditions at "micro-locations." The invention could make it possible for Google to predict "micro-climates" at sites as specific as a certain spot in the park, or a particular street corner of a city block.
If rolled out, the patented tech could have a huge impact on our day-to-day lives: In one example, Google describes mapping a user's path from one location to another using a "climate interface" that behaves like a mapping app for weather – helping travelers stay alert to, and avoid, inclement conditions in real-time.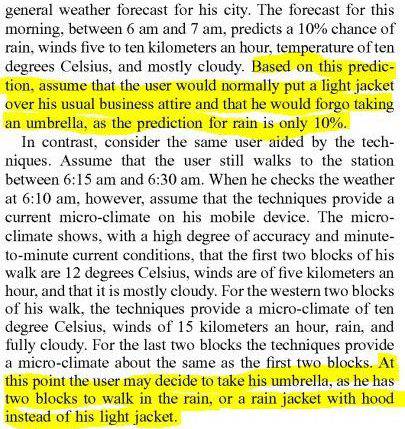 With the micro-climates patent, Google is taking aim at a problem we all live with: dressing for weather and skirting inclement conditions.
To help us reach a weather-smart, properly-outfitted future, Google would leverage the data from a vast number of sensor-equipped mobile devices.
Per the illustration below, the data would then be fed to a micro-climate manager, which would later communicate micro-climate information to users via "computing device."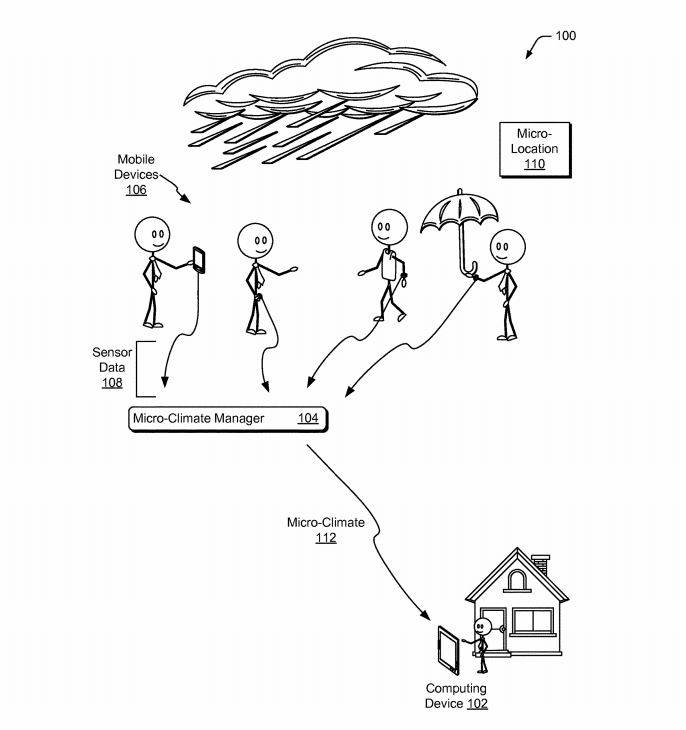 A variety of sensing mechanisms on the mobile devices would passively recognize and record weather-related data to synthesize micro-climate information.
Per the illustration at left, mobile devices such as smartphones, tablets, and wearables (like Google Glass) could collect the data.
Device sensors mentioned include cameras, microphones (to listen to sounds of rain, thunder, and so on), temperature readers, accelerometers, barometers, and even display screens – which could hypothetically sense if interaction failures were caused by a user wearing gloves or using "wet or cold (and thus less nimble) fingers," according to the patent.
The patent also discusses how an "orientation sensor" could sense and interpret gestures like putting one's hands in her pockets, zipping a jacket, or opening an umbrella. Alas, the patent does not go into further detail on what an "orientation sensor" might be.
Weather-related data detected by the sensors would then feed to a server for processing and potentially be combined with other data – such as historic data about the location, current neighboring micro-location data, or broader meteorological forecasts.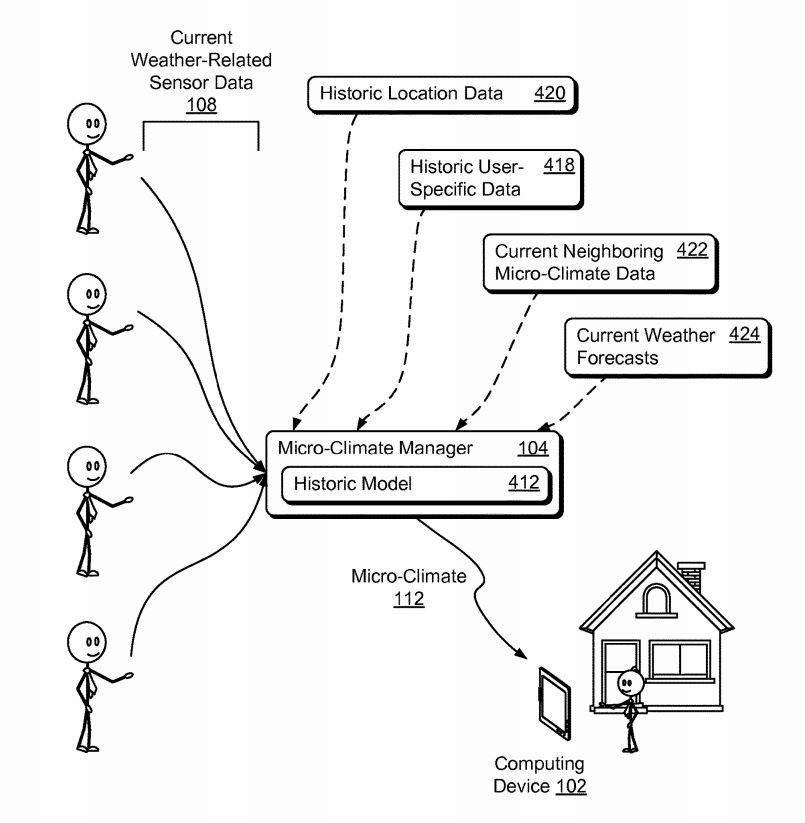 The micro-climate data could then be sent to computing devices including desktop computers, tablets, laptops, and smartphones. The patent makes specific mention of possibly communicating the weather to a number of IoT-connected smart devices, as well.

In the most recognizable use case, the micro-climate data would be utilized in a smartphone mapping app (presumably Google Maps) to help people minimize weather-related issues as they move about locations – even areas as small as a city block.
Per the illustration below, a micro-climate interface could help you avoid wind tunnels between buildings, or know if you need to pull out your umbrella on a certain side of the street.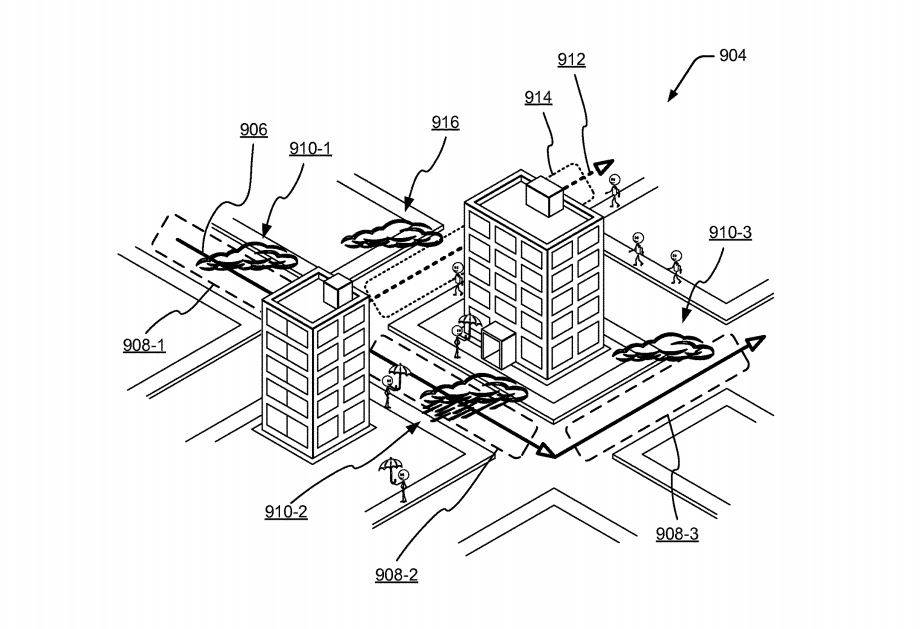 While that functionality has a clear everyday use, micro-climate predictions could have implications well beyond making it easier to dress for your commute.
Because it factors in historic weather data, the innovation could make it easier to understand the long-term impact of weather-related issues on specific locations or structures. That knowledge (and data) could provide immense value to stakeholders in fields like real estate, insurance, urban planning, and many others.
It also has implications for data Google can collect on users – potentially offering new ad-based revenue streams, such as suggesting a nearby umbrella store, or predicting a run on Ubers once the rain hits. Just as with other areas Google has "revolutionized," solving our weather-related problems creates plenty of opportunities for Google to earn value from data.
If you aren't already a client, sign up for a free trial to learn more about our platform.