Noam Bardin spoke about the implications of carpooling — from reduced car ownership to lowering congestion and transportation costs.
Waze CEO Noam Bardin believes we have too many cars.
"We've reached a threshold," he told Aditi Roy of CNBC at the CB Insights A-ha! conference.
That's why Israeli-born GPS navigation app Waze has developed platforms to reduce roadway congestion. And with its new carpooling app, Waze Carpool, the company now looks to reduce car ownership, while further reducing congestion and transportation costs.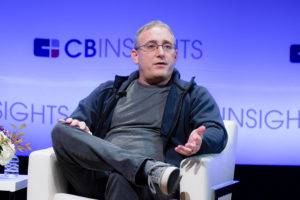 The underlying technology, he claims, is the easy part. It's determining and connecting peoples' values that is difficult. While some passengers value cost over trip duration, certain drivers value trip duration over driving income, and so on.
But with a focus on designing its platform to build relationships, Waze Carpool has increased user loyalty. Noam claims that, in certain circumstances, drivers go out of their way (literally) to continue carpooling with certain passengers.
And the platform, operating in California and Texas, could inevitably become more convenient and affordable than car ownership. "I don't rent a car anymore," he disclosed. "And my daughter won't need a drivers' license in today's world."
But even if Americans are slow to adopt this convenient, affordable, and personalized experience, other regions may do so out of necessity.
"In Sao Paulo, only certain cars can drive on certain days. It depends on whether your license plate ends in an even or odd number."
Waze, which was acquired by Google in 2013, attributes much of its recent success to its ability to operate independently.
"Similar to what Facebook has done with Instagram and WhatsApp…it's this independence that has allowed us to focus on engineering better user experiences."
If you aren't already a client, sign up for a free trial to learn more about our platform.