From mobile phones to smart home devices, voice technology is central to Google's latest consumer products. We look at what its voice patents reveal about its product roadmap, and how Google stacks up against other FAMGA competitors.
At Google's May 2019 I/O conference, the company debuted a host of conversational AI initiatives. These include added features to Assistant, the company's personal assistant product underpinned by conversational AI. In the latest version of Assistant, users can dictate emails, schedule reminders, and launch applications as though they were having a normal human conversation. 
The company also announced Project Euphonia — an initiative to develop voice recognition technology for the speech-impaired, such as stroke and ALS victims.
The company's voice tech products have also attracted controversy. In 2018, the company debuted Duplex, a conversational agent that can make phone calls and reservations on behalf of a user. Duplex, available on Google's Pixel smartphones, communicates like a real human (complete with "ums" and pauses), sparking ethical concerns over whether or not Duplex needs to identify itself as a conversational agent when speaking to real people.
Evidently, Google is placing voice tech at the center of its product strategy. The company has applied for 833 patents related to voice and speech technology since 2003.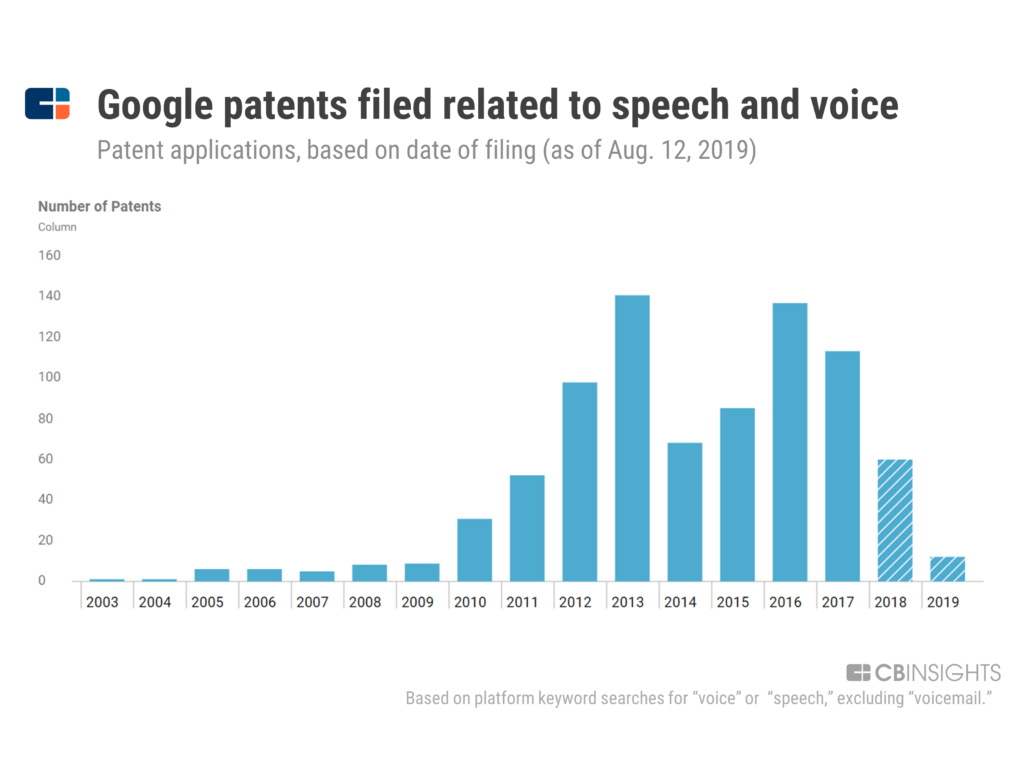 From Google's most recent voice and speech patents, the strongest emerging theme is the introduction of conversational agents to curate information and complete tasks.
Notable patent filings include: 
Recognizing accented speech

Suggesting music based on user requests
Transcribing doctor-patient conversations
A detailed analysis of the patents described above is included in this report.