We take a look at what Google is doing in healthcare, why it matters, and what this means for smaller SaaS companies.
Alphabet — Google's restructuring that underscores its AI centricity and efforts to be more than just an internet services company — has 3 units currently focused on healthcare: DeepMind, Calico, and Verily. 
Apart from this, Google Cloud is growing fast with a health and life sciences focus. Alphabet is also actively investing in healthcare startups through its investment arms GV, Gradient Ventures, and capitalG.
The image below highlights Alphabet's units that touch on healthcare.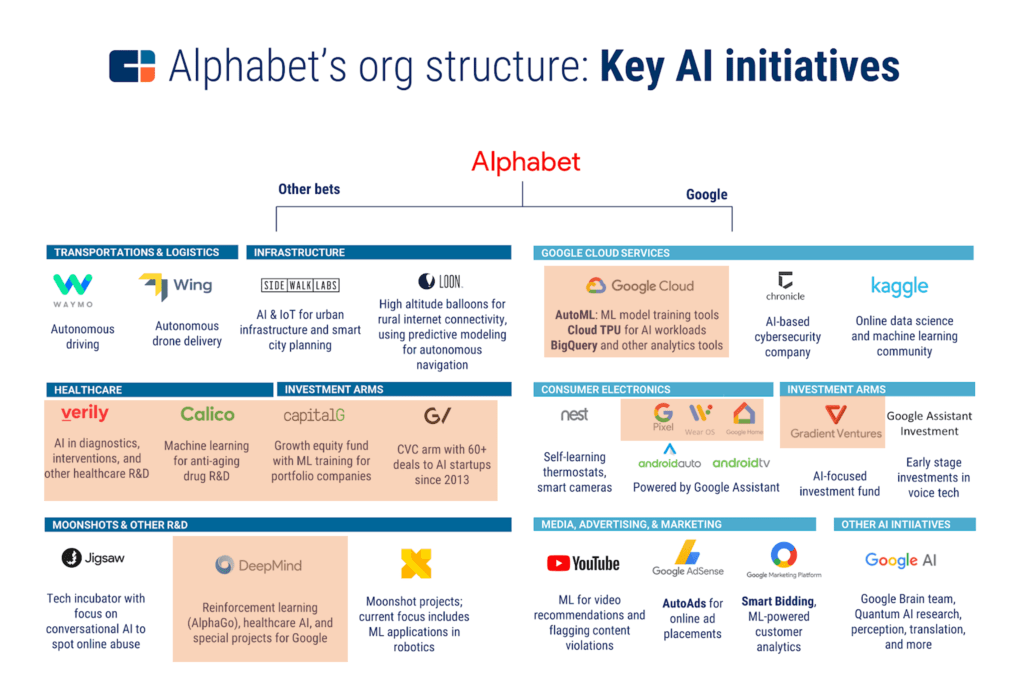 the data advantage
Alphabet has access to data and resources to make the data "AI-ready" — a difficult feat for smaller AI SaaS companies in the space.
For example, DeepMind released details of its study with Moorefield's eye hospital to explore the use of AI in detecting eye diseases. This was just the initial phase of the study, but in order to train the algorithms, DeepMind invested significant time into labeling and cleaning up the database of 14K+ OCT (Optical Coherence Tomography) scans.
In order to compete, smaller startups would have to either rely on publicly available datasets to scale their tech or invest in bringing medical expert onboard. Chinese unicorn Yitu has said it has 400 part-time doctors on its staff just to clean and label medical data.
the hardward advantage
Similar to Apple, and now Amazon, Google could leverage its hardware products as an entry point into consumer healthcare.
Apple is one step ahead in this regard, with its early start on ResearchKit and CareKit. But Google's consumer electronics products might be its entry point into consumer diagnostics and health management.

alphabet may expand to be either a payer or provider of healthcare services
Alphabet could make a move similar to what Tencent did in China by opening health clinics.
There were also rumours of Alphabet entering insurance services, as indicated by an old job posting on Verily's website:
"As the Health Plan Executive for Verily's Care Delivery Platforms, you will be responsible for supporting the design of Verily solutions used to manage risk for patient populations. Comfortable working in ambiguous situations, you will blend deep expertise of the health insurance industry, specifically managed care plans, with advanced technology solutions to improve outcomes and reduce costs."
For more, check out our in-depth report on How Google Plans To Use AI To Reinvent The $3 Trillion US Healthcare Industry.
do smaller startups stand a chance?
I think the biggest competitive advantage for smaller startups would be:
Verticalizing and building a niche. One example is Flatiron Health. The company made a strategic move when it acquired startup Altos for its OncoEMR software in 2014. This way, Flatiron not only owned the analytics layer, but the data infrastructure as well. Today, over 2,600 clinicians use Flatiron's OncoEMR and over 2.2 million active patient records are reportedly available for research. Roche clearly saw value in this when it snapped up Flatiron for $1.9B.
Taking a bottom-up approach and having a "consultancy-type" business model. This means being more hands-on with healthcare clients, helping them understand their data, catering to their unique needs, and tailoring solutions for their specific use cases instead of a plug-and-play approach.
Alphabet wants to be mile-wide and mile-deep in AI. Can it pull it off in healthcare?
Should healthcare incumbents be concerned?
We'll be discussing this in depth at the Future of Health.
If you aren't already a client, sign up for a free trial to learn more about our platform.