Although Google's intentions for the sector remain hazy, the company's investments are split between satellite connectivity and earth observation data.
Funding to space tech companies has grown from almost nothing in 2012, to approximately $4B in combined funding over the past two years, and big tech names have taken notice.
One of the most immediate applications of space tech is providing internet access and communications networks to unconnected communities and individuals around the globe. Given this, it's not surprising that Google became interested in space tech early, making its first investment into the sector in 2008 and eight more (including one acquisition) since. Like other large tech firms, Google is on a mission to bring broadband access to everyone, and has explored fiber, drone, and balloon (Project Loon) connectivity solutions. Additionally, Google's Maps and Earth platforms utilize Earth observation and satellite imaging data, and Google has accordingly made satellite data aggregation and analytics plays.
We used the CB Insights database and business social graph to map Google's space tech bets and create a timeline showcasing key activity. We define space tech to include startups involved in the construction and launch of satellites or rocketry into outer space, as well as ancillary companies working to aggregate and analyze satellite data.
For more on space tech categories and specific companies, see our space tech market map.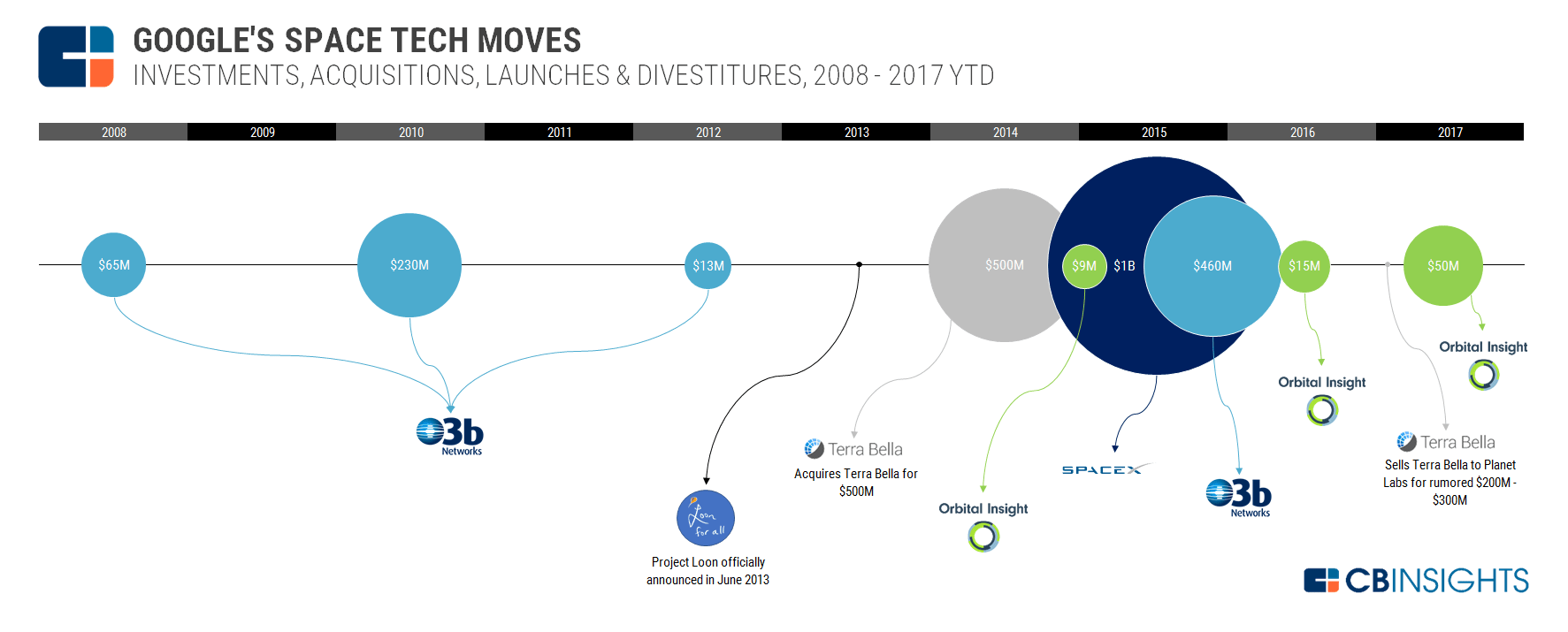 Before 2013 Google's space tech bets were focused on a single company, O3b. But since 2013, Google has invested in, bought, or launched an additional three companies and projects, and participated in five financing rounds, as laid out in the timeline above. In addition, Google has pursued its broadband ambitions via balloon-powered internet, with the launch of Project Loon in 2013. While not technically space tech, the project's launch highlighted Google's efforts at diversification and we include it in the graphic above.
Although Google has never revealed its immediate intentions for the sector, the company's investments are split between satellite connectivity and earth observation data, as delineated below.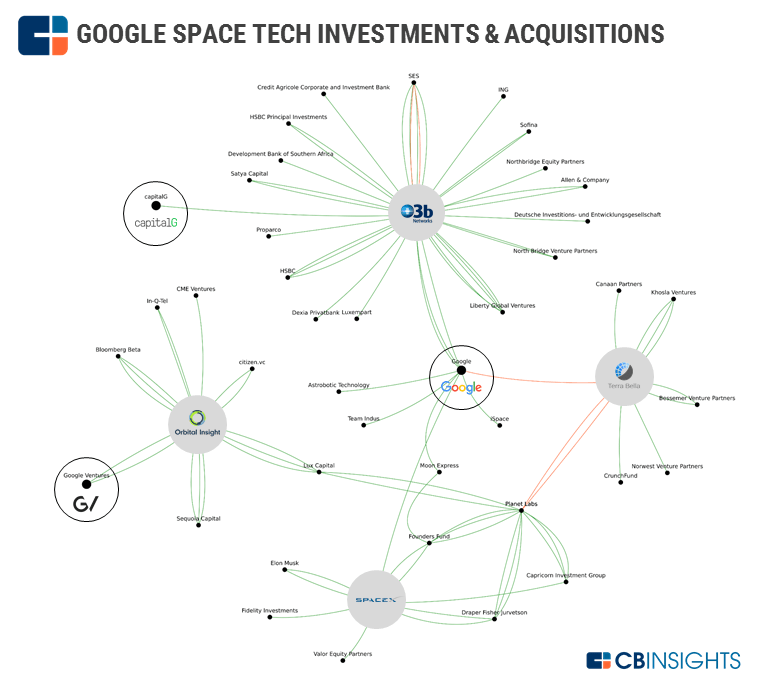 SATELLITE CONNECTIVITY
O3b Networks
Google's foray into satellite connectivity began in 2008, as the firm deployed $65M in a Series A to O3b Networks, whose CEO, Greg Wyler, promised to connect the "other 3 billion" (hence: O3b) to high-throughput internet via a satellite constellation in medium-earth orbit. This likely served as a strategic investment in global broadband internet for Google.
In 2009, legacy satellite player SES entered the picture to back O3b's $75M Series B. Google and SES would continue to follow on as a diverse set of investors piled into the company, with the two participating in later deals that contributed some additional $700M in funding (including Google's growth equity arm Capital G's investment in 2015).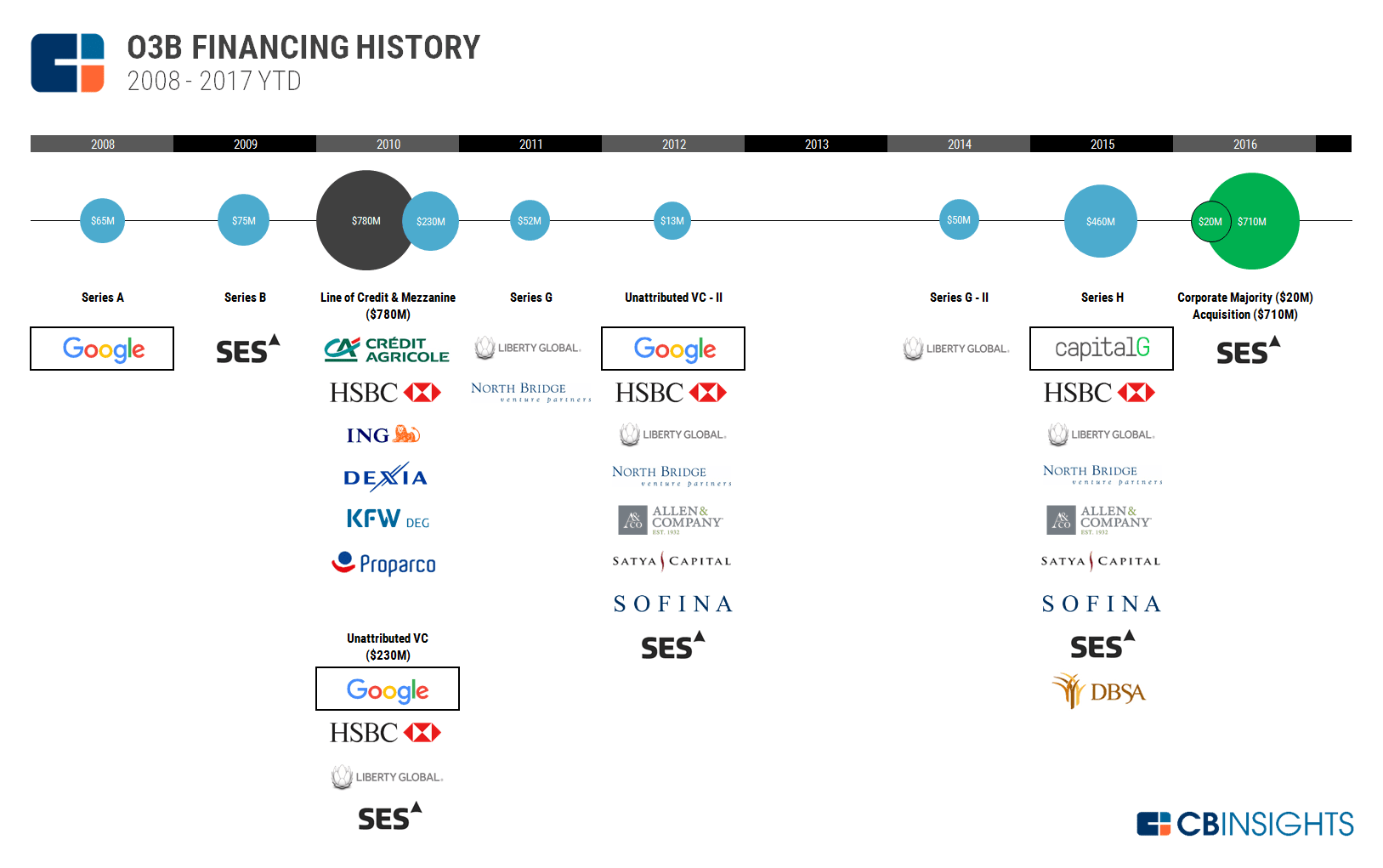 In 2014, after a few short months as an employee of Google, Greg Wyler and other key O3b employees left Google and O3b to found low-earth orbit operator OneWeb, taking the rights to the radio frequency spectrum initially secured for O3b.
O3b has since pivoted from its original vision to cater to more commercial clients, using internet service providers to broker its connectivity, and offering services to direct corporate customers, such as cruise lines. After O3b had raised nearly $1B in equity and secured $780M in credit lines and mezzanine debt, legacy satellite player SES took a majority stake in O3b in mid-2016 for a combined $730M. At the time of O3b's sale, it was reported that Google had maintained its initial 5% stake in the company and avoided dilution. O3b's valuation at acquisition was $1.43B, less than the combined $1.77B in equity and debt that the company had raised.
Google has not invested in Wyler's new company OneWeb. Of note, investors in O3b and OneWeb appear mutually exclusive — not a single investor in OneWeb invested in O3b, or vice versa.
SpaceX
Google's only investment into SpaceX came late — in a January 2015 $1B Series D alongside Fidelity Investments. According to media reports, Google deployed $900M of the $1B, acquiring a 7.5% stake in the company.
While it's difficult to pin down Google's intentions for its SpaceX investment, contextual evidence indicates a sustained interest in satellite connectivity; SpaceX announced a satellite venture one week prior to the financing, just as Richard Branson announced a competing investment in OneWeb. Elon Musk and SpaceX have since doubled down on the company's satellite constellation plans, most recently stating in a Senate hearing on broadband infrastructure that the company would like to launch spacecraft by 2019.
EARTH OBSERVATION
Terra Bella
Google's other space tech play — earth observation — began with the June 2014 $500M acquisition of Skybox Imaging, now named Terra Bella, a cube-sat constellation operator providing high-resolution earth observation and sensing data, and image analytics services.
The move meant Google would bring its earth observation data in-house, giving Google greater ownership of its imaging supply chain for its Maps and Earth lines of business. Traditionally, Google had bought satellite data from DigitalGlobe, itself recently acquired by Canadian satellite operator MDA.
However, just three years after acquiring Terra Bella, Google sold it off to well-funded Planet Labs for a rumored $200M – 300M — significantly less than what it initially paid. According to reports, Google found the costs of operating an in-house satellite constellation too high, and agreed to buy earth observation data from Planet Labs as a condition of the sale.
Orbital Insight
Sandwiched between Google's acquisition of Terra Bella and its massive investment into SpaceX is Google Ventures' approximately $9M Series A investment into earth observation analytics firm Orbital Insight.
Unlike its previous space tech investments, Orbital Insight works downstream as a data analytics and research firm, employing machine learning and image processing techniques to provide historical and predictive analytics to investors and businesses based on satellite photography.
Google Ventures has since invested in the company twice more: in a June 2016 $15M Series B alongside Sequoia Capital, CME Ventures, Lux Capital, Bloomberg Beta, and In-Q-Tel, and in a very recent (May 2, 2015) $50M Series C.
Want more data on space tech startups and investors? Log in to CB Insights or sign up for free below.
If you aren't already a client, sign up for a free trial to learn more about our platform.