Google envisions a future where smart clothing is used to capture biometric data and track movements to help improve training for athletes and reduce strain for factory workers.
Google may be looking to fashion as its next industry to disrupt.
The tech giant was recently granted a patent for a smart garment that captures biometric data from users, but it's not the first time Google has experimented with smart clothes — it has been involved in the space since launching a connected jacket with Levi's in 2015.
However, this new patent may put Google in a position to further capitalize on connected fashion by monitoring movement and providing ergonomic assessments, mainly geared towards athletes and workers performing manual labor.
connected clothing designed to track movement
In its patent titled "Ergonomic Assessment Garment," Google proposes the use of smart garment technology to develop a t-shirt or jacket that can track the movements of workers or athletes and give advice to improve posture, reduce muscle strain, and more.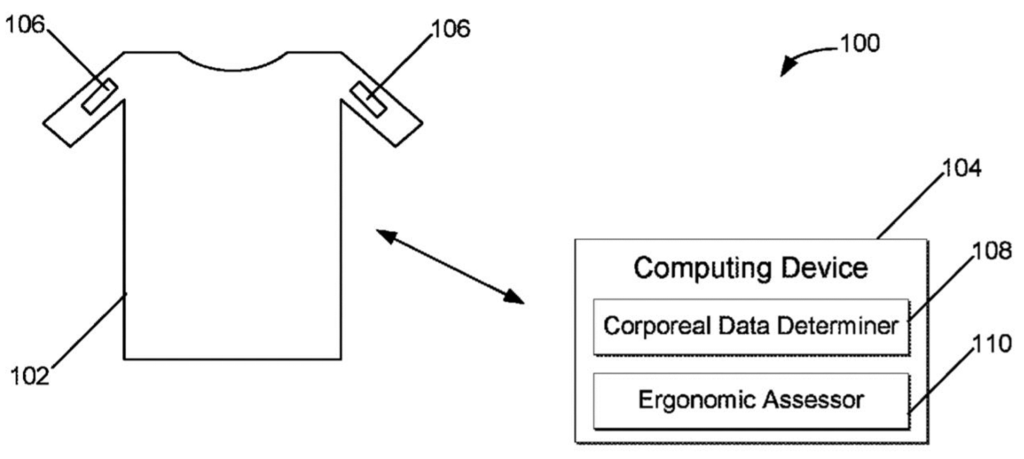 The patent outlines the two primary components required for this type of smart garment: electrically conductive yarn and embedded sensors. By weaving the yarn into regular threading, these garments would remain flexible and comfortable for users.
The yarn would then connect to various embedded sensors including accelerometers, force gauges, and heart rate monitors, which would link to microprocessors that could connect to external Bluetooth devices like smartphones or smartwatches for additional data processing.
This could allow users to monitor various movements and "bend angle thresholds," which could help to improve the efficiency of factory staff or improve the performance (and flexibility) of athletes.
The clothing could also be used to give haptic feedback (small vibrations) to indicate when a user's movement is incorrect or expending too much power, among other uses.
By collecting this type of data from users, Google may be able to design clothing that is more comfortable and functional than ever before.
While Google may not launch its own fashion brand anytime soon, this patent highlights the company's continued interest in getting its technology into a wide variety of products.
As part of its past efforts to design and create touch-sensitive clothing, Google has established several partnerships within the garment industry, including Levi's and eco-luxury brand Stella McCartney. These could come in handy if the tech giant decides to look for future partners to develop and sell clothing using its most recent smart clothing patent.
If you aren't already a client, sign up for a free trial to learn more about our platform.