"Optical sensors" embedded in everyday objects could assess cardiovascular function and help users improve heart health.
The biggest players in tech are increasingly going after the healthcare space.
Patent activity, in particular, gives a window into where tech giants are investing in health tracking R&D. Amazon has patented heart-rate detection by smartphone and Apple has patented smartphone-based  health tracking. Now Google is moving deeper into medical data as well.
A patent application published January 4 details how Google could use "optical sensors" placed in patients' devices or belongings to capture data on individual's cardiovascular function – all with the aim of motivating behavioral changes and reducing instances of heart disease.
The sensors might even be positioned (per the patent's illustrations) in a "sensing milieu" in a patient's bathroom.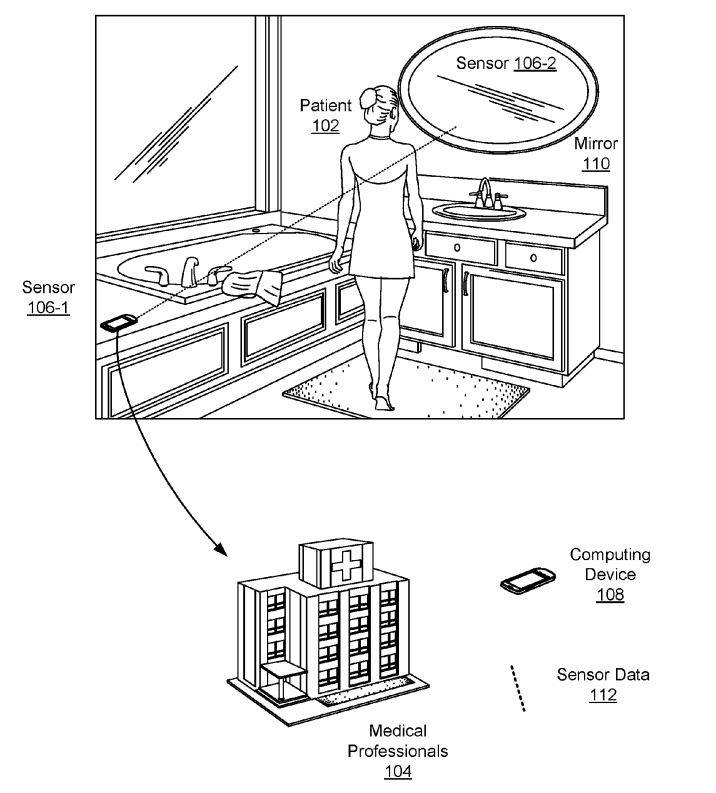 Google's new invention for at-home health tracking would
monitor certain aspects of a patient's physical appearance; and
track changes in appearance that relate to cardiovascular health problems.
In addition, it would integrate with other Google hardware and software – such as Android phones and Google Glass – to capture, process, and analyze as much user cardio data as possible.
The data would be monitored for trends and shared with patients or their medical professionals.
Google ups the healthcare ante against Apple
This latest patent aligns with other signals pointing to Google's long-term strategy in healthcare: Patent filings in recent years have indicated Google's interest in using noninvasive sensors to collect real-time medical information and apply the data for predictive purposes.
As we detailed in a recent report, Google's recent patent activity in healthcare has run neck-and-neck with Apple's – with each filing 40+ applications since 2009.
Recent medical patents from Google have mainly focused on creating novel sensors (like electronic skin adhesives) designed to collect diagnostic information.
Apple, on the other hand, has patented ways to use its existing hardware, sensors, and software to capture and compute personal wellness and medical data.
This latest patent inches Google closer to Apple's healthcare territory.
If implemented, it could help the search giant turn the Google ecosystem into a tool for managing health outcomes and lessening disease risks.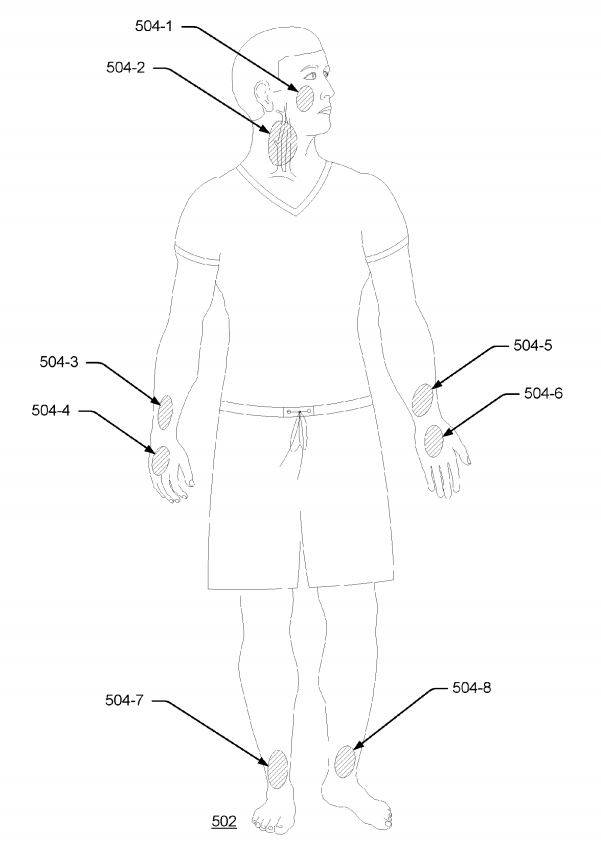 Patent illustration of "various regions of which images are captured by optical sensors."
Google's patent notes that heart disease is the leading cause of morbidity and mortality worldwide, despite being highly preventable.
Patients often know that weight management and behavioral changes (like quitting smoking) lessen their risk factors. But many have trouble following through on lifestyle modifications, in part due to a lack of feedback on how their efforts improve their health.
Monitoring and measuring heart health on an ongoing basis can help motivate patients. But since "current [at-home] methods for measuring heart health can be inconvenient, stressful, and expensive," Google envisions a better way.
Always-on assessment of cardiovascular function
Google's newly invented system would use optical sensors – housed in your bathroom "sensing milieu," or elsewhere – to monitor and assess changes in patient's skin color over time.
Optical sensors convert light rays into electronic signals, which can then be translated into data. They're an important component of cameras and 3D- and infrared-imaging systems.
Skin color changes can reflect certain blood flow dynamics ("hemodynamics") that are indicative of cardiovascular health. Alternatively, color changes may indicate problems with the organs under the skin on certain parts of the body.
The sensors would notice, for example, if there were "a color change at a patient's cheek."
Based on the severity of that color change, the system could conduct an analysis to "determine that the patient's heart beat has produced a peak blood-pressure flow" in the cheek.
That blood-flow information would be combined with similar determinations made at other areas of the body (per the illustration above) and be used to create a fuller picture of cardiovascular health.
By recognizing changes at the wrist or ankle in addition to the cheek, for example, and "comparing the times and distance between these regions," the system could assess "a pulse-wave velocity." The velocity information could then be used to determine cardio-health metrics such as arterial stiffness or blood pressure.
The sensors' assessments would also be used to track vitals like heart rate and respiration rate.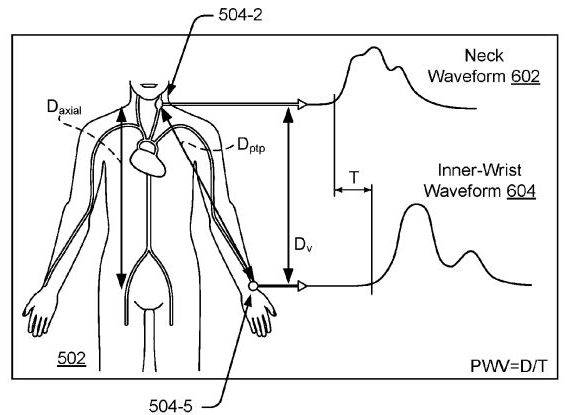 The patent says the system's effectiveness would improve as the patient uses more and more optical sensors – "such as one in her computing spectacles and another in her smartphone" – to gather data.
(The reference to "spectacles" is the latest indication of Google's potential plans for a Google Glass 2.0 – rendered 106-3 in the patent illustration below – which could become an augmented reality tool for the healthcare space. Startups like Augmedix and Hodei Technology are already using Glass for enterprise medical purposes in transcription and telemedicine.)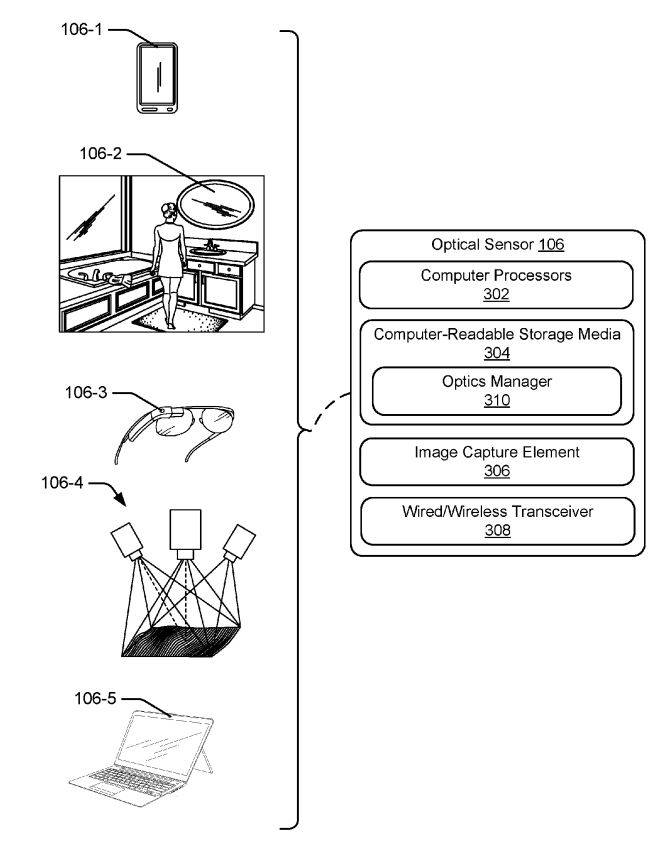 The information captured by optical sensors in the new patent could be used for more direct health assessments in addition to overall cardio-health metrics: Drastic color differences between one cheek and another cheek, for example, would indicate "asymmetry in blood flow within a patient's face" – which can indicate a stroke.
Changes in skin color at the site of an organ might also signal a problematic change in the size, volume, or location of the underlying organ.
In response to the system's assessment, a medical professional could be notified to intervene or conduct further tests (though Google does not detail how that information-exchange would take place).
A health coaching ecosystem?
As with most patents, Google also does not detail anything about how the patent could be commercialized (nor how it would be installed in your bathroom).
But the patent makes clear that Google envisions the patented technology as a day-to-day tool for at-home monitoring – one that's potentially more effective than biannual visits to the doctor:
"Health monitoring at a hospital or office… cannot monitor a patient during their normal course of life or as often as desired. This can be a serious limitation because a snapshot captured at a hospital or office may not accurately reflect the patient's health or may not performed at all due to the infrequency of a patient's visits."
The patent also sees the technology as a force for providing "positive feedback" to at-risk patients that have begun changing their behavior: Ongoing measurement, analysis, and communication of cardio-health information could motivate those individuals to keep up their efforts.
As the healthcare ecosystem becomes more digitial, accessible, and consumer-driven, we'll be watching for more ways Google, Apple, and other tech giants look to use clinical data to encourage behavioral modification.
If you aren't already a client, sign up for a free trial to learn more about our platform.