Google's newest neural network patent could help physicians diagnose patients by standardizing clinical notes and assessing disease risk.
Electronic health records (EHRs) are becoming increasingly prevalent across the US healthcare system as a way to organize and store patient data, with nearly 90% of office-based physicians adopting these systems as of 2017.
Clinical notes are an especially important part of electronic health data, as they provide information on everything from patient medical history to diagnosis to treatment plans, and more.   
But the way medical professionals document clinical notes varies, creating significant challenges for diagnosis, as physicians must parse through a variety of formats that are often not effectively organized. For instance, some EHR records are based on hand-written notes, while others are made up of voice memos. Notes can also vary in terms of how they are organized, or the type of terminology used — some physicians may use abbreviations or coded language specific to their hospital or even their own personal systems.
The lack of organized clinical notes sometimes results in missed information or data redundancies, which can ultimately impact patient outcomes.
Google's recent patent, titled "Processing Clinical Notes Using Recurrent Neural Networks," aims to assist in clinical note documentation as it uses neural networks to compile, structure, and interpret disorganized notes to help physicians make diagnoses and deliver more personalized care. 
Below, we dive into how this latest patent works and what it could mean for Google's future.
Check out all of Google's patent activity on the CB Insights platform here.
HOW IT WORKS
Google's patent illustrates a "Future Health Prediction System" that uses machine learning neural networks to ingest patient data from clinical notes, interpret that data, and generate insights on a patient's potential diagnoses or future health risks.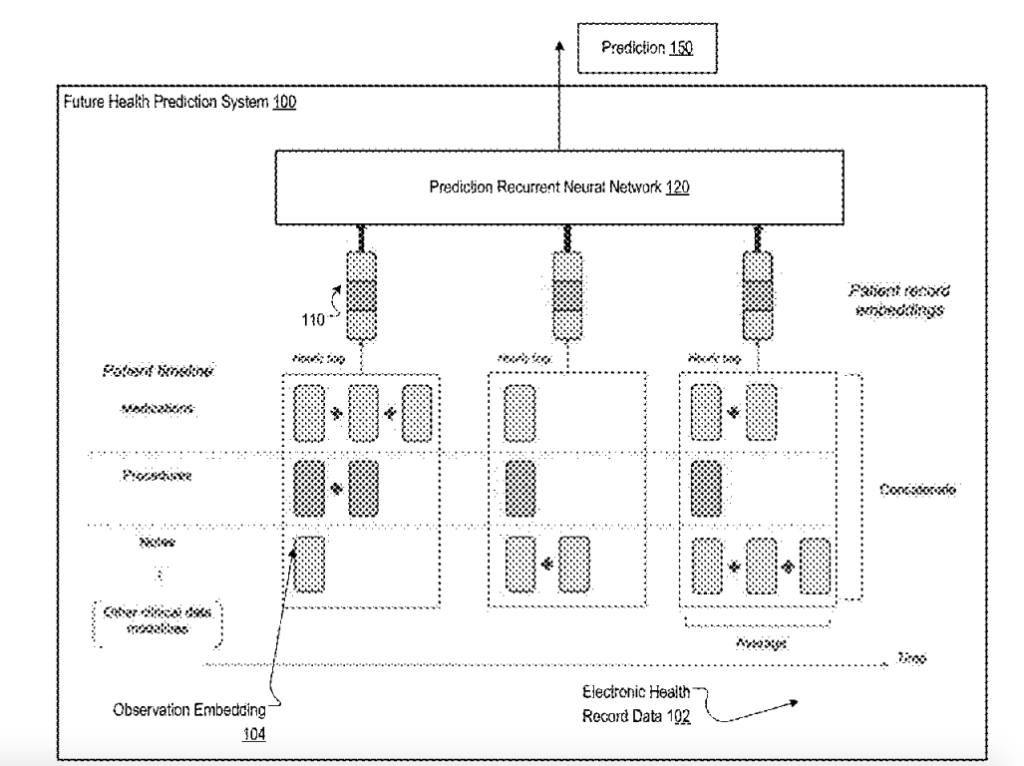 The patent describes how the neural network system abstracts clinical data from EHRs, processes the data, and generates health outcomes predictions. Source: US Patent 010770180.