New patents aim to identify and encourage online experts and influencers — with implications for brands and content creators.
The CB Insights Patent Search Engine surfaced two patents this week that prove Google and Microsoft are eager to inject quantitative tech into the "Influencer Economy."
Google applied for a patent focused on pinpointing, notifying, and rewarding "trendsetters" – aka early consumers of online content that ends up goes viral. In addition, this identification could ultimately help Google predict what content may go viral.
Microsoft applied for a patent focused on detecting, classifying, and scoring "experts" for their expertise on specific topics based on their online activity.
Both patents address common pain points of the social media ecosystem: Consumers want to be recognized for being first to notice and share videos, memes, or other content before they go viral. At the same time, brands want to be able to identify high-value influencers who they can tap into for their social-media marketing and business development efforts. And finally, a system for better predicting virality would also be extremely useful to content creators.
The new Google and Microsoft patents help put data behind identifying, rewarding, and encouraging social media influence.
Google's "trendsetter" patent was filed in May 2017 and published on August 17, 2017. The Microsoft patent was filed in February 2016 and published August 31, 2017. Both patents pose benefits for internet users and the platforms they utilize, but they have  as many differences as similarities. We explore the patents in detail later in this post.
Both patents detail ways to "score" users for their trendsetting (in the case of Google) and expertise (in the case of Microsoft). Google's patent makes mention of awarding a digital "trophy or badge" – or even a "coupon or cash" reward – to an early consumer of content that goes viral. Microsoft's patent creates an Expert profile for a user once his or her expertise has been identified and classified.
Scores, badges, and the like are highly popular among social media users and active members of forums like Reddit and Quora. Much like Twitter's "Verified" badge, Google's and Microsoft's patents could lead to sought-after identifiers for social media users as "Experts" or "Trendsetters."
By building a system to identify and reward trendsetting and expertise, Google and Microsoft could also advance network-effect benefits that can help high-value people or content be identified sooner:
Google's "trendsetter" patent incentivizes internet users to "seek out and share content that they think will become popular" because doing so boosts their potential to earn rewards, or to make said content go viral.
The Microsoft "expert" patent creates an Expert Profile for a user once an individual or entity hits a "topic score over a certain threshold" based on their online activity. If having an expert designation is desirable to the user, he or she could be incentivized to create and share more original content.
Once implemented, both innovations could also be leveraged for gamification and monetization opportunities around content creation, consumption, and data-sharing. Notably "influencer" startups saw a record high in investments this year.
Read on for explanations of the individual patents, and remember when you share this article that the Experts at CB Insights were the Trendsetters who gave these insights to you first.
---
Google Patent: Notifying Users That Were Early Consumers Of Popular Media Content 
Google's patent 20170238156 encompasses identifying, notifying, and rewarding individuals (based on historical data) for being among the first X% of users to access a content item of any type – video, document, image, etc. – once that item has been ranked as popular or viral, based on the number of times it has been accessed.
The patent notes two types of trendsetters that could be identified and notified – "trendsetters that were responsible for the rise in popularity of a popular content item can be differentiated from those who were merely early viewers of the content item."
The diagram below shows how the system could be structured – envisioning a "trendsetter platform" and "notification system" that would be embedded into a content platform, with quotas set to issue notifications or awards at predetermined thresholds or times.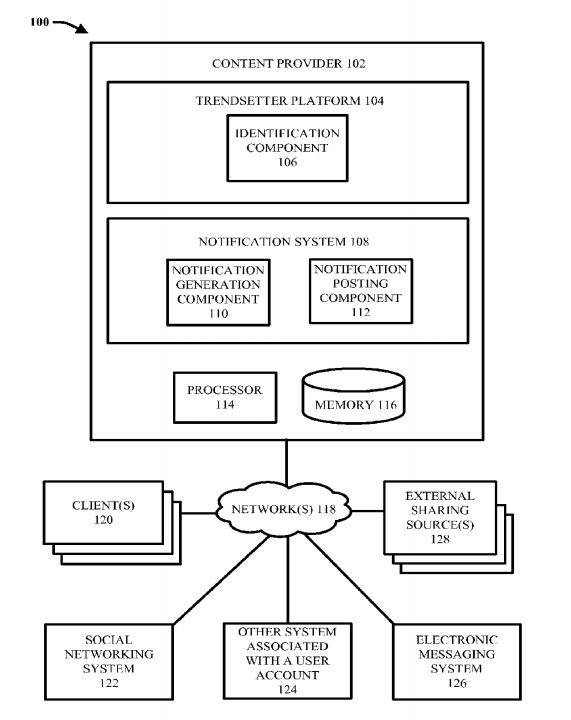 The system factors in different parameters for judging a user's status around an interaction with a given piece of content. It also addresses several different use cases that could impact how a content provider rewards a Trendsetter:
Source – Did Tom introduce the link to the content into the social network, or was he among the first to click the link once it was already introduced?
Threshold – Is Tom one of the first content consumers to watch the video all the way through? Or one of the first to make it 75% of the way through it?
Demographics – Is Tom the first person in his city/state to watch the video? Was he among the first X% of men in the US to watch?
The patent notes that trendsetter status/notifications can be shared at the user's discretion or if it aligns with the objectives of the content provider.

Notifications can also integrate with additional information on content consumption history to tell "Erin" other videos she should watch.

Further components address the integration of predictive functionalities – suggesting that ongoing identification and notification of trendsetters could ultimately help content providers predict or infer which ones will ultimately become viral.

---
Microsoft Patent: Expert Detection in Social Networks
Microsoft's patent 20170249388 focuses exclusively on recognizing and classifying experts for their subject-matter expertise based on their online activity. It notes that social media has made individuals' niche expertise far more valuable than in prior eras – making it crucial to ID experts with "high recall and high precision."

In the patent, Microsoft outlines a system that collects and clusters linked topics to differentiate them, detect the type of content, and then process the domain of expertise it falls under.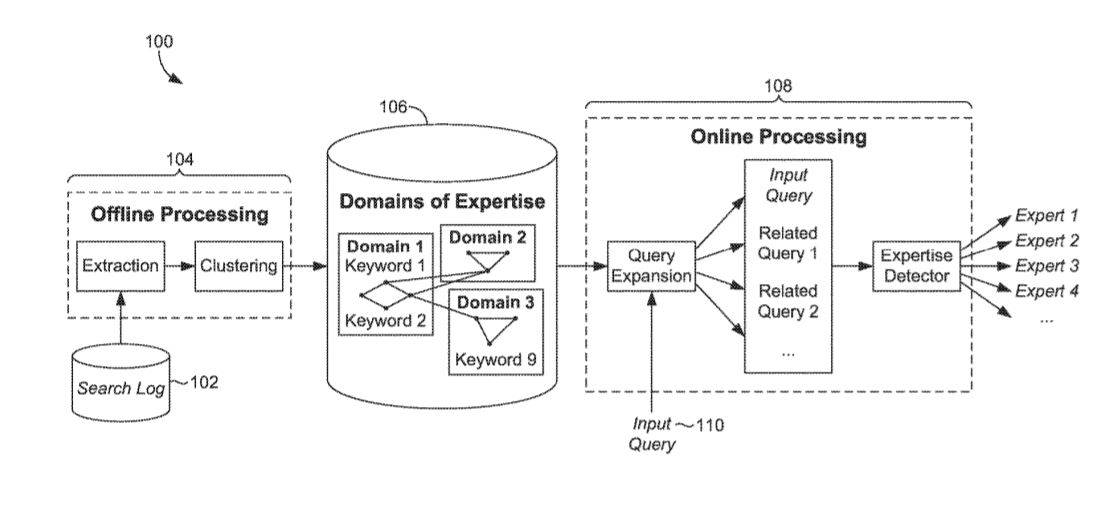 Microsoft envisions the process as looking like the figure above, noting that the technology "may be applicable to any social network structure and should, therefore, work on any software that supports such user structure (e.g., Twitter, Facebook, email, etc.)."
Using the above structure, the expert detection process would:
Identify the expertise of a person or entity by analyzing online activity and then categorizing their expertise (or lack thereof) on a given set of topics
Create profiles that may include shared links, activity timelines, and so on, which are then configured to be searchable so users can be identified based on a granular understanding of their areas of expertise
Enable users to browse and search for expertise data via the "expert interfaces"
Based on the diagrams in the patent, the system appears to show expertise categories starting broad during the search process, then drilling down into more granular subject matter areas.

If you aren't already a client, sign up for a free trial to learn more about our platform.