Google's patent creates streamlined interactive cords that expand beyond standard control systems to improve both functionality and, most importantly, security.
Forget the wireless trend. Google wants to revamp your accessories and appliances by equipping them with touch-enabled cords.
The company was granted a patent earlier this month titled "Interactive Cord," which aims to improve the traditional cable associated with devices like phones, lamps, computers, and more.
The mechanism allows users to control devices via touch patterns on a cord instead of through buttons. Beyond replacing hardware, it could also provide an alternative to voice control.
Among its promised applications, it has the potential to shake up user authentication methods, which often rely on the use of passwords. A touch-enabled cord could enable verification that goes beyond typing in passwords and the use of methods like facial recognition or Touch ID.
Below, we take a look at how the interactive cord works and its potential use cases.
How It Works
The interactive cord has two main components: a cable and a fabric cord cover. Conductive thread is woven into the fabric cord covering, creating a touchpad that can detect taps, touches, swipes, and holds.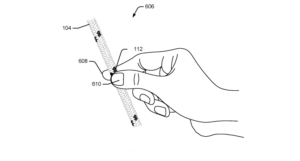 When a user's finger touches the thread, the voltage triggers a preset function, like turning on a lamp or speaker.
For example, you can play a song by touching one section of the cord, and adjust the volume by touching another. Pressing two or more touchpoints at the same time can add additional functionality, such as the ability to fast forward through a song.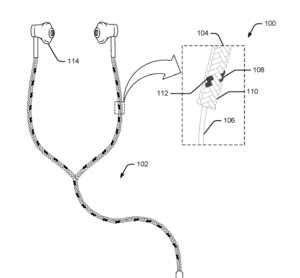 Among its benefits, the interactive cord is cheaper to produce than traditional cords, as it removes the need to build and connect extra hardware like switches or buttons. Traditional controls also "have problems with intrusion due to sweat and skin," which the interactive cord might be able to solve for.
more security in user authentication
Perhaps its most interesting use case, Google's interactive cord could introduce a new method for user authentication.
A wide array of touch patterns can be used — including tapping out a rhythm, touching specific or relative locations, applying varying amounts of pressure on the fabric cover, sliding down the cord, or manipulating the cord so one section touches another — to authenticate users on devices.
Google states this method of authentication is "less likely to be compromised by adversaries and those with malicious intent," as the pattern is more difficult to discern than typing in numbers or letters. It's also more discreet than voice commands.
For example, the cord can be used to backup or copy sensitive data from one device to another:
"In this scenario, [the] interactive cord may be implemented as a data transfer cord that prevents unauthorized copying of data. Thus, in order to copy data from one device to another, the user would need to provide the correct touch input pattern to the data transfer cord."
Parents might also find this method useful when it comes to controlling the content their children have access to. Kids would not be able to retrieve media on a given device without applying the correct touch input pattern on their headphones or earbuds.
In both scenarios, information can only be accessed once a user provides the right touch pattern, likely benefiting use cases in both enterprise and consumer settings.
It might also benefit users looking to avoid talking aloud in public areas. Instead of speaking a response regarding sensitive materials, users can input a pattern. This also provides more security than, perhaps, responding with a number-based pattern that someone could more easily pick up on.
In an era of ever-increasing concerns about privacy paired with the demands of convenience from users, a low profile interactive cord may provide a compelling solution.
If you aren't already a client, sign up for a free trial to learn more about our platform.