Google's growth is only as strong as the world's access to its products. These initiatives in connectivity and telecommunications look to extend the company's reach.
Google first built a search engine in 1998 to democratize the internet and access to information. Since then, the company has grown into a multinational corporation, now operating under its newly established parent conglomerate, Alphabet.
Today, the company owns dozens of products that improve access to information. Notable internet-based services include Search, Gmail, Maps, Translate, and YouTube, among others.
But Google's revenue growth — with advertising at its core — is only as strong as the world's access to Google products. Today, it's estimated that less than 55% of the world has access to reliable, high-speed internet.
For this reason, Alphabet has become increasingly focused on improving connectivity.
We analyzed 8 connectivity initiatives by Google and the broader Alphabet organization. While certain projects have encountered setbacks, Google continues to push forward with initiatives like Project Fi, Google WiFi, and YouTube TV, among others.
Table of contents
Google Fiber: How Alphabet won by losing
In 2011, Google began installation of fiber-optic infrastructure that would deliver gigabit-speed internet access to businesses and residents of Kansas City. Over a year later, the company began to offer these services for the first time.
While Google Fiber hoped to outperform competing internet service providers (ISPs) with regard to speed, it also looked to undercut many competitors in price. Google offered several packages, including a one-time $300 installation that would waive all monthly payments thereafter. Though the company has done away with this promotion, this was just one of many unconventional tactics Google has used to attract customers, promote adoption, and compete with incumbents. 
Nearly 7 years later the company's ISP efforts have slowed. Today, Google counts 12 cities that currently have access to its fiber services, in addition to 7 other cities that have access to fixed wireless services offered by its subsidiary, Webpass.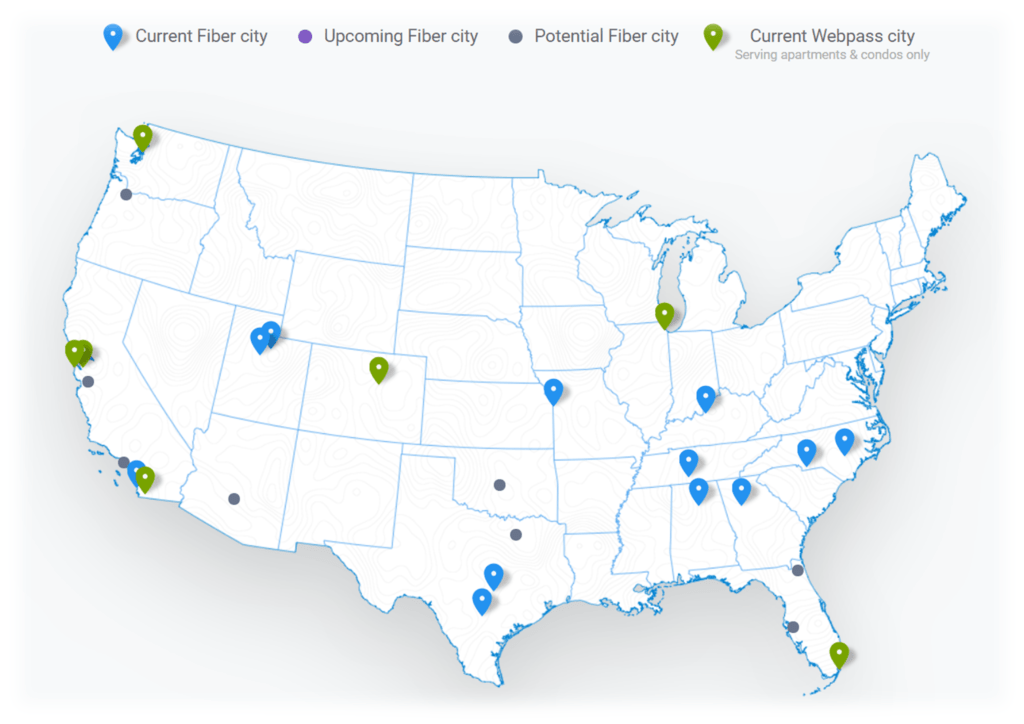 Google acquired Webpass in June 2016 to expand the Alphabet Access (Google Fiber & Webpass businesses) connectivity initiatives. Webpass expanded its portfolio of cities in 2017 with the addition of Denver and Seattle, but also ended coverage in Boston in early 2018.
While there are no upcoming cities listed on Google Fiber's website, there are 8 potential cities that may adopt the service in the coming years. But progress may be met with conflict, as it has in the past. 
In February 2016, AT&T sued the city of Louisville for allowing Google to temporarily rearrange preinstalled telecommunications equipment during installation of its own fiber-optic cables — a process known as the FCC's "One Touch Make Ready" ordinance. AT&T, along with Comcast, also sued the city of Nashville in September 2016 on the same grounds. 
AT&T insisted that the lawsuit had nothing to do with Google Fiber as a competitor, but stalling Google's efforts was almost certainly a motivation. 
The Louisville lawsuit was dismissed in August 2017, but the Nashville lawsuit was upheld in January 2018, and AT&T and Comcast successfully overturned the "One Touch Make Ready" ordinance in Nashville. 
But while AT&T and Comcast succeeded in slowing some of Google's progress above ground, the company has embraced an innovative installation method that allows it to lay cable 4x — 6x faster than its telecom competitors.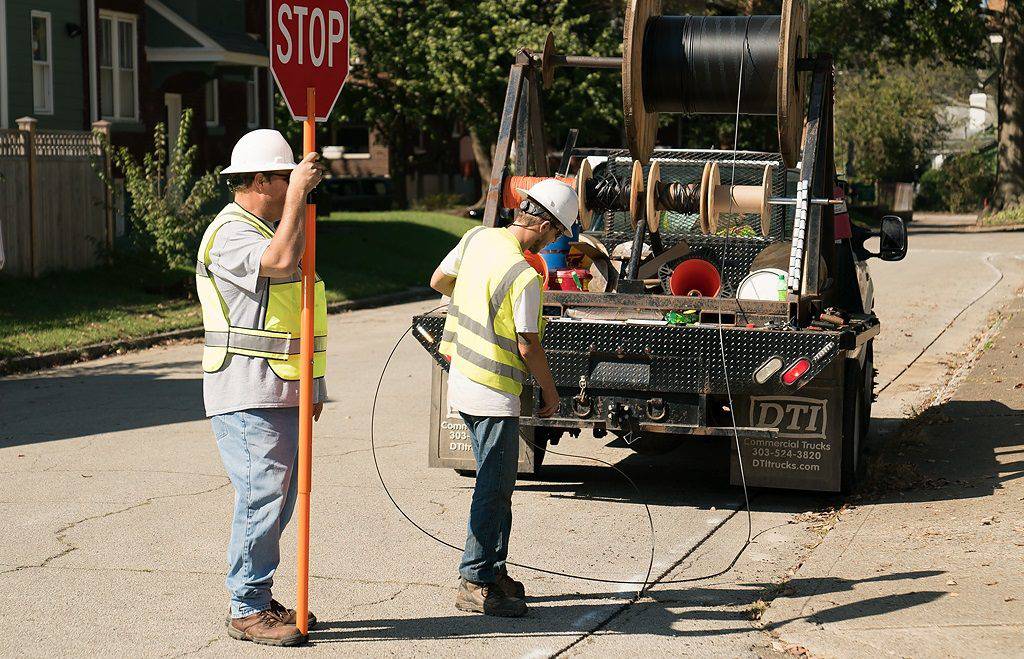 The method, known as shallow-trenching (also micro-trenching or nano-trenching), requires significantly less time and resources to install fiber-optic cable.
Instead of digging wide trenches with backhoes to install cable less than 0.5" thick, Google cuts narrow incisions into the road, lays the cable, and fills the incision with grout to protect the integrity of the road.
Notably, 80% of the cost of laying fiber is labor, and the amount of labor — and subsequently upfront cost — required to launch a new Fiber city is immense, even for Google.
As Alphabet grapples with this, the fixed wireless access approach of Webpass may be the most viable model moving forward. This model benefits from lower rollout costs, shorter installation times, and fewer regulatory hurdles.
In addition to infrastructure challenges, Alphabet Access has been plagued with management issues throughout its history.
Google Fiber's first CEO, Craig Barratt, left in January 2017 (per his LinkedIn) and has since become the CEO of private networking company Barefoot Networks. Barratt's replacement, Gregory McCray, was only in place for about 5 months before stepping down in July 2017.
Though the company has been without a CEO since that time, Alphabet hired former COO of Time Warner, Dinesh Jain, in February of 2018 to run the Google Fiber and Webpass businesses.
alphabet access: a success?
While Alphabet's Access division has faced several setbacks, it's still in its early stages when compared to the 30+ year histories of AT&T and Verizon and the 50+ year history of Comcast.
In some ways, Alphabet Access has succeeded: by competing with traditional internet service providers, Google has helped to push the industry forward. Residents in many Google Fiber and Webpass cities have benefited from improved speeds by competing providers. Moreover, what really matters to Google is the availability of high-speed, reliable access to its portfolio of internet-based products (whether or not Google is providing that access). In this way, the company has made progress.
Google Cloud platform: A leader in storage, compute, and content delivery
The cloud is a growing part of telecommunications and a foundation for global connectivity.
Google maintains a robust content delivery network, and by some accounts delivers up to 25% of US internet traffic.
Today, Google counts 15 data centers around the world (8 in the US, 4 in Europe, 2 in Asia, 1 in South America). These data centers are the heart of the Google Cloud Platform and are responsible for the majority of the company's compute, storage, and data replication services.
While Google uses its data centers for many of its own products — like Search, G Suite, and YouTube — there is a growing amount of third-party data hosted on Google's infrastructure. Recent clients include Netflix, Spotify, Apple, and Gitlab, many of which have moved away from providers like AWS and Azure in favor of Google Cloud Platform (GCP) services.
For example, Spotify moved over 1.5B files from AWS to Google in 2016. According to Spotify's most recent filing, the company is now in the process of migrating all data storage to the GCP.

In doing so, Spotify is relying on GCP to store, process, and deliver data in a way that allows the company to meet users' needs as it continues to grow.

In addition to its data centers, Google has over 100 Edge Points of Presence (PoPs) and 7500+ Edge Nodes (Google Global Cache) that bring its content closer to users, therefore reducing content delivery costs and latency.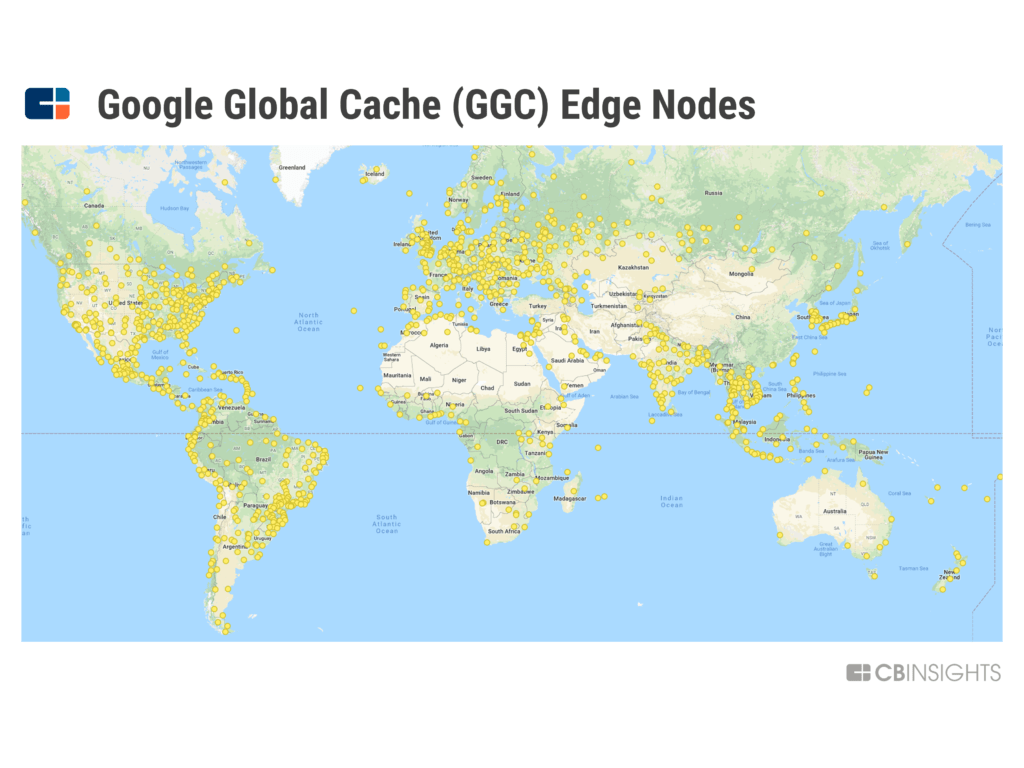 Google's infrastructure constantly evolves and expands. The company is currently strengthening its network of subsea fiber-optic cables to improve the reach, speed, and reliability of its services — making it the first major nontelecom company to build private subsea cables of this kind.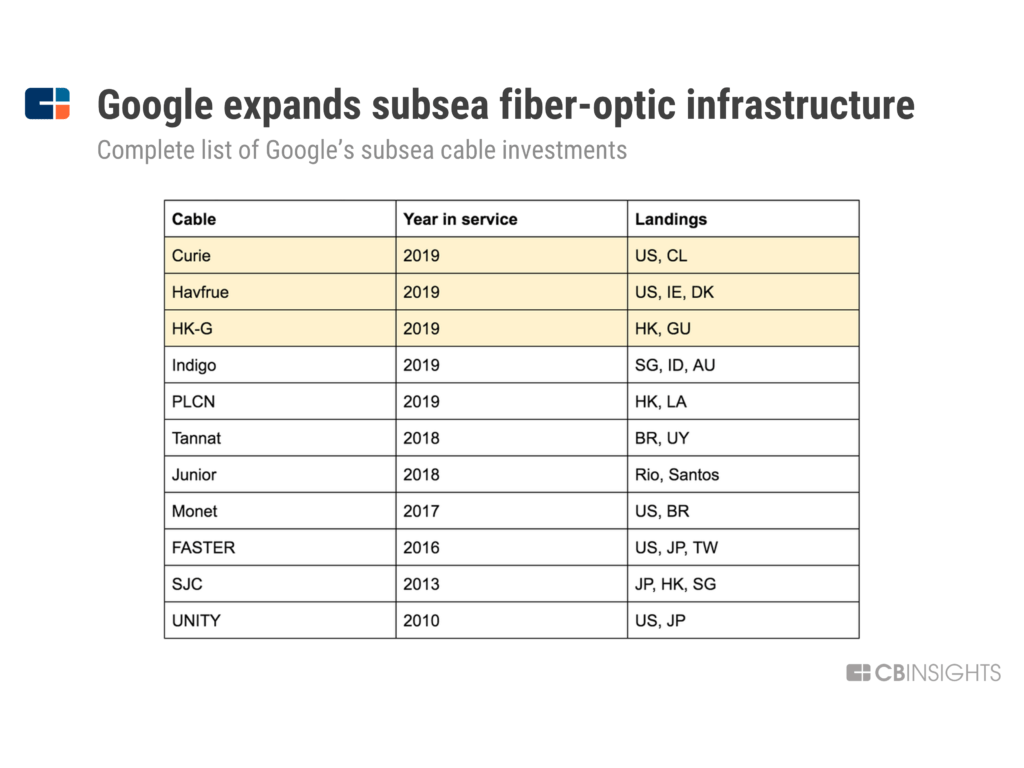 YouTube is an example of one of the many Google products that will benefit from greater global connectivity. While its service is provided in countries across the globe, additional infrastructure is likely to improve the access and delivery of international content.
Furthermore, the company looks to gain market share of emerging industries. In late February 2018, the company announced the public release of Cloud IoT Core, which allows companies to connect, manage, and ingest data from millions of globally dispersed IoT devices. The platform also allows users to process, analyze, and visualize IoT data in real time.
As part of its IoT integration strategy, oilfield services company Schlumberger is using IoT Core to build and more quickly deploy new energy applications. This includes the company's exploration and production environment DELPHI. 
According to Schlumberger VP of Digital Technology Chetan Desai, "We have been able to build quick prototypes by connecting a large number of devices and performing real-time monitoring using [Google's] Cloud Dataflow and BigQuery."
By certain estimates, there will be nearly 20.4B IoT units installed and nearly $3T of spending related to IoT in 2020. With this in mind, it's unsurprising that Google has made IoT purchases of its own. Notable companies include popular smart home device maker Nest Labs, which Google acquired for $3.2B in 2014.
Project Fi: The global carrier
Another service from Google that is seldom discussed is its mobile wireless service Project Fi. Project Fi is a mobile virtual network operator (MVNO), meaning it licenses unused network spectrum from other carriers.
Today, the company leverages the networks of T-Mobile, Sprint, US Cellular, and Three. The addition of US Cellular offers better coverage in areas like Northern New England and the Midwest, while Three offers strong coverage throughout the UK.
Project Fi's proprietary SIM card technology allows the service to switch to the strongest carrier signal automatically, without disruption. This technology provides Google with a competitive advantage over other MVNOs as well as over its individual partner networks.
However, carriers typically avoid licensing to those they view as a threat. This may be why Google has failed to market the service in any significant way.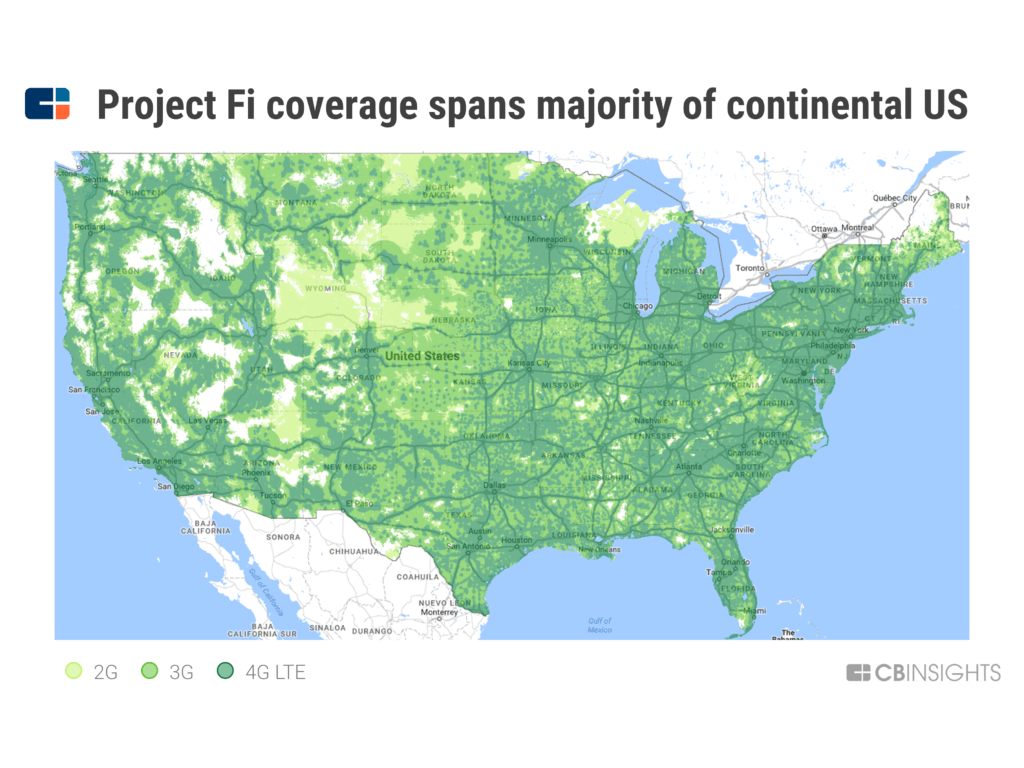 In addition to offering robust coverage throughout the continental US, Project Fi provides free coverage in 170+ additional countries.
The service is also flexible when it comes to price. For a single line, there is a minimum charge of $20/month for unlimited calls and texts. However, users only pay for the data they use (down to the megabyte). This means subscribers are only charged $0.01 for each megabyte used at a rate of $10/gigabyte (GB).
While this plan is ideal for those who use minimal data, it could prove expensive for those who regularly stream music, browse social media, and watch high-definition videos. However, in January 2018, Project Fi announced that it would provide "Bill Protection" to any subscriber exceeding 6GB/month. This caps monthly bills at $80 ($20 Base + $60 for 6GB), no matter how much data is consumed.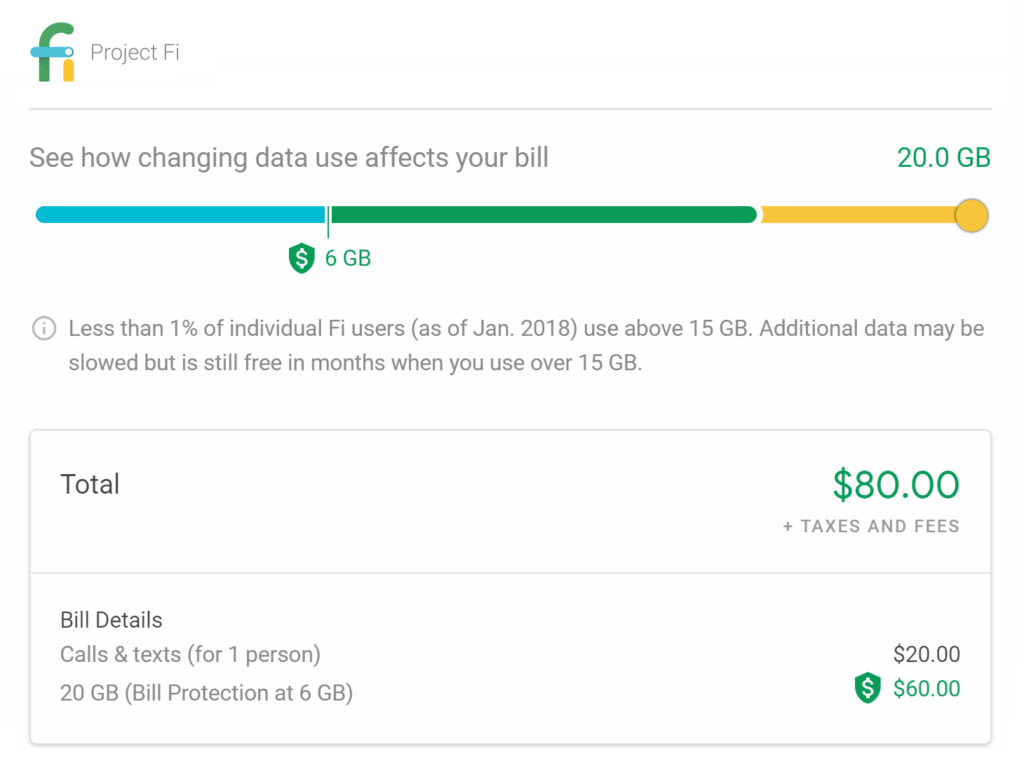 This model makes pricing incredibly competitive compared to services like AT&T and Verizon. These prices, in addition to coverage, flexibility, and ease of use, have earned Project Fi one of the highest customer satisfaction ratings, according to PCMag's annual Readers' Choice Awards.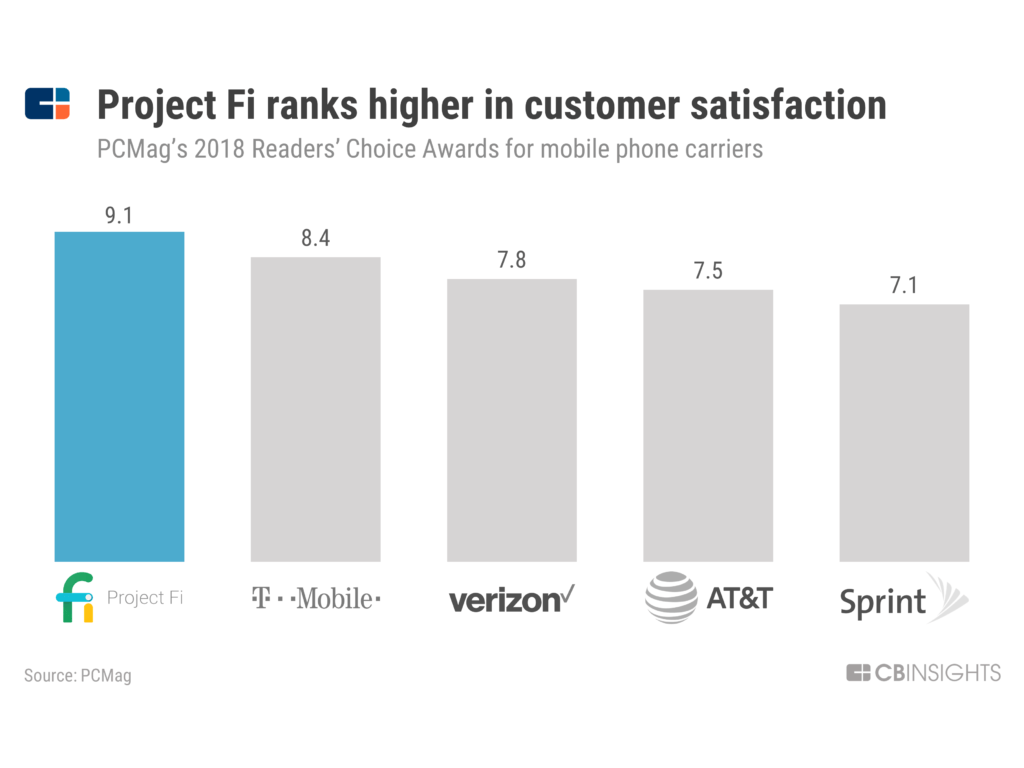 Though Google's wireless service remains an MVNO for the time being, its fiber-optics infrastructure (via Google Fiber and Google Cloud Platform) and fixed wireless access (via Webpass) may allow Alphabet to establish a 5G network of its own.
Principal Wireless Architect at Google Preston Marshall spoke at the DC5G conference back in October 2017 about 5G technology, arguing that today's spectrum licensing model is designed to prevent new players from entering the market.
For this reason, Marshall advocates for a new model that he refers to as a "use it or share it" model, in which a licensee is only protected from band interference if it launches a service. Otherwise, the bands remain open to others. Marshall believes that changing access rights will change how 5G is deployed for the better.
Google Hangouts, Chat, & Voice: Global messaging products bring users together
Google provides a variety of additional applications used by businesses and consumers for daily communication. And while many of these products have proved redundant, Google may be on the brink of a universal messaging service that could render SMS and MMS obsolete.

With the launch of Google Android (acquired by Google in 2005) in 2008, the company included a mobile version of Google Talk (also known as Gchat) alongside standard SMS (short message service) and MMS (multimedia message service), which have remained as the baseline messaging standard for over a decade.
But with the introduction of push notifications, messaging apps like WhatsApp gained popularity, due to their uniform messaging experience across operating systems.
In 2013, the company launched Hangouts, which bundled the text and video chat features of Google Plus with the addition of voice over IP (VoIP) calling. This was a response to the successful release of iMessage and Facebook Messenger in 2011.
But instead of providing meaningful updates to Hangouts, Google created two new applications, Allo and Duo, in 2016. Though Duo, a video chat app, experienced success, Allo's siloed messaging platform fell flat. Meanwhile Hangouts has become more optimized for business.
Now, Google is pursuing a universal messaging solution to replace traditional, unformatted messaging services. Instead of creating a new app to compete with platforms like WeChat and iMessage, Google hopes to convince wireless network operators and original equipment manufacturers (OEMs) to adopt Rich Communication Services (RCS).
RCS would replace SMS and MMS as the default means of mobile communication, allowing for rich graphics and text within standard messaging. This service would eliminate the need for messaging apps and allow brands to engage with customers in a more meaningful way.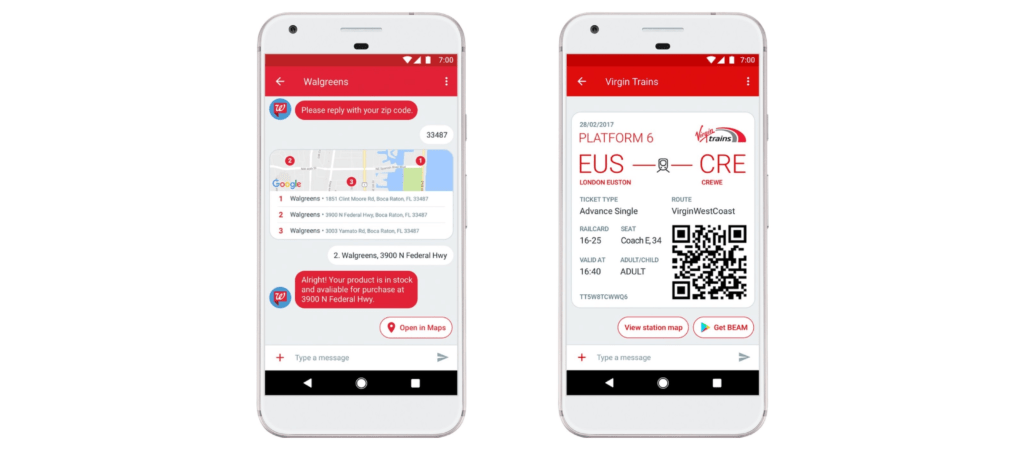 As of now, there are over 50 wireless network operators supporting RCS, including the big four (AT&T, Verizon, T-Mobile, and Sprint). In addition, there are over 10 OEMs supporting the service, including Huawei, Asus, HTC, LG, and Samsung (regular Android manufacturers).
If wireless network operators and OEMs continue to support RCS, it may grow beyond Android. Apple has already engaged with GSMA about a potential adoption of RCS.
Google is also providing services like Google Voice, which issues free, individual phone numbers for domestic voice calls. The service, launched in 2009 after the acquisition of GrandCentral Communications in 2007, is testing VoIP service for the first time this month.
YouTube TV: A worthy replacement for cable television
Supported by Google Cloud Platform, YouTube TV offers live-streaming television that looks to compete with traditional television providers. For $40/month, subscribers (now estimated at over 300,000) can access over 50+ channels, including traditional networks like ABC, NBC, CBS, and FOX, sports-specific networks like MLB Network and NBA TV, and stream-exclusive networks like Cheddar. Additional networks like Showtime and FOX Soccer Plus can also be purchased for an incremental monthly charge.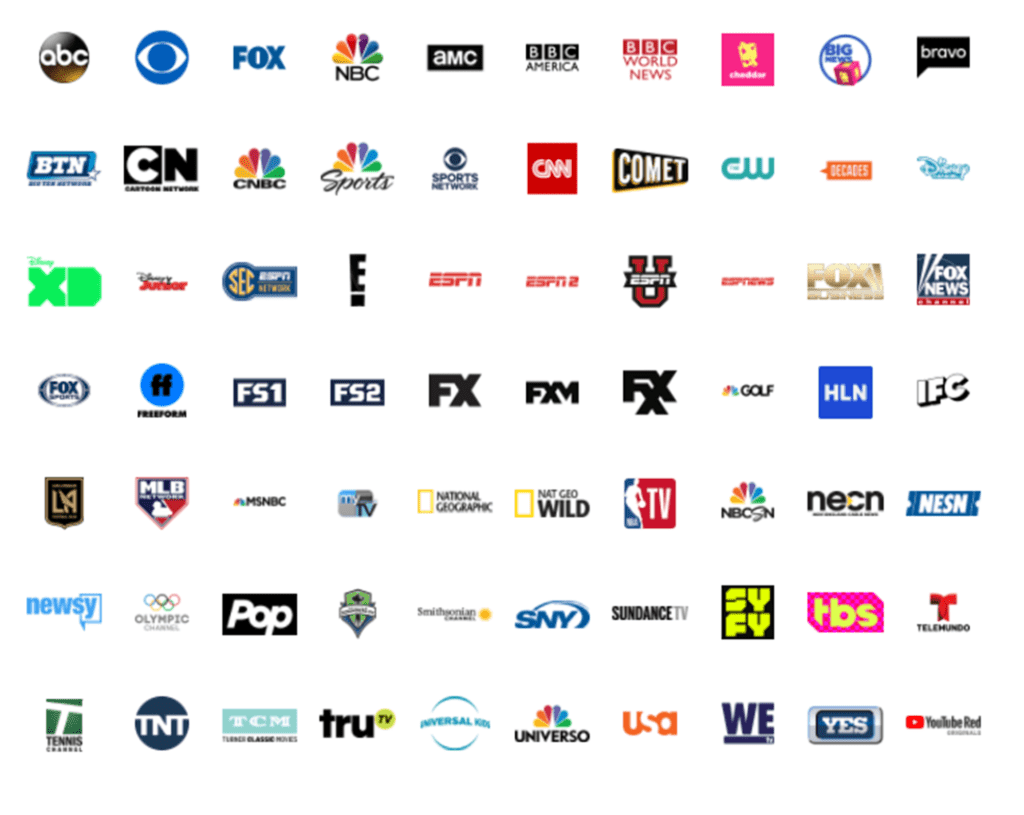 What sets YouTube TV apart from its cable peers isn't just its growing access to content, but its superior user experience.
YouTube TV offers a familiar experience similar to freemium YouTube (acquired by Google in 2016), which boasts 1.5B+ monthly active users (MAU). In addition, users can DVR unlimited content that can be stored for 9 months in Google's Cloud (many competitors provide just 28 days of DVR storage). The service also provides access to 6 individual users, while 3 users can stream simultaneously on any device.
In particular, YouTube TV's access to user data from Google's other products gives the service an advantage over traditional television providers. YouTube Chief Product Officer Neal Mohan sees an opportunity to improve the ads experience, as "over-the-top television" (where content is delivered via internet rather than a traditional cable or satellite provider) more prominent.
According to current estimates, OTT providers grew 41% in 2017 to reach $11.9B in US revenue. And while traditional cable, satellite, and telecom television companies earned comparatively more ($107.8B) over the same period, their revenue only grew by 1%. The OTT market is expected to earn upwards of $27B annually by 2020, while traditional cable, satellite, and telecom television revenue is expected to fall in coming years.
With so much at stake, it's unsurprising to see that Google has emphasized the YouTube platform during earnings calls.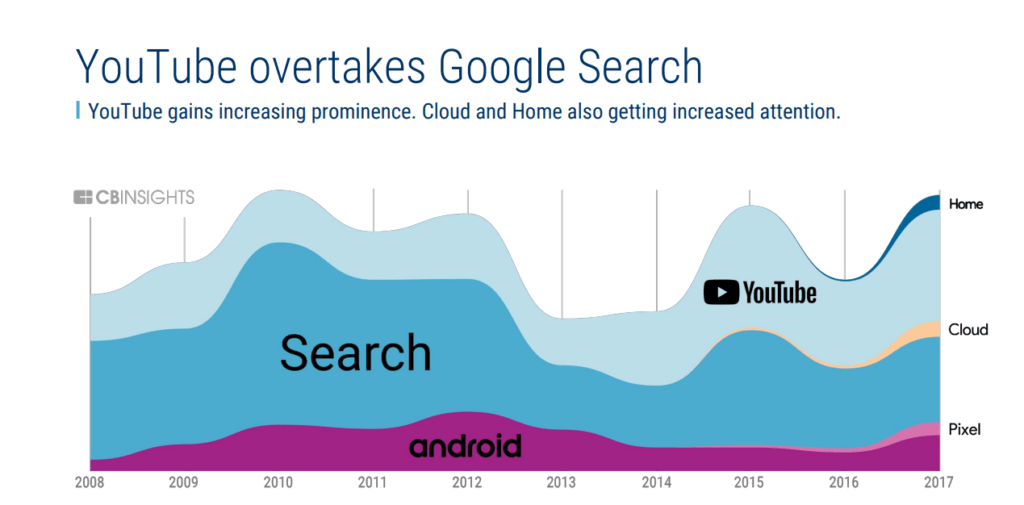 Back on a July 2017 earnings call, CEO Sundar Pichai drew comparisons between the growth of YouTube and the growth of Search early in the company's history.
"YouTube is one of those products which, you know, is scaling really well globally, just like Search did, and … we are seeing real strong growth on mobile and we're seeing real strong growth for YouTube on emerging markets as well. And we are seeing real strong growth on television.

So if I look at YouTube on mobile, on emerging markets, on larger screens, they all look like newer opportunities … I think there's a lot more growth ahead."
And if Google is able to channel the overall growth of YouTube to its budding YouTube TV service, the company could begin to generate an entirely new stream of revenue derived from televised advertising.
Pixel & Android: The enablers
While the Pixel phone and Android ecosystem don't directly compete with offerings from traditional telecommunication companies, these products do enable many of Google's other communication products and services.
For example, although there are a number of smartphones compatible with the company's Project Fi service, Pixel is the recommended device. And while other wireless carriers have to negotiate with numerous smartphone manufacturers to sell their products, Project Fi sells its own Google Pixels.
Google shipped an estimated 3.9M Pixel devices in 2017, which accounts for approximately 2.8% of active phones here in the US. While iOS devices can use Project Fi, the service was designed to work primarily on Android devices.

Android, being the most popular mobile OS in the world, provides the company with opportunities to promote other products and services that integrate seamlessly with its smartphones and mobile operating systems.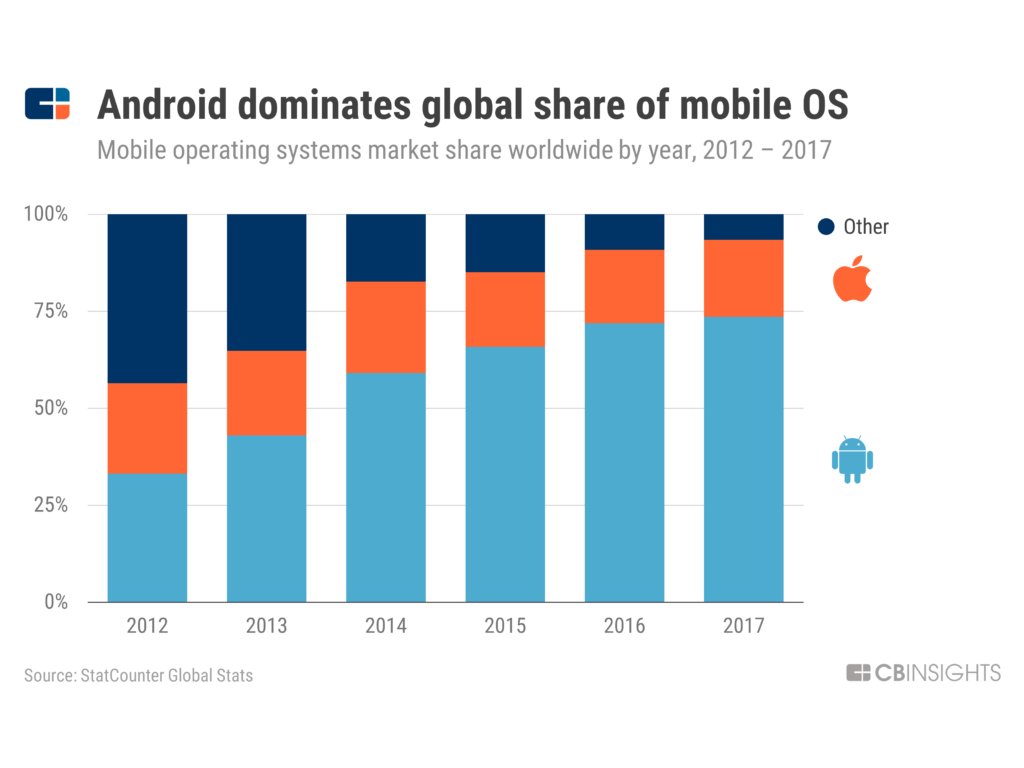 The global popularity of the Android OS also provides Google with an incredible amount of data that can be used to make informed decisions about product strategy and service deployment.
For example, the company could leverage Android location data to decide how best to expand Project Fi. The quality and quantity of user information are just one of the many advantages that Google has over its competitors.
Google Wifi: Strengthening connectivity in and outside the home
Google released its mesh Wi-Fi routers in December of 2016 with the goal of providing seamless, reliable connectivity throughout the home. While there are a number of different mesh Wi-Fi routers on the market, Google Wifi is easier to set up and manage than competing products.
And as of this publication, Google Wifi is rated equally with its competitors, while offered at a lower price, according to Amazon.com.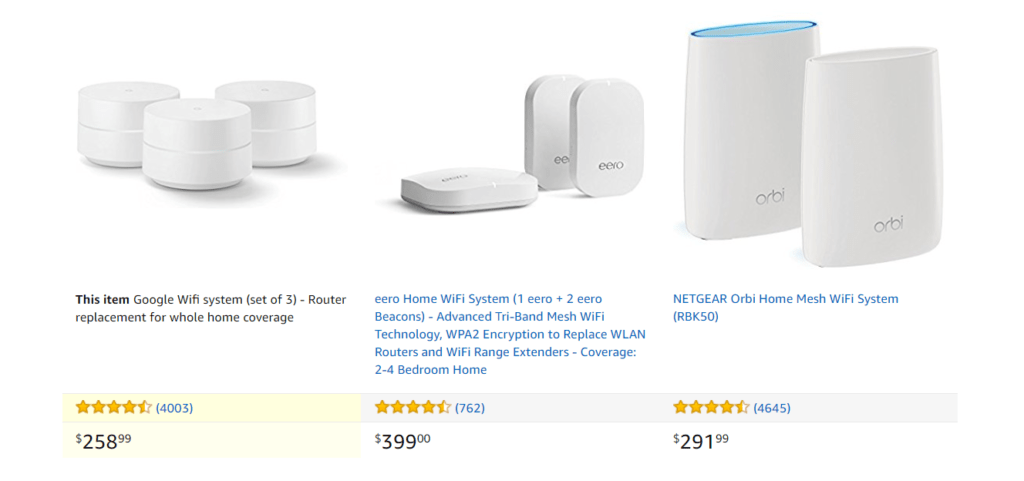 Certain features of the product have become especially popular among consumers, like the ability to suspend Wi-Fi access on-demand or at a scheduled time. This feature is particularly useful for parents looking curb internet usage at the dinner table or later at night. The system also allows users to block websites, prioritize devices, and connect guest users with ease. 
Beyond the home, Google also offers public Wi-Fi throughout certain cities. Sidewalk Labs, the urban innovation division of Google, merged Control Group and Titan to create Intersection in 2015. Intersection is responsible for the LinkNYC project that replaced old New York City telephone booths with Wi-Fi terminals.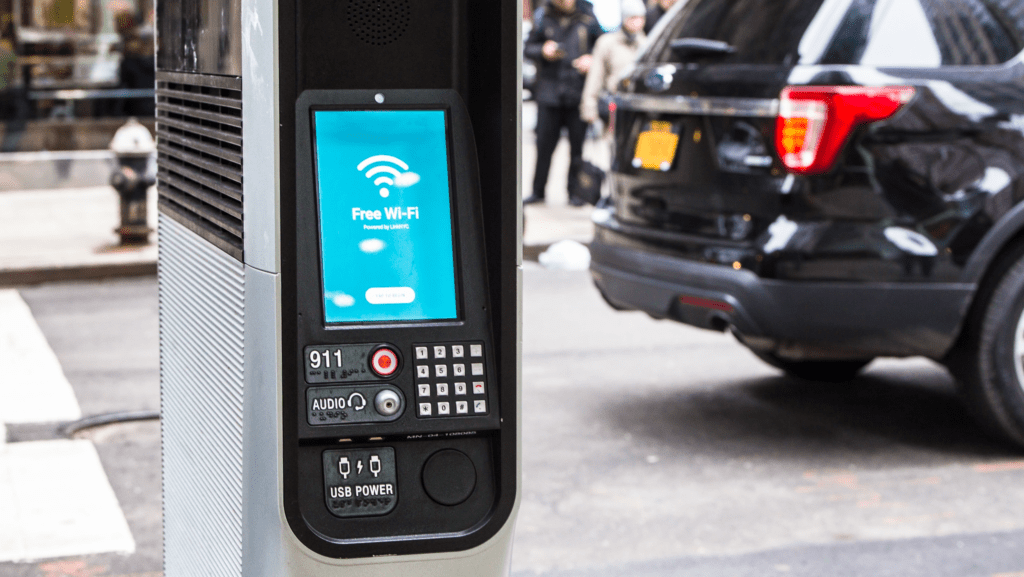 These terminals are outfitted with Android tablets for internet access, USB charging for mobile devices, a dial pad for voice calls, and two 55" advertisement displays.
While Google has been involved with other initiatives, such as replacing AT&T as the primary Wi-Fi service provider at Starbucks, the company also provides public internet access to underserved areas.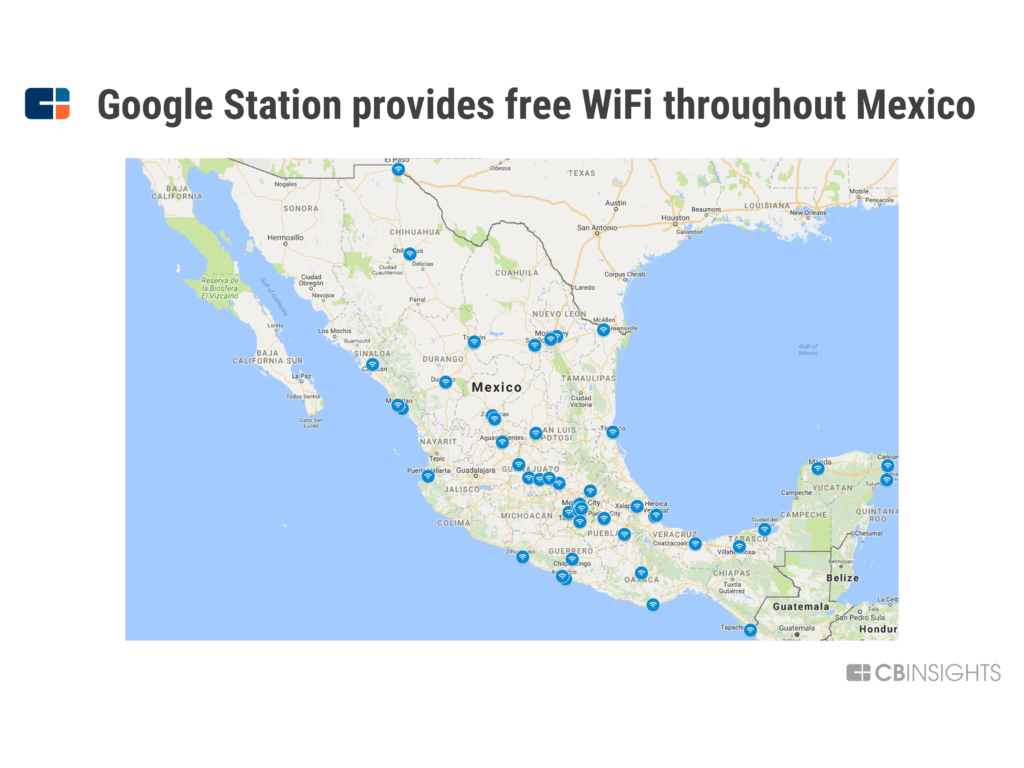 Google Station started in 2015 with the ambition to provide reliable, high-speed internet access for everyone — especially those in emerging countries. Today, the service offers free Wi-Fi access in select public locations (primarily train stations) throughout Mexico, Indonesia, and India.
Adding to Google's growing Wi-Fi initiatives, the company may also purchase Nokia's in-flight Wi-Fi system. This air-to-ground LTE technology supports higher traffic with lower latency and at lower cost than other in-flight Wi-Fi systems. Because this system uses LTE cell towers, the infrastructure could be used for a variety of other services on the ground as well. While the details of the technology and Google's interest are still vague, network expansion may be in the works.
Project Loon: The moonshot for remote regions and disaster relief
Since launching its first balloon in 2013, Project Loon has flown over one million test miles. The organization looks to understand how internet-beaming balloons may one day provide connectivity for billions of people in rural areas around the world.
Project Loon is part of Google's X division, which operates as the company's "moonshot factory." Other programs to spin off from Google X include Waymo, Verily, and Google Brain.
By partnering with telecommunication companies like T-Mobile and AT&T, Project Loon is able to launch its balloons 12+ miles into the stratosphere (twice as high as commercial airliners) to offer cellular coverage in remote areas or areas affected by natural disasters. Each balloon has a coverage area of approximately 3,100 square miles.  
Recently, Project Loon deployed balloons in Puerto Rico to provided internet access to approximately 200,000 people (~6% of the total population).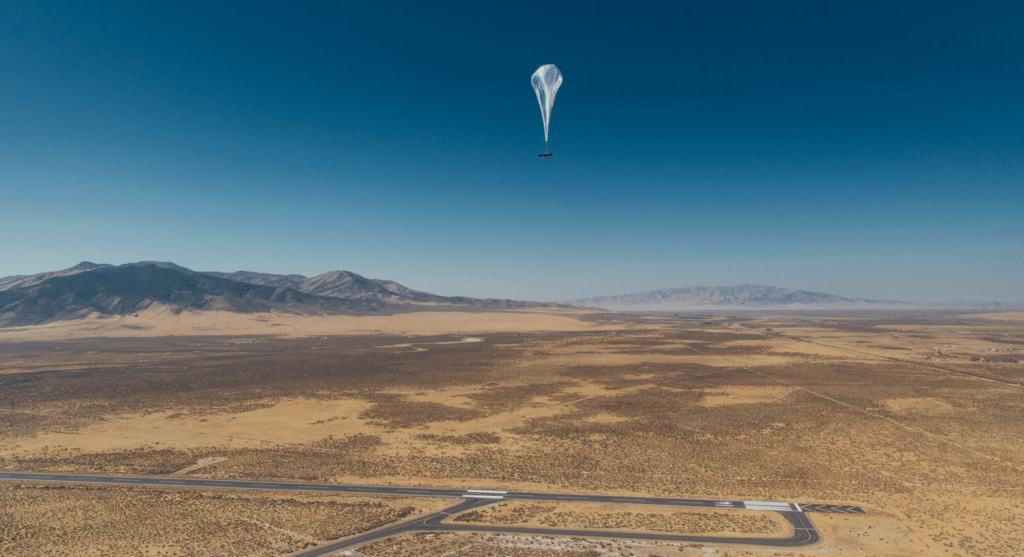 In the past, Project Loon has also flown balloons from its launch pad in Puerto Rico (in place before the recent natural disasters) down to Peru to connect people affected by flooding.
The technology behind the balloons is driven by artificial intelligence. Using real-time data and predictive analytics, the balloons are directed to add or remove air to sail lower or higher. In doing so, the balloons navigate by catching different wind currents, which move in different directions and speeds.
Thanks to regular updates and iterations, Loon is now able to keep balloons in a fixed location and cluster balloons in areas that need connectivity most. Alternatively, they can travel the circumference of the world.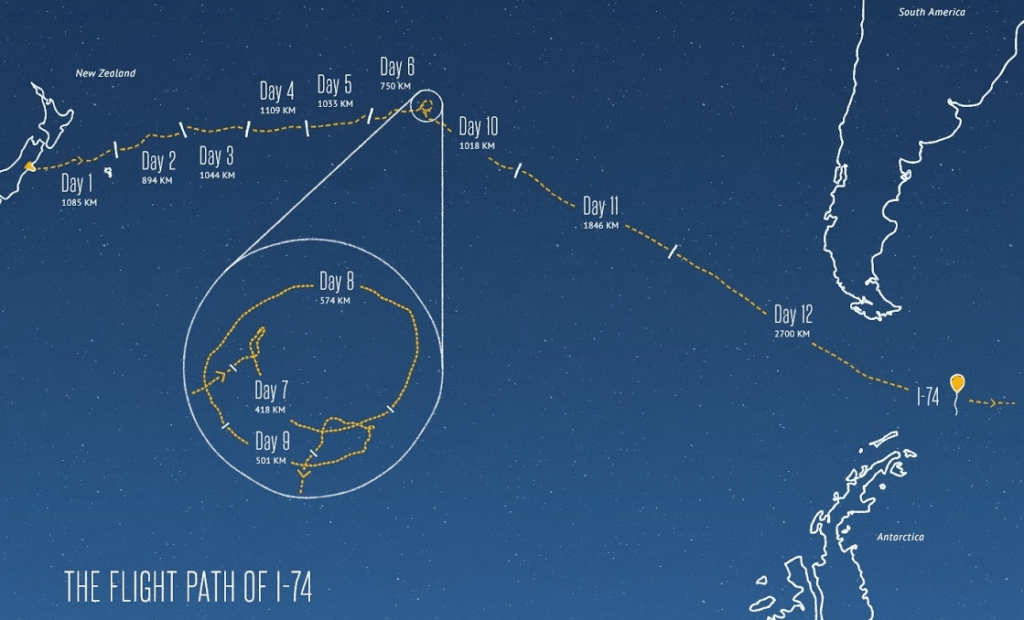 One balloon, named "The Bolt", was airborne for 190 days (6 months), sailed for over 75,000 miles (3x the circumference of the earth), reached top speeds of 100 MPH, and generated over 1.72 gigajoules of energy from its solar panels (enough to charge 478 smartphones for 2 hours a day for a month).
In expanding connectivity and internet access around the world, Google also expands the reach of its products like Search, Gmail, YouTube, and more.
Conclusion: Alphabet's connected future
With the exceptions of Google Fiber and the Allo messaging app, Alphabet's connectivity initiatives have largely reached (or moved towards) positive outcomes — and even failed initiatives seem to provide certain benefits.
Though Google will likely continue to gravitate toward high-margin, scalable internet-based business models, it can no longer ignore the world's lack of connectivity.
But in the long run, what matters most to the company is reliable, high-speed access to its products, not who delivers that reliable, high-speed access. Whether it's Google, a current telecom incumbent, or a game-changing startup, the most important outcome is global connectivity — and global access to Google's ever-growing product suite.
If you aren't already a client, sign up for a free trial to learn more about our platform.