Google has upped the ante in the voice-powered computing race with its Duplex service and a battery of updates to its virtual assistant. But questions remain around how voice-driven internet services will be monetized.
Since first releasing Google Assistant in 2016, Google has been in a race with other big tech players, including Amazon and Apple, to build a superior virtual assistant.
The company entered the digital assistant space years after its peers — notably Amazon, Apple, and Microsoft — and has since been trying to play catch-up. Now it seems to have taken a leap ahead, at least in terms of capabilities.
Estimates suggest that Google is gaining traction in the smart speaker market, with its global market share rising to 36% in Q4'17, up from just 9% a year earlier. In comparison, Amazon's share of the market reportedly fell to 52%, down from 88% in that same time period.
Along with a new round of updates for the Assistant, Google also launched Duplex, a voice system that can carry out phone calls on a user's behalf.
The technology is the first of its kind among even the most advanced digital assistants and ushers in a new stage in the race for voice and AI supremacy. 
Basic internet services such as search, travel booking, and payments will increasingly be delivered by voice, so with Duplex, Google has planted a flag on territory that others will seek to seize for themselves.
Duplex can carry out sophisticated conversations over the phone with a human.
It can take on relatively mundane tasks for its users such as booking restaurant reservations and scheduling appointments at stores or offices.
The below image — taken from Google's 2017 patent application for similar technology — outlines a simplified version of one of these conversations.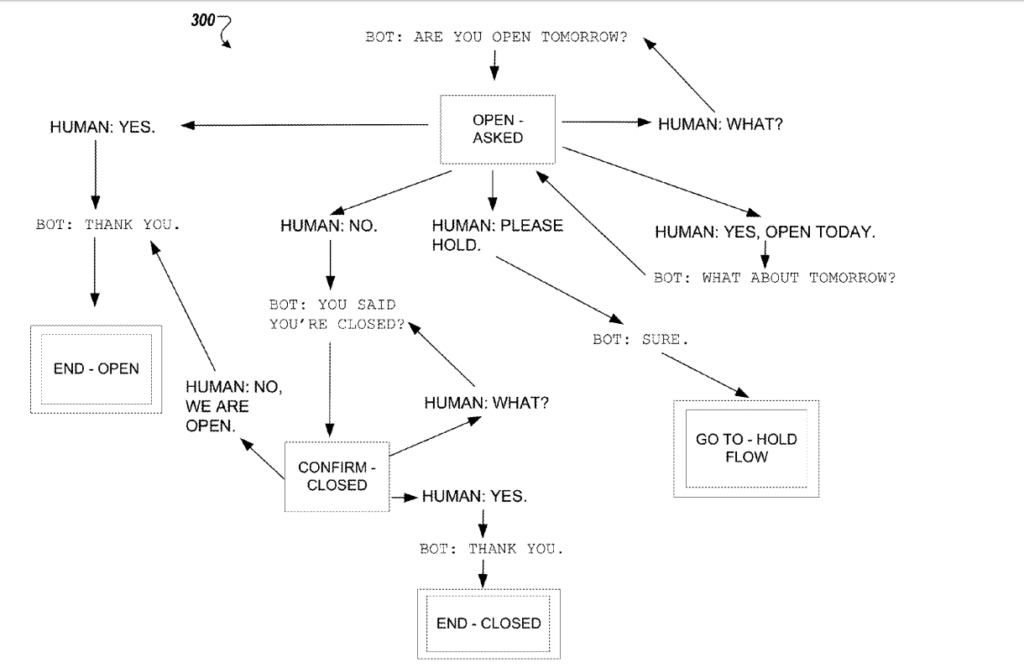 The Duplex system will initially be used for a limited number of tasks (i.e. reservations, appointments). If the task is too complex for Duplex to understand, the system can self-recognize that it's not capable and signal to a human operator to complete the task.
Note how Google's own diagrams show that Duplex is an extension of Assistant rather than a replacement for it.

Google will start testing Duplex this summer, though the company has yet to clarify if the testing will be limited to the US or will be deployed internationally. However, many large markets abroad including India and Brazil are less digitized and more reliant on phone calls for information and transactions. So it would not be surprising to see Google target those markets for Duplex rollouts.
Google's Execs are extremely focused on AI AND related efforts
Google's Duplex announcement resonates strongly with the company's recent initiative to build out its digital assistant business. Mentions of the Assistant and other AI-related terms on Google earnings calls spiked in late 2016, and have remain elevated since. Q1'18 saw an uptick after a slight dip last year.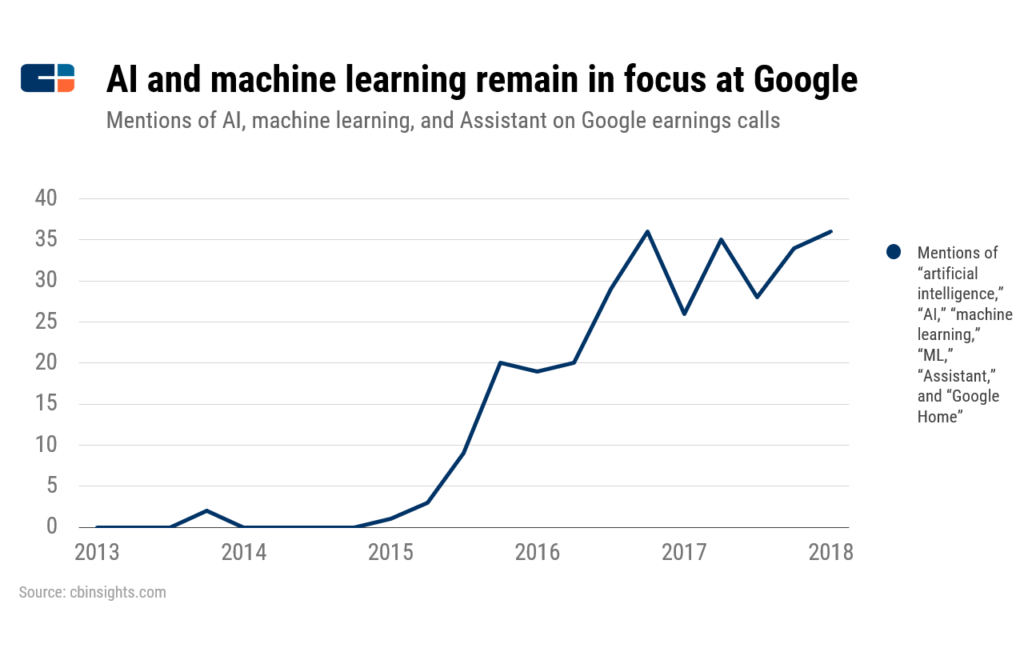 Google's focus on the digital assistant — and the AI and natural language processing that fuel it — is not surprising, given that every query handled through Amazon's Alexa, Apple's Siri, or Microsoft's Cortana threatens the strength of Google's search platform, which is its major source of revenue.
As a result, the digital assistant is viewed as a top priority, along with the search platform.
In an earnings call in late 2017, Google CEO Sundar Pichai explained that both search and the Google Assistant sit at the "heart" of Google's business.
Google accelerated its digital assistant efforts in 2017, launching two new smart home devices — Google Home Mini and Google Home Max — which helped drive sales of tens of millions of Google devices for the home in that year.
Google Assistant was also available on more than 400 million devices worldwide by the end of 2017.
Google's efforts have continued in 2018. Since January, the company has added over 200 new device partners (according to its Q1'18 earnings call), including all major US manufacturers of connected home devices.
On Alphabet's Q1'18 call, Google CEO Pichai spoke to heightened capex spending to power its machine learning capabilities and fund initiatives for the Assistant.
In terms of outside investment, Google has also made several acquisitions over the years to enhance the Google Assistant and Google Home ecosystem. These include:
Google WANTS TO HELP USERS 'get things done' through a combination of search and assistant
Moving forward, Google is focused on enhancing the user experience, specifically for the Assistant and for the Google search platform.
In Q4'17, CEO Pichai noted that the company has room for improvement on the user experience end: "There are areas where we clearly feel all of us fall short for doing right by users and… matching their expectation. So, you'll see us focused on user experience there for a while to come."
One of the ways to enhance the user experience is to provide its voice assistant with more services to help users complete tasks, such as the call-and-book service that Duplex offers.
In Q1'18, Pichai spoke to shifting toward integrating more services into the Assistant that would help users actually complete tasks:
"I just feel at a high level the next big evolution we are doing as part of mobile search and Assistant is to actually help users complete actions, to help get things done. And it's really hard to do at scale, and that's the work we are doing."
In addition to Duplex, which could help users complete various tasks (should it pass the testing phase), Google has released several other updates for the Assistant.
Google Assistant now has a wider range of services and a gamut of features available.
While some are more practical in nature, others are aimed at making it a more pleasant service for users and families to interact with. Features include:
The ability to order food from an Android phone. The Assistant will be able to place food delivery and pick up orders on Android phones, and will be able to remember past orders and favorites.
A longer window to give commands. In an effort to make the Assistant more conversational, users can now give additional commands (up to eight seconds after the prior command) without having to say "OK, Google" beforehand, which is how commands traditionally begin.
Teaching manners. A new feature called "pretty please" has been introduced for the Google Home to teach manners to young children. The feature prompts the Google Home to only respond to "please" and "thank you" when appropriate.
New voices. Google added six new voices to the Assistant platform, one of which is famous musician John Legend. The voices are also enhanced and sound more human-like.
With voice emerging as the new user interface, it will be interesting to see how Google monetizes searches and transactions in this medium. It's not clear what ad formats or fee structures, if any, will flourish.
If you aren't already a client, sign up for a free trial to learn more about our platform.