Google's partnership with Munich Re and Allianz signals a future of integrating cybersecurity with cyber insurance.
As companies continue to transition to the cloud, cybersecurity remains a major concern amid growing cyber losses.
However, companies have spent far less on cyber insurance than on cybersecurity as a form of cyber risk management. Integrating cyber insurance with core cloud and cybersecurity software could help reduce this coverage gap.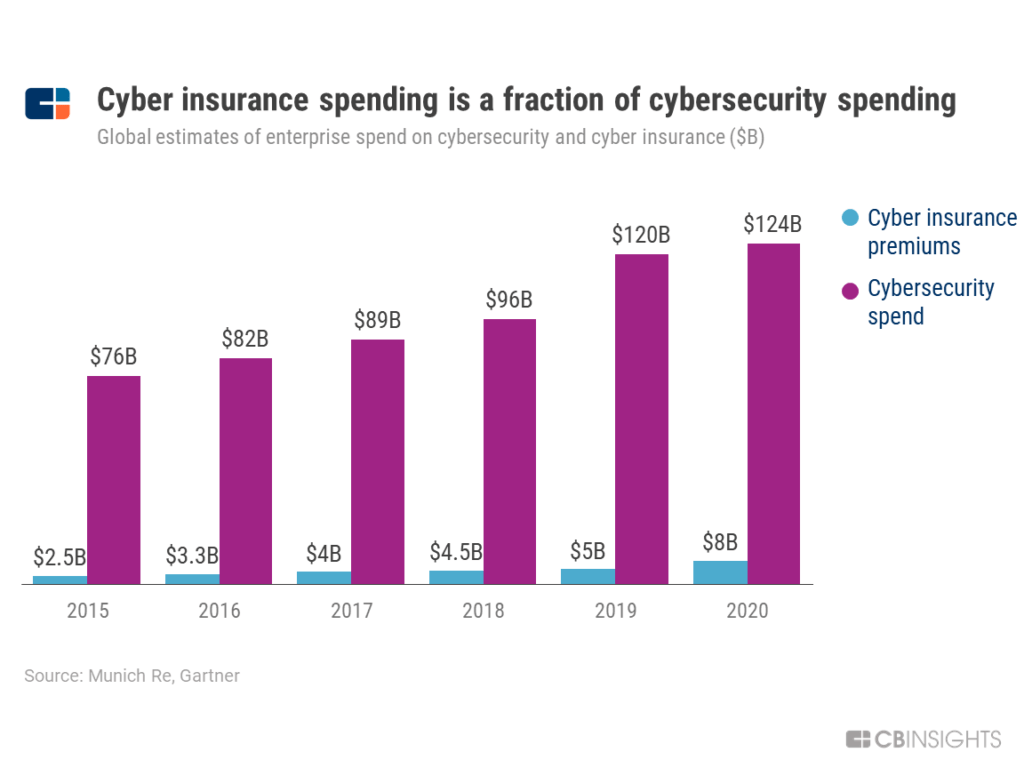 Earlier this week, Google announced it had partnered with Allianz and Munich Re to provide a unique cyber insurance product to its Google Cloud customers. The policies will initially be offered to US companies with annual revenue between $500M and $5B, and cover up to $50M in losses.
Allianz and Munich Re will integrate with Google Cloud in order to access customers' data in order to better assess the cyber risks they face and provide more personalized protection.
WHAT YOU NEED TO KNOW:
Cyber insurance and cybersecurity are both features of a comprehensive risk management plan:

New cybersecurity technologies can help businesses detect, protect, and respond to cyber attacks, but they can't help them recover financially if an attack is successful. Integrating cybersecurity with cyber insurance can help customers protect their business in a convenient and more holistic manner.

Allianz and Munich Re will use customers' Google Cloud data to improve its underwriting:

Due to the complex nature and catastrophic potential of cyber risks, insurers have often had problems underwriting and pricing policies.

Allianz and Munich Re believe that the real-time and granular data they will receive from consenting Google Cloud customers will enable them to make quicker, easier, and more precise underwriting decisions. Other information like if the company uses 2-factor authentication will also be provided for underwriting purposes.

Google continues to enter insurance: Google has been an active participant in the insurance industry for years, initially focused on being a disruptor with its Google Compare product, which was ultimately sunsetted in 2016. More recently it has acted more as an investor, distributor, and tech provider

for the industry. Beyond furthering Google's efforts in insurance, this new cyber insurance offering could be an important feature for Google's broader cloud offerings as it looks to catch up to AWS and Microsoft Azure.
WHAT'S NEXT?
Expect more innovation in cyber insurance:

Incumbents and insurtech companies are looking at a variety of technologies and strategies to cover the cyber insurance gap.

Although the cyber insurance market is still relatively nascent, the massive potential of the market is driving innovative ideas.

The combination of cyber insurance and cybersecurity is already popular as many cyber insurance startups like

At-Bay

and

Coalition

provide cybersecurity assessments and services to help their customers avoid losses.

Chubb's

new Blink Cyber Protection product,

which covers individuals from identity theft, fraudulent wire transfer, and cyberbullying

, could spur more activity in the personal cyber insurance market. While not all initiatives will succeed, the overall trend of new cyber insurance innovations will continue. 

Further validation of embedded insurance: This partnership between Allianz, Munich Re, and Google is a prime example of embedded insurance, a digital distribution model where insurance products are integrated into a product or service from a third-party provider. While initial embedded insurance focus was on e-commerce items, the trend now spans personal lines (e.g.

Tesla insurance

) and commercial lines (e.g.

Toast's

pay-as-you-go workers comp product

). Other cyber-focused embedded insurance examples include

Stripe's

partnership with

Layr

and

Vodafone Germany's

partnership with

Element

. Expect to see more embedded insurance products emerge as the use of digital marketplaces and platforms continue to grow. 
If you aren't already a client, sign up for a free trial to learn more about our platform.