As Google announces its pending $2.1B purchase of wearables manufacturer Fitbit, we visualize the tech giant's top acquisitions.
Over 12 years ago, tech giant Google announced its largest acquisition since it incorporated in a Menlo Park garage, paying $1.7B for YouTube, a video platform that at the time had fewer than 100 employees.
Since then, Google's checkbook has opened wide (as we highlighted in our deep dive into Google's M&A strategy), with some 250 acquisitions announced over the past decade.
Using CB Insights M&A data, we made a visual timeline of the largest acquisitions in the company's history. See the list of top 10 below.
Please click to enlarge.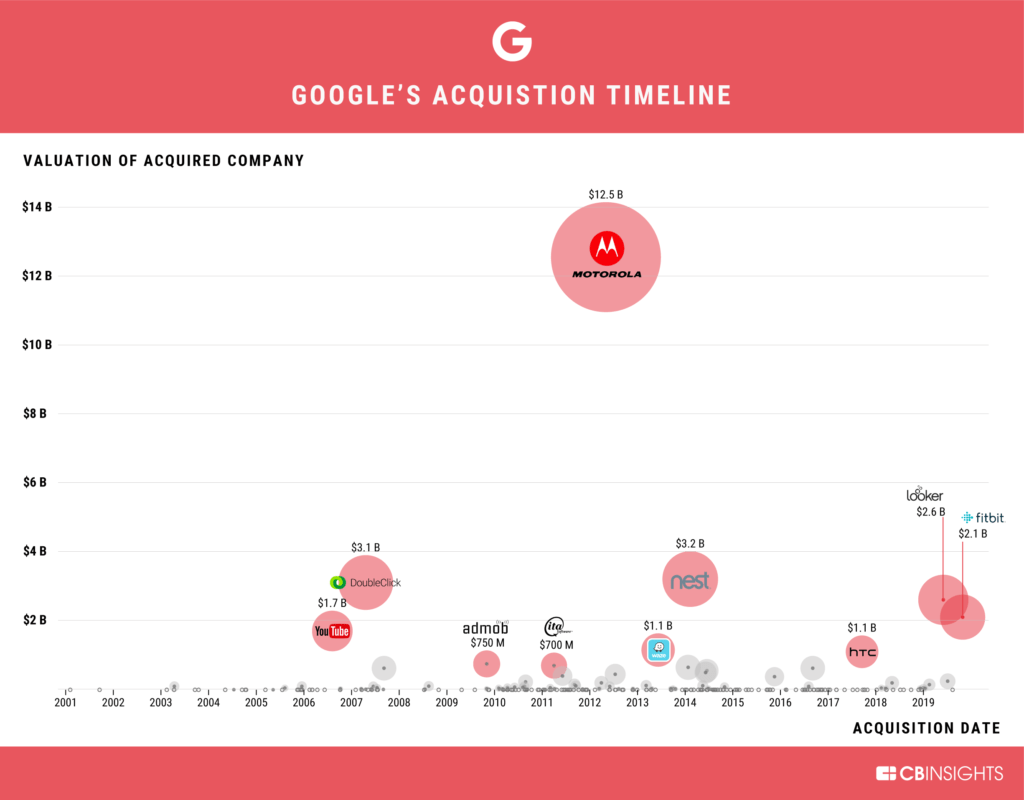 Google's Top Acquisitions
1. Motorola Mobility ($12.5B, 2012) remains Google's largest acquisition to date. In October 2014, Motorola was sold to Lenovo for less than a quarter of its acquisition price (approximately $2.9B).
2. Nest Labs ($3.2B, 2014) marked Google's entry into the home automation space. Acquiring the connected thermostats and smoke detectors developer allowed Google to increase its household footprint, while also providing expansion opportunities for its Android ecosystem.
3. DoubleClick ($3.1B, 2007), an ad serving company, was Google's largest acquisition at the time, and was intended to complement Google's existing ad business. The deal has been instrumental in giving Google a foothold in the lucrative display advertising industry, allowing the company to facilitate programmatic ad-buying through its own ad exchange.
4. Looker ($2.6B, 2019) is a California-based business intelligence platform whose recent acquisition further signals Google's current focus on growing its cloud offerings. Announced in June 2019, the deal is expected to close by the end of the year.
5. Fitbit ($2.1B, 2019), a global leader in consumer health wearables, is the most recent of Google's top 10 acquisitions. Google acquired the company about 4 years after Fitbit went public on the NYSE. In 2018, Fitbit sold 14M devices and had nearly 30M active users worldwide. Google expects the acquisition to strengthen its Wear OS efforts as it attempts to catch up with Apple.
6. YouTube ($1.7B, 2006), a leading video-sharing platform, was Google's first $1B+ acquisition. Through this purchase, Google anticipated the shift from traditional media like TV to online viewing, while also increasing its traffic and growing its ad business.
7. Waze ($1.15B, 2013), an Israel-based mapping service startup, brought social traffic data that helped Google improve Google Maps functions such as accurately predicting travel time and suggesting navigation routes.
8. HTC – Pixel Smartphone Division ($1.1B, 2017) is a Taiwan-based consumer electronics manufacturer. While the acquisition did not include any production facilities, it left Google with a significant part of HTC's smartphone team (underlining the Android maker's focus on competing with iPhone maker Apple) and helped Google establish a manufacturing presence in Taiwan.
9. AdMob ($750M, 2009), a mobile advertising company founded in 2006, was purchased by Google in anticipation of the massive proliferation of mobile ads.
10. ITA Software ($700M, 2011), a US-based airline IT and services provider, was acquired by Google to expand the tech giant's search capabilities and to power Google Flight Search.
KEY TAKEAWAYS
Google has spent nearly $29B on its top 10 acquisitions.
Google's $12.5B acquisition of Motorola Mobility in 2012 was by far its largest deal.
8 of the top deals pictured had valuations greater than $1B, including marketing solutions provider DoubleClick ($3.1B, 2007) and navigation app Waze ($1.15B, 2013).
YouTube ($1.7B, 2006) was Google's first $1B+ acquisition and remains its sixth largest deal.
These top deals reflect Google's strategy evolution, from adtech (AdMob, DoubleClick) in the late 2000s to mobile (Motorola Mobility, Apigee) and wearables (Fitbit) in the 2010s.
If you aren't already a client, sign up for a free trial to learn more about our platform.