Google is making big bets on quantum tech. From its bullish stance on quantum AI to next-gen medical sensors to chalking up quantum computing breakthrough after breakthrough, here's everything you need to know.
Quantum computing could change tech forever. And Google wants in.
The search giant is building advanced quantum computing hardware, has a strong focus on developing quantum AI, and is putting significant energy into achieving scientific breakthroughs around quantum. Alphabet (Google's parent company) also has a secretive non-Google team called Sandbox working on quantum tech. Expect Google to look to gain an edge by integrating quantum-powered AI capabilities throughout its product ecosystem.
We dig into all of these themes, and more, below.
get THE big tech in quantum Report
Google, Microsoft, Amazon, IBM, & Intel are battling for the future of computing. Download to find out everything you need to know.
Read more about big tech's quantum activity in the full Big Tech In Quantum Report.
Google is building cutting-edge quantum technology
Google targets 1M qubits by the end of the decade
Google builds its own quantum computers, and its machines are currently among the most powerful in the world — though not yet capable enough for useful commercial applications.
Google is planning to up the number of qubits (what quantum computers use to calculate things — the more the better) to 1M by the end of the decade. The company believes this will be enough to run an error-corrected, commercially relevant quantum computer.
Google just opened a quantum computing campus
Google has built a quantum AI campus and data center in Santa Barbara, California to house its main quantum computing efforts.
This indicates that it is doubling down on its quantum computing bets and is expecting the tech to become a more significant part of its business.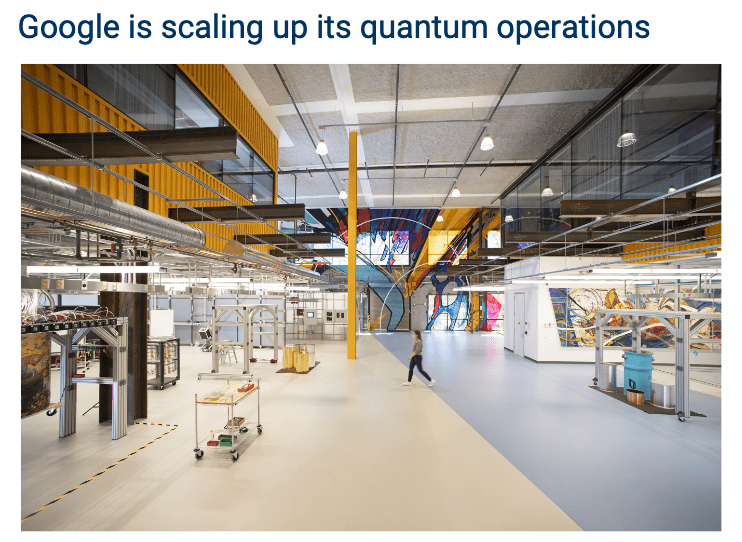 Source: Google
Alphabet has a secret, non-Google quantum effort
Alphabet has a software-focused quantum team called Sandbox that is dedicated to applying quantum technology to near-term enterprise use cases. Sandbox operates mostly in stealth mode; however, recent job postings and past comments from its leadership indicate that its work includes:
Quantum sensors — There are hints that Sandbox is working on a hypersensitive magnetism-based diagnostic imaging platform, possibly a magnetoencephalography (MEG) system for reading brain activity, that combines quantum-based sensitivity gains (tens of thousands of times more sensitive than typical approaches) with quantum machine learning to disentangle a signal from background noise to boost sensitivity. This could allow for more precise scans or for cheaper, more flexible deployments of magnetic-based imaging devices for use beyond hospital settings, as well as improved access in lower-income countries.
Post-quantum cryptography (PQC) — Quantum computers threaten much of the encryption used on the internet. Post-quantum cryptography will defend against this. Expect Sandbox's work to be focused on helping enterprises transition to PQC and making Alphabet's sprawling online services quantum-safe. (Find out more about post-quantum cryptography in our explainer.)
Distributed computing — This tech allows computers to coordinate processing power and work together on problems. Sandbox's work here may focus on integrating near-term quantum computers into distributed computing networks to boost overall capabilities. Another approach would be to use quantum optimization algorithms to help manage distributed networks more efficiently.
Google has made scientific breakthroughs
Google establishes itself as a quantum science leader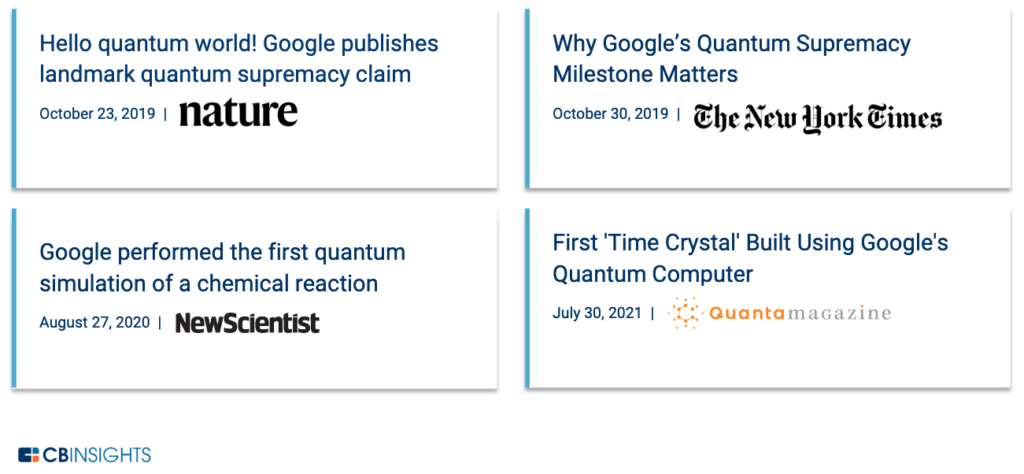 Google partners liberally on quantum initiatives
Google has partnered with several quantum computing startups — including QSimulate, IonQ, AQT, and Pasqal — on quantum computing projects. This helps Google tap into additional industry expertise while more tightly weaving its quantum computing platforms into the broader ecosystem.
The tech giant is also working with numerous university teams and some corporations, including Nvidia and Boehringer Ingelheim.
Google's quantum advances keep it in the news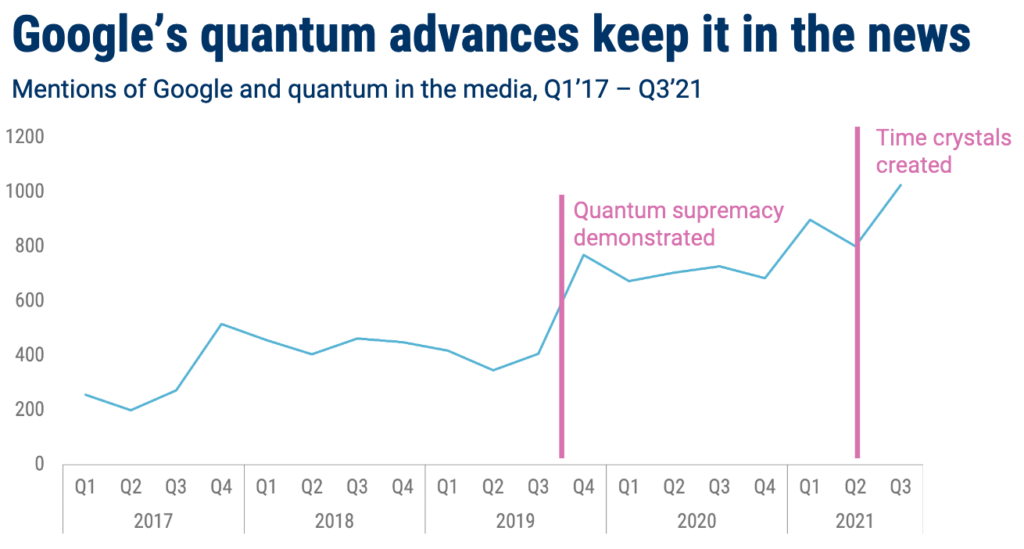 get THE big tech in quantum Report
Google, Microsoft, Amazon, IBM, & Intel are battling for the future of computing. Download to find out everything you need to know.
Google could benefit from a quantum AI ripple effect through its businesses
Google thinks that quantum AI is a killer early app
Google's main quantum efforts are branded under Google Quantum AI and the company sees artificial intelligence as a key application of quantum computers — even in the near term with only moderately powerful machines.
Google has also developed an open-source platform for building quantum machine learning models, TensorFlow Quantum.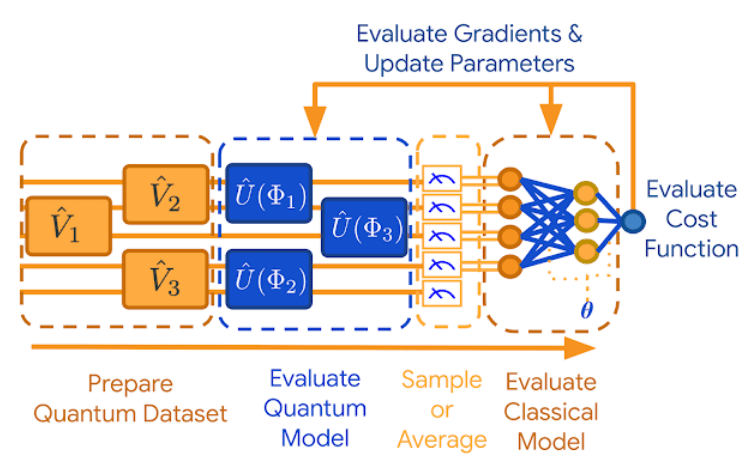 Source: Google
AI is key to Alphabet's long-term business goals
Alphabet is investing heavily in all sorts of AI tools to integrate into its businesses. Though quantum machine learning is only one aspect of this broader strategy, the company is indicating through its big bets in the space that it is bullish on the tech. If it succeeds, then Alphabet could use quantum computing to eventually boost AI initiatives across its entire business.
"As we are thinking about AI, it all starts with foundational R&D we do. I think we are one of the largest R&D investors in AI in the world. And so thinking ahead and doing that and we are doing it across all the foundational areas and we are taking many diverse approaches." — Sundar Pichai, Alphabet CEO, Q1'21 earnings call
Alphabet's businesses are set to go quantum
Many of Alphabet's businesses make use of AI in some capacity. These areas could be given a significant boost by advances in quantum AI, including business lines like:
Search and ads — Quantum computing will allow for better ways to parse through big datasets quickly. Advances in natural language processing (NLP) that stem from quantum machine learning could help deliver more relevant and targeted search results and ads.
Waymo — Quantum machine learning could help AI make faster decisions based on less data. Applying this to self-driving car tech could help autonomous vehicles better adapt to dynamic situations on the fly.
Google Assistant — Just as quantum NLP could help Google better understand websites, it could also help its voice assistant better interpret requests. The company may be hoping to gain a quantum edge over rival voice assistants.
Google Cloud — As well as offering cloud-based quantum computing services to enterprises, Google could use quantum algorithms to better manage tasks like cloud data storage.
DeepMind — DeepMind has built a reputation for pushing AI capabilities to the edge, like with its protein folding prediction tool for drug discovery. Quantum machine learning would amplify many of DeepMind's tools and may eventually help defend against competitors looking to catch up with it.
get THE big tech in quantum Report
Google, Microsoft, Amazon, IBM, & Intel are battling for the future of computing. Download to find out everything you need to know.
Looking ahead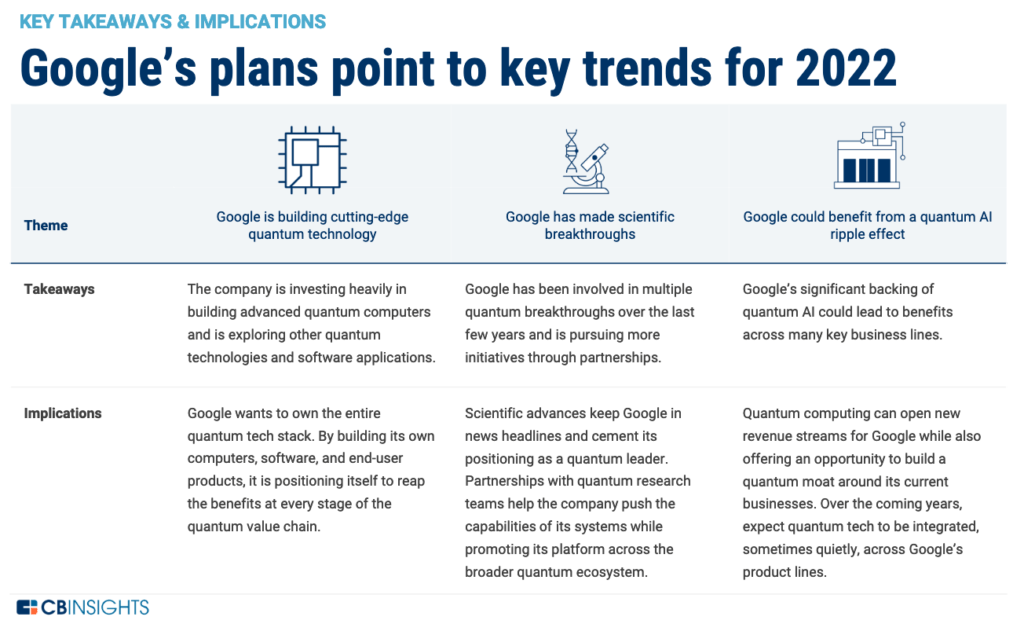 To find out how Microsoft, Amazon, IBM, and Intel are competing with Google, check out the full Big Tech In Quantum Report.
If you aren't already a client, sign up for a free trial to learn more about our platform.