Google's recent collaboration with Sanofi reflects a growing trend of big tech entering the pharma space. We take a closer look here.
There's been a wave of recent news around big tech incumbents taking on traditional pharma roles.
Google's recent drug discovery collaboration with Sanofi speaks to the growing trend of synergies between tech & pharma players — especially as pressures to expedite drug research and streamline overall operations increase.
This is a part of the larger phenomenon of tech companies encroaching on healthcare.
Recently, Google made headlines with its rumored Project Nightingale — a partnership with Ascension — which reportedly gathered health data from millions of patients within the health network.
This has inspired a lot of discussion around whether tech companies should be handling such sensitive data.
Since patient privacy & confidentiality are huge issues in healthcare, many may feel unease with their data (even de-identified) being used without their knowledge or consent.
As tech incumbents enter the healthcare industry, this is just one of the key issues to keep an eye out for. Read on below for a more in-depth look.
going after the $780B pharma industry
It's no secret that tech players have ambitions in the healthcare industry. They're attempting to leverage data and emerging technologies like AI to create new solutions.
These efforts may end up taking on traditional pharma industry roles, from conducting drug research to handling supply chain logistics.
Each market within the pharmaceutical industry presents new opportunities for the tech incumbents looking to increase their footprints in healthcare.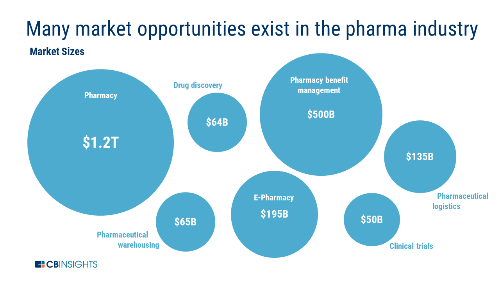 That's a big reason why more of these strategic alliances between tech and pharma companies are beginning to take hold.
Last month, we saw Novartis & Microsoft announce their partnership to use AI in drug research and to make progress towards personalized medicine.
It follows Google & Sanofi's June announcement of their joint venture — a virtual innovation lab for drug discovery. Leveraging Google's AI and cloud computing capabilities, Sanofi intends to create personalized therapies on a faster timeline.
This could unlock completely new avenues for how future medicines are researched and developed.
Another example here is Project Baseline — a longitudinal study to create a "baseline" for human health.
It was started by Google's parent company Alphabet, through its life sciences arm Verily in 2017. And 4 major pharma companies signed up this May to participate, which will help expedite clinical studies across different therapeutic areas.
These are just a couple of examples of how tech could disrupt the traditional pharma practices. Clients can read more about this here.
Speaking of Google in healthcare…
google: the hospital
Once solely known for its search engine, Google has been building up its AI capabilities over the years — positioning the company well to pursue an industry like healthcare.
While it may be looking to shake up many different areas within the industry, the hospital is one that could end up seeing a dramatic transformation with Google's suite of tools.
In fact, its current arsenal of software products could help create the next clinic of the future. Check out our analysis here.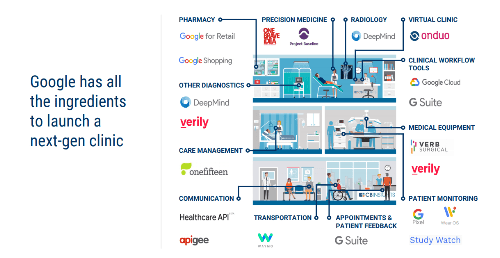 And this will actually be the theme for our upcoming series on Unbundling Google — focusing on specific aspects of the industry it could disrupt in in healthcare.
Clients can check out the first of the series here.
If you aren't already a client, sign up for a free trial to learn more about our platform.