We analyzed 10 years of earnings transcripts from Facebook, Apple, Microsoft, Google, and Amazon (FAMGA), and found that Google is prioritizing its voice products as it looks to claw back share from Amazon.
While Amazon may lead the race for most voice-enabled smart home devices sold, Google is clearly prioritizing its voice initiatives, according to CB Insights analysis of earning transcripts from 2008-2017 for Facebook, Apple, Microsoft, Google, and Amazon (FAMGA).  
Google's discussions of "voice" or voice products seesawed a bit until 2016, when mentions by Google took off. The uptick notably far outpaced Amazon's mentions of voice or voice products, such as Alexa, despite the company's lead in the voice-enabled smart home device market.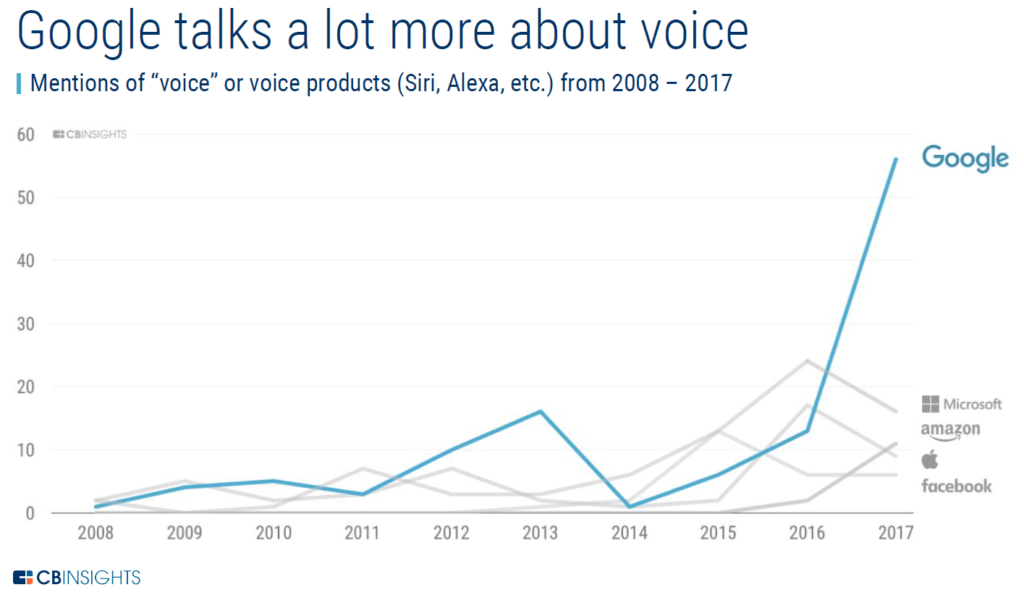 Today, the Google Assistant is available on more than 400M devices worldwide, including Android phones, Google Home products, iPhones, TVs, and more, and is clearly a major strategic focus for the company.
And with increasing competition from products like Amazon's Alexa, Apple's Siri, and Microsoft's Cortana, it's unsurprising to see Google so focused on a voice-enabled future.
According to estimates, over half of all searches will be voice searches by 2020. Google is still the undisputed leader in search, but as voice-based queries become a more mainstream behavior, the company does not want to cede its position. 
In a January 26th, 2017 earnings call, Alphabet CEO Sundar Pichai explained how Google is positioned to become a leader in voice-enabled search technologies:
"When I look at what it would take to Voice Search well, our years of progress … in areas like natural language processing comes into play, and I think there's a lot of work ahead to make all of this work well for users. And this is the core area where we've invested in for the very long term, and so I feel very comfortable about how this will play out in the future."
The company seems to have established a strong foundation for its voice and smart home initiatives, despite a slower entry into the market, with over 8M Google Home products sold.
Over the years, Google has made several key acquisitions that have contributed to the Google Assistant and Google Home ecosystem. Notably, the company purchased natural language conversation platform Api.ai (September 2016), which has become part of the Google's Dialogflow product, and smart thermostat company Nest Labs (February 2014) and Revolv (October 2014), which unified smart home technologies from a single mobile and tablet application. More recently, Google acquired Xively (February 2018) from LogMeIn, which provides an IoT product development platform.
If you aren't already a client, sign up for a free trial to learn more about our platform.